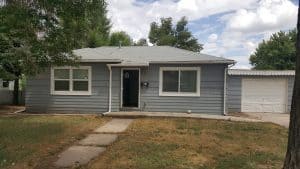 Last month, I bought my first fix and flip from my new direct marketing campaign. I have used direct marketing in the past in the form of postcards or letters to motivated sellers. Creating the lists to send letters to, deciding which letters or postcards to send, sending the letters, and then taking calls generated by the campaign was a lot of work. The worst part was getting angry calls from people who thought I was trying to scam them out of their home. I did buy a couple of houses from my marketing list, and I also listed a few more properties as an agent. However, I was still finding deals from the MLS and a few other sources, so I did not focus on direct marketing. Last year, I started buying more houses from wholesalers as well as the MLS. I still sent out marketing once in awhile with rather poor results. This year started out great, but in the spring, I was not seeing nearly as many deals from wholesalers or the MLS. I was getting my contractors figured out and repairing homes quickly (relatively speaking), but I was not buying as many houses. I went from having 20 flips going at once to having 12. I knew I had to come up with more ways to find deals. This summer, I started a brand new direct marketing campaign with some help from an expert in the field, and this is the first house I bought with that campaign. In the end I made over $50,000 in profit.
How does direct marketing work when trying to buy houses?
I am in Colorado, which has one of the hottest real estate markets in the country. I compete with a lot of investors who are willing to pay more money than I for houses. I tend to stick very close to the 70 percent rule when I determine how much to pay for a flip. In a hot market, you tend to see investors paying too much for houses. Investors assume they will profit through appreciating house values. Buying anything here from auctions, wholesalers, or the MLS is really tough, but I do still get deals through diligence and hard work. With direct marketing, I knew I would not have nearly as much competition. Although there is definitely competition in the direct marketing world! The picture below shows all the direct marketing correspondence I have received on my rentals and flips in the last 6 months or so.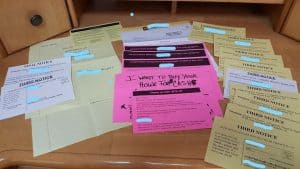 Direct marketing can be done in many ways:
Direct mail: Send postcards or letters to lists of motivated sellers.
Bandit signs: Place signs all over town advertising that you buy houses.
Drive for dollars: Look for vacant or dilapidated homes and contact the owners.
Websites: Set up websites that advertises your house-buying company.
Network: Tell everyone you know that you buy houses.
What you are trying to do with direct marketing is find motivated sellers who do not want to sell their house the conventional way. Not all people want to list their house with a real estate agent. Some want to sell fast, don't want showings, or simply do not want to deal with the selling process. An investor like myself can buy a house with cash in a very short amount of time. I can also pay the closing costs, waive the inspection, eliminate the real estate agent commissions, and make an appealing offer to the right seller. This strategy does not work for every seller; in fact, it appeals to a very small percentage of the population. The idea is to market to a lot of people, hope that a small percentage respond to you, and then hope that a couple of those people are willing to sell at a reasonable price.
Here are some more details on direct marketing.
How do most direct marketing mail campaigns work?
Here is how most direct mail campaigns work:
Create a list of possible motivated sellers (absentee owners, inherited properties, divorce, elderly) who have equity in their house. A few different companies exist who can create these lists.
Create a letter or postcard. The most popular postcard seems to be the third-notice postcard that I have gotten from at least three different people in the last year. This postcard gets people's attention and also pisses off many others.
Mail the postcard and start taking calls. You could set up a voicemail to answer all the calls or simply try to handle them on your cell phone.
Keep a list of who called you, who asked to be taken off the list, and possible leads.
Many investors make a lot of money with direct mail campaigns, but I was never a huge fan for a few reasons:
I experimented with different letters and postcards, and unfortunately, the ones that worked best were the sleaziest. I did not feel good about sending postcards that tried to trick people or did not tell the truth.
I hate answering and talking on my phone. I can tolerate it, but I never answer my phone because I get a lot of calls from people and companies who are a giant waste of time.
I really don't like being yelled at or having people threaten to call the cops for sending them a postcard. Not that sending a postcard is illegal, but some people seem to think it is.
Even though direct marketing was not my favorite thing to do, I did it anyway, and I got some deals from it. I was still hesitant to start up a new massive campaign this year, even though I knew I needed to change things up to get more deals. Luckily, I found someone who could help me with my campaign, and he even alleviated many of my concerns.
Is wholesaling a good way to start investing in real estate?
What house did I buy through direct marketing?
I titled this article as a case study, and I have yet to say a word about the house I bought. The house I bought was not an amazing deal that will make me $100,000, but it was a very nice flip. Here are the basics:
Purchased for $120,000.
Needs about $15,000 in repairs.
After repaired value is at least $185,000.
That leaves me about $30,000 to $35,000 in profit after carrying and selling costs.
Below is a video I took after I bought the house. The nice thing about this house is that it is in relatively good shape compared to most properties I buy. The better shape a house is in, the sooner I can get it repaired and the sooner I can sell it, which makes me more money.
The seller had bought this house for his daughter while she attended the University of Northern Colorado. It had been vacant for a couple of months when the seller called me and said he wanted to sell. The house needed a little bit of work, and the seller was thinking of fixing it up then trying to sell it. We talked for a while, and the idea of selling  as-is and quickly was very appealing to him. It took a week or so before I could view the house. We negotiated a price that worked for both of us, and we signed the contract. I bought the house three weeks later, and I had a new flip to work on! We are currently making repairs and it should be done in a few weeks. The video is live on my YouTube channel.
The other nice thing about this deal was I was honest about flipping the house, and the seller knew I was going to make money on it. I did not have to trick him into thinking the house was worth less than it was. When you find the right motivated sellers, the deals are usually really easy to do.
How much did this house sell for and how much money did I make?
I thought this house was worth at least $185,000, but it was hard to value because there were very few comparable sales available. I listed the home for $199,900 after a few houses sold for higher prices while I was working on it. Our market is very strong in Colorado for sellers, which makes it great to sell houses. On the flip side it makes it tougher to find deals, because of all the competition on the buyer side. you can see the after video of the home below:

We ended up spending about $20,000 on the repairs, but more than made up for it with the selling price. We got an offer right away on house for $210,000! However, we ran into a problem. The buyers were using an FHA loan, and we had bought the property less than 90 days ago. The 90 day flip rule states that buyers cannot get a loan on a home that the current owner bought less than 90 days ago, with some exceptions (bank foreclosures). We still ended up accepting the offer and agreed to re-write the contract after 90 days had passed. It took us a little longer to sell the home, but I think it was worth waiting to make an extra $10,000 (I doubt other non FHA buyers would have paid $10,000 over asking price). Here are the numbers on the home:
Purchase price:               $120,000
Buyer closing costs:       $2,000
Financing costs:             $3,000
Repair costs:                   $20,000
Selling costs:                   $7,500
Selling price:                   $213,000
Buyer closing costs:       $3,000
Total Profit: $57,500
On this deal we had some buyer closing costs because we paid for the seller's title insurance and other costs as part of the direct marketing deal. the financing costs are very low because I used a local bank to finance the house with 1 point and a 4.75 percent interest rate. The selling costs include the commission for the other agent who represented the buyer, I have no listing agent commission because I am an agent. The selling price ended up being $213,000, because the buyers wanted us to pay $3,000 of their closing costs.
How did I find this direct marketing deal?
I had halfway tried a few direct marketing campaigns earlier this year with limited success. This spring, someone contacted me because another investor had suggested I was an interesting person to talk to. Ironically, this person ran direct mailing campaigns for investors! He wanted to partner with me to promote his services to my audience. I told him that I actually needed help with direct marketing, and I do not partner with people unless I have tried their product and believe in it. We set up a direct marketing campaign for myself, and that is where this deal came from. I ended up sending about 4,000 letters, received over 40 calls, and got this deal and another deal I am closing on in a couple of weeks. I also have two more potential deals that may come from this one mailing. I know that I could have gotten more deals if I was better on the phone. As I talked to more people, I became better at listening and learning what people were motivated by.
You may be wondering what the big deal was with the person who helped me with my campaign. Here is what they did that was different than my own direct-marketing approach:
They created the list for me and was able to get the list cheaper because of the volume discount they have with the company that provides the list.
The company creates custom letters that are not scammy, deceitful, or anything like the other marketing I get.
They have a answering service (Call Porter) that takes the initial call and weeds out unmotivated sellers and people who have nothing better to do than yell at strangers (this campaign involved far fewer angry calls).
The company helped with scripts, ideas, and many other ways to market to motivated sellers.
The company created a website that targeted motivated sellers. The site ranked on the first page of Google within one month.
I tried this company, and I was super impressed with both how they do business and the results. I did not feel slimy for sending postcards that blatantly lied, and I got just as good or better results. Obviously, having someone help me with all of this costs me more money, but it is well worth the time and headaches it saves me. Not to mention: I already bought one house from the campaign and have another under contract. I was getting no results trying to do this on my own.
Can others use this company to find motivated sellers?
The person who I am working with on my campaign is also an investor. His marketing, at the halfway point of 2017, has already allowed him to buy more than 45 houses. He wholesales some deals and flips others. He creates all the mail pieces himself and has limited capacity. We created a Facebook coaching group that focuses on finding deals. It goes into the details of direct marketing as well as the MLS, wholesalers, auctions, etc. There are also some other very experienced flippers, landlords, and wholesalers in the group. The group is not free because we share information that many of the members would not want shared publicly. The direct mailing techniques I am using are not being used by many investors and really set me apart in my area. The person handling the direct mail has decided to only provide marketing materials to those in the group for now. He is working on expanding but can only take a handful of new clients who are doing a decent amount of direct marketing.
If you are interested in joining the group, you can get more information here: InvestFourMore Mastermind Facebook Group. If you are not interested in direct mail help, you can still join the group to learn the best techniques for finding deals. I am also creating a new coaching program that is all about finding deals that will be free to those in the group. You do not have to be in the group to use all the features like the answering service either. If you want more information on the group or different services shoot me an email [email protected].