Last Updated on March 29, 2023 by Mark Ferguson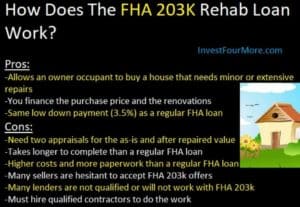 The FHA 203k loan is a great loan for properties that won't qualify for a regular FHA loan because they need too much work. We all want to get a good deal when we buy something. The problem with getting a good deal on a house is that many times, the house needs work. Many lenders will not lend on homes that need a lot of work, which makes it tough for many buyers to get a great deal. However, there are loan options for buyers looking to buy homes that need a lot of work. The FHA 203k loan is one of those loans and an awesome product that allows buyers to purchase a home in basically any condition.
How does the FHA 203k loan work?
When you get a traditional loan on an owner-occupied home or investment property, most banks will want the property to be in livable condition. That means all the major systems must be working and the home must be safe to live in. A normal FHA loan and most conventional loans will not work for houses that need a lot of work unless the seller is willing to make repairs before closing. If you are buying an REO, short sale, or another type of distressed sale, the owners most likely will not make any repairs before closing. This means the buyer must have cash or local bank financing lined up to purchase the home.
The FHA 203k loan is an FHA loan but adds the ability to finance and make repairs to a house after closing. A house can need $10,000 in work or $100,000 in work, and there are FHA 203k loans that will work. There are some drawbacks to FHA 203k's, like higher costs, and you must be an owner-occupant, but they can be a great loan for the right situation.
A house can be condemned, and FHA will lend on it if the right FHA 203k loan is being used.
What repairs will make a home unqualified for a regular FHA loan?
FHA has strict guidelines for the condition of a home. They require the home to be in "livable condition." That means:
The heating, plumbing, and electrical systems all must work.
There can be no holes in the drywall or subfloor.
There can be no broken windows.
The roof must be in decent condition.
There can be no peeling paint.
There must be kitchens and baths.
There can be no rotting wood.
There must be handrails on the stairs.
There are a few other requirements, but there does not have to be flooring. You can buy a house with no carpet, tile, hardwood, or vinyl. There can be bare subfloor or concrete, and FHA does not care.
FHA does not go by the buyer's inspection to determine what needs work but by the appraiser's opinion. The appraiser will call out any repairs that need to be made before the loan can be approved. Every appraiser is different, and they may or may not call out everything or more than they are supposed to.
Is an FHA 203k loan hard to get?
FHA loans are not hard to get: most lenders work with FHA. However, most lenders do not do 203k Rehab loans. Most lenders do not want to do 203k loans because they take more time, are tougher to get approved, and require more work on the lender's part. Here are some tips on getting an FHA 203k loan:
Talk to a lender about the program, the extra costs, and how much you can qualify for.
When you find a home for sale that needs work, get a rough estimate for the repairs needed to make sure you can qualify for the purchase price plus repairs.
Make an offer on the home with the 203k loan, making sure the dates are in line with lender expectations.
Get the home under contract; line up contractors to do the work; and finalize budgets and the loan amount.
Close on the property.
Have an approved contractor make repairs on the home after closing, and the lender will pay that contractor directly from the proceeds of the loan.
What are the drawbacks of an FHA 203k loan?
When you get an FHA 203K loan, there are some definite drawbacks. For one thing, you must be an owner-occupant and live in the house at least one year. FHA 203k loans also can take much longer to close than a regular loan, with 60 day or longer close times not being uncommon. FHA 203k loans also tend to fall out of contract more often than regular loans. Because of the longer closing time and the frequency that FHA 203k loans fall apart, many sellers are hesitant to accept contracts with FHA 203k loans.
That does not mean you cannot find a seller who will accept a contract with a 203k loan, but it will be more difficult. One great option for buyers looking to buy homes with 203k loans is HUD homes. HUD homes are government foreclosures, and the government prefers owner-occupants purchase them. HUD does not care if you use a 203k loan or cash to buy a HUD home. They look at both offers the same and give priority to owner-occupant buyers.
Here are some more challenges that come with the 203k loan:
Many lenders do not offer the loan and will convince buyers not to use it because it is more work and takes longer
The fees are higher on a 203k loan because there must be two appraisals, and there is a higher interest rate and more fees depending on the 203k loan type.
Contractors must perform the work on the homes. The homeowner cannot make the repairs themselves.
You must be able to qualify for the end loan amount after the repairs are done. If you buy the house for $100,000 but it needs $30,000 in repairs, you will have to be able to qualify for $130,000.
What is the difference between the streamline and regular 203k loan?
There are two different types of 203k loans: streamline and regular. The streamline FHA 203k loan can be used on houses that need less than $35,000 in repairs (the minimum amount is $5,000). The streamline is faster and cheaper than the regular FHA 203k loan but has the following restrictions:
Cannot alter the structural integrity of the building
Repair/Replacement of roofs, gutters, and downspouts
Repair/Replace/Upgrade of existing HVAC systems
Repair/Replace/Upgrade of plumbing and electrical systems
Repair/Replacement of existing flooring
Minor remodeling, such as kitchens and baths
Exterior and interior painting
Repairs called out by an FHA appraisal
The regular 203k loan can be used for almost any repair as long as the foundation is used from a previous building. The regular 203k loan can be used to add a second story, an addition, or to any other repairs a buyer wants to make. However, with the regular 203k loan, you have to use a mortgage consultant with the following fees based on the repair amount:
$5,000 to $7,500 the fee is $400
$7,501 to $15,000 the fee is $500.
$15,001 to $30,000 the fee is $600.
$30,001 to $50,000 the fee is $700.
$50,001 to $75,000 the fee is $800.
$75,001 to $100,000 the fee is $900.
Exceeds $100,000 the fee is $1,000.
What if you are an investor?
FHA 203k loans are great for owner-occupants, but investors cannot use them. There are similar loans available for investors, like the HomeStyle renovation loan. If you are having trouble buying a home because it needs too many repairs for your lender, you might consider using a portfolio lender since they have looser lending guidelines.