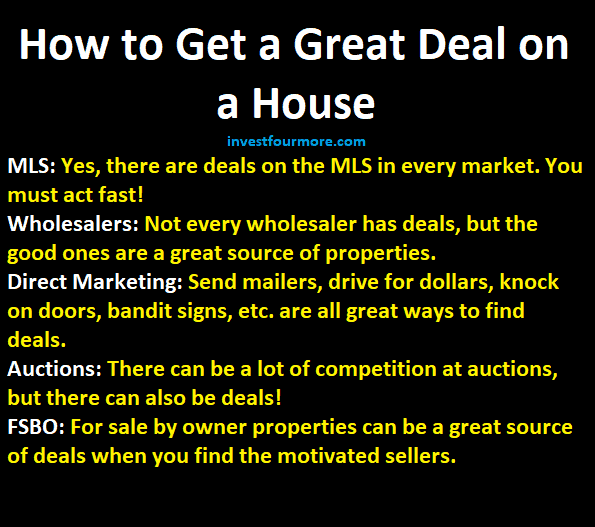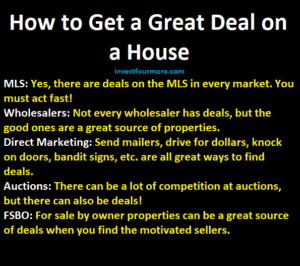 One of the most important parts of real estate investing is finding deals. Finding deals is also one of the hardest parts of the business. The house flipping shows make finding the deal easy, but it is far from it! There are not 100s of banks just waiting to sell their foreclosure for pennies on the dollar. While it is hard to find deals, it is not impossible and these tips can point you in the right direction. You do not have to buy a foreclosure to get a good deal!
MLS
MLS stands for multiple listing service and is where real estate agents list houses they sell for people. Many people ignore the MLS stating: it is impossible to get deals there. I flipped 26 houses last year and most of them came from the MLS! There are deals on the MLS you just have to know how to get them and being a real estate agent helps but is not required.
Learn more about finding and buying deals on MLS
Wholesalers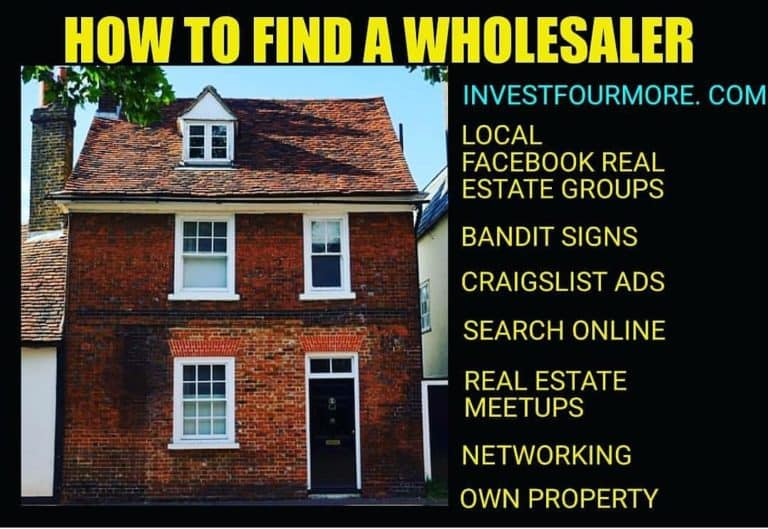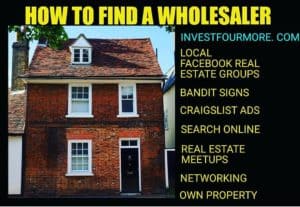 Real estate wholesalers find deals on houses, get them under contract and then assign that contract to an investor or complete a double close. Wholesalers can be a great source of deals, but most wholesalers are not very good. Take your time finding awesome wholesalers and don't get discouraged if you don't find them right away. They can be a great source of leads.
Learn more about wholesaling real estate
Direct mail
I send out notes or postcards to people who may be interested in selling their home. We send mail to absentee owners, people with bad credit, and many other lists. This is one way to get deals without having to compete with ten other investors!
Drive for dollars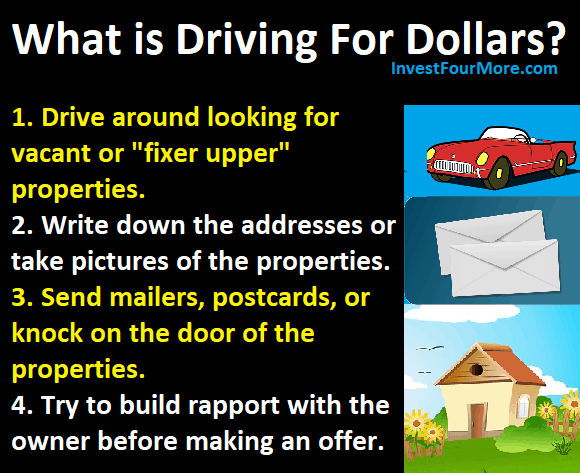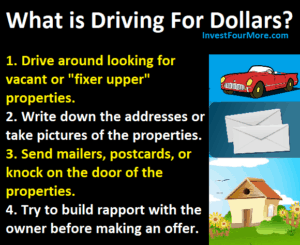 Ever see a really crappy looking house when driving through a neighborhood? When I see a house like that I stop, take a picture, of it, and open an App that will send a postcard to the house or owners. The owner may be willing to sell but does not want to use an agent.
Learn more about driving for dollars
HUD Homes
HUD homes are foreclosures that end up being owned by the government. The government or department of housing and urban development (HUD) sells foreclosures through real estate agents using their website hudhomestore.com. HUD homes are often priced very well but have many restrictions for who can buy them and when.
For sale by owner
Many people try to sell their house on their own because they want to save money or because they hate real estate agents. Often, for sale by owner (FSBO) houses are not marketed well. That means there is an opportunity to buy for less than market value. You can find for sale by owner houses on Zillow, Craigslist, Facebook, or from a sign in the yard.
The video below also goes into detail on how to get deals!
Networking
I have bought many houses because people knew I buy houses. I have had other agents, friends, family, or co-workers send me leads on people who might want to sell their houses without an agent. I make sure to tell people that I am always looking for houses to buy.
Auctions
There are many auction sites like Xome.com, Auction.com, Williams and Williams and more. Those sights sometimes list their houses in the MLS and sometimes they do not. We have bought a few houses from auctions, but they are few and far between in our market now because there are so few foreclosures. You must be very careful that you are getting clear title and are aware of all the costs that come with buying an auction house.
Bandit signs
I do not use this tactic, but many others do. They put out signs that say "we buy houses" or something similar. They place the signs at busy intersections or may even buy billboards in hopes that a seller will call them.
Digital marketing
You can also advertise that you buy houses on Facebook or Google. You can build a website or a Facebook page to attract sellers.
Foreclosures
I made this last because it is the first source everyone looks for, and often one of the least effective. Yes, there are still deals to be had on foreclosures, but it is much harder than it used to be. There are much fewer foreclosures than there used to be and banks are not looking to sell them for nothing, they want top dollar. Most foreclosures are listed on the MLS by agents or you can buy them at sheriffs or trustee auctions. Buying at auctions is very risky and every start has different laws for how it works. If you see a house that is a foreclosure you cannot simply call the bank up and buy it directly. They do not sell houses that way.