Last Updated on March 29, 2023 by Mark Ferguson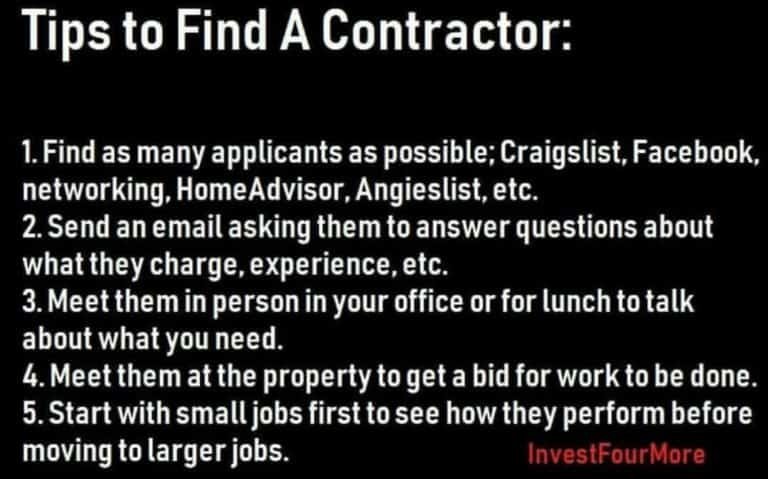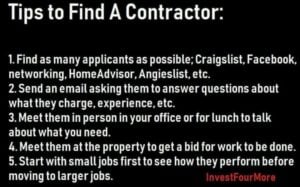 One of the most important and difficult parts of homeownership or investing in real estate is how to find contractors that are dependable and trustworthy. Contractors can be hard to find, very expensive, take a long time to finish a job, or even quit on you. If you can find a good contractor with clear and detailed bids, great communication skills, and a great work ethic, it is awesome. I own 20 rental properties and complete 20-30 fix-and-flips a year, and contractors are vitally important to me. It costs a lot of money to buy a house, and it can cost even more to repair it. If you don't have a great contractor to fix your homes, costs can skyrocket due to long timelines and increased repair costs.
What is the first step?
Finding a great contractor is not always easy and can take a lot of trial and error. My advice is to ask your friends, family, and co-workers for references of great contractors before you try any other resource. When you get a recommendation, it does not guarantee that the contractor is good or great, but it gives you a place to start. Recommendations are usually a better sign of how good a contractor is than any advertising they can do. A few people who may know a great contractor are real estate agents, property managers, or builders.
Anyone who owns a home may have used a great contractor at some point, so don't be afraid to ask your friends or family. You will still have to keep on that contractor to make sure they are doing what they promised. One of the easiest ways to let a rehab project get out of control is little or no oversight from the property owner when using a new contractor.
You must do more than trust a recommendation
I used a new contractor a few years ago. We are always trying out new people because of how many projects we have going. I got a recommendation from my broker and a couple of other agents in my office. The contractor was a builder and seemed to know what he was talking about and gave great detailed bids. I put him to work on two house flips at once because I had a couple of properties waiting for work to be started. He told me he had a great crew and could handle as much work as I could give him. He ended up finishing one project on budget (always get a bid first), but the second project was not even started for two months!
I had assumed everything was going well since that was what he had told me, but the property was 40 minutes away, and I had not physically seen the work started yet. This was completely my fault for not properly overseeing the job and visiting the job site. I was in for a big surprise when I went to visit the property, which I thought was almost done, and no work had been started!
I called the contractor, and he gave me a story about too many jobs and his workers getting sick. He had been telling me everything was going great and the work was almost done before I visited the site. Either he had not been overseeing his workers properly or he had lied to me. That job was eventually finished about 4 months after it was started and three months after it was supposed to be done. I never used that contractor again, not because it took so long to finish the job, but because he lied to me about the work being done or had not visited the site for months.
Below is a video on finding and working with contractors:
What are some other ways to find contractors?
Box Stores
Another way to meet great contractors at large stores is to visit the store early in the morning and see who is buying large amounts of supplies. The people buying materials are probably contractors, and they may be looking for more work. You know they have at least one job going since they are buying materials. Some stores will also give you the names and numbers of contractors who they know. You usually have to be a frequent customer at those stores since they are not supposed to give out names or numbers.
Craigslist
I have hired many contractors through Craigslist, but you have to be careful. It is free for contractors to post on Craigslist, so you can get a wide range of people to interview. We often find affordable contractors on Craigslist because it is free.
Angie's List
Angie's List is another site where you can find contractors. We have had some luck here as the contractors have to pay to be listed. You may find slightly higher quality contractors here than on Craigslist, but that does not mean they are all good.
Thumbtack
Thumbtack is another site to find contractors. Again, you may find some good ones here, but you may also find some very bad ones!
HomeAdvisor
This is another site that lists contractors. Again, you must weed through many people to find the good ones.
Facebook
You can find contractors on Facebook as well. We have found them on the marketplace where they advertise their services or in real estate investor groups. Facebook is a great place to snoop around when you find a potential contractor to see what they are posting!
Can you use contractor locator services?
Home Depot offers contractor services no matter where you are in the country. Even though they are more expensive than a local contractor may be, they offer standard work and stand behind their work. There are a couple of other companies I am aware of that offer regional or nationwide contracting services as well. These companies may not work with an investor that has only one small job, but if you can offer them consistent work in one area, they may be a great choice.
In my experience, these companies source contractors just like you would but charge a fee to do so. Even if you find a contractor using a nationwide company, make sure you vet them just like as if you found them!
How do you oversee a job?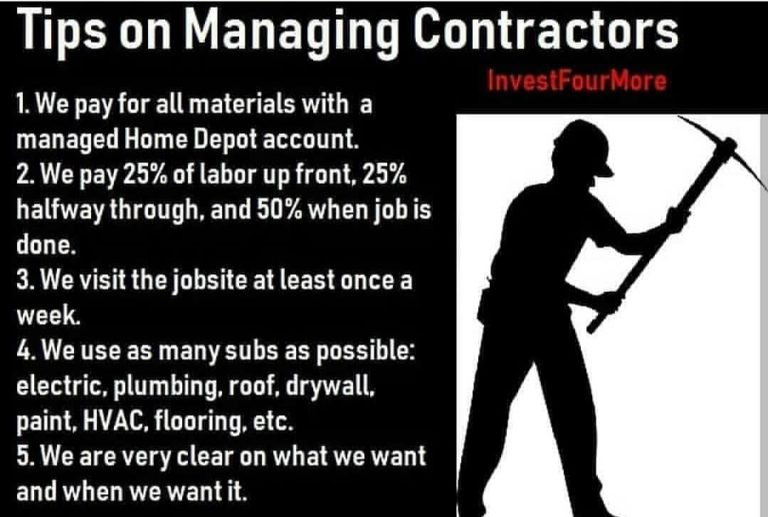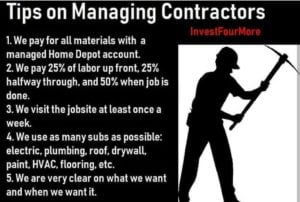 It is always best to keep an eye on your contractor's work and schedule, whether it is the first time you have used the contractor or the 20th. In my experience, the more communication and oversight you provide on your properties, the better job the contractor will do. I have had contractors I have worked with on 20 jobs, and if I don't keep on them, they will get very slow. If a contractor does a great job once, it does not mean they will always do a great job.
I had to fire a contractor recently who had worked on many properties for me and had done a great job. He stopped visiting his worksites and started telling me jobs were done when they were not. His prices went up, and the time he took to finish jobs increased because he was never at the site and did not keep track of his workers.
Unfortunately, this happens quite a bit. Contractors get complacent or they try to push how much they can charge or how little work they can do and get away with it. It is not just contractors who do this: it happens in every business. You cannot assume everything is being done as it should be no matter how many jobs you have done with a contractor.
Here are a few tips on how to make sure your contractor is doing a great job.
Constant communication
Visit the property often
Always get a written bid first
Get a written estimate for when the work will be finished
Don't prepay for any work that is not done (This is not always possible.  Some contractors require a deposit upfront for material cost, but do not pay for the entire job.)
Help pick out materials and paint colors
How do you interview a contractor?
We usually find contractors online. We go through a strict interview process before hiring anyone.
Get a resume
First, we always ask for a resume or a basic idea of what they can do. We ask this in the ad or in the first communication. Most contractors will not answer basic questions we ask them, and that eliminates many people (I make the checklist we use for contractors available to my coaching students).
Talk on the phone
If they answer our questions and seem decent, we talk to them on the phone before I meet them in person. I want to make sure they know what they are talking about, and I want to get an idea of what they charge. A contractor should tell you his hourly rate, how many people he has on his crew, and how long it takes them to do an average job. I also want to know how busy they are and how many other customers they are working with.
Meet for lunch
If I like what I hear on the phone, I will set up a meeting at my office or for lunch. I will see if they show up on time, if they are driving themselves (to weed out those with DUIs), and how they seem to be in person. I don't want to work with someone I am not going to be able to get along with.
Get a bid
If that meeting goes well, I will schedule a time to meet them at a job site. I will go over what I want to be done and have them write up a bid for me. If you are new to real estate and finding contractors, always get multiple bids so you know you are not getting ripped off. Try to talk to the contractor as much as possible and learn about his family and what kind of jobs he normally does. In my experience, contractors like to talk a lot, and if you get them started talking, they may tell you some things that will help you make a decision. I had one contractor I interviewed mention he had two recent DUIs, including one while he was on the job!
After I meet with the contractor, I will ask them to write up a bid and email it to me or call me when it is done. This is another test to see how quickly they get me a bid and if they get back to me. Two contractors, I recently talked to never got me a bid, emailed, or called me. It was easy to eliminate them since if they can't send me a bid, they probably can't do the job.
I also like to start them on a small job first or part of a big job to see how they actually work. That way I am not on the hook for a massive project that they cannot finish.
How do contractors vary with investors and homeowners?
There is a huge variance in the amount of money different contractors charge. Some contractors will charge $40 an hour and others will charge $100. The $100 an hour contractors may do amazing work, but most homeowners and investors will not need that expensive of a contractor. Most investors who are flipping or buying rentals will not be able to afford a contractor who charges that much. Many contractors do not like working with investors because they know investors won't pay as much as homeowners.
A lot of homeowners have no idea how much repairs should cost, so they hire a contractor and pay whatever the bill is. Most investors have a good idea of what the repairs should cost and are savvier when it comes to dealing with contractors. If you are remodeling your kitchen in a $200,000 house, it should not cost $50,000! It should cost less than $20,000 or even less than $10,000 depending on how fancy it is.
Why would contractors work with investors?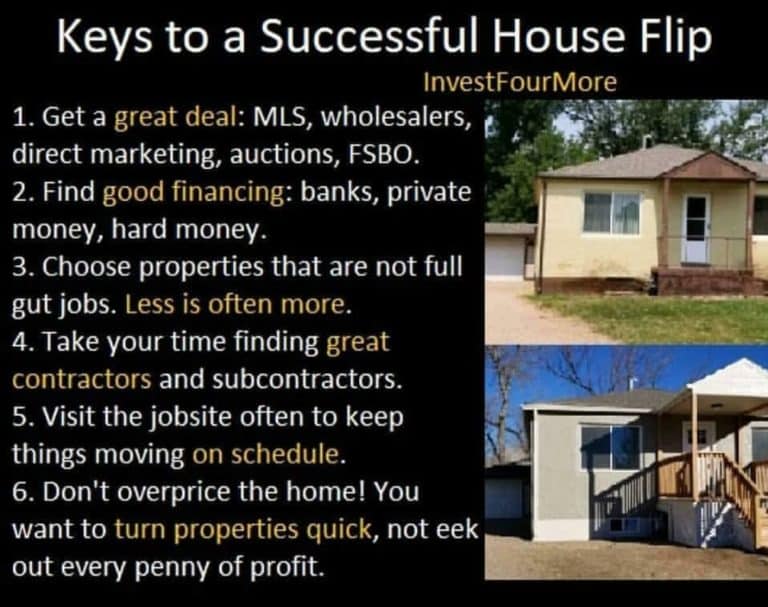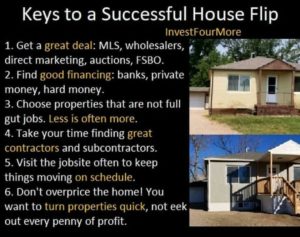 You may be asking why would a contractor work with investors when they can make more money working with homeowners. The reason is that it can be advantageous to work with investors. When a contractor works with me, we can keep them busy full time. They do not have to spend any money or time on marketing. They do not have to buy materials because we pay for them all. They do not have to worry about when they can work around the homeowner's schedule because they are working on vacant homes. Many contractors prefer working with us as opposed to always having to chase down the next customer.
Why do you need to check up on your contractor?
There are many great contractors, and there are bad contractors. The problem that many people run into with contractors is it may be hard to tell the difference between a good and a bad contractor until they start the job. Contractors can get too busy, take too big of a job, or not keep track of their workers well. Any of these circumstances can cause a job to take too long or not be done correctly. Constant communication, written agreements, and checking on a job often are all keys to making sure your contractor does what he promised to do.
Always walk through a job site
If you have worked with a contractor on multiple jobs and you know he knows what you want, you may skip walking a job site with your contractor. I think it is always a good idea to walk a job with your contractor so they know what needs to be done, even if you have worked with the contractor before. Make sure the contractor is writing things down when you are discussing what needs to be done. I have had a few contractors write nothing down when I discussed exactly what I wanted to be done, and when I came back to the worksite, they were doing things I had not asked to be done and had not done things I had asked to be done. It is a bad sign if the contractor doesn't write anything down and is trying to remember all the work that needs to be done.
Always get a written bid
You need to have a written bid when you have any work done on a house. A written bid serves multiple purposes that will save you time and money.
A written bid makes sure both the contractor and the homeowner know exactly what services and repairs are being done. You don't want any confusion on what was and what was not supposed to be repaired.
A written bid lists the price that the contractor is charging for specific work done. You don't want to be surprised with a massive bill after the work is completed that you never agreed to. A written bid helps keep the contractor honest.
A written bid may also include a time frame for when the work will be done. Some investors will add incentives to contractors for getting a job done quickly. The faster they finish, the more the contractor gets paid.
Most contractors require bids be signed by both parties. The written bid not only keeps both parties honest, but the bid also reminds everyone of the scope of work to be done. I have many jobs going at one time, and I tend to forget what was verbally talked about. By having a written bid, there is no confusion on what was repaired and what it costs. Remember, a written bid does not guarantee everything will be alright. The only way to enforce that bid or contract is to sue the contractor.
Keep in constant contact
If you never hear from your contractor, that doesn't mean things are going great. I had a job I thought was going well because I never heard a thing from a contractor. I assumed he would have told me if there were any problems or delays.  It turns out he had never started the job! Call your contractor to get updates on the job and stop by the job site to see how things are progressing.
Don't be afraid to ask your contractor if they are on schedule and budget. Ask your contractor if there are any changes to the bid or if there is any more work that needs to be done. If there are any changes to the work, make sure the contractor contacts you to approve the changes. Some contractors take it upon themselves to change a job or add on work without asking the homeowner.
If the contractor is working on a house where you do not live, you have to check up on them. Some of my biggest failures with contractors happened because I was not visiting job sites. I think you have to visit the job site at least once a week to make sure work is being done. Do not tell the contractor you are coming either! I have a contractor who had 6 guys working on a job whenever he knew I was coming. When I showed up to that job unannounced, there was no one there.
Don't pay for work not done
Some contractors want partial payment before any work is started on a job. If you have worked with a contractor before and this is their policy, it may work to pay them some money to get started. You never want to pay more than 25 percent of the job upfront. Before you pay anything to a contractor, you need to vet them by checking reviews and references if possible. One way to get around paying a contractor upfront if they insist is offering to buy the materials. We pay for all the materials on our jobs using mostly Home Depot.
A contractor can place a lien on a home if they are not paid by the homeowner for work they did. A homeowner has a much harder time tracking down a contractor who takes their money before any work is done and skips town. The contractor has a much easier time collecting for unpaid work and should have no problem getting paid after a job is done.
Do a final walkthrough
A contractor should take pride in his work and be happy to show you what was repaired. I always do a final walkthrough to make sure the work was done right and everything was done correctly. Many times, I must have the contractor go back and fix minor things or fix things we didn't notice the first time we looked at the home. Don't be afraid to point out work that you do not think is done correctly. If the contractor is hesitant about fixing it correctly, stand your ground. If the contractor refuses to make repairs or do things correctly you know not to use them again.
Should you use subcontractors or general contractors
You have a couple of options when repairing rental properties, flips, or even your personal residence. You can use a general contractor who will do everything and hire all the work to be done. Or, you can hire subcontractors who will each do specific jobs on a rehab. When hiring subcontractors, it takes more work from the homeowner but can save a lot of money. Using a general contractor can make the process easier but can also cost a lot more. I have used both options, but I like to use subcontractors for as many jobs as I can for multiple reasons.
How does it work when using a general contractor?
When you use a general contractor to do the entire job, they will handle almost everything that needs to be done. They will determine the entire scope of work, hire subs, schedule, budget, and plan the entire project. It can get very expensive using general contractors because they have so much work from scheduling and planning everything. The other problem with using general contractors is they can be very slow if they have to do all the repairs on a house. Some contractors may be able to handle huge jobs and get them done on time, but others may struggle the more they have to schedule and plan.
How does it work when using subcontractors?
When you use subcontractors to repair a house, you have to hire out certain jobs and schedule the work. The benefit of hiring out specific jobs is they can get done quicker and cheaper than a general contractor. Many times, subcontractors will specialize in just one thing like:
Electrical.
Plumbing.
Roof.
Foundation.
Sewer.
Landscaping.
Flooring.
HVAC.
Drywall.
Kitchen and baths.
Paint.
Windows.
Subcontractors can save money because that is the only job they do and they are really good and fast. A general contractor has to use his own crew or hire out a crew to complete jobs. While a general contracting crew can usually do many jobs, they are not as fast or have the expertise of a sub who specializes in one thing. Many general contractors will also try to have most of the work done by their crew, which takes a lot of time.
With subcontractors, I can have multiple jobs being done at once, which saves a lot of time. The roof can be done, the plumbing can be done, the electrical can be done…all at once. Some of the biggest contracting problems I have had were when I gave an entire job to one contractor. They got overwhelmed, took forever, and one basically quit on me.
Please check state laws regarding making repairs. Some states have stricter guidelines for who must be licensed and how to use subs.
Below is a great video on how much it costs to repair a house:
How do we repair rentals and flips?
I have tried many ways to repair my flips and rentals. I have used general contractors, subs, hired an employee to run my projects, and even did the work on a flip myself. I have had some luck with general contractors, but many times they bite off more than they can chew, over promise, and under deliver. I think most contractors will say they can handle everything, and may even believe it, but are not equipped to handle large remodels on their own. I have had really good luck using subs for parts of jobs and then contractors for the majority of the work. Here is an example:
Subcontractor jobs:
electrical
plumbing
roof
landscaping
HVAC
Contractor jobs:
replace doors
replace windows
paint
kitchen
baths
fixtures
While the contractor is working on his jobs, the subcontractors can be working on their jobs. In cases like this, I do not use a general contractor because I do not need someone to schedule and hire everyone. I would do the scheduling and hiring, or someone on my team would.
This last year, I hired a full-time employee to handle the hiring, scheduling, and project management on my rehabs. I thought this would be a great way to give myself more time and possibly start a new business in the future (contracting for other people). However, this venture has not gone as well as I hoped, and we are bringing the management back in-house for my team to handle. My new plan is to hire as many subs out as I can. Here are the benefits:
I should be able to get jobs done faster because I will not have to wait on a contractor to have time to complete a big job. I will have a list of subs and can use the ones that are able to get work done the fastest.
I will be able to save money because subs are usually cheaper due to the reasons we already discussed.
I won't be relying on one contractor to get things right. If a subcontractor messes up, they will only mess up part of the rehab, and other work can still be done. If the contractor messes up, it can screw up the entire project.
I will still use some contractors and still look for great new contractors to repair my houses. Maybe someday I will find that magical contractor who is affordable, has a huge crew, is honest, and fast. When I'm doing ten flips at once, it is tough to find contractors that can handle that much volume without falling behind.
Is it smart to start using subcontractors right away?
The more experience you have, the easier it will be to find subcontractors and hire jobs out. If you have no contacts and must find all new subs from scratch, it can be a bit daunting. It might not hurt to try to find a general contractor and then slowly start looking for subs. If you are just starting out, try not to take on huge remodel projects that require an awesome contractor or many subs. As your business matures and you gain more experience, you will meet good subs and contractors. Make sure you keep track of their names and contact information!
Doing the work yourself versus using contractors
In 2006, I did all the work myself on a house flip to save money. It was one of the worst mistakes I ever made. I was miserable, it took me forever, and it ended up costing me money. Not only was I miserable, but I also lost so many opportunities because I spent all my time at that house. I learned never to do the work myself! For some people, it might make sense, but many people have a very unrealistic mindset towards what it actually takes to fix up a house.
The video below goes into detail on how it worked when I did all the work myself.
Conclusion
Finding and watching over contractors is one of the most important parts of being a real estate investor. If you are a homeowner, doing a few things in this article can save you a ton of money. Do not assume your contractors are awesome and will always do what they are supposed to do. You have to spend time finding them, vetting them, and keeping tabs on them.