Last Updated on March 29, 2023 by Mark Ferguson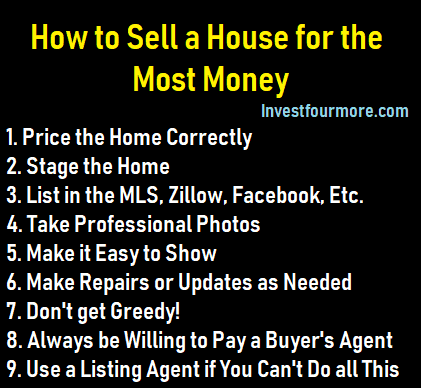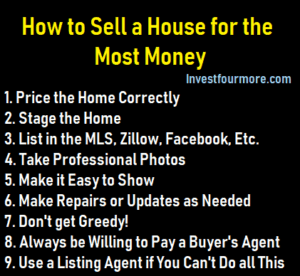 Many people dream of buying a house, but when you buy, you usually need to sell at some point. Even if you never buy a house, you may end up having to sell a house you inherit. There are many ways to sell a house, and most people want to make the most money they can when they sell. In this article, we go over the different ways to sell a house, including the costs to sell a house and how to sell a house for the most money. I have sold thousands of houses myself as an agent, investor, and homeowner.
What are the basics of selling a house?
Most people use a real estate agent to sell their houses. A good real estate agent markets the home, lists the home in the MLS, takes pictures, helps sellers get the home in great shape, negotiates offers, and helps with inspections, appraisals, and closings.
The downside to using real estate agents is they can be expensive. The seller usually pays for both the agent representing the seller and the agent representing the buyer. That may seem weird, but it actually helps homes sell for more money because most buyers do not have the cash to pay an agent and buy a house as well. The more buyers there are, the more money houses will sell for.
Here is a breakdown of the selling process:
Decide on a price to ask
Declutter, repair, or stage the home
Take photos and create marketing materials
List the home for sale in the MLS, place a sign in the yard, and advertise the home
Wait for showings and possible offers
Negotiate the offers
When an offer is accepted, contact the title company or attorney to start the escrow process
Title searches are completed
An inspection is completed and any inspection repairs requested
An appraisal is ordered and completed
The buyer's loan is secured
The property sells using a closing company or attorney.
You can also sell a house on your own as a for sale by owner (FSBO), in which case you need to do most of the actions above. Or, you can sell a house directly to investors who buy houses for cash. The selling process is easier when you sell directly, but you make much less money in most cases.
How important is the asking price when selling a house?
When you sell a house, the thing that will attract buyers more than anything else is the price. Buyers and real estate agents use the price to sort out potential properties when they search the MLS. I am always looking for low-priced deals that I can make money on, either as a rental or fix and flip. Many buyers want to be in a certain neighborhood or a certain area for a certain price. If your home is priced higher than all the other homes in the neighborhood, it can be very difficult to sell. Most buyers have expectations for what certain areas cost, and if a home is priced significantly higher than that expectation, many buyers may never consider that home or even view it. You may also run into an appraisal issue, which I will talk about shortly.
Seller's market
Different types of markets will change how you sell a house. In a seller's market, there is much more flexibility with asking price and repairs needed. I will actually price homes a little high in a seller's market because there is very little competition. In a seller's market, many buyers are looking for homes, but there are only a few homes for sale. Even if I price my home a little high, buyers will still look at the home and may offer me less than I am asking but still make an offer. In a seller's market, I can sometimes make fewer repairs as well because I don't have five or ten other houses to compete with.
Buyer's market
In a buyer's market, everything changes. I will price my homes slightly below what I think market value is. I do this because I don't want to get caught chasing a decreasing market. When chasing a decreasing market, you may try to lower your price to get buyers, but you can't seem to lower it enough to catch the decreasing prices. Your home ends up on the market 3 months or more, and it becomes stigmatized. Whenever a house is on the market for an extended period, buyers automatically think something is wrong with it. Even if the price is great and the home is perfect, buyers will think there must be some reason no one else has bought it.
One of the biggest mistakes I see flippers make is they price their homes too high. They overspend on repairs, and it takes them longer to sell the home than they thought. To make up for the added expenses, they raise the price. Buyers do not care how much money you spent repairing the home or how long it took you. They are about the price compared to other houses they can buy. Make sure you price your home based on what the market says it will sell for—not how much money you have in it.
How quickly do you need to sell a house?
If you want to sell a house that you live in, the time it takes to make repairs or get the home perfect for marketing does not matter as much. The owner occupant is living in the home and using it while it is being repaired. If you are an investor or have already moved out of the home, you are paying carrying costs while the home sits vacant. Most likely, you have a loan and you are paying interest plus utilities, insurance, and opportunity cost.
Opportunity costs arise when you might miss out on a new deal because your money is tied up and you can't buy anything else. It can cost $50, $100, or more a day to carry a vacant house with a loan on it. By trying to squeak out a few thousand dollars with a high price, you may be costing yourself thousands.
Not only does pricing a home too high cost you money in carrying costs, the repairs will add to the time it takes to sell as well. When considering whether to make minor or major repairs in a home, make sure you calculate the extra carrying costs it will cost you to make those major repairs.
If you need to sell your house fast, the best way to get rid of it is to price it low. The best way to motivate buyers is to give them an awesome deal. When I flip houses, I look for homes that are priced well below market value. As a flipper, I can pay cash for houses and close very quickly. There are many other flippers in almost every real estate market, but to flip houses, you have to get really good deals. When you see ads about buying ugly houses, paying cash for houses, or get letter from an investor wanting to buy your house, they probably want to flip it. If you need to sell really fast, selling to a house flipper will get the job done, but you will sell it for much less than you would by listing it with an agent.
Should you use a real estate agent to sell a house for the most money?
Real estate agents are expensive, but they are worth it. I am a real estate agent, and I may be biased, but there are only a few specific instances where I would try to sell a house without an agent. I am looking to buy some commercial properties, which I am not an expert in. Even though I am an agent, I am hiring another agent to represent me because of the experience they have in commercial. I also pay another agent who is representing the buyers on most of the houses I sell.
MLS
Real estate agents have access to MLS, which you need to use to sell your home for the most money. The MLS is the multiple listing service, and like it or not, it is controlled by real estate agents. Most buyers looking for homes depend on an agent to find them a house, and if your home is not on MLS, there is little chance an agent will find it. You can use a cheap limited service company to list your home in MLS, and you will save some money in some states (in Colorado, limited service listings are not legal). You will still have to pay the real estate agent representing the buyer, and you will have no representation while the buyer does. It is never a good thing to go into a deal without professional representation when the other party does.
Complicated
It is very tricky selling a house. All you have to do is read through a 17 page contract to understand how tricky. Then there are the state addendum and disclosures, which add up to another 15 pages. The contract is that long to cover all the possible cases where someone may get sued.
Marketing
If you get a good Realtor, they will know exactly how to market your home. There is more to marketing than putting a sign in the yard. You need great pictures, virtual tours, color fliers, open houses, agent tours, and an internet presence. Realtors will put listings on multiple websites including Craigslist, Facebook, and Twitter.
Staging and repairs
Real estate agents can tell you what the most important repairs are to make on your home.  A great agent knows exactly how to sell a house and how to get your home into showing condition.
Pricing
A real estate agent can tell you how much to sell a house for. It is very hard to determine market value on a home without access to MLS and sold listings. As I mentioned before, the asking price is extremely important when you sell a house.
What is the best time of year to sell a house?
The time of year can affect how you sell a house. If you have a choice, it may be best to sell a house at certain times of the year like the spring or summer. It also depends on what part of the country you live in. If you live anywhere that has a cold winter, the tips below apply. If you live in a resort area or a place where people move to in the winter, the opposite may apply.
Spring: Spring may be the best time of the year to sell a house. In the spring, people are outside enjoying the nice weather, and the days get longer. Many people have to work until 5 and can't see homes until after work. During the winter, it is dark after work and much more difficult to look at homes.
Fall: Fall is a decent time to sell a house, but it is a risky time to sell. People start to get very busy in the fall with their kids starting school, activities, and sports. Halloween and Thanksgiving also preoccupy families and takes their focus off buying a home.
Winter: Winter is the toughest time of year to sell a house. The holidays and cold weather tend to slow down the housing market. I happen to find many of my great deals in the winter because other buyers are preoccupied with the holidays. The days are very short and don't allow much viewing time.
Summer: Summer is a great time to sell a house. The weather is warm, the days are long, and many people have more free time. Many buyers also want to get settled into a house before school starts along with all the other activities associated with school.
I am not saying you should never sell a house in the winter or fall, but it is usually easier to sell a house in the spring and summer. We sell homes all year round, and if you do everything else right, you can sell a house any time of the year. If you need to sell right away, the time of year should not deter you from selling. There are times that are best to sell, but it may not make a huge difference in the selling price.
Should you make repairs?
One of the most important factors when you sell a house is the condition of the home. Seasoned investors and those experienced in real estate can see the potential in homes that need repairs. However, many first-time or move-up buyers have a hard time picturing a home if it needs work or does not show well. I am a real estate agent, and I have shown homes to many buyers who let paint color or furniture persuade them on whether to buy a house or not.
The repairs you make are extremely important when you want to sell a house. How many and what type of repairs will vary on market conditions and the price of a home. Usually the more expensive the home, the more repairs and updates need to be done.
When I flip houses, I typically buy and sell homes on the low side of the market. Our median price is around $300,000, and our flips usually sell for less than that even after they are fully repaired. I recently bought a high-end flip with a selling price above $700,000. I repaired the house and listed it, but it was not selling. The feedback I got from agents who had shown the house was not good either. I realized I had repaired the house according to the low-end market I usually flip houses in. In the high-end market, I had to make the property perfect to sell. With less expensive homes, the houses do not have to be nearly as nice. I took the home off the market, made more repairs, re-listed the home, and it sold.
You have to make sure your home is comparable to other houses selling in your neighborhood.
Do you need to stage a house?
Staging can mean a lot of things to a lot of people. Staging can mean spending thousands of dollars to rent furniture for a vacant home, or it can mean picking up and organizing a home that is lived in. I know many investors who swear by staging and feel it brings them much more money than if it were not staged. I think staging can create a very positive effect if done correctly. You can't throw a table and two chairs in the living room and call it staged. To properly stage a home, each room needs to have at least the bare minimum furniture that someone would want to live with. Staging should show potential buyers what the home would feel like if they lived there.
We never staged homes until recently because it can be a lot of work. However, we found a company that stages them for us, and it has made it so our homes sell faster and look much better. We now stage almost all of our house flips.
I think staging becomes very important when a house is lived in. Many people tend to collect furniture and personal items over the years that fill up a house. The key to staging an occupied house is to de-clutter as much as possible and de-personalize the home. When buyers look at a home, you want them to look at the features of the home, not your personal pictures. You want buyers to picture themselves living in the home, not someone else living there. When de-cluttering a house, it is best to remove all non-essential furniture and most decorations. You want the home to feel as large as possible, and the fewer items in the home, the larger it feels. When you sell a house, make sure your furniture is not too big for your rooms. Nothing makes a house feel small more than a king size bed in a small bedroom.
Another factor to consider is what other sellers are doing in your market. Is every vacant home being staged? If all your competition is staging homes, you may have to stage your house if it is vacant as well.
Checklist when selling
You may have to stage your house if it is vacant and your competition is staging their homes. Even if you are not staging your home, or if you are living in your home, you must make it look as nice as possible. Here are some things you should always do when selling:
Have it professionally deep cleaned. Many people clean houses themselves but do a lackluster job. Pay for it to be done before the home is listed.
De-clutter the home. Remove unneeded or massive pieces of furniture. Usually the less furniture, the bigger a house will look.
Make sure the yard is mowed, weeds are pulled, things are tidy.
Remove extra vehicles that are not needed.
Trim trees away from walkways.
Remove signs of pets in the home.
When the home is being shown, open all the window blinds and curtains.
When the home is being shown, make sure heat or air conditioning is at a pleasant temperature.
When showing, bake cookies or something that smells good and leave them for buyers (great at open houses as well).
Have carpets professionally cleaned before listing.
Be flexible with showings and ready at any moment.
Make needed repairs or updates before the house is listed. Do not offer an allowance.
If painting, use neutral colors.
Be economical (but not cheap) when making repairs. Most $100,000 kitchens will not get their money back, unless in a multimillionaire dollar home.
Do not trust online value estimators. They can be way off.
Be ready to leave during showings.
How long does it take?
The time it takes to sell a house can vary greatly depending on how you sell it and who you sell it to. A quick cash closing can take as little as 10 days, but when a loan is involved, the selling process can take 45 days or longer. That is just the time it takes to sell the house after a contract has been accepted. A home owner must also get the home ready to market, list the home for sale, and find a buyer willing to pay the right price.
The time it takes to sell a house can also vary depending on what the real estate market is like in your area and how expensive the home is. Houses will sell faster in a seller's marker (a seller's market is when there are few homes for sale and sellers have an advantage) than they will in a buyer's market (a buyer's market is when there are many homes for sale and buyers have the advantage). Depending on the market, the home, the type of sale, and the asking price, it can take from 10 days to 6 months or longer to sell a house. There are many things homeowners can do to decrease the time it takes to sell and increase how much they sell their house for.
How long does it take to get a home under contract once it is listed for sale?
Once your home is ready to sell (repairs made, clean, and possibly staged), you should list it with a real estate agent. How long it takes to get an offer on your house will depend greatly on the market you are in. In some markets, homes will get offers in less than a week, or even on the same day they are listed. In other markets it may take weeks or months to get an offer on a house. I have found that if you price your home right, it takes about three weeks to get a a house under contract. Under contract means the buyer and seller have signed a contract to sell the house. In a seller's market it can take much less time and more time in a buyer's market. It is very important that the home is priced right or it will cost the seller money as well. Price a home too low and you leave money on the table. Price a home too high, and you scare off buyers and stigmatize the home.
How long does it take to sell a house once it is under contract?
Once the contract is signed by both the buyer and seller, the closing (when the actual sale happens) can take much more time. In almost all transactions the buyer will want title insurance, which can take a week for the title company or attorney to prepare. The shortest closings are usually around 7 to 10 days. The buyer may also want an inspection where they can check out the condition of the home, which can take 7 to 14 days. The buyer may want to get a loan, which can take from 30 to 60 days. Most loans will require an appraisal, which can take from 7 to 45 days depending on your market. Luckily most of these things can be done at the same time and you do not have to wait for one to be completed before the other can start. The time it takes to close with a loan usually depends on how fast the lender is, and how fast the appraisal can be done. It usually takes about 45 days to close on a loan.
What can delay the time it takes to sell a house?
If things go smoothly, it normally takes 2 to 3 months to sell a house once it is listed for sale. You cannot count on your house selling that fast. There are a number of things that can delay the process:
Pricing your home too high. We talked about this already, but when you price too high, it can add months to the time it takes to sell.
Not making repairs to the home. A home that needs work will take much longer to sell unless it is priced very low to attract cash buyers.
Having a contract fall apart. It is not rare to see the first contract on a home fall apart. The inspection could scare the buyers or show major problems with the home. The buyer's loan may not be approved, or there could be problems with the appraisal. It could add a month or two to the timeline if you have a contract fall apart.
Contractor delays when you make repairs to a home. It is smart to fix up your house before you sell it, but contractors can be tough to deal with.
How can you sell a house fast?
I have been a real estate agent and real estate investor for over 15 years. I have a lot of experience with helping others sell homes as well as selling my own homes. There are ways to sell your house fast, but it will not get you the most money. There are investors like myself who will be happy to buy a house in 10 days if it is a good enough deal. Investors do not want to pay 10 percent or even 15 percent less than what a home is worth. They often want to pay 30 percent less than what it is worth to make it a good deal for them. Most people would rather take their time selling their home and get the most money they can, but if you need to sell right away, there are investors who would be happy to help you. If you want to sell fast, you can email me: [email protected]
How much does it cost to sell a house?
The cost to sell a house can range from 7 t0 10 percent of the selling price. Selling a house can be a fantastic experience if you buy the home below market value and are aware of all the costs involved. Selling a house can also be a disappointing experience if you are not aware of all the costs involved and do not make as much money as you had hoped to. There are many costs involved in selling a house, and knowing those costs up front will make the experience much more enjoyable. You will most likely have to pay a real estate agent, title insurance, recording fees, closing fees, and possibly much more when you sell a house.
This figure can be quite shocking to many sellers, but if you want to get top dollar for your house, it costs money. The vast majority of those costs is from paying real estate agents, but in my opinion, they make up for the cost because they usually get a much higher selling price than if you were to sell on your own.
What is the biggest cost?
By far the biggest cost in selling a house is the cost to pay real estate agents. There is no set commission, but HUD pays a six percent commission: three percent to the selling agent and three percent to the listing agent. I will use HUD's commission structure as an example throughout this article; you can always try negotiating with your real estate agent for a lower commission.
A six percent commission seems like a lot of money to pay someone to sell a house, but I believe paying a real estate agent to sell your house is necessary. The agent knows the market and is an expert at selling homes. If you do not use an agent, you could underprice or overprice your home, which could easily cost you more than what the agent charges. An agent also knows the contract process, how to best market, how to negotiate, how to handle inspections, how to handle appraisals, how to stage your home, and much more. Trying to figure out everything on your own can take a lot of time and cost you a lot of money.
How much does title insurance cost?
In most states, it is customary for the seller to pay for title insurance. Title insurance is a guarantee to the buyer that a home has a clear title when they buy. The title insurance guarantees that all loans are paid off and all liens, judgments, and title defects have been taken care of. It is always wise to get title insurance when you buy a home. In Colorado, it costs between $600 and $1,200 depending on the price of the home. This cost can vary by state, as some states have different laws regarding title insurance. Some sellers such as HUD do not pay title insurance.
What other costs are there?
There are many other fees involved in selling a home. The closing company charges a fee to handle the closing, which can range from $200 to $800 (usually on the lower end). In some states, you must use an attorney to close on a house. In Colorado, the closing fee is typically split between the buyer and seller, but that can be negotiated as well.
There are also recording fees for the deed, recording fees for any mortgages that have to be released, wiring fees for loan payoffs, and many banks charge to provide pay-off figures. These fees can range from $50 to $500 depending on the number of loans and pay-offs there are.
Why are taxes and utility costs paid?
When you sell a house, you pay the taxes and utilities up to the day you close in most cases. In Colorado, we have property taxes, but usually no transfer taxes or local taxes that have to be paid. Even though your mortgage company may be paying your property taxes through an escrow account, there may be taxes owed at closing. These taxes have to be paid at closing before the house is sold, and if the escrow account holds extra money, it will be returned to the seller after closing.
An escrow account is used for water bills in my area as well. The water account balance has to be brought down to zero before a house can close. The title company will typically escrow a small amount for the water bill so that they can pay the final water after closing, and any money not used will be returned to the seller.
Taxes and the water escrow can range greatly depending on the cost of a home. Colorado property taxes are low: around .05% of the sales price in my county. A water escrow may be $100. In other states, property taxes can be ten times higher than they are in Colorado.
If you lived in your home for two of the last five years as an owner occupant, you most likely will not pay any income taxes if you make money on the home. If you are selling an investment property, the taxes for gains are much more complicated.
HOA costs
When you live in a neighborhood with a HOA, you usually have to pay a monthly fee. Many costs besides the monthly fee come with an HOA as well as different payment structures. I just sold a house for sellers that had an HOA but had no monthly HOA payments. The HOA collected money by charging a .05% fee of the selling price of a home, which was split between buyer and seller on every house sold in the neighborhood. The sellers did not know this policy and were quite surprised at closing.
Most HOAs do not work this way, but many do charge transfer fees or fees for a status letter. These fees can be $20, $150, or more. The purchase contract will determine who pays these fees. The fees could be split, paid by the seller, or paid by the buyer.
What are the total costs?
Costs discussed up to this point have been direct costs when you sell a house. On a $200,000 house, the costs may be as follows:
Real estate agent commissions:     $12,000
Title insurance:                                  $1,000
HOA transfer fees:                             $150
Recording Fees, pay-off fees:           $150
Water escrow:                                    $100
Prorated taxes:                                   $750
Closing fee:                                         $200
Total:                                               $14,350
Why is the cost to pay off a mortgage so high?
The mortgage payoff on a house you are selling surprises many people when they see how high it is. The payoff on a mortgage is calculated to the day of the sale just as the taxes are. When you receive your statement in the mail for your mortgage, the principal amount listed is calculated after you just made a payment on the loan. Every day after that principal amount is calculated by the bank, the interest increases. A $180,000 loan balance at five percent interest will accrue about $25 a day in interest. If you decide not to pay your last mortgage payment because you are closing on the 5th of the month, there could be 30 days of interest that accrue on that loan before it is paid off when you sell the house. That adds up to $750 dollars and can be a shock to sellers who expect their payoff to be the same as their last mortgage statement principal balance.
Buyer closing costs
In some instances, buyers may need the seller to pay closing costs in order for them to get a loan. Closing costs can range from two to four percent on a loan, and many times, the buyers do not have the cash to pay these costs. It is very common for the seller to pay three percent of the closing costs for the buyer; in some cases, the price of the home is increased to make up for the closing costs, and in other cases, it is not. Closing costs are negotiable just like the price of a home…but are common. Sellers should be aware that many buyers with owner-occupied financing may ask for closing costs, which will decrease the seller's bottom line.
Should you include repair costs?
Most people want to get the most money they can when they sell their house. The best way to get the most money is to have your home in great condition. If you have lived in a home for any amount of time, there is a good chance wear and tear has occurred. If you have kids, a lot of wear and tear may occur. Most buyers want a home that will be in great shape and will not need any work when they move in. Some buyers want houses that need work, but they also expect to get a great deal when they buy those houses. Some sellers may think they can just deduct the price of the repairs from the price of their home so they can avoid spending extra money. However, the worse shape a home is in, fewer buyers will want it, and fewer buyers will qualify for it. If your home needs $10,000 in work, you won't get $10,000 less than it is worth fixed up. You would probably get $20,000 less or even $25,000 less than it is worth. It almost always makes sense to fix up your house, before you sell it.
Buying and Selling a house at the same time
A house is a huge investment, and many times, buyers will purchase the most expensive house they can afford. When you buy the most expensive house you can qualify for, it makes it very tough to buy another house without selling the house you own first. It can be tricky, but it is possible to sell the house you own now and buy another house on the same day. This allows you to avoid moving all of your possessions temporarily while you wait to buy a new house. When you are selling a house at the same time, you have to make sure you have awesome real estate agents and lenders to make everything work as it should. One complication or oversight can cause delays, which can cause huge problems for both the seller and buyer.
Why can't many home buyers buy a home before they sell their current house?
Most buyers will get a loan when they buy a house. The amount the can qualify for will based on many factors like credit, down payment, work history and debt to income ratio. The amount of the loan you can qualify for is based on your debt to income ratio and down payment. If you have bad credit or a short work history you may not be able to qualify for a loan at all even with great debt to income ratios and huge down payments. A super high credit score will not allow you to qualify for more money, but it will allow you to qualify for different loan types and interest rates.
As a home buyer, you do not have to figure out these complicated equations to see how much you can qualify for. A lender can look at everything and tell you how much you qualify for and roughly what your payments will be. Most buyers see these figures and buy a house that is close to the most they can qualify for. The problem is, when they buy a house that maxes out what they can qualify for, they cannot qualify for another home when they own the first house. When buyers do this and want to invest in rental properties, it can be very tough to buy more houses.
If you want to move up, move to a different area, or even downsize, you will most likely have to sell your current house before you can buy the new one. Most lenders will not give you a loan assuming the house you have now will sell. They want to see it sold and the loan paid off. Some of you may be thinking that you can rent out your current house instead and that will satisfy lenders. Most lenders will not count rent income until it shows up on your taxes, and many will not count all of your rent as income because renting out a house comes with many expenses. If you want to rent out your house instead of selling it, you will have to have it rented for a certain period of time before being able to qualify for another home.
How can you buy and sell a house at the same time?
Many people have to sell their current house before they can buy another. There are different options as far as short-term housing, but it is also possible to sell one house and buy another without moving in between. Here are the basics on how this works:
Either find a house you want to buy or list your house for sale and then find a house you want to buy.
Write a contract on the house you want to buy, which is contingent on you selling your house.
If you price your home well, you should get an offer right away.
Try to time the closing on the house you are selling just before you close on the house you are buying.
Close on the house you are selling. Move all your stuff into a moving van. Close on the house you are buying and move into the home.
It is actually very common to see this scenario pan out. Many times it works out great, but in some cases, one delay on any side of the transaction can cause serious problems. I also see chains of contingent sales, which can make everyone involved very nervous. For example:
You have a contract to buy a house contingent on your house selling.
The contract for the house you are selling is contingent on those buyers selling their home.
The sellers of the house you are buying are buying a new house, and their contract is contingent in their house being sold to you.
I have seen chains like this longer and if one thing gets messed up, everyone's deal can fall apart. If the buyer of your house lose their buyer on the house they are selling, they can't buy your house anymore. Now you don't have a buyer for the house you want, and the sellers of that house lost their buyer too!
What does a contingency mean?
A contingency means that a contract can terminate if the contingency is not satisfied. A contract can be contingent on a satisfactory inspection, appraisal, loan approval, survey, and many other things. When buying and selling a house at the same time, the contract is often contingent on the seller finding a buyer for their home by a certain date.
It is common to see a contingency worded like this:
This contract is contingent on the buyers home at 123 main street going under contract by October 20th, 2015. If the buyers home is not under contract by this date, this contract will terminate.
If you get to this date and the buyer's home is not under contract yet, you can try to amend this date out further if the seller agrees. If the seller does not agree, they can terminate the contract and look for a new buyer. You can also see first right of refusal clauses in contracts for buyers who have to sell their home first. Some sellers may not want to tie up their home for a contract that is contingent on a house that is not under contract yet.
This contract is contingent upon the buyer's home going under contract by October 20th, 2015. If the seller receives another acceptable offer, the buyers have 36 hours to remove the contingency on their home or this contract will terminate.
This allows the sellers to continue to market their house to new buyers until the buyers with the contingency can get their house under contract.
How can you make your offer with a contingency more likely to get accepted?
If you have to sell your house before you can buy another house, you are at a disadvantage compared to buyers who do not have to sell. A contingent contract is less likely to perform, and sellers and real estate agents know this. If I am a seller and I see two contracts that are same except one buyer has to sell a house and the other does not, I will take the offer that does not have to sell every time. There are things as a buyer you can do to make your offer more likely to be accepted.
Have your house listed on the market before you make offers on another home. If I see a contingent offer come in and the buyer's have not even listed their house, it tells me they aren't that serious.
Get your house under contract before you make an offer on a house. This is risky because there is a chance that you will not find a house to buy, but it makes your offer much more attractive to sellers.
Price your home so that it sells quickly! As a real estate agent and seller of many homes, I want to see any houses involved in a contingent offer be priced to sell. If they are overpriced, the chances of the deal going through are very slim.
You might have to offer more on another house if you have a contingency. If you are competing against other offers that have no contingency, raising your offering price may convince the seller to take your offer.
Make sure you are pre-qualified! If you are making an offer contingent upon your house selling, you better have a pre-qualification letter showing you can get a new loan once your house sells.
What happens if you have everything lined up to sell on the same day and something goes wrong?
Things go wrong when buying and selling houses. The buyer can get turned down for their loan because they bought a new car or they lost their job. The appraisal can come in too low on one of the houses, or lending troubles can cause delays. If you are selling a home and you as the buyer cannot buy the new house because you are turned down for the loan, you may still be obligated to sell your house depending on how far along the process is.
If you are buying a house contingent on yours selling and the buyers of your house cannot buy it, you will most likely be able to cancel the contract on the house you are buying and get your earnest money back. In the case of delays on the house you are selling, it will push out the closing of the house you are buying because you can't buy that house without selling yours first. In the case of delays with the house you are buying, you may be homeless for a couple of days or weeks while you wait for the new house to close. It is best to have some sort of short-term housing lined up in case you need it. Maybe stay with friends or family or in a hotel.
It is possible the seller may let you rent the home you are buying before you move in, or the buyer of your house may let you rent the home you just sold short-term until you can move into the new home.
How can you avoid a contingency for selling your house altogether?
If you are looking to buy a new home, the best way to do it is to avoid a contingency to sell yours. This is not possible for everyone, but many people may be able to avoid contingencies if they think outside the box.
You can make an offer than is not contingent upon your house selling. If anything happens and you cannot follow through on your contract because your house does not sell, you might lose your earnest money. If your earnest money is $1,000 or $2,000, the risk might be worth it to get a better deal on the house you are buying or have a better chance at getting a house you love.
Make an offer without having to sell your house first by using a co-signor. If a parent, sibling, or friend will co-sign on the new loan with you, you may not have to sell your house first to buy the new house. The co-signor will be on that loan until the loan is paid off or refinanced. Make sure they know what they are getting into and that this loan could affect their debt-to-income ratio.
Borrow money on a short-term basis from family or a hard-money lender. This is risky as well because the interest rates will most likely be very high. If you borrow money to buy the new home, you can take your time selling your old house. When the old house is sold, you can refinance the new home and pay back the hard-money lender or friends and family. I used this technique when I bought a house at the foreclosure sale that I had to pay cash for.
Be willing to sell your house first and plan to live somewhere for the short term. You can sell your house first before you look for another. You will not have to stress about selling fast and finding another home fast. You can sell your house, move out, and take your time looking for a new house.
What does the seller have to disclose?
When selling a house, the homeowner must disclose material facts they know about their home. A seller's property disclosure is typically used by the seller to disclose what they know about their house. It is not required by law for the sellers to fill out a disclosure in all states, but it is commonly used. The seller fills out the property disclosure noting any material facts they know about their property. The seller provides this disclosure to any potential buyers or can wait until a buyer gets the home under contract. The homeowner must disclose any material facts they know about a home whether they use a property disclosure or not. Material facts are physical flaws with a property. In some states, you must disclose even more than material facts, like if someone died in the home.
Why do sellers have to disclose facts about their property?
Houses can be very complicated with heating systems, electrical systems, plumbing systems, structural systems, and much more. You can see many parts of the house, but you cannot see everything. Even a home inspection will not be able to check out every part of a house. You cannot tear into the drywall to see how much insulation there is or how the electrical was done. You may not be able to see the foundation walls because the basement is finished. You may not know that the basement floods every time it rains because it has not rained for weeks. You may not be able to tell there was a fire in the attic because part of the attic access is blocked off. Because a potential home buyer cannot know everything about a home, there are laws in place that require the current homeowner to disclose what they know. The laws are different in every state, but for the most part sellers must disclose material facts.
What is a material fact?
The definition of material facts can vary state to state. Typically a material fact is something physically wrong with a property. Here are some examples of material facts:
The roof leaks
The basement floods
The home has a severely cracked foundation
The furnace has a cracked heating exchange
The neighbor's garage is partially on the property
The home does not legally conform to the lot
High radon levels
Mold in the home in excess levels
There are many other items that can be considered material facts about a property. "Material" means the fact is important to whomever is making a decision about the property. Here is the actual definition. A homeowner does not have to disclose every single thing they know about the property if it is not important. You probably don't have to tell the new buyers that an outlet cover is cracked or some of the trees need trimming. Material facts are major or even minor problems that someone would want to know about when buying a home.
When I bought my house a few years ago, we found out later the outside water line that went under the deck was broken. The sellers did not disclose this, but it would have been nice to know and a material fact.
If there is a problem with a house, but the seller fixes that problem, they may not have to disclose that fact either. In Colorado, if a house was a meth house yet was cleaned up, the seller may not have to disclose it.
Why do different states have different laws?
Every state has different laws in regard to what a seller must disclose about their property. States get to make their own laws for real estate transactions and real estate agents. It is very important you check with your local laws or real estate agent to see what must be disclosed in your area. In some states, you must disclose if someone has died in a home, but in others you do not. Some states require that you disclose if someone was murdered in a home but not if they died from natural causes. You may even have to disclose if your house is haunted in some states! In New York, the courts ruled that a seller should have disclosed their house was haunted. However, in that case, the seller had told everyone the house was haunted…including Reader's Digest. The courts decided since the seller had made it public knowledge that they thought the house was haunted, they should have told the buyer as well. Here is the full story.
What is a seller's property disclosure?
In many states, there is a seller's property disclosure form that can be filled out to inform any potential buyers about the home. The seller is supposed to fill out this form on their own without help from their real estate agent. It is not required that this form be filled out by law in most areas, but it is typically done. The form includes information about all the major systems in the house, any problems with them, how old they are, etc. Many homeowners have no idea about the systems in their homes, and that is okay. You can mark that you don't know to any question asked. Just make sure you if you mark that you do not know, you really don't know, and are not trying to hide something.
I have seen some sellers in my area mark through the entire property disclosure with a giant X and refuse to answer any question. They claim they never lived in the home and don't know anything about it. Technically, even if you never lived in a property, you still might know material facts about it. I am a real estate investor with many rental properties and flips. When I sell a house, I still fill out a property disclosure. Even though I may mark "I do not know" to most of the questions, I still take the time to fill it out. I can also mark when something was replaced, that the roof is new, that the appliances are new, etc., which may make the buyer feel better about the home. If you do not fill out a property disclosure or refuse to answer any question, it may make the buyer think you are hiding something.
If a seller chooses not to fill out a property disclosure, that does not relieve them of the responsibility to disclose material facts.
What happens if the seller does not disclose material facts?
The tricky part with disclosing material facts is first determining what a material fact is and then determining if the seller knew that fact. I think it is reasonable to assume that if the seller of a home knows something is wrong with the house, that would cause most buyers to rethink purchasing it. They should disclose it. Whether you have to disclose deaths or a haunting would depend on state laws.
If the seller does not disclose something wrong with a house like a leaking roof, the buyer could sue them for damages. Whether the buyer wins the case or not would again depend on state laws and how big the issue was. As a seller, it is important to remember that buyers will do inspections on your house. If they complete an inspection that shows major problems with the home, the seller may be required to disclose those problems to new buyers.
Can appraisals impact the selling price on a house?
We run into appraisal issues all the time, especially in an appreciating market. The appraisers have to use sold comps when they determine value on a home. In an appreciating market, it can be tough to find enough sold comps to justify rising prices. When you are deciding how many repairs to do on a home, look at the sold comps in the neighborhood and make sure the sold comps support a higher value. If your home is nicer and more expensive than everything else in the neighborhood, you may run into an appraisal issue.
If a home does not appraise for the contract price, the buyers must base their loan value on the appraisal value. Many times, buyers don't have a lot of extra cash and the only solution to a low appraisal is to find new a buyer or lower the price. If an FHA appraisal was done on the house, that appraisal stays with the home for four months, and any new FHA buyers will have to use that appraisal. A low appraisal will almost certainly cost the seller money.
How does the 90-day flip rule affect selling a house?
There used to be a 90-day flip rule on FHA loans for buyers. The rule would not allow lenders to loan on properties that had sold within the last 90 days. Even though that rule was suspended, many lenders still abide by it. Some lenders will allow a second appraisal to be done within 90 days of a sale to verify value, some will make everyone wait 90 days before they can sign the contract, and other lenders don't pay attention to the rule at all. Homes that were foreclosed on by the bank and bought back by the bank are exempt from this rule. If you are going to flip a home and plan to sell it within 90 days of when you purchased the home, be aware you may run into a problem with the 90 day flip rule.
Conclusion
When you sell a house, there is a lot to think about. I have sold houses for over ten years, and I am still learning! If you want to make the process easy, hire a great real estate agent. Otherwise, pay attention to how your house looks, what repairs you make, how much you ask, and when you sell a house. If you are wondering when the one time we might try to sell a house by owner is, it is when repairs are in progress and the home is not ready to market yet.
When we sell a house, if we have it priced right, we get an offer around the third week on the market. I have no idea why it ends up being three weeks, but that seems to be the sweet spot. If we price a home too low, we will get multiple offers in the first week, and if we price too high, we will get no offers in the first month.  If we get no offers in the first month, we will lower the price about 5 percent right away. We don't want our houses sitting stagnant on the market.
For more information on finding awesome rentals or flipping homes. Check out my best selling books on Amazon:
Build a Rental Property Empire