Last Updated on February 17, 2022 by Mark Ferguson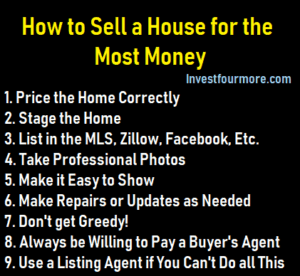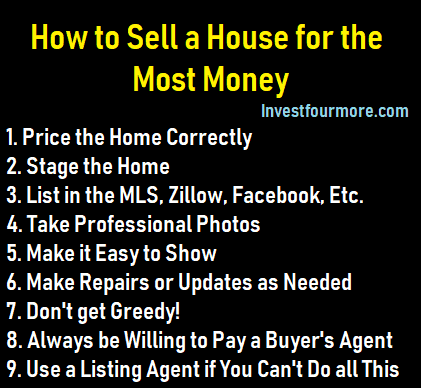 Many people dream of buying a house, but when you buy, you usually need to sell at some point. Even if you never buy a house, you may end up having to sell a house you inherit. There are many ways to sell a house, and most people want to make the most money they can when they sell. In this article, we go over the different ways to sell a house, including the costs to sell a house and how to sell a house for the most money. I have sold thousands of houses myself as an agent, investor, and homeowner.
What are the basics of selling a house?
Most people use a real estate agent to sell their houses. A good real estate agent markets the home, lists the home in the MLS, takes pictures, helps sellers get the home in great shape, negotiates offers, and helps with inspections, appraisals, and closings.
The downside to using real estate agents is they can be expensive. The seller usually pays for both the agent representing the seller and the agent representing the buyer. That may seem weird, but it actually helps homes sell for more money because most buyers do not have the cash to pay an agent and buy a house as well. The more buyers there are, the more money houses will sell for.
Here is a breakdown of the selling process:
Decide on a price to ask
Declutter, repair, or stage the home
Take photos and create marketing materials
List the home for sale in the MLS, place a sign in the yard, and advertise the home
Wait for showings and possible offers
Negotiate the offers
When an offer is accepted, contact the title company or attorney to start the escrow process
Title searches are completed
An inspection is completed and any inspection repairs requested
An appraisal is ordered and completed
The buyer's loan is secured
The property sells using a closing company or attorney.
You can also sell a house on your own as a for sale by owner (FSBO), in which case you need to do most of the actions above. Or, you can sell a house directly to investors who buy houses for cash. The selling process is easier when you sell directly, but you make much less money in most cases.
How important is the asking price when selling a house?
When you sell a house, the thing that will attract buyers more than anything else is the price. Buyers and real estate agents use the price to sort out potential properties when they search the MLS. I am always looking for low-priced deals that I can make money on, either as a rental or fix and flip. Many buyers want to be in a certain neighborhood or a certain area for a certain price. If your home is priced higher than all the other homes in the neighborhood, it can be very difficult to sell. Most buyers have expectations for what certain areas cost, and if a home is priced significantly higher than that expectation, many buyers may never consider that home or even view it. You may also run into an appraisal issue, which I will talk about shortly.
Seller's market
Different types of markets will change how you sell a house. In a seller's market, there is much more flexibility with asking price and repairs needed. I will actually price homes a little high in a seller's market because there is very little competition. In a seller's market, many buyers are looking for homes, but there are only a few homes for sale. Even if I price my home a little high, buyers will still look at the home and may offer me less than I am asking but still make an offer. In a seller's market, I can sometimes make fewer repairs as well because I don't have five or ten other houses to compete with.
Buyer's market
In a buyer's market, everything changes. I will price my homes slightly below what I think market value is. I do this because I don't want to get caught chasing a decreasing market. When chasing a decreasing market, you may try to lower your price to get buyers, but you can't seem to lower it enough to catch the decreasing prices. Your home ends up on the market 3 months or more, and it becomes stigmatized. Whenever a house is on the market for an extended period, buyers automatically think something is wrong with it. Even if the price is great and the home is perfect, buyers will think there must be some reason no one else has bought it.
One of the biggest mistakes I see flippers make is they price their homes too high. They overspend on repairs, and it takes them longer to sell the home than they thought. To make up for the added expenses, they raise the price. Buyers do not care how much money you spent repairing the home or how long it took you. They are about the price compared to other houses they can buy. Make sure you price your home based on what the market says it will sell for—not how much money you have in it.
How quickly do you need to sell a house?
If you want to sell a house that you live in, the time it takes to make repairs or get the home perfect for marketing does not matter as much. The owner occupant is living in the home and using it while it is being repaired. If you are an investor or have already moved out of the home, you are paying carrying costs while the home sits vacant. Most likely, you have a loan and you are paying interest plus utilities, insurance, and opportunity cost.
Opportunity costs arise when you might miss out on a new deal because your money is tied up and you can't buy anything else. It can cost $50, $100, or more a day to carry a vacant house with a loan on it. By trying to squeak out a few thousand dollars with a high price, you may be costing yourself thousands.
Not only does pricing a home too high cost you money in carrying costs, the repairs will add to the time it takes to sell as well. When considering whether to make minor or major repairs in a home, make sure you calculate the extra carrying costs it will cost you to make those major repairs.
If you need to sell your house fast, the best way to get rid of it is to price it low. The best way to motivate buyers is to give them an awesome deal. When I flip houses, I look for homes that are priced well below market value. As a flipper, I can pay cash for houses and close very quickly. There are many other flippers in almost every real estate market, but to flip houses, you have to get really good deals. When you see ads about buying ugly houses, paying cash for houses, or get letter from an investor wanting to buy your house, they probably want to flip it. If you need to sell really fast, selling to a house flipper will get the job done, but you will sell it for much less than you would by listing it with an agent.
Should you use a real estate agent to sell a house for the most money?
Real estate agents are expensive, but they are worth it. I am a real estate agent, and I may be biased, but there are only a few specific instances where I would try to sell a house without an agent. I am looking to buy some commercial properties, which I am not an expert in. Even though I am an agent, I am hiring another agent to represent me because of the experience they have in commercial. I also pay another agent who is representing the buyers on most of the houses I sell.
MLS
Real estate agents have access to MLS, which you need to use to sell your home for the most money. The MLS is the multiple listing service, and like it or not, it is controlled by real estate agents. Most buyers looking for homes depend on an agent to find them a house, and if your home is not on MLS, there is little chance an agent will find it. You can use a cheap limited service company to list your home in MLS, and you will save some money in some states (in Colorado, limited service listings are not legal). You will still have to pay the real estate agent representing the buyer, and you will have no representation while the buyer does. It is never a good thing to go into a deal without professional representation when the other party does.
Complicated
It is very tricky selling a house. All you have to do is read through a 17 page contract to understand how tricky. Then there are the state addendum and disclosures, which add up to another 15 pages. The contract is that long to cover all the possible cases where someone may get sued.
Marketing
If you get a good Realtor, they will know exactly how to market your home. There is more to marketing than putting a sign in the yard. You need great pictures, virtual tours, color fliers, open houses, agent tours, and an internet presence. Realtors will put listings on multiple websites including Craigslist, Facebook, and Twitter.
Staging and repairs
Real estate agents can tell you what the most important repairs are to make on your home.  A great agent knows exactly how to sell a house and how to get your home into showing condition.
Pricing
A real estate agent can tell you how much to sell a house for. It is very hard to determine market value on a home without access to MLS and sold listings. As I mentioned before, the asking price is extremely important when you sell a house.
What is the best time of year to sell a house?
The time of year can affect how you sell a house. If you have a choice, it may be best to sell a house at certain times of the year like the spring or summer. It also depends on what part of the country you live in. If you live anywhere that has a cold winter, the tips below apply. If you live in a resort area or a place where people move to in the winter, the opposite may apply.
Spring: Spring may be the best time of the year to sell a house. In the spring, people are outside enjoying the nice weather, and the days get longer. Many people have to work until 5 and can't see homes until after work. During the winter, it is dark after work and much more difficult to look at homes.
Fall: Fall is a decent time to sell a house, but it is a risky time to sell. People start to get very busy in the fall with their kids starting school, activities, and sports. Halloween and Thanksgiving also preoccupy families and takes their focus off buying a home.
Winter: Winter is the toughest time of year to sell a house. The holidays and cold weather tend to slow down the housing market. I happen to find many of my great deals in the winter because other buyers are preoccupied with the holidays. The days are very short and don't allow much viewing time.
Summer: Summer is a great time to sell a house. The weather is warm, the days are long, and many people have more free time. Many buyers also want to get settled into a house before school starts along with all the other activities associated with school.
I am not saying you should never sell a house in the winter or fall, but it is usually easier to sell a house in the spring and summer. We sell homes all year round, and if you do everything else right, you can sell a house any time of the year. If you need to sell right away, the time of year should not deter you from selling. There are times that are best to sell, but it may not make a huge difference in the selling price.
Should you make repairs?
One of the most important factors when you sell a house is the condition of the home. Seasoned investors and those experienced in real estate can see the potential in homes that need repairs. However, many first-time or move-up buyers have a hard time picturing a home if it needs work or does not show well. I am a real estate agent, and I have shown homes to many buyers who let paint color or furniture persuade them on whether to buy a house or not.
The repairs you make are extremely important when you want to sell a house. How many and what type of repairs will vary on market conditions and the price of a home. Usually the more expensive the home, the more repairs and updates need to be done.
When I flip houses, I typically buy and sell homes on the low side of the market. Our median price is around $300,000, and our flips usually sell for less than that even after they are fully repaired. I recently bought a high-end flip with a selling price above $700,000. I repaired the house and listed it, but it was not selling. The feedback I got from agents who had shown the house was not good either. I realized I had repaired the house according to the low-end market I usually flip houses in. In the high-end market, I had to make the property perfect to sell. With less expensive homes, the houses do not have to be nearly as nice. I took the home off the market, made more repairs, re-listed the home, and it sold.
You have to make sure your home is comparable to other houses selling in your neighborhood.
Do you need to stage a house?
Staging can mean a lot of things to a lot of people. Staging can mean spending thousands of dollars to rent furniture for a vacant home, or it can mean picking up and organizing a home that is lived in. I know many investors who swear by staging and feel it brings them much more money than if it were not staged. I think staging can create a very positive effect if done correctly. You can't throw a table and two chairs in the living room and call it staged. To properly stage a home, each room needs to have at least the bare minimum furniture that someone would want to live with. Staging should show potential buyers what the home would feel like if they lived there.
We never staged homes until recently because it can be a lot of work. However, we found a company that stages them for us, and it has made it so our homes sell faster and look much better. We now stage almost all of our house flips.
I think staging becomes very important when a house is lived in. Many people tend to collect furniture and personal items over the years that fill up a house. The key to staging an occupied house is to de-clutter as much as possible and de-personalize the home. When buyers look at a home, you want them to look at the features of the home, not your personal pictures. You want buyers to picture themselves living in the home, not someone else living there. When de-cluttering a house, it is best to remove all non-essential furniture and most decorations. You want the home to feel as large as possible, and the fewer items in the home, the larger it feels. When you sell a house, make sure your furniture is not too big for your rooms. Nothing makes a house feel small more than a king size bed in a small bedroom.
Another factor to consider is what other sellers are doing in your market. Is every vacant home being staged? If all your competition is staging homes, you may have to stage your house if it is vacant as well.
Checklist when selling
You may have to stage your house if it is vacant and your competition is staging their homes. Even if you are not staging your home, or if you are living in your home, you must make it look as nice as possible. Here are some things you should always do when selling:
Can appraisals impact the selling price on a house?
We run into appraisal issues all the time, especially in an appreciating market. The appraisers have to use sold comps when they determine value on a home. In an appreciating market, it can be tough to find enough sold comps to justify rising prices. When you are deciding how many repairs to do on a home, look at the sold comps in the neighborhood and make sure the sold comps support a higher value. If your home is nicer and more expensive than everything else in the neighborhood, you may run into an appraisal issue.
If a home does not appraise for the contract price, the buyers must base their loan value on the appraisal value. Many times, buyers don't have a lot of extra cash and the only solution to a low appraisal is to find new a buyer or lower the price. If an FHA appraisal was done on the house, that appraisal stays with the home for four months, and any new FHA buyers will have to use that appraisal. A low appraisal will almost certainly cost the seller money.
How does the 90-day flip rule affect selling a house?
There used to be a 90-day flip rule on FHA loans for buyers. The rule would not allow lenders to loan on properties that had sold within the last 90 days. Even though that rule was suspended, many lenders still abide by it. Some lenders will allow a second appraisal to be done within 90 days of a sale to verify value, some will make everyone wait 90 days before they can sign the contract, and other lenders don't pay attention to the rule at all. Homes that were foreclosed on by the bank and bought back by the bank are exempt from this rule. If you are going to flip a home and plan to sell it within 90 days of when you purchased the home, be aware you may run into a problem with the 90 day flip rule.
Conclusion
When you sell a house, there is a lot to think about. I have sold houses for over ten years, and I am still learning! If you want to make the process easy, hire a great real estate agent. Otherwise, pay attention to how your house looks, what repairs you make, how much you ask, and when you sell a house. If you are wondering when the one time we might try to sell a house by owner is, it is when repairs are in progress and the home is not ready to market yet.
When we sell a house, if we have it priced right, we get an offer around the third week on the market. I have no idea why it ends up being three weeks, but that seems to be the sweet spot. If we price a home too low, we will get multiple offers in the first week, and if we price too high, we will get no offers in the first month.  If we get no offers in the first month, we will lower the price about 5 percent right away. We don't want our houses sitting stagnant on the market.
For more information on finding awesome rentals or flipping homes. Check out my best selling books on Amazon:
Build a Rental Property Empire