Last Updated on March 29, 2023 by Mark Ferguson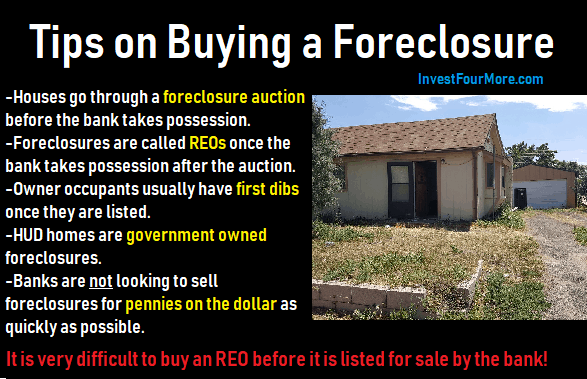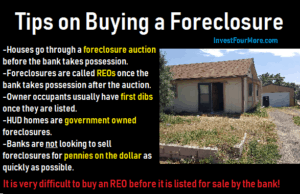 Getting a great deal on houses is key to my real estate investment strategy. Buying a house from a foreclosure auction is one way to get a great deal, but it comes with risk. You can also buy foreclosures from the MLS (multiple listing service), which are often called REOs. It is even possible to buy a foreclosure directly from banks, but that is a very rare and tough strategy to implement. I have bought many foreclosures in my career as an investor, and I have sold many REOs as a real estate agent. I have sold many HUD homes as well, which are government foreclosures. In this article, I discuss many ways to buy foreclosures and the pros and cons of each. I also show videos of foreclosures I have bought from these sources.
Should you focus on buying foreclosures?
A lot of investors only want to buy foreclosures, but that is not the only way to get a great deal on real estate. I flip from 20 to 30 houses a year, and I also buy multiple rental properties each year. I rarely buy foreclosures because there are not that many in my market, and they are not always a great deal. You can get a great deal on a foreclosure, but do not rely on them as your only source for deals. We also get deals from:
Wholesalers: Wholesalers will find deals (usually off-market properties) and sell them to investors. I have bought many houses from wholesalers.
MLS: The MLS is the multiple listing service and is where most houses are listed for sale by real estate agents. I am a real estate agent, which gives me a huge advantage, but there are deals on the MLS. We buy quite a few rentals and flips every year.
Off market: There are many ways to buy properties that are not listed for sale. You can use bandit signs, direct mail, drive for dollars, door knocking, or even websites to find property owners who want to sell but have not listed their house for sale yet.
FSBO: For sale by owner houses are another great way to get deals. Sellers may not want to use a real estate agent for many reasons, so they list the house for sale on their own. Often, they underprice the home, which leaves an opportunity for investors to pick up the property.
Part 1: How to buy a foreclosure from an auction
There are many different types of real estate auctions that come with varying amounts of risk. The riskiest auctions are the local foreclosure sales because they require the quickest payment with the least amount of due diligence available. Every state has different laws regarding foreclosure auctions, which will make it very tough for inexperienced buyers. Make sure you know your local laws before bidding!
A foreclosure auction gives the general public a chance to buy homes that are being foreclosed on by the lien holder. Before the lien holder can take possession of the house through a foreclosure, they have to offer it up for auction. The bank or lien holder will make a starting bid, which may be what is owed on the loan including late fees and interest. The bank can also start the bidding at less than what is owed.
If no one bids on the home at the foreclosure sale, the house will go back to the bank. At that point, the house becomes an REO and will most likely be listed for sale on the MLS (more on that later). Investors or even owner-occupied bidders are allowed to buy houses at the foreclosure sale if they bid more than the bank's bid (assuming the bank isn't bidding as well, which is possible). I used to buy most of my fix and flips at the foreclosure sale in Colorado, and I even bought a personal residence at the foreclosure sale. We very rarely buy from the foreclosure sale now because there are so few foreclosures in our area and other investors are willing to pay more than us 95% of the time.
Below is a video of a property I bought from the foreclosure auction:
How does the foreclosure sale work in Colorado?
Here is how the foreclosure sale works in Colorado:
The pre-sale list is published every Monday afternoon, which lists the properties going to sale and the starting bid.
The foreclosure sale is on Wednesday morning at 10 a.m. You can call the public trustee's office on Wednesday before the sale to see if any properties you are interested in are still going to auction.
The auction is conducted and all bidders must register before the auction in person at the public trustee office. The auction is live and goes very quickly.
The winning bidders must sign a form, and they have until noon on Wednesday to come back to the office with a cashier's check for the full amount of the bid. If the winning bidder does not show up, the second-highest bidder is notified and given a chance to buy the property at their highest bid.
There is a short redemption period for junior lien holders in Colorado that lasts at least 10 days. A junior lienholder can redeem the property by paying off the first bid amount plus interest in full. Junior lienholders may be second loans, people who have judgments against the previous owner, or even an HOA.
In Colorado, there is no guarantee you are bidding on a first loan or will get a clear title. On the day before the sale (Tuesday), we would get an O and E (ownership and encumbrance report) from the title company, check out the house as much as we could, and then decide if it was worth bidding on the home. There is also no way to get inside the house to see it, at least legally, and there may even be people living in the home.
What are the foreclosure laws in other states?
The process I outlined is only for Colorado. Other states have much different laws and each state handles their auctions differently. Here are a few differences:
Some states require proof of funds before the auction. This requires bringing cashiers checks for the full amount you want to bid.
Some states give much less notice of what houses will go to the sale and what the bids will be. I have heard some areas only have hours to research properties before they are sold.
Some states have owner redemption periods, which means the owner of the home has a period of time to pay off whoever bid at the sale and get the house back. Some states have redemption periods as long as 6 months!
Some states allow the buyer to get title insurance and have weeks to complete the sale.
Make sure you know exactly how the foreclosure auctions work in your state before you bid. When I used to attend our foreclosure auctions, I saw many new investors check out the auctions for weeks to see how they worked. I have also seen new investors bid on a second loan assuming it was the first and lose a lot of money!
What is the risk/reward of foreclosure sales?
The fewer people you have to compete with when buying a house, the better chance you have of getting a great deal. Very few people buy from the foreclosure sales because they can be very risky and take a lot of upfront money.
Cash purchases: many auctions require the buyer to pay cash for houses they bid on. Foreclosure auctions may require the buyer to have cash the same day they bid or before they bid on a property.
No inspections: many auctions do not let buyers inspect a house before or after they bid on it. In some cases, a house may be occupied, and the buyer cannot inspect the interior until an eviction is completed. We bought many occupied, and we could not view the interior. If the house is occupied, you can't just kick out the occupant. You have to evict them or possibly honor their lease if they have one.
All of these factors make it tough for most buyers to purchase homes from auctions. The majority of house buyers are owner-occupants who need to get a loan. Most investors also need a loan to buy a house, and auctions that require cash to eliminate those buyers as well. Many buyers are scared of auctions because of the possibility of losing earnest money, the lack of inspections, and other issues. That usually leaves the experienced investors to battle over houses. The experienced investors know how much they can pay for houses that come with all this risk and still make money. Some online auctions are less risky than foreclosure auctions, which can provide opportunities for less experienced buyers.
How did I lose money on houses I bought at the foreclosure sale?
I have made a lot of money from houses we bought at the foreclosure sale, but I have also lost money because of the nature of the auction.
On one deal, we had the winning bid on a house at the foreclosure auction. We had an O and E that showed we were bidding on a first-position note, and we viewed the home before the sale. We looked through the windows, and the house appeared to be completely vacant. After winning the bid, we found out the previous owners filed a lawsuit against the bank claiming the bank wrongly foreclosed on the home. The lawsuit had not been recorded yet, and we had no way of knowing about it. In the end, the lawsuit was thrown out, but it took the judge one year to look at the case, and we had to hold the property that entire time. After interest and carrying costs, we ended up losing money.
How to buy houses sight unseen
In many instances, I had to buy a house without seeing the interior. There are no open houses or showings when you buy a house at the foreclosure sale. Some investors will try to get into homes before the sale, but if you're caught, it is trespassing and could be considered breaking and entering as well.
When buying a house you can't view you have to consider how much the repairs could be. I almost always bought the houses from the auction for flips, so I knew how much my repair budget could be to make money. I would always assume a house would need new flooring, paint, appliances, fixtures, and at least $15,000 in other repairs depending on the age of the home. Sometimes, we got lucky and the house needed less work, and sometimes it needed more.
I also tried to talk to the occupants before the sale to get as much information as I could. This is not a fun situation, especially if you're talking to someone about buying a house they are losing to foreclosure. Most people are actually friendly and will at least tell you if they are renting or if they own. Often, they have no idea how the process works, and you can build rapport by telling them how it works and what the timelines are.
How do online foreclosure auctions work?
There are many types of auctions, and some banks use online or in-person auctions to sell the house once they have completed the foreclosure. HUBZU, Homesearch, Auction.com Williams and Williams, Hudson and Marshall, HUD, and many more sites hold auctions for REO properties that the bank already owns. These auctions have much different terms than the foreclosure sales and are much easier to buy from.
REO stands for Real Estate Owned and is often how banks refer to the foreclosures they own and are trying to sell. You may also hear the term OREO, which stands for Other Real Estate Owned.
The auctions for properties that are already owned by banks have very different processes depending on the bank or asset manager selling the property.
Some properties are sold sight unseen as well, and some are occupied.
Some properties will require cash to purchase the home, but they usually give the buyer at least two weeks to buy the house and get the money together.
Almost all the auctions will require some form of earnest money or a deposit. Most of the time, this money is nonrefundable.
Some auctions will offer title insurance, and some will not.
Some auctions will offer time for the buyer to get a loan.
Very few, if any, auctions will allow an inspection period.
Below is a video of a house I bought from Auction.com
Part 2: How to buy an REO property that is listed on the MLS
Can you buy an REO before it is listed?