Last Updated on March 29, 2023 by Mark Ferguson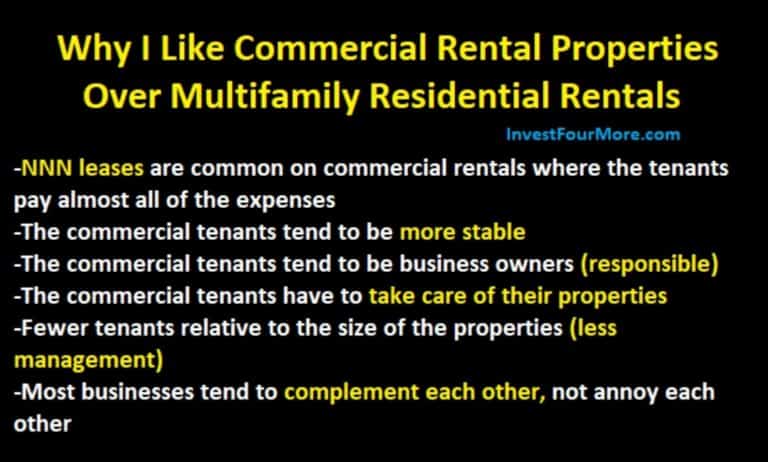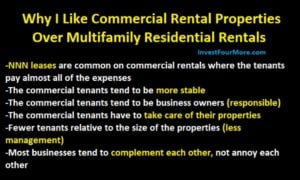 Commercial real estate investing can be very intimidating to those who are learning everything that is involved in the business. So what are the pros and cons of commercial real estate investing? I bought my first commercial rental property a few years ago, and it took a while to learn all the ins and outs. I had been investing in residential properties for more than a decade before that! Commercial real estate is complicated, but it also can be very lucrative. You do not have to know everything about the industry in order to be successful either. Once you learn the basics on leases, tenants, cap rates, TI, risk, and lending, you will start to see opportunities and gain confidence. While commercial real estate is complicated, that is a good thing. That means that fewer people are willing to venture into the business, which leaves opportunities for the rest of us.
What is commercial real estate?
There are many different types of commercial real estate and even a few different definitions of what commercial real estate is. To me, commercial real estate is a property that is used to run a business, not a property where someone lives. Some people will say that large apartment buildings are commercial real estate because you need commercial loans to finance them. However, for the purposes of this article and in my mind, an apartment building is not commercial real estate. Here are some properties that I would consider commercial:
Retail stores
Malls
Office space
Storage units
Warehouses
Manufacturing facilities
Gas Stations
Restaurants
Bars
Vacant land zoned for commercial uses
When I think of commercial real estate, I feel anything that the city or county zones as commercial would also be considered commercial. There can also be mixed-use properties that are zoned for commercial and residential. I own a property with four units where one of the units is commercial and the other three are residential. I consider mixed-use as commercial as well since lenders and zoning usually consider them as commercial.
What are the pros and cons of commercial real estate?
I bought 16 residential rentals from 2010 to 2015. Those rentals were great to me, but in 2015, prices in Colorado where I was buying rentals became so high that it was tough to cash flow (the money you make after paying all expenses). I stopped buying rentals and thought about buying rentals in another market. Then, I discovered commercial real estate. I was able to buy similar properties with similar or better cash flow than what I was buying before.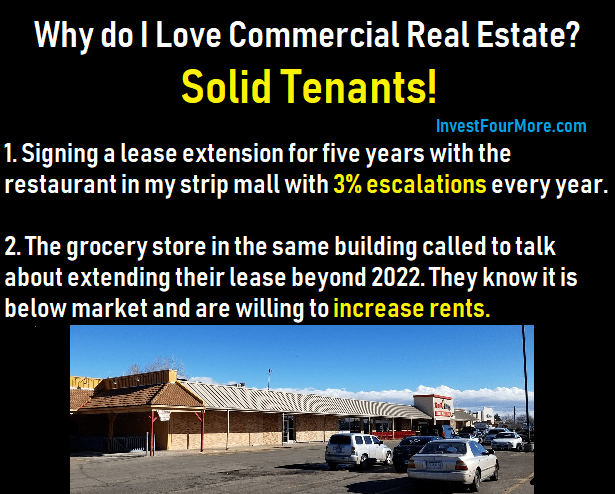 A lot of people ask me, why didn't I buy residential multifamily properties? There were multifamily properties in my area, but it was very tough to cash flow with them as well. There was and still is a lot of demand for single-family and multifamily residential rentals in my area. That demand drove prices up to where it did not make sense for me to invest in them.
I saw a very affordable commercial rental property come up for sale that seemed too good to be true. It was priced at $110,000, and I thought it would rent out for at least $1,500 a month. It needed very little work, and the seller wanted to rent back from me. I made an offer thinking I would be competing with other investors, and I was the only one who made an offer. I got the property, rented it out for $1,500 a month, and 18 months later, it appraised for $250,000 based off that rent!
I flip residential houses, but I have only bought commercial rentals recently because the returns are so much better and there is so much opportunity to add value. Plus, there is less competition!
I have a brand new book that is all about commercial real estate. Build a Commercial Rental Property Empire. The good, the bad, and the ugly. I go over all the details of investing in the commercial business and include 10 case studies on my own properties. You can get the book on Amazon.
How are commercial rental properties valued?
Residential single-family rentals are often valued based on how much similar houses sell for. If a house is rented, it can hurt the value if owner-occupant buyers are willing to pay more than investors. Multifamily residential rentals and commercial rentals are valued based on the income they produce.
The CAP rate is usually what determines how much commercial property is worth. The CAP rate is:
CAP Rate = NOI (net operating income) / Value of the property
If the CAP rate is 10% and the property makes $100,000 a year, the property is worth $1,000,000.
If you can raise the income on a property, you can greatly increase the value. I have done that on a number of my properties. I purchased one commercial rental for $110,000 that did not have a lease in place. It was occupied by the previous owner who said he wanted to leave as soon as it was sold. Once I bought the property, he was not ready to leave, and he ended up renting it back from me for $1,500 a month. I had the property appraised about a year later, and that appraisal came in at $25o,000 based on that $1,500 a month rent and the local CAP rates of 6%.
You can see a video of a bigger property I bought that we did the same thing on below:
While figuring the values seems like a simple equation, it is not so simple when the property is vacant, needs work, or rented for below-market rent. That is where the opportunity comes into play to increase the income and increase the value. It is also easy to manipulate the NOI as the seller by not disclosing all the expenses or underestimating the expenses.
I talk much more about CAP rates in another article and even created a CAP rate calculator.
How does financing work on commercial real estate?
One big difference between residential and commercial rentals is financing. Most banks will finance residential properties, especially if they have fewer than 5 units. However, many banks do not want to deal with commercial rentals or residential rentals with more than 4 units. The banks that handle commercial loans have a commercial lending department that deals with these types of properties. That is why many people refer to residential properties that have more than 4 units as "commercial" because they often need financing that comes from banks' commercial sector.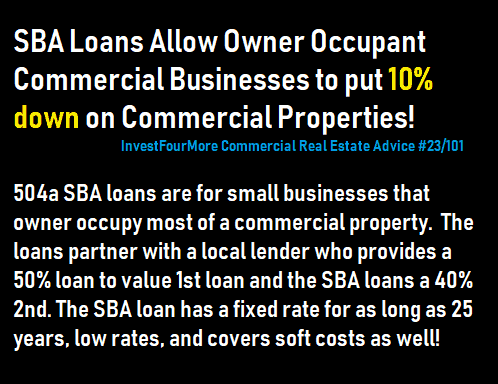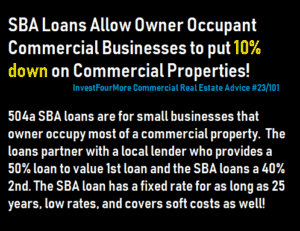 Local banks are often the best banks to offer commercial financing. However, they have much different terms than they do for personal residences.
Down payment
When you buy a house to live in, you can get loans with as little as 3% down or even $0 with VA or USDA. When buying investment properties, you will need 20% down, and most commercial loans require 25% down. If you want to get into commercial real estate, be prepared for the extra money needed to buy properties!
Loan term
The "loan term" is often referred to as how long a loan lasts. Most people who have 30-year mortgages on their homes have a 30-year term as well. They can keep that loan for 30 years if they want, and as long as they make the payments and adhere to the other loan requirements, the bank can't call that loan due. With commercial financing, there is often a shorter loan term. The loan may only be good for 5, 10, 15, or 20 years, even if the amortization term is longer. The loan term is also called a balloon payment because at the end of the term, the bank can call the entire loan due at that time with one giant payment.
Amortization schedule
The amortization schedule is how the interest and principal portion of the loan payment is calculated. If you have a 30-year amortization, the payments are configured so that all the principal is paid off after 30 years. If you have a 15-year amortization, the loan will be paid off in 15 years. The payments are much higher on a 15-year loan because you are paying it off much quicker.
You will usually have lower amortization schedules on commercial real estate. I routinely see banks offering 20- or 15-year amortizations. As I said earlier, you may have a 20-year amortization but a 10-year term. The loan can be called due after 10 years, even though it will not be paid off yet.
Rates and fees
The rates and fees on commercial real estate can vary greatly as well. You will find that some loans will be similar to residential rates, but others can be quite a bit higher. It all depends on the bank, the borrower, the property, and other factors.
Banks will also use adjustable-rate mortgages (ARMs) on commercial loans. There may be a 3, 5, 7, or 10 year fixed-rate period. After that fixed period is up, the rate can increase. You can find ARMs on residential real estate as well, but it is very common on commercial deals.
Most loans also come with origination fees that can vary from .5 to 2% of the loan amount. This fee is primarily how lenders make money. The fee can be higher on commercial loans, but not always.
Appraisals
When you get a loan a residential or commercial property, you will need an appraisal, which helps the bank determine if the property is really worth what the borrower wants to pay or thinks it is worth during a refinance. The appraisals on residential properties typically range from $400 to $800 dollars and can take a couple of weeks to complete. Appraisals on commercial properties can take much longer and be much more expensive! When getting an appraisal on my 68,000-square-foot building it was $3,500 and took 7 weeks! We could have gotten an appraisal done faster if we were willing to pay $8,000!
Low-money-down loans
There are options to buy commercial real estate with less money down. You may be able to find a partner or get seller financing. Another option is owner-occupied SBA loans. If your business occupies more than 50% of the property, you may be able to qualify for an SBA loan, which only requires 10 percent down and may even help finance some of the repairs or other costs.
Finding and buying commercial real estate
I have mentioned a few of the commercial deals I have found, but they were not sitting there for months just waiting for a buyer to come along. It can be tougher to find commercial deals than residential deals. Most residential properties are listed for sale on the MLS or multiple listing service. If you are looking for a house to buy, you can talk to an agent who has access to the MLS and see 95% of what is for sale.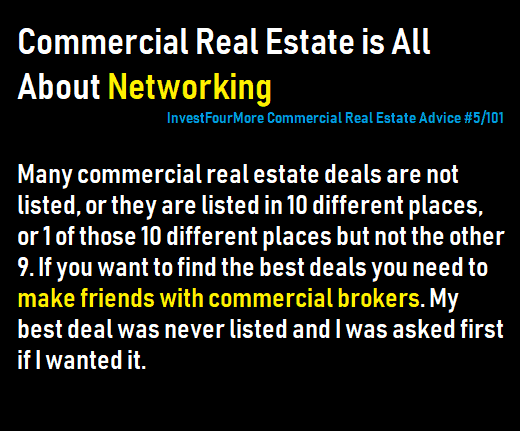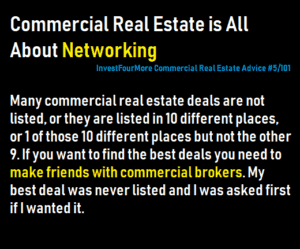 With commercial real estate, there is not an MLS that every property is listed on. Some commercial properties are listed on the MLS, some are listed on Loopnet, some are listed on other websites, and some are not listed anywhere! I bought one of my properties as a pocket listing, which means the listing agent did not market it except for telling me about it. Commercial properties are listed all over the place, and many times, it is not about what you know but who you know. I have been able to get a few deals because of the connections I have in the commercial real estate industry.
There are some commercial properties that are on the MLS, and you can find deals there, but you have to keep your eyes on other sources as well as network with local commercial agents.
Below is a video of a property I found on Facebook!
How to repair commercial real estate
One thing that surprised me when I started investing in commercial real estate was how much it cost to fix everything! I got bids from several commercial contractors, and the costs were incredibly high relative to what I was used to paying for my residential projects. I also saw other businesses paying incredibly high rates for remodels as well in the commercial space.
I ever used any of these commercial contractors, I ended up using my residential guys who surprisingly were familiar with commercial standards for construction. There are differences in terms of how commercial properties are rehabbed. You must worry about:
Fire suppression.
Different codes for construction.
ADA accessibility (handicap).
Parking lots.
Overall, there is not a huge difference between residential and commercial construction. I do bring in subcontractors for some things like sprinkler systems in buildings, but my residential guys could handle almost everything else including roofing, HVAC, electrical, and plumbing. It saves me a ton of money to use residential contractors instead of big commercial specialists.
Below is a building we did a makeover on:
It is smart to make sure you are doing everything to code with commercial real estate. Some businesses may need the city to inspect their places of work, and the city may require building permits for many reasons.
How to lease commercial real estate
The leases on commercial real estate are much different than residential as well. I prefer the leases on commercial real estate because they are longer, stronger, and the tenants usually pay more expenses.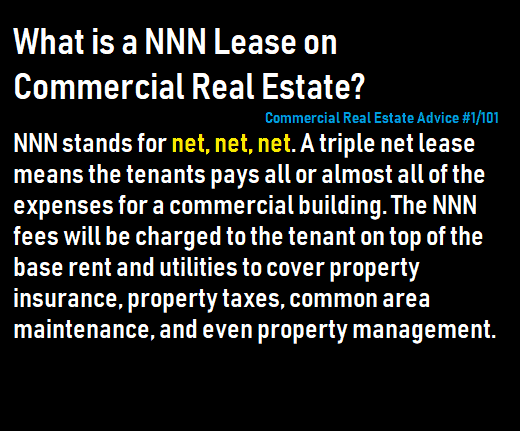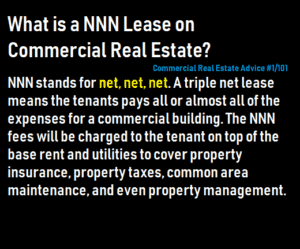 Length of lease
Most residential leases are one year long, maybe two. You will often see commercial leases that are 3 years, 5 years, or even 10 years or longer! I have a land lease on one of my properties that is 20 years long. Businesses want longer-term leases because they don't want to have to move, and landlords like keeping the same tenants as well.
I use Law Depot to create my leases and other legal documents.
Escalation clauses
Some might be thinking, I don't want a 20-year lease! Think about how low the rent will be in 20 years compared to market rent due to inflation. That is true, but many commercial leases include escalation clauses that increase the rent every year or every three years, etc. In may of our leases, the rent increases by 3% every year.
Expenses
On single-family rentals, the tenants pay many of the expenses: utilities, lawn maintenance, and snow removal. The landlord still pays for property taxes, insurance, and repairs. On multifamily rentals, landlords often pay for utilities, lawn care, snow removal, and more. On many commercial leases, the tenants pay for almost everything. These are called NNN leases, and the tenant pays all utilities, common area maintenance, insurance, property taxes, management, some repairs, snow removal, lawn care, and more. There are gross and modified gross leases as well where the tenant does not pay all these expenses, but the rent is much higher on those types of leases.
Quality of tenants
I think the quality of tenants is better with commercial real estate as well. I have some great tenants in my single-family homes, but I have some not-so-great tenants in my cheaper multifamily properties. Commercial tenants are people who own businesses and have some financial acumen. There will always be some bad apples, but overall, my commercial tenants are fantastic because their livelihood depends on the business.
Tenant improvement
One thing that landlords do not have to deal with on residential properties is tenant improvements. On many commercial properties, the landlords will make repairs or customize properties for the tenants. The tenants do not pay for all the remodeling they need. We have spent tens of thousands of dollars on tenant improvement to get more renters into the properties. That money helps increase the value of the properties through higher lease amounts.
What are the risks with commercial real estate?
Up to this point, commercial real estate seems amazing! I think it is amazing, but there are some risks as well. Commercial real estate is more complicated  and has caused a lot of bankruptcies.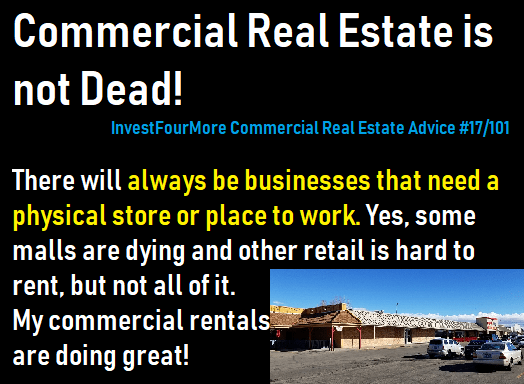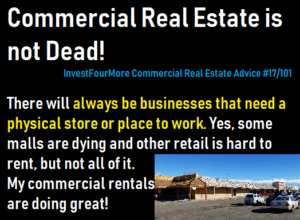 Vacancies
It typically takes much longer to lease a commercial property than it does a residential property. Some commercial rentals have sat vacant for years or even decades. The long leases are nice to have, but long vacancies can be horrible for those who are not prepared. When investing in commercial real estate, you must have cash reserves that can cover the expenses during long vacancies.
There are ways to counter the vacancies by offering tenant improvement, breaking up large units into small units, or remodeling.
Economic downturns
People will always need a place to live, but they will not always need a building for their business. During bad economic times, commercial real estate often suffers. There can be more vacancies as well as businesses that go bankrupt. A lot of commercial real estate keeps chugging along, but not all of it.
Business liability
When you rent to businesses, you inherit some of the liability that comes with those businesses. If a business hires someone to remodel their unit but doesn't pay them, the contractor can place a lien not only on the business but on the building as well. If a business does not pay sales taxes, that may be levied against the business and the building. If a business gets sued or is doing something illegal, that could cause problems for the owner of the building as well.
Environmental hazards
Some businesses use or produce things that are not healthy for the environment. They could use oil, gas, chemicals, or produce pollution, toxic waste, or who knows what! Those hazardous materials could damage the property or get the business and property in trouble with the local governments or EPA.
Conclusion
Commercial real estate can be a great investment and has made many millionaires and billionaires. There are risks to investing in commercial real estate, and it is not for everyone. While it is complicated to figure all the ins and outs of financing, buying, leasing, and managing commercial rentals, I think it is well worth the trouble!