Last Updated on February 18, 2022 by Mark Ferguson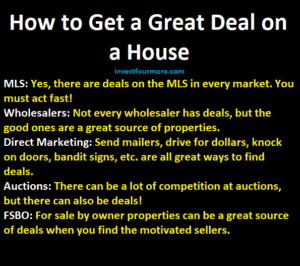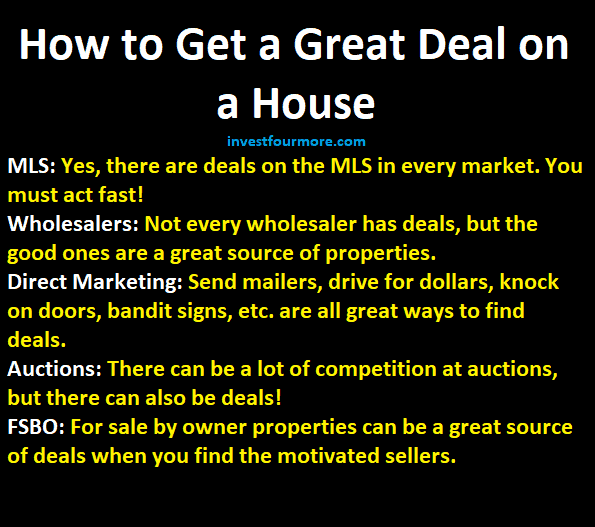 I bought more than 30 properties last year, and I bought all of them below market value. I bought houses to flip and properties to hold as rentals. One of the greatest advantages of real estate is that you can buy it for less than it is worth. Every piece of property is different. Real estate is hard to value, and each seller has different motivations. That creates opportunities to get great deals on real estate. There are many different ways to purchase property below fair market value, and here are some tips to get you started.
10 Tips to Purchase Property Below Fair Market Value
1. Do not ignore the MLS
MLS stands for multiple listing service and is primarily where real estate agents list homes for sale. Many investors will tell you it is impossible to find deals on the MLS, That is not true. I bought many houses from the MLS every year, and there are deals there if you know how to find them.
2. Learn your market like no one else
The key to getting a great deal is knowing what a great deal is. A lot of people assume every house that is listed for sale by owner or that is a bank foreclosure is a great deal. They type of sale does not determine the deal: the price of the home determines the deal. The more you learn market prices and what a great deal is, the better off you will be.
3. Be willing to act fast!
When I buy houses from the MLS or from any other source, I am willing to make decisions very quickly. If I need to wait a few days to think about it, or if I need to bring my contractor through the house to get a bid, or if I have an agent who can't show me the house for three days, I will miss out on the deal. You must be willing to act quickly and decisively.
4. Don't be afraid to network
I have bought houses from many places, and the best way to find deals is to have them brought to me. I have had other agents (I am a Realtor), title companies, lenders, contractors, friends, and family send me deals. If you want to buy houses, you can't be afraid to tell others you are looking and to let you know if they know of anything.
5. Your reputation is gold
The reason other agents are willing to send me deals is that they know I am a man of my word. I will not try to screw them over for a few bucks or jerk their seller around. I do what I say, and they know they can count on me. I built my business for long-term success, not to make a few deals.
6. Removing contingencies can get you more deals
When I make offers, I rarely have inspection contingencies unless it is a large commercial deal. I close fast; I close without the hassle, and I can estimate repairs without inspection in most cases. I do not recommend this for beginner investors, but it can be a great tactic for those with enough experience to know what they are getting into.
7. Find Wholesalers!
Honestly, most wholesalers will never send you a deal worth doing, but there are some great ones out there. The trick is sifting through the bad ones without getting so frustrated you give up! I have bought many deals from wholesalers in the last few years, and they are easy deals because the wholesaler does all the work finding them.
8. Figure out your money
Another hold up that many investors run into is they find a deal but don't have the money to buy it. You need to learn your market and learn how to find deals, but none of that does you any good if you can't buy any of those deals. One of the first things you should do is talk to a lender. They can tell you where you stand and what you need to do to get qualified. If a regular lender is not going to work, talk to a local lender, hard-money lender, or find a private lender.
9. Know the repair costs
You will not have time to drag a contractor along with you to look at every house to make sure you know what it will cost to fix up. You may not be able to get a contractor to go look at very many houses with you. One of your jobs as an investor is to figure out what the costs will be to fix up the properties so that you know how good of a deal they are.
10. Create a list of ways you will find deals
There are a lot of ways to find deals. You should not be focusing on just one. You should be looking for wholesalers, looking on the MLS, looking for auctions, looking for for sale by owner, and doing your own marketing to find properties. If you want to find the best deals, it is not easy!
Conclusion
There are a lot of ways to find deals, but finding deals is not the only barrier to success in the real estate business. You need to know how to pay for them, how to convince the seller to sell to you, and many other things. You also need to know what a deal is, which many potential real estate investors ignore. Buying real estate below market value is one of the best parts of real estate investing, but it is not easy and it takes hard work to get the deals done.