Last Updated on February 25, 2022 by Mark Ferguson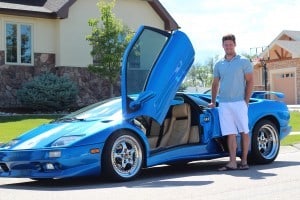 2014 was a very exciting year for me and I am looking forward to an even better year in 2015. I had a lot of big real estate goals for 2014, which I discussed in detail here. I did not accomplish all of those goals, but I did accomplish a lot and I know setting goals helped me achieve more than I would have without goals. For 2015 I am continuing to set big goals to push myself to achieve as much as I can. I love writing these articles because it helps me recount what I wanted to do, what I ended up doing and helps me plan the next year.
On the surface it looks like I fell way short on many goals, but when analyzing them it is not as bad as it seems.
My goal articles for other years
What real estate goals did I want to accomplish in 2014?
Here are the major goals I wanted to accomplish in 2014 and what I actually did in 2014.
I wanted to sell 15 fix and flips and I ended up selling 12.
I wanted to sell 300 houses as a team and we ended up selling 160
I wanted to buy 6 rentals and I only bought 3
I wanted InvestFourMore to reach 150,000 views a month and it reached 170,000 in October!
I wanted to buy a Lamborghini Diablo and I did!
As I mentioned I fell short on many goals, but I still sold 12 flips, sold 160 houses, bought 3 rentals and bought a Lamborghini. I think that was a pretty good year, even if it was not quite as good as I hoped.
Fix and flips in 2014
In 2014 I set a huge goal to flip 15 houses; I had previously flipped 10 houses in 2013. Flipping 15 houses takes a lot of work and a lot of planning. I assumed the biggest roadblock to that goal would be finding and buying that many houses to flip. I ended up buying enough houses to flip 15, but I could not find the contractors to do the work. I had to fire one contractor I had worked with for years and I ended up trying out at least four new contractors. I think one of those new contractors has worked out so far out of the four.
I learned a lot about flipping homes in 2014. I learned that having ten flips at one time is not a great way to do business unless you have the contractors to do the work. I will have held a few properties for almost a year and that is way too long on a flip. One of those properties did take about $60,000 in repairs and was an extremely long rehab. A before and after video is below.
Fix and flip goals for 2015
For 2015 I am not going to be as ambitious on my flipping goals. There are a number of reasons I don't want to flip 15 houses in 2015.
It takes too much babysitting of contractors and I would need to add at least a couple more.
It takes a lot of capital to fund all those flips and the repairs. I think all the flipping made it harder to buy rentals.
I can still buy as many properties, but instead of flip them myself, I could wholesale the properties.
My goal for 2015 is to flip 10 houses and wholesale 5 to 10 more. I have 8 flips right now so reaching ten should not be a problem, but I might sell a couple I have now as wholesale deals. If anyone is interested in some Northern Colorado deals, let me know!
Rental property goals in 2014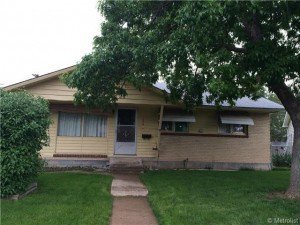 In 2014 I wanted to buy 6 rental properties to keep on track with my plan to purchase 100 rental properties. I only bought three rentals, which was disappointing, but better than not buying any! You can find the details on the properties below:
Rental property number ten
Rental property number eleven
These are all great properties and I will make a lot of money with them in the future. I have a total cash flow of about $6,000 a month coming in after I paid off rental property number one early in 2014. There are many reasons why I fell short on this goal as well.
I tied up much of my available capital in my flips
There were very few deals in the area for rentals
It is tough to focus on rental properties when I am also working on flips, my real estate team, and the blog. Plus I have a family that I spend as much time with as I can.
I want to shift much more focus on rental properties again, because they are such a great investment. The income from flipping is great, but I have to pay a lot of taxes on it and once I sell a house it stops making me any money. The rental property income keeps coming in every month with much less work and fewer headaches.
Rental property goals for 2015
For 2015 I want to get back on track buying as many rental properties as I can. I am going to flip fewer homes, which will give me more capital to buy rentals. I am also refining my direct marketing campaign, which should bring me more deals (I will have an upcoming article to discuss my direct marketing). I want to buy at least seven rentals in 2015 and that should put me closer to my goals of 100 rentals by 2023.
Real estate team goals for 2014
in 2014 I wanted to sell 300 homes as a team, but we sold about half that. I had sold over 200 houses in 2013 and 2012, but the market changed drastically. Prices increased, buyers increased and inventory decreased. For many agents, this was a good thing, but I focus on REO and HUD listings and that cut my listings down drastically. Our county went from 10 to 20 foreclosures a week in 2012 to 2-4 a week in 2014. Even though our sales went down drastically we accomplished a lot in 2014.
The team lost a couple of agents in 2014
The team added a couple of agents in 2014
The new agents are doing awesome and selling a lot of homes
Even though we sold less REO and HUD homes, we had many more traditional sales in 2014
The average price of our sales increased by 20%
We had a down year as far as houses sales, but the price per sale was up, our team is much stronger than it was and it is also more balanced. The best part is I have to do less work because I set my team up to be able to complete many of my tasks and sell houses on their own.
Real estate team goals for 2015
For 2015 I want to sell 200 houses, which is a big pullback from my previous goal. REOs and HUDs are even harder to find in 2015 than in 2014, which will decrease our sales. However, the new team members and training we implement should increase the number of sales from the other agents. I also want to add a couple more agents and my goal is to have every agent on my team make $100,000 a year.
InvestFourMore goals in 2014
2014 was a great year for the blog and thanks to setting up my team to handle much of the work I had more time to work on the blog. I wrote over 100 articles on the blog and the traffic peaked at 170,000 views in October. Traffic was down slightly in November and December due to the holidays and I stopped doing as much guest blogging on other sites.
I learned a lot about the internet, marketing, SEO and blogging in 2014. I continue to improve the site and I have met a lot of great people while blogging. The Complete Blueprint has been a great success and adding the conference calls has been very successful. If you missed it, I added CDs, a goals setting guide and a few more features recently. I am working on a system to help real estate agents as well that is almost complete and the REO kit has been very successful as well. My eBooks are doing well, which can be bought on Amazon.
InvestFourMore goals in 2015
In 2015 I want to increase traffic, increase my relationships with other investors and blogs and continue to improve my investing strategies by learning as much as possible. Here are some specific goals:
300,000 views a month by the end of 2015
Implement a new real estate agent success system
Borrow private money through the blog in 2015
Improve or create a new forum for InvestFourMore
Personal goals in 2014
In 2014 I accomplished a huge goal by purchasing a 1999 Lamborghini Diablo. I bought the car much sooner than I was planning on, but a great deal came up on a car that was the perfect color. I did not think I would be able to find that color again for a reasonable price for years so I jumped on it. I also thought Diablo prices were at a low point and I have already been offered $26,000 more than I bought the car for. I am not selling it anytime soon as it is awesome and a great marketing tool as well.
As for other goals I reached some, missed others, but had a great year. My wife and kids are doing great and we love the house we bought in 2013.
Personal goals for 2015
I don't have any big goals for 2015 as far as car buying. I would love to buy an Aston Martin V8 or Lamborghini Countach at some point, but I don't plan on doing it in 2015. I have personal income goals and a few more that I will keep private. I can't share everything!
I hope everyone had a great 2014 and if not, then think of all the things you learned and don't focus on how bad things went.