Last Updated on February 25, 2022 by Mark Ferguson
I have many big goals for 2017, and I had a very eventful and exciting 2016. I made many big goals for 2016, some I reached and some I did not. I never get disappointed when I do not reach my goals, because I know I do better with big goals, rather than easy goals. I also know I have to adapt and change my goals as the year progresses, because things happen I cannot predict. Goals have been a huge part of my success and what propelled my career as an agent and investor about ten years ago. Every year I write a post about my goals for the new year, and how I did in the previous year. This helps me be accountable and more successful.
My goal articles for other years
How did I accidentally start making goals in 2006?
I made a whopping $28,000 in 2006 as an agent and flipping houses with my dad. It was not a good year for me for a number of reasons. That year I decided to do much of the work myself on a flip, which was a huge mistake. When I did that flip it was incredibly stressful and ended up costing me money because it took so long. I was too busy to sell houses or finding new houses for us to flip. I had a lot of credit card debt and I knew something had to change. I decided to write a letter to my dad who ran our team, which detailed why my pay structure was not fair. I ran a bunch of numbers showing how many houses I would have to sell to make as much money as other people on our team, and how ridiculous it was. At the time I was selling less than 15 houses a year, and my letter explained I would need to sell over 100 houses to make the money I thought I was worth.
My dad was not very impressed with my letter, but writing it put a plan in my head. I wondered if I could sell that many houses. What if I stopped depending on others to make me successful, and did it myself? I had accidentally created goals for myself, even though in the past I had always resisted setting any goals (most likely because I was afraid I would not achieve them). Shortly after writing that letter I decided to become an REO agent. I sold 50 houses two years later, and a few years after that sold 200 houses. Because of the money I made in REO, I was able to buy 16 rentals, flip many more houses, and buy out the real estate team from my dad. I also learned how important it was to set goals, be positive, relax, and plan my life. I wrote a book that goes over everything I do to be successful: How to Change Your Mindset to Achieve Huge Success: Why your attitude and daily habits have more to do with making more money and having more freedom than anything else.
What were my real estate goals for 2016?
Below are summaries of my 2016 goals.
Rental property goal: Buy 10 rental properties in 2016.

Refinance 8 of my rentals.
Find a new portfolio lender.
Find a new market to invest in.

Fix and flip goal: Flip 20 houses in 2016.

More financing options from private money and lenders.
Refine the repair process.
Find more houses to buy.

Real estate team goals: Sell 200 houses in 2016.

Get more leads from our website.
Hire at least one new awesome agent.
Use Facebook more to generate leads.
Generate more leads through house flips.

Blog goals in 2016: Increase traffic and publish a new book.

Focus on how I can help people the most.
Create a paperback book on rental properties.
Get more focused on core activities.

Personal goals: I had some personal goals not specific to 2016.

Buy an Aston Martin V8.
Buy an old plantation and fix it up.
Start a car dealership.
How did I do on my rental property goal for 2016?
I bought zero rental properties in 2016! I wanted to buy 10 rentals in 2016 to catch up on my goal to buy 100 rentals by 2023. However, buying rentals in Colorado has become impossible if I want to come close to cash flowing as I did in the past. I did look at buying rentals in another state and even went to Florida to check out a couple of markets. I liked the markets but never bought anything in the area. I have developed some new goals that involve local investing in Colorado, but not with single-family rentals. I do not feel bad for missing my goal by so much, because I did not want to force bad investments. I even sold a couple of rentals that I thought were not performing as they should. I have some new and exciting plans regarding rentals for 2017 that involve local investing again.
How did I do with my fix and flipping goals for 2016?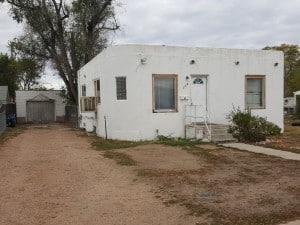 I sold 18 flips in 2016, which was just shy of my goal to sell 20. I am very happy with that result as it almost doubled what I did in 2015. I love coming up just short of my goals because I am pushed to work hard until the very end of the year to achieve them. I never feel bad for not reaching a goal, because I know I do better with goals than without them. The ultimate point of a goal is to do as good as you possibly can, not to achieve that goal.
I found more financing in the form of new private lenders and a new local bank.
I have a much better repair process in place and even hired a full-time handyman. Nikki True became my project manager and has done an awesome job. I hired a project manager in 2015, who did not do an awesome job and really set me back.
I found a local wholesaler to buy houses from and bought a house from the local foreclosure sale, which I had not done in years.
How did I do on my goals with the real estate team?
My real estate team did not sell 200 houses in 2016, we sold about half that. Again, I am not disappointed, because the average dollar amount of the houses we sold went up. Colorado also has an incredibly hot market causing HUD homes and REO properties to virtually disappear. When I sold 200 houses a few years ago, I sold those almost all myself. It was a lot of work, but now my team sells almost every house freeing up my time. Justin Gesso has done an awesome job managing the team. We also have the lowest inventory of houses for sale we have ever had in our market. It is hard to sell many houses when there are no houses for sale! I also made progress on my other goals with our team.
We are getting many more leads from our website for our agents. We have not been able to get much traffic from Google searches, but we have done great with Facebook advertising.
We hired a new agent, who did not do very well. We hired another agent who has been doing amazing. We also have another new agent joining our team this month, who I think will do very well.
My agents sold a few of my flips in 2016 as well, which made them money and made me more money. We have been doing a great job of generating leads with the flips before and after they are listed for sale.
Did I reach any of my goals with my blog?
I did not reach my traffic goal with my blog, but I was not spending as much time on the blog this last year as I planned too. The flipping business required a lot of my time, but I did still reach some goals. I was able to publish: Build a Rental Property Empire: The no-nonsense book on finding deals, financing the right way, and managing wisely. The book did incredibly well, was an Amazon best-seller, one of the top ten Amazon real estate books most of the year, was published in paperback, and as an audiobook. I also published three other books in paperback and wrote another book on the attitude and mindset that I mentioned earlier. I have been less scattered with the blog.
How did I do on my personal goals?
I did not reach any of my personal goals that I posted last year. I did not buy any new cars, a plantation, or start a car dealership. However I reached some personal goals that are too personal to post online, and I have some big plans for the next year!
What are my real estate goals for 2017?
I had some really big ideas in 2016 that I think will make me much happier and more successful in the coming years. I have done well with the flips, but I think they can do even better. I have done poorly with the rentals, but I know I can change that. My team can make some big improvements as well with the blog.
Rental property goals for 2017
I do not have any specific goals for the number of properties I want to buy in 2017. I have changed my strategy, and want to buy a large commercial/industrial building in my area. I may still invest out-of-state in the future, but for now, I am focusing on a new strategy. I want to buy a 50,000 square foot or larger building that I can split into 5 units or more. I can rent out those units, have space for my own cars and building supplies, and add value through improvements and increased rents. I have looked at many buildings already, and I feel this is the best option for rentals at the moment.
Fix and flip goals for 2017
I want to sell 30 flips in 2017, which would be 12 more than I flipped in 2016. This may seem like a huge jump, but I have 16 flips in my inventory right now. I should have all of those properties sold by July, which means I won't have that far to go the second half of the year. I have the money lined up, I have been able to find that many properties, and I have my repair process in place to flip 30 houses or more a year.
Real estate team goals for 2017
I keep making a goal to sell 200 houses with my team and coming up way short. I still think we can sell that many houses, and we have the team in place to do it. We are also adding at least one more agent at the beginning of the year. My goal again is to sell 200 houses in 2017 and one of these years I will hit it! I have some other really big goals and ideas for my team, which I cannot share publicly yet.
Blog goals for 2017
For the blog I want my traffic to increase, but I am not focused on that this year. There are so many things out of my control with Google, and that is where most of my traffic comes from. I really like writing books, even though it takes a lot of work and time. When I write a book, it is very similar to a rental property the way it produces passive income. While I did not buy any rentals in 2016, I increased my passive income greatly with my books. I am writing another book on the basics of buying and selling houses, which hopefully will be out in the next couple of months. I am still working on another book with a partner, which will be out this year. I want to hire some more people to help with the blog so it is not taking up quite as much of my time. I will continue to write, but I want someone else to handle some of the other aspects.
Personal goals for 2017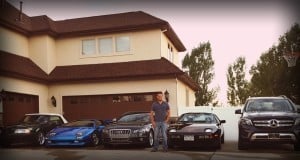 I still want to buy an Aston Martin V8, but they have shot up in price like my Diablo. I also want to buy a Countach, a Mercedes SLS, a Ford GT, and many other cars! I cannot buy everything or anything at the moment, because I am out of garage space. I also have some big ideas regarding my personal goals, and the big building I want to buy. I cannot disclose them all right now, but hopefully, I can shed some more light on them later in the year. The good news is that values on some cars are starting to decrease a little, but I do not want to make a goal to buy one in 2017, because of so many other things going on.
Conclusion
2016 was an exciting and fun year, even if not exactly as I planned. I hope to continue much of the projects I started in 2016, and start some brand new ventures. I know I was not as detailed about my goals for 2017, but I can talk more about them as the year progresses. If things go as planned, it will be an awesome 2017!
Remember to set big goals for yourself, and not to be afraid of missing them. Goals are there to motivate us and keep our minds focused on what is really important.