Last Updated on March 9, 2023 by Mark Ferguson
Buying a Lamborghini Diablo has been a goal of mine since I was a little kid. Thanks to my real estate business, I was able to buy a 1999 Lamborghini Diablo Alpine Edition in May of 2014, and it was delivered to me on Father's Day that year. It has been nine years since I bought the car. I still own it, still love it, and have bought other exotic cars since then including a Countach! It still makes me smile seeing the car in my garage, and sometimes it still feels like a dream that I have the car. Owning the car has been a fantastic experience. It has provided a ton of fun, networking opportunities, marketing for me, and it has gone up in value since I bought it!
When I was in my early 20s, I thought there was no way I would ever own a car like this. As I got deeper and deeper into the real estate world, I realized I may be able to get one at some point in my life. Eventually, I realized that time may come sooner rather than later. Flipping houses, owning rentals, writing a real estate blog, and being a real estate agent gave me the income and passive income to buy…and feel comfortable buying…the car.
Was it smart buying an exotic car?
Being frugal is popular right, now and buying a Lamborghini is the furthest thing from being frugal. I want to be clear: one of the most important keys to wealth is saving money. Saving money gives you options like investing in rental properties or buying fix and flips, which allow you to make much more money. Saving money also allows you to be more flexible with your career or even start a business. If you never have any money saved, it is very hard to get ahead in life, no matter what you do. I would never have bought a car like this if I was not in a very good financial position and it was not extremely important to me.
I also don't believe in being cheap and skimping on the things that make me happy. I have worked very hard to be in the position I am in now, and I believe people need to do things that make them happy. Not everything that makes us happy takes money, but some things do. Many people would never buy an exotic car no matter how much they want one or how passionate they are about cars. It is built into their mindset to never make a purchase like that. I had to get over this mindset and the fear of what people would think of me.
Many people will question how wise it is to buy a $100,000 car, but I think it was a great decision for me. Wanting this car motivated me every day and allowed me to improve my business, take chances, and be more successful. I am a car nut, and buying a car like this may not motivate others as it has me. Pick something you really want that will motivate and use it to motivate and push you further.
The car has also opened many doors for me. I can use it for marketing, It has helped meet some really awesome people in the car world, and it gives me instant credibility. Not everyone should buy an exotic, but for those who are passionate about cars and it has been a lifelong dream, why not make it a goal? It is much better to have tried and failed than to not have tried at all.
Below is a video of the 1999 Lamborghini Diablo:

How making goals helped me buy a Lamborghini Diablo
I also believe that making big goals which motivate you will make you more successful. Making big goals that are exciting and easily visualized, like buying a Lamborghini, can really motivate you. Some might say making goals like providing for your family or retiring early is more important, but how easy is it to picture providing for your family or retiring early? Obviously, these are important big-picture goals, but these goals are very vague, and it is difficult to picture them. If I say I want a 1999 blue Lamborghini Diablo, that is specific and easy to picture!
I have had many other big goals and small goals, including my plan to purchase 100 rental properties. Goals have helped me tremendously in making more money, buying more investments, saving money, and improving my personal life. I am less stressed now than I have ever been and spend more time with my family than I ever have.
At one point in my life, I never thought I would buy a car like this. Not only did it take making more money, but it took belief in myself. I had to change my money attitude when I was younger. I had to believe I could someday afford the car and get it. When I started making goals, it was much easier to believe it was a possibility, and goals helped me move much faster than I ever thought possible.
Pictures: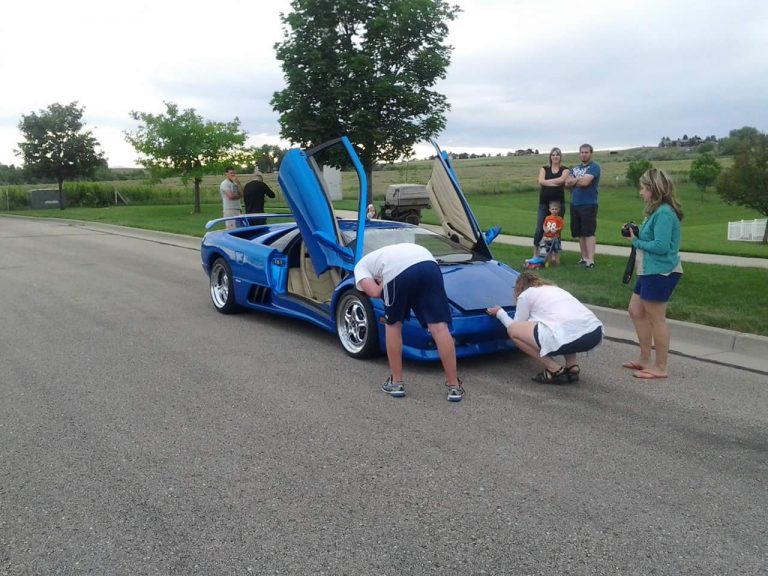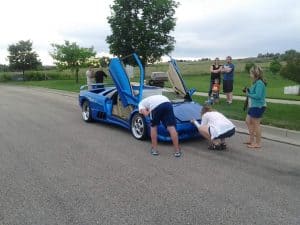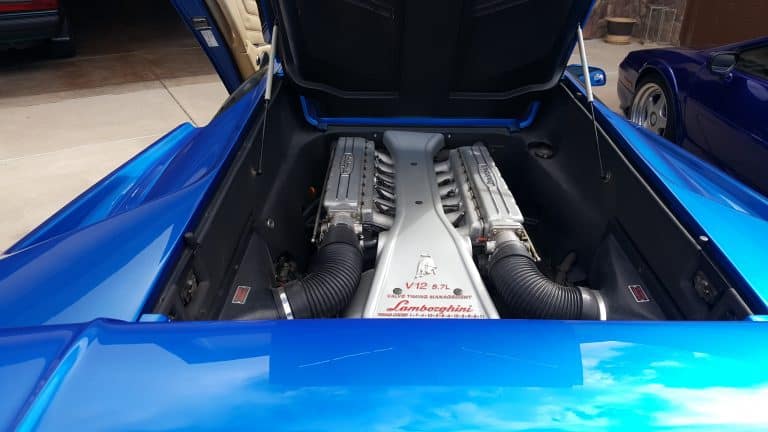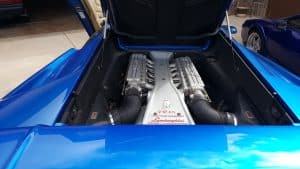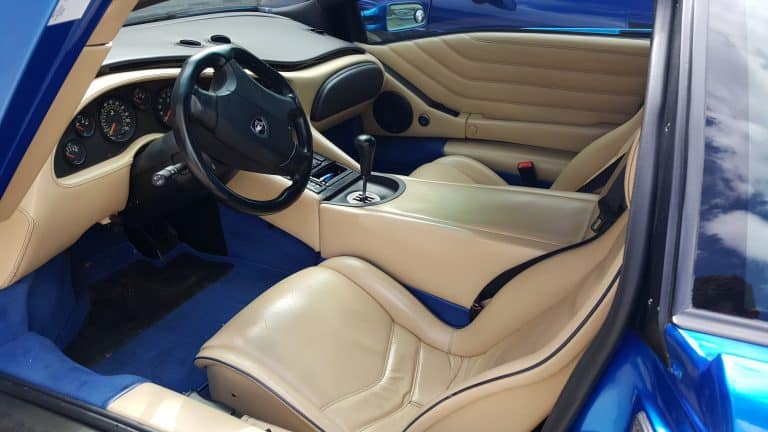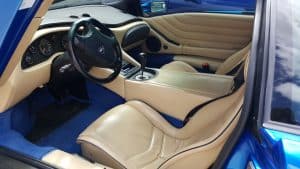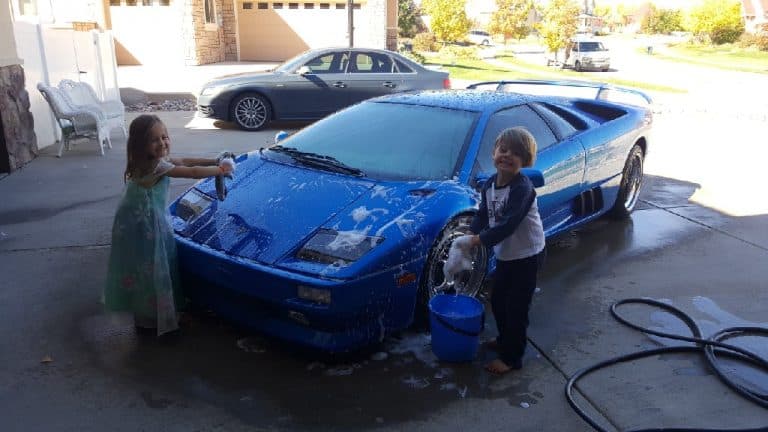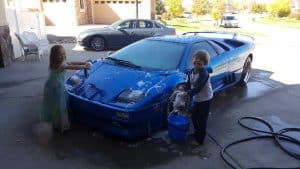 Why did I dream of buying a Lamborghini?
I have loved exotic cars since I was a young child. I had many car books, hot wheels, and model cars that I always played with. I loved Ferraris, Lamborghinis, Maseratis, Aston Martins, and many more. Over the years, the Lamborghinis grew on me more and more. They were extremely rare, very fast, very unique, and basically outrageous automobiles.
I always wanted a Lamborghini, and I believed I would have one when I was a kid. Then, I got into the real world after college, and everyone tells you to do your job, make a decent living, save for retirement, and you'll be happy. It was hammered into my head to not want expensive cars or houses because the chances were I would never have those things. After a few years of taking the traditional route, I decided I wanted more.
I decided in my late 20s I could have an exotic car and could do it in the next decade or two. I started setting goals, making plans, and making my future. I became an REO agent, my real estate career took off, and I started being able to save a lot of money. I started investing in rental properties, doing more fix and flips, started InvestFourMore, and bought the real estate business from my father.
Suddenly, I was reaching goals more quickly than I ever thought possible. I had to constantly change and create more-aggressive goals. I believe in very aggressive goals because they will push you harder than easy goals. If you achieve all your goals quickly, you may not be motivated to keep working hard. If you don't reach your goals, it is not a big deal because you will better off having chased that huge goal than not having goals or reaching an easy goal. After all of this change and success, I decided to make a huge goal to buy a Diablo in 2014.
Why a Diablo?
My dream car when I was a child was a Lamborghini Countach. The Countach was an outrageous, rear-engined V-12 sports car that was introduced in the early 1970s. The Countach was like nothing else on the road in the '70s, '80s, or even now.
I did a lot of research on the Countach and found it was very small, not easy to drive, not very reliable, and more of a show car than a driving car. I like to drive my cars, not look at them in the garage. At a conference in Dallas at the end of 2013, I stopped at Lamborghini of Dallas because they had a 1990 Diablo. I had searched for a dealership or someone with a Countach but could not find one anywhere in the country.
The Diablo was an awesome car, and I liked it much more than newer Lamborghini Models like the Gallardo and Murcielago. The Aventador is the newest model: a 700 horsepower work of art, but they are $450,000 to $550,000. The best part about the Diablo was I fit! Although my shoe would not fit between the brake pedal and sidewall to touch the gas pedal, I had plenty of legroom and headroom. I figured I could figure out the pedal problem later.
After seeing the Diablo and learning about the Countach, my new goal was to buy a Diablo. The Diablo is still a rear-engined V-12 with outrageous styling and 530 horsepower, and it was the first production car to go 200 MPH (unless you count the Ferrari F40, which is more of a race car). They built a little over 2,000 Diablos from 1991 to 2001. The Diablos are much rarer than the newer-model Lamborghinis, and in my opinion, better looking and more exotic.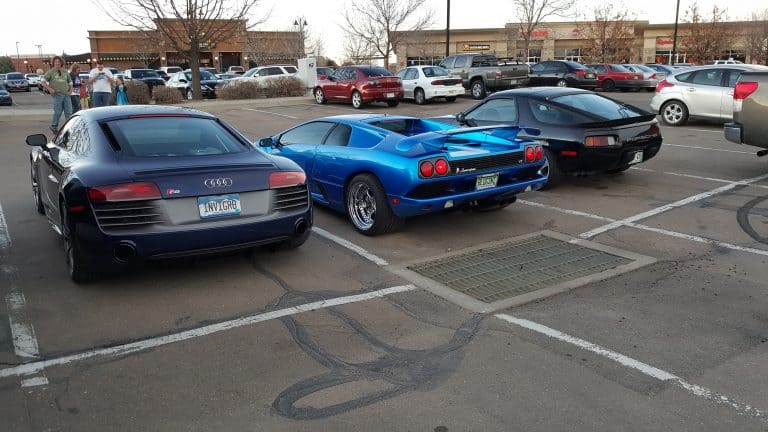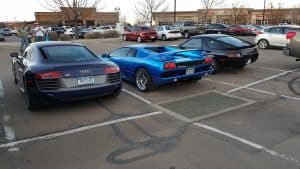 After owning a Diablo for a number of years, I have met many Countach owners. Countach owners love their cars, and it turns out a lot of the opinions about the Countach are completely wrong. It is smaller than the Diablo, but it drives fine and looks amazing. I still want a Countach at some point!
Why did I freak out when I knew I could get one?
When I talked to the dealer in Dallas, they blew my mind with some information. They mentioned you can get a 12-year loan on exotic cars. I had thought that exotic cars would be harder to get a loan on since they were so expensive and rare. They also told me insurance was not that expensive, which also blew my mind.
When I learned you can get a 12-year loan and that insurance was not very expensive, the idea of buying a Diablo became more real. It was no longer a "maybe one day I will get my dream car." thought. I freaked out. I started to think about how people would think of me if I bought a Lamborghini. They would all think I am some rich jerk.
I realized that I was letting society and others decide for me what I was passionate about in life. It took some time, but I was able to convince myself that I deserved a car like this and that it was okay to own a Lamborghini. It did not matter if some people thought I was a jerk.
I know some people still think that way, but it is not my fault they judge me on the car/cars I have and not on the person I am. If you make everybody happy, you aren't trying hard enough! After having the car a while, I have no regrets about that aspect of owning the car, especially when I see kids go crazy over it because they have never seen one in real life.
How did I buy the car?
I was not planning on buying a Diablo so soon. I thought I might be able to buy one at the end of 2014. I saw the car for sale early in the year, and I knew it was the perfect color. It was Monterey blue and extremely rare. I kept an eye on it for a couple of months, and then I noticed it was scheduled to go to auction in June. If it went to an auction, I would not have a chance to inspect the car, and I would be charged a 5 percent buyer's premium on top of my bid. There was no guarantee my bid would hit the reserve, and I had to pay $100 just to register at the auction (Mecum). I knew my best chance to buy the car was from the dealer before the auction. I knew if someone else bought this car, my chances of finding a similar car this color or any blue color would be very low (I have seen one Monterey blue Diablo come up for sale since).
It may seem a little crazy, but I bought this car without seeing it in person. In fact, I had never driven a Diablo before I bought this car. I put my trust in a dealership with an awesome reputation and a mechanic who used to work for Ferrari and Lamborghini.
What is the car like?
My Lamborghini Diablo (boy it feels good saying that) is a 1999 VT Alpine edition with a 5-speed manual transmission. They made 12 Alpine edition Diablos, and the Alpine editions had an upgraded stereo from Alpine as well as more carbon fiber than the regular Diablo. The Alpine edition is rare but doesn't add much value since there are no performance upgrades.
The car has a snow-corn-white interior. I love the color, and that is one reason I bought this car. I wanted a blue Diablo with a light or white interior. The interior is not actually white but tan. There are no numbers on how many Diablos were painted Monterey Blue, but I would guess under 20 from what I have read.
The year is also important because Audi bought Lamborghini in 1998, and the 1999 cars had an update to the exterior and interior. Lamborghini was actually owned by Chrysler in the late 1980s when the Diablo was developed. In 1999 and 2001 (they didn't make any in 2000), the Diablos became more reliable, more refined, and more comfortable. I knew I wanted a 1999 or 2001 Diablo, which also had a new interior that was much more modern than the earlier cars.
The car is a VT, which stands for vicious traction and means it is all-wheel drive. Most people don't realize most Lamborghinis are all-wheel drive, although some are made with rear-wheel drive to make them lighter and faster (SV models). The car has a 5-speed manual transmission, which was the only option. Now Lamborghinis are more likely to have an E gear (automatic transmission with paddle shifter) than a true manual transmission with a clutch (there are no manual Lamborghinis now).
My particular Diablo has 21,000 miles, looked to be in great shape, and was for sale at a dealership in Washington State. Cats Exotics is the dealership and one of the best dealerships for Diablos and exotic cars in the country.
The owner is an exotic car lover who started a dealership. I had a pre-purchase inspection done on the car and found a few times that needed to be repaired. Before I had the car shipped to me, the rear bushings were replaced, a door strut was replaced, and the spark plus were replaced ($50 a piece) as part of the deal. The inspection showed the compression in the engine was good, and the rest of the car looked to be in great shape.
How much was the car?
The car was listed for $134,900 on the website for the dealer. I knew it was going to auction and the dealer would be motivated. He said he would sell it for $125,000 to me since it was going to auction. I tried to negotiate more, but there was no budging. After thinking about the car for weeks, I decided to move forward with the purchase. I had the inspection done, and a few items popped up that were worn but didn't need to be replaced right away. As part of the deal, I had the worn items fixed or replaced, and the dealer sold the car for $126,000.
I actually bought the car in early May but had to wait for a door strut to come from Italy and have the mechanic fix it before the car was shipped. Shipping took another 10 , and the car arrived Father's Day!
I mentioned the Countach was a dream of mine, and one reason the Diablo worked out better was the cost of a Countach. The Countach has seen its value increase 300 percent in the last four years! I believe the Diablo is at its low value now and will start to increase as well. Not that I bought the car as an investment, but it will be nice to see it go up in value instead of down like most cars. The car was about $300,000 new in 1999 (they did go up!).
How did real estate help me?
My real estate career has been great to me as soon as I started setting goals and planning my future. I did not do so well in the beginning when I thought everything would come to me and I would not have to work hard to make a lot of money. With real estate, I was able to start small, build up my business, hire assistants, and start hiring agents.
I had 10 rentals when I first bought the car. The real estate team did great, and I own a brokerage now. I was also flipping from 10 to 20 houses a year at that time. I had InvestFourMore, which brought in a decent income as well. One of my rewards to myself was to start looking seriously at Diablos when InvestFourMore made enough money to cover the monthly payment and costs of the Diablo. That happened at the beginning of 2014.
Today, I flip from 20 to 30 houses a year, have 20 rentals, a real estate brokerage, and have 7 books on real estate as well as numerous videos on YouTube and articles on the blog. Real estate allowed me the income and cash flow to feel secure buying a supercar and know it would not ruin me.
Real estate agent income
I started as an agent when I was 22 and did okay but never made more than $50k a year until my late 20s. In my late 20s, I got sick of being mediocre and started to work on myself. I listened to self-help CDs, read books, and set goals. Things changed for me very quickly when I became an REO broker. I went from selling 10 to 20 houses a year to selling over 200 houses a year. I was making a lot of money but was still managing to spend most of it.
Rental properties
I researched many ways to invest my money so that more of it stayed with me and did not get spent. I realized that rentals were the best way to go. I was already in the real estate industry, so it made sense. I bought my first rental in 2010 when my wife was pregnant with twins. I was able to some of the money to buy that rental from refinancing the house we lived in. I bought 15 rentals from 2010 to 2015 until our market in Colorado got too expensive to make money with rentals. In 2017, I started buying commercial rentals, including a 68,000-square-foot strip mall in 2018 where I also started my real estate company Blue Steel Real Estate.
Flipping houses
I also flipped houses with my dad occasionally. In 2013, I took over the business, including the flips. Flips made us decent money, but my dad always made much more than I did until I bought him out. After taking over, we went from doing a max of 7 flips a year to 12, to 18, to 26 in 2017 and 2018. Flips have become a great source of income, especially since I do not sell houses as an agent anymore.
Below you can see my books which go over in detail how I have been successful in multiple real estate fields (I have much more info on the Diablo below).
Build a Rental Property Empire
What You'll Learn:
Why rental properties are one of the best investments if you buy them right. I will teach you what a good rental is, how to analyze them, and how to get a great deal on one.
How to manage rental properties if you choose to do it yourself. I also go over how to repair rentals, find contractors, find tenants, and finance them to get the most bang for your buck.
I talk about how to build up a large portfolio of rentals, not just how to buy one. One rental is great, but you can change your life when you pile more and more rentals in your portfolio.
Click here to get your copy of Build a Rental Property Empire
---
The Book on Negotiating Real Estate 
What You'll Learn:
How to negotiate with sellers including off-market owners, banks, HUD, MLS deals, auctions, and more to get the best initial deal you can.
How to respond to offers, counter-offers, negotiate inspections, repairs, and talk to people. Negotiating is not a war that you want to win. It is a mutually beneficial agreement where everyone is happy. If you can figure out what makes the other party happy while achieving what you want, it is a win/win.
How to read people, figure out what is important to them, and talk to them in a way that will make them trust you. Everyone is different, and we go over how to talk to different personalities and figure out what they want.
Click here to get your copy of The Book on Negotiating Real Estate
---
Fix and Flip Your Way To Financial Freedom
What You'll Learn:
How to find houses with enough room to make a profit after all expenses! Where to find the deals, how to get those deals, and tips to beat others out.
How to finance house flips, how to repair the flips (not you repair them yourself, but manage the repair process), what to fix and what not to fix, and how to sell them for the most money.
How to build the business so that you are not doing all the work and can flip multiple houses at once. Flipping one house at a time and making all the repairs yourself is not a business. I only do the parts of the business that I love; I let others do the rest.
Click here to get your copy of Fix and Flip Your Way To Financial Freedom
---
How to Make it Big as a Real Estate Agent
What You'll Learn:
How much money you can make, how much you will need, how to save money, where to spend marketing money, and much more. This is a tricky business, and many new agents are completely lost about how to start. I outline exactly what you should do to be successful.
How to find clients, build a database, advertise (without spending a ton), how to close deals, and how to get people to tell everyone they know how good of an agent you are.
How to build a team so that you are not doing all the work, including who to hire, when to hire them, and how to hand off the tasks that you do not like!
Click here to get your copy of How to Make it Big as a Real Estate Agent
---
How to Change Your Mindset to Achieve Huge Success
What You'll Learn:
All the techniques I have learned and use to be positive, set goals, review goals, make business decisions, deal with the good and bad that will always happen, handle money, and be happy.
How simple thought changes can create huge changes in your life. How good habits can be created to replace bad habits. How to work smarter, not harder.
What is important in life. Success is not just about making as much money as you can, but being happy. I want to be successful and have time for my family and myself
Click here to get your copy of How to Change Your Mindset to Achieve Huge Success
---
How to Buy a House
What You'll Learn:
The basics of buying a house including how real estate agents work, how loans work, how to find houses, how title companies or attorneys work, how an inspection is complete, how an appraisals works, and much more.
Why a house is an awesome investment no matter what you use it for. There is a huge push towards renting instead of buying, but I think a home is an incredible source of wealth if bought the right way.
What all the terms mean in the real estate world. I talk about the entire house buying and selling process as well as the terms that agents and lenders use so that you are not left in the dark.
Click here to get your copy of How to Buy a House
Buying into Success: A fun, thought-provoking journey through life and real estate
What You'll Learn:
This is a fiction book! It is a story about Mo, who is tired of just getting by and wants to do something with his life. He discovers real estate.
The book is a fast easy read but packed full of info! It is like Rich Dad Poor Dad with details!
Learn about agents, wholesaling, flipping, rentals, and title insurance, inspections, loans and much more.
Click here to get your copy of Buying into success
Was the car a good investment?
I thought that the Diablo was a great price, but I could not figure out why it had not sold. One problem the car had was it came with no manual, car cover, or anything else that came with the car when new. This did not bother me at all because I care about the car and enjoying it, not the owner's manual or car cover. However, I knew some collectors would value these items. The good news was the items could be bought if you really wanted them. In the end, I ended up buying the car for $126,000 (after doing a pre-purchase inspection, having some repairs made, and doing a bit of negotiating).
After owning the car a couple of months, the person who sold the car to Cats Exotics found me because of my blog. They said they found the car cover, owners manual and other items that were supposed to go with the car. I was so excited! They asked if I wanted them and I said of course. Then they dropped the bomb on me. Well, you can have them for $5,000! I was so pissed off. The items were not worth close to that and he was trying to play me. I was not a happy camper and told everyone in the car world what the guy was doing. They could not believe it, and I could not either. I let the guy keep the stuff or sell it on eBay. The car is what is important to me, not the accessories.
I had never bought a car that was more than $30,000 prior to that point. I had never bought a Lamborghini, but I have bought a lot of houses that were awesome deals. I figured the car was worth about $150,000 based on what other cars were selling for. The problem with valuing a Lamborghini Diablo is there are not a lot for sale and not many buyers either. When I bought the car, I think there were about 7 Diablos for sale in the entire country. I was taking a risk buying a car like this, but I also never planned to sell it.
Shortly after I bought it, the Diablos started to increase in value. A couple of years after I bought it, the car had almost doubled in value. I took it to the Denver Concours de Elegance in 2017 (a car show), and Haggerty chose four cars to value, including mine. They estimated it to be worth $235,000 to $250,000. That value looks nice on my net worth sheet but does not do me a lot of good in real life. I have also had costs like insurance, registering the car, and maintenance. If you include all of those costs, I have spent another $30,000 on the car. I had to replace the front shocks on the car, and I had to replace the starter, which were both $8,000 repairs. The reason the car has been a great investment is not just because it has gone up in value.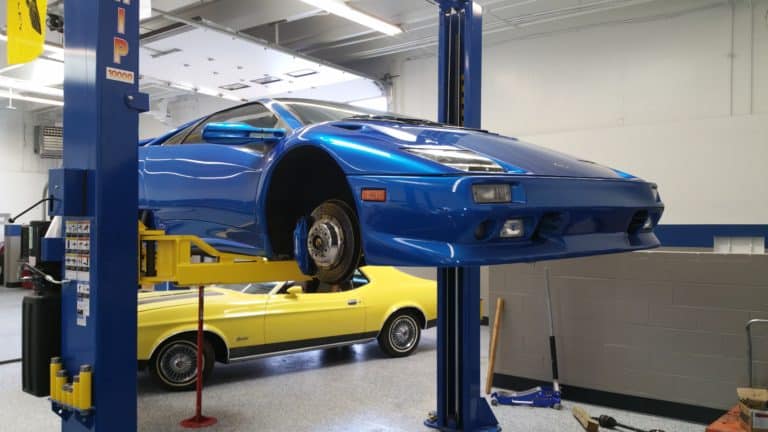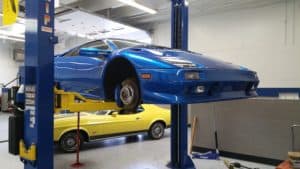 How has the car helped my real estate business?
I love to drive the Diablo, even though it is worth close to a quarter-million dollars. The car gets attention wherever I go, especially since I live in a town with 100,000 people and not many exotic cars. I was able to promote my real estate team with the car because people would see it parked and come ask to take pictures. Now that I have my own brokerage, I can use it even more to promote the business. I even name the brokerage in part thanks to the car: Blue Steel Real Estate. I made a flyer I could set on the dash promoting our team where ever I parked it as well.
I liked going to car shows before I had the car, but I was always an observer without the car. Once I had the car, I had people coming up to me all the time. Talk about a great way to network. I have met a number of very successful people and become friends with them because of the car. Many of those people are in the real estate industry and have been a tremendous resource. I also believe that having the car has allowed me to get more private financing, which has helped me flip more houses and make more money as well.
How has the car been embarrassing?
While most of my stories about the Diablo are awesome, there have been some less than awesome things happen. The car is a supercar and was meant to push the boundaries of speed and power. Whenever you buy a car like that, it will break down and need repairs, especially when it is 20 years old!
My most embarrassing story came at a charity dinner for the local food bank. I always buy a table for the dinner every year for my real estate office. A few years ago the food bank asked if they could auction off a ride in the car. I said sure, so we included a ride and lunch. They even asked me to get up and say a few words about the car in front of 5oo t0 1,000 people, which I was not expecting!
The auction went great, and I think the ride brought in $500. We decided to leave a little early to beat the rush home and get the car out of the building. My wife was driving since I had a couple of drinks. When she tried to start it, it was acting weird. We got it started, but it was not running right. We drove about a block before I told her to pull over so I could check things out (not that I could diagnose a problem with a Diablo).
Everything looked fine and it all smelled fine, so I asked her to start it again. We could not get it started. It would not even turn over. We ended up sitting on the side of the road while everyone left the dinner and drove right past us with my hazards on. We then had to call about 10 tow truck companies before we found one that would agree to even try to tow the car. We finally got it towed and sent to my mechanic (who is awesome; High Mountain Classics). It turns out a vacuum hose popped off which caused the car to run super lean. That, in turn, superheated the exhaust, which fried the starter. That was $8,000 to fix since the starter is under the exhaust and the entire back of the car has to come off.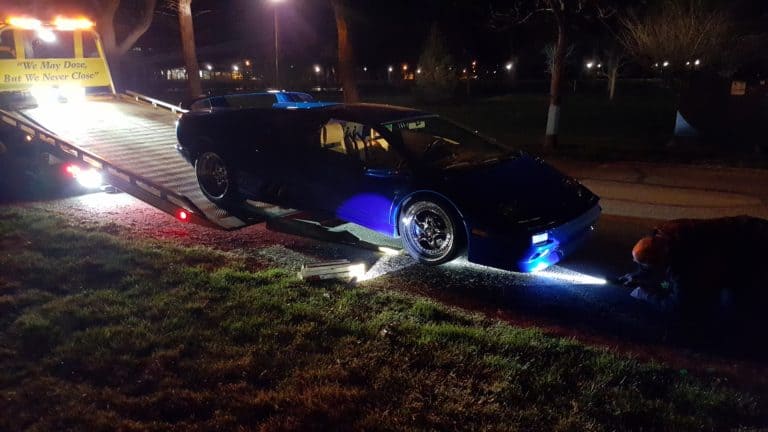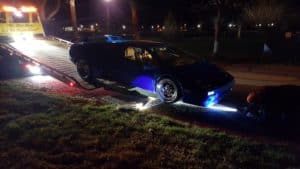 How did the car get me a real estate deal?
I have been buying a lot of houses from wholesalers lately. One of those wholesalers uses many buyers representatives to sell their deals. The buyer reps get paid a commission if their buyer gets the deal. On a Friday night, I got a text from my buyer rep saying a new deal will be released at 8 a.m. on Saturday. Instead of doing their normal sealed bid process, they are giving it to the first investor who comes up with the $10,000 deposit and signs the contract for their asking price. There was already a wholesale deal that many investors had been to earlier in the day, so some investors had their $10,000 checks still and some did not. I had already taken my check back to the bank.
I asked my buyer rep if he would take a personal check if I drove my Lamborghini to the house. He agreed, and we set an appointment for 7:30 a.m. The rep then texts me and said another buyer rep was bragging about how he was going to meet an investor at the house at 7:30 a.m. and sell the house before it was released. So my rep suggested we go at 7 a.m. I agreed and said as long as there is no snow on the roads, I will bring the Diablo. It so happens it did snow that night, but the roads were only wet and not snowy. I drove the Diablo for the first time in the snow.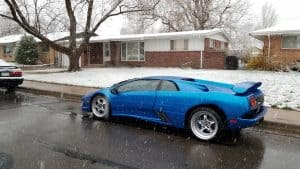 The buyer rep was pretty excited to see the car. I saw the house, gave him a check, and signed the contract (I did end up getting them a cashiers check later in the day). I even gave the rep a ride before he made his way back home, which was an hour-and-a-half drive. The car gives instant credibility and may have helped me land this deal over another investor. There are a lot of people who want to invest in real estate but don't have any money. Having a car like this shows that I have done my fair share of deals.
You can see the video of the snow drive and deal below:
How has the Lamborghini been good for marketing?
Not only has the car given visibility to my real estate business but it has also given more visibility to my blog. A lot of people know me as the real estate guy with the blue Lambo. I would rather be known as Mark Ferguson, but that is okay. The car is a great eye catcher for articles, for my homepage, and for other marketing. I think the Diablo has also been great to get more people to my social media pages like Instagram. I know that the car has been a huge boost to my YouTube channel.
How can buying exotic cars be a good investment?
I bought my Diablo using good investment fundamentals that you would also use in real estate. Buy an older house that is a great deal. I bought an older car that was more likely to go up in value instead of down. I did not buy or rent a brand new Lamborghini that would immediately lose 25 percent og its value. There were even some people who made fun of me for buying "an older Lambo" because I could not afford a new one. Well, my "old" Lambo is worth twice as much now as that "new" Lambo that was bought a couple of years ago.
There are ways to make money with cars, just like with real estate. Buying brand new cars usually does not work out well, and I have never bought a new car.
Video on 5 years of owning the car
I recently made a brand new video on what it has been like owning the car for 5 years. It certainly has not sucked, I can tell you that. I also talk about the maintenance, the repairs, the ups, and the downs.
Conclusion
Owning the Lamborghini has been awesome. I still smile when I see the car and can't believe it is mine. My kid's love it, my wife loves it, and most people who see it love it. I would say 1 out of 50 people act stupid about it, and the rest are very cool. I should have never worried about what people would think about me.
The car has been an incredible marketing tool, motivator, and investment. I have since bought a 1998 Lotus Esprit V8 twin turbo, and a 1981 Aston Martin V8 Volante. Both amazing cars but nothing like the Diablo. You can find those cars on my YouTube channel as well as almost all of our house flips. https://youtube.com/investfourmore