Every year I write about what my goals were for the previous year and how close I came to accomplishing them. I also write about what my goals are for the next year. 2018 was crazy, with many huge things happening that I discuss in this article. Writing these articles is great to show myself what I have done and what to be proud of. It is also great to motivate me for the next year. By writing about these publicly, it makes me more accountable. Not only do I hope these goal articles help others out, but I also hope they help me out as well. You may have noticed very few new articles from the site recently. Don't worry: I did not quit writing, but we are revamping the site, and that is why I took a break. We have some really exciting stuff planned for 2019, so be ready!
My goal write-ups for previous years:
I have been writing articles like this since 2013! Here are the previous goals and accomplishments from those years:
Why do I never accomplish all of my goals?
At the end of the year, when I look at my previous goals, I usually have multiple goals I did not reach. I may not even come close to reaching some of them. Some people may think of this as a failure to reach my goals, but I do not. I love to set big goals because it pushes me farther than if I would have had easy goals.
The point of a goal is not to reach that goal and pat yourself on the back. The point of a goal is to help you achieve more than if you had no goals or direction. If I set easy goals every year, I would not be challenging myself. I may even accomplish those goals with months left in the year and take the rest of the year off. We can tell ourselves that we will keep working hard, but our subconscious may have other ideas. I set goals that I most likely will not achieve. I am just fine with that because I know they will keep me working hard all year long.
Am I doing anything different with my goals this year?
To be honest, I have not been as diligent with my goals as I have been in the past. I used to spend much more time planning what my goals would be and working on them throughout the year. It can be easy to forget about your goals and spend time working on other things that may seem more important at the time. Our goals are so important because they act as a roadmap for where we want to go. Without them, we will float around aimlessly without any idea of what we are trying to accomplish.
Last year, I set my goals pretty hastily. I spent time over the year reviewing them—but not as much as I should have. I have been taking a lot more time making my goals for 2019 and thinking about what I really want to do. Having said that, 2018 was a crazy year, and I may have been quick to set my goals because I already had many things in the works. I bought a huge building, bought another car, flipped a lot of houses, and started a real estate brokerage. I don't feel like 2018 was a bad year, but I still could have done better.
2018 Year in Review
As I mentioned, I had a lot of 2018 already planned out in 2017. I had a huge building under contract to buy, a car set to buy, and I wanted to start a brokerage.
House Flipping
I want to make $100,000 per month flipping houses. My goal last year was to flip 30 houses, but I could have done that and made no money at all…or even lost money. That is not a very good goal. I averaged about $32,000 in profit on each flip last year, which means if I flip 3 houses per month, I will come close to making $100,000 each month. With this goal, I have to think about profit margins and not just how many houses I am buying. I have three houses set to close in January of 2018 and many more listed or ready to list the start of the year. I also have 3 flips under contract to buy. You can see all the properties and numbers here: https://investfourmore.com/flips/
Rental Properties
I want to add $6,000 per month in passive income. Instead of creating a number of properties I want to buy, I decided to create a passive-income number since I think that is more important. With the large building I am buying in January, I should create about half of that number. I figure I would need to buy about 6 more smaller properties to get the total to $6,000 per month. This is not in line with my plan to buy 100 properties, but I do still have that major goal I want to accomplish.
Real Estate Brokerage
I want to start my own real estate office. Part of my plan to buy a large building was to start a new office in that building. I never wanted to start an office before because many of my REO and HUD accounts were tied to my current office. There was no guarantee that those accounts would move with me if I moved. I have decided I like flipping much more than being an REO agent, which works out great since there are almost no foreclosures in Colorado. By starting my own office, I will save a ton of money on expenses and have my own space I can do whatever I want with. I set that as my real estate team goal this year instead of setting a sales-number goal.
Exotic cars
I will buy an Aston Martin V8 or Lamborghini Countach this year. In fact, I am already working on this goal, and it is close to being accomplished.
Personal and blog
I have more personal goals this year and goals for this blog as well. However, I am basing the blog goals around income so it is more measurable. I have decided not to disclose that goal publicly, but if you really want to know, you can email me. 

[email protected]

. If you think you have ideas for the blog, you are welcome to let me know as well. However, I get tons of emails from people who want to do guest blogs or help me with SEO. That is not what I am looking for.
2018 Challenges
House Flipping
I did not accomplish all of my goals. In fact, I fell woefully short of many of them. I wanted to make $100,000 flipping houses in 2018, which would mean I needed to flip about 36 houses. I only flipped 26. I thought setting a monetary goal would make more sense on the flips, but I did not like it as much as using a number-of-flips goal. It was much harder to keep track of and think about than knowing I wanted to flip 30 or 36 houses. One important thing about goals is the easier they are to visualize, think about, or conceptualize, the better chance they will help your business.
Rental Properties
I think I hit my goal of adding $6,000 per month in passive income. I bought the 68,000 square-foot strip mall, which I thought would add a few thousand a month in income, but it has not. It has added much more than we planned for! The rents have increased because I opened my brokerage on the building and pay rent to myself. We also have had very few expenses on the property thanks to the tenants having NNN leases. Any expense we have we can charge back to the tenants. I have made over $5,000 per month in cash flow from the property. On top of that, we are paying off $4,500 per month in principal on the mortgage every month! I also bought a small restaurant which will add more passive income as well once it is fixed up and rented. I wanted to buy more rentals but could not find any other great deals out there.
Real Estate Office
I wanted to start a real estate office along with buying the large commercial building since I could put my office in that building. I opened the office on April 6th! It was about two months sooner than I wanted to open because my old broker kicked me out of the office as soon as I told him I planned to move. I thought I was being nice giving him a heads up that I was leaving, but I guess not! That is okay. We were able to move into a temporary vacant space we had in the building until we remodeled the new space.
Cars
I bought a 1981 Aston Martin V8 Volante in February. This was a car I had been in negotiations with for months but had a pretty good idea I was going to buy it in 2017. The car is awesome. I love it, and I can't believe I found one in such good shape and that was affordable.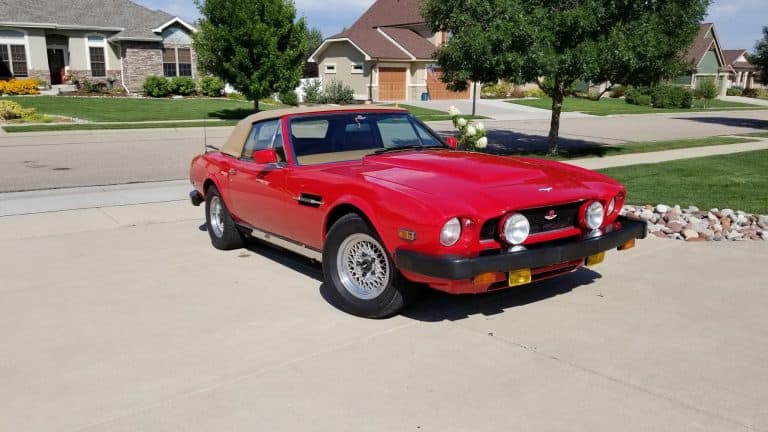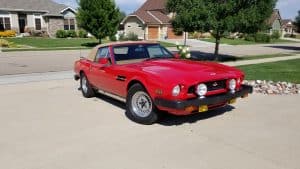 Blog
For my personal and blog goals, I failed miserably. I hired multiple people to help with my site, and most of them ripped me off completely or had lackluster results. One company literally overcharged me and refused to refund me. Then, they did all they could to ruin my name with bad reviews and negative comments all over the internet. Luckily, they were about as good at ruining my name as they were working on websites, and it didn't hurt me. You can see the review I did on them here. Another company offered to help with my emails and claimed to be a real estate guy as well as an avid follower of my blog. He had some okay results but nothing like he promised, and he overcharged me too! After I canceled, he charged me $8,000 and claimed to have refunded me multiple times. Turns out the refund notices were fake, and he never refunded me. Finally, he said he would PayPal me the money, but when I gave him my PayPal email, he claimed he was insolvent and stopped responding to emails. What is funny is he is posting pictures of his Ferrari and going to casinos all while this is happening on Facebook. The guy's name is Tom Cruz in South Carolina. It is frustrating having things like that happen, but it does not take away from a great year. I am fortunate to be able to handle things like that and keep moving forward.
Podcast
I completed 150 podcast episodes but I stopped doing the podcast in 2018. I know many of you loved it, but the podcast was a huge time drain and was not my favorite thing to do. Sometimes simplifying your life and business can help you be more successful. I did not realize how much time the podcast took or how much it controlled my week until I stopped. I have been posting more on YouTube to make up for not doing the podcast.
What do I want to do differently in 2019 with my goals?
I am taking much more time this year to come up with my goals than I did last year. I have been thinking very hard about what I want to do and what will excite me. The more exciting a goal is, the more I will think about it and want to achieve it. The more I think about my goals, the better my business will run.
I also need more personal goals and more self goals. Not everything is about money or business. I also feel that if I focus on myself more, the business will naturally do better. I also want to calm things down a little bit this year. I had a crazy 2018. That does not mean I do not want to accomplish a lot, but it does mean I want to focus more on expanding or refining my current business and strategies instead of creating new ones.
I also want to reward myself more for accomplishing my goals. It is nice to add more motivation to reach your goals…or come close at least. I think I will figure out something to do or give to myself or the office every quarter if we hit certain milestones. I have yet to figure out what those milestones or rewards are yet.
What are my goals for 2019?
House Flipping
For the house-flipping business, I want to flip 36 houses. I have flipped 26 houses each of the last two years, even though my goal was to flip 36. I am going to keep trying! My current bottleneck in flipping more houses is finding more deals. We are going to work hard to refine our business to focus on finding deals. Yes, there is a ton of competition in Colorado for house flips, and yes, the market is crazy, and it is very hard to find flips. However, I think we can do it if we work hard every month to keep finding more deals.
Rental Properties
I want to buy two $750,000 or more commercial rentals. This will be a very tough goal, but I was able to buy a $2.1 million property in 2018. I should be able to accomplish this, and I have a lead on a property already. I did not make a cash-flow or passive-income goal this year, but I like the idea of numbers of rentals. I know that I will not buy rentals that are not awesome deals and do not cash flow well. I feel confident that if I do buy something, it will be a great addition to my portfolio. It is just a matter of finding and funding those deals.
Real Estate Office
I want to break even on the real estate brokerage. What a horrible goal, right? Well after starting Blue Steel Real Estate, I realized that running an office is not my best use of time. I have had a few people want to join my office, but I have been very selective about who joins. I am not looking to train a bunch of brand new agents as I don't have time for that. I am also not running a low-fee discount brokerage where we are trying to hire as many agents as possible and hope a couple actually sell houses. All the agents and people in my office right now have a purpose besides being an agent. They help with my flips or they are property managers or staff. My core business is flipping houses, the blog, and rentals. Trying to build a huge office is not a priority. The office is vital to the other businesses and helps them tremendously, so it is an asset.
Exotic Cars
I want to buy another car as well, but I desperately need more garage space. I am hoping one of the new commercial properties will have some more space to put cars as well as make money. Number one on my list is a Lamborghini Countach, but they are both hard to find and expensive. I would also love a Maserati Ghibli (the 1960s or 1970s, not the new ones), a Porsche 930, a Mercedes SLS, a Toyota Supra Twin Turbo 6-speed, and a few other cars. Since I bought the Diablo, I have bought cars a little like I buy houses. I am not out there buying the first car I like. I wait for an awesome deal, and I am not super picky about what the car is as long as it is something on my list.
Blog
I am setting more goals for the blog as well. I have not been setting very many goals for it and am not making them very public. I guess part of me is slightly worried about disclosing how well the blog does because there is so much negativity concerning real estate gurus. I have done my best to deliver as much value as I can with the blog, but it also takes a lot of time, and I also like to make money because Lamborghinis are very expensive. It still drives me nuts that companies will charge people $40,000 for real estate coaching, and those companies prey on people who cannot afford it. The blog does bring in 5-digits revenue every month. My books are a huge part of that as are my coaching programs. For 2019, I have some huge plans. I hired a full-time employee who is working only on the blog, and that was actually one of my goals for 2018. So far he has been awesome, but I am not sure if he realized what he was getting himself into. The blog is huge and has a lot of moving parts. I want to increase revenue significantly by selling more coaching programs. I also want to write three more books. Yes, three more and have ideas for all of them already. One of the books is mostly done and I am waiting for feedback from a few people as it is something totally new. I also want to increase my traffic significantly as it has been steadily dropping in the last two years. Trying to figure out Google is not always fun, especially when you are a real estate investor and suck at technology. I also want to hold a mastermind event or two at my office. This would consist of a couple of days talking about business and some tours of our properties (if you are interested send me an email [email protected]).
Personal
For my personal goals, I will talk about them a little more as well. I love to read but have a hard time finding the time to read (especially when trying to write three books). I want to read at least one book per month. I stole that from Nikki, my project manager so, I am sorry Nikki, but it was a good goal. I also want to run at least 12 miles per week. I have been an avid runner for the last year or two and love it. I like to watch movies while I run on the treadmill, although I used to love to play Madden Football on the treadmill. You just have to be careful you don't run off the side during an exciting play. For those who don't follow the InvestFourMore pages on Instagram or Facebook, I also built a golf simulator in part of our office. I love to golf, and I need to come up with a good goal for golf. The simulator has been awesome. If anyone has some suggestions for good golf goals, please let me know. I am about an 11 handicap right now, but that may be dropping significantly with the simulator. However, the simulator may also make it slightly harder to accomplish my goals this year….
Thank you
I accomplished a lot in 2018 and a lot of that was thanks to my readers and supporters. The blog is more than five years old now and has become a huge part of my life. It was really hard not writing or publishing articles every week! However, I did use that time to focus on my books so be on the lookout for those.
Not only did we have to start a new office, but I also ended up letting a few people from my team go, one who had worked for me for years. Business is not always fun and games. I have learned so much about running a brokerage and managing a huge strip mall. I think all the craziness made it tougher to reach some of my other goals as there were a lot of distractions. This year, I really want to focus on my core businesses and refine them to be well-oiled machines. I also want to be healthier and happier.