I set a goal to buy a 50,000-square-foot building in 2018, and I accomplished that goal last week. I bought a 68,000-square-foot building for $2.1 million with a partner. The building has a grocery store, a coffee shop, a restaurant, and a small office as tenants. There is also about 9,000-square-feet of vacant office space. I will make money on this property as a rental, but I also may start my own real estate office in some of the vacant space. This is the 21st rental property I have bought and by far the largest by a factor of ten!
Why would I want to buy a huge commercial building?
I have wanted to buy a large commercial property for years! My original goal was to buy a large warehouse type building and break it up into smaller spaces that I could rent out. I wanted to do this because there is a lack of small shop space in my area. By small, I mean less than 5,000 square feet. I had a huge building under contract last year, but that deal did not work out. The building was over 250,000 square feet but needed a complete overhaul. The rehab bids I received were over $6 million. There were also some access issues that killed the deal. I was disappointed that deal did not go through, but in the end, I think it worked out for the best.
Another reason I have been looking at commercial deals is that I cannot get good residential rentals in my area anymore. Prices have increased significantly in my area, and rents have not come close to keeping up. I bought 16 rentals from the end of 2010 to the middle of 2015. In 2015, I realized I was not getting the cash flow I once got with my rentals. I bought no rentals in 2016, but I bought 4 commercial rentals. I realized there was opportunity in commercial that I had not seen before. You can see all my rentals on the page below:
The cap rates are not great on commercial rental properties in my area either, but there are opportunities. Some properties are under rented, vacant, mismanaged, or need work, which provides opportunity to add value and have great cash flow. Here are what some of the numbers would look like if I bought residential rentals in my area:
Buy for $220,000
Repair for $20,000
Rent out for $1,600 per month
This would be on properties that need work and are a great deal! With commercial, I can get a much better deal. Here is what some of the rentals I bought in 2017 look like:
Bought for $101,000, spent $8,000 on repairs, and rented out for $1,500 per month.
Bought for $292,000, spent $50,000 on repairs, and rented out for $4,500 per month (plus unfinished basement).
Bought for $110,000, spent nothing on repairs, and rented out for $1,500 per month.
These deals are not available everywhere but take some work to find. The other nice thing about commercial rentals is the tenants pay almost all of the expenses, and they are easier to evict. It can be harder to rent commercial rentals, and they can be harder to finance.
Are commercial or residential rentals better?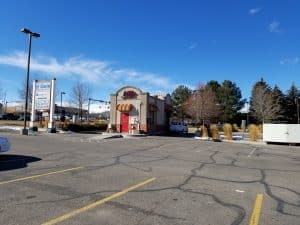 How did I find this commercial rental property?
I was brought this property by a commercial real estate agent I have been working with for a while. I am an agent, but I specialize in residential, and I wanted a commercial agent to help me with any major purchases I make. I am new to the commercial world, and while I think I know a lot about real estate, I realize I do not know everything. Things are much different in the commercial real estate world, and I am glad I used an agent. The agent I was working with knew I was looking for a large property, and he told me about a listing he had coming up.
My agent actually told me about a few large properties that he knew were "for sale" but not listed anywhere. When he told me about the property, I was instantly intrigued because I could see it from my office. It was within two blocks, and a restaurant I eat at all the time was located in the building. He told me some of the other details on the property, and I was even more intrigued:
68,400 square feet
4.5 acres
4 tenants
9,000 square feet of vacant space
9% CAP rate with the current tenants in place.
Cap rates vary by location, but they are usually very low on properties in Colorado that are rented and in decent shape. A lower CAP rate means the property will be more expensive based on the rent received. Similar properties to this one are listed and sell at a 7% CAP rate. This was a really good deal!
You can watch the video below.
What are the numbers and details on this rental property?
I think this rental property is an amazing deal based on the local market and what else is available. The agent told me the asking price was $2,250,000. Here are what the rents and expenses look like:
Total rents are about $20,000 per month.
Net Income is about $16,500 a month after expenses.
The property has over 68,000 square feet, which is huge. The replacement value from our insurance company was given at $7 million. That is using a $100-per-square foot build cost, which is actually lower than what it costs to rebuild a property like this in our area. One reason the price is so low is that the grocery store pays very low rent. This is good and bad. I wish the grocery store paid market rent, but then I could not have gotten as good of a deal as I did. The grocery store also has a huge incentive to stay in the building. They have been there over 30 years and would have to pay much more rent if they ever moved. Even if the grocery store did move, we could rent the property out to someone else at a much higher rent. The downside is it takes time and money to rent commercial space. That is the major risk involved with investing in any commercial property.
The really cool thing about this property is that it will make money if we do nothing to it, and it will make even more money if we rent out the vacant space, are able to charge the tenants more CAM, or ever raise rents.
Why I bought four commercial rentals in 2017.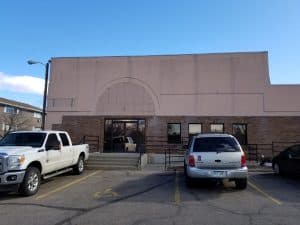 How do the leases work on large commercial rental properties?
I mentioned that I used a commercial real estate agent to help me because I am not an expert on commercial real estate. I learned so much in the last year about commercial real estate. I had no idea what my agent was talking about most of the time when he discussed different terms. I nodded my head, pretended to know what was going on, and then went back to my office and started researching. Here are a few of the things I learned:
Triple N leases or NNN. Residential leases are simple compared to commercial. All the leases in this building are NNN, which means the tenant pays most of the expenses including, but not limited to: maintenance, repairs, utilities, property management, taxes, insurance, accounting, and more.
TI: TI is not a rapper but rather tenant improvement. Many commercial landlords will pay for improvements before a tenant moves in. The seller whom I bought this property from spent $150,000 on tenant improvements for  one of the tenants.
CAM: I mentioned CAM earlier, which stands for common-area-maintenance charges. When you rent out a large commercial space, the tenants all share in paying for the expenses that come with common area maintenance.
Ground lease: the coffee shop has a ground lease, which means they own their building and only rent the lot. If they decide not to renew their lease, they would be able to move the building with them.
The current leases generate about $240,000 per year in income, which is not bad on a $2.1 million property. If this was a large apartment building, I would have a lot more expenses to pay like utilities, maintenance, management, taxes, insurance, etc. Since this property has NNN leases, the tenants pay all of those expenses. The tenants pay the expenses based off the percentage of square feet they lease in the building. The landlord calculates what those expenses are every 6 months or so and lets the tenants know what they have to pay. The roof on this property had to be replaced awhile back, and the grocery store paid for almost all of it.
The previous owner has made over $200,000 net on this property every year for the last three years. The CAP rate and value was based on that figure, but I don't think they were charging then tenants enough since the tenants should be paying for just about all expenses. I think there is opportunity to raise the CAM on the tenants, but I do not want to shock them with a huge raise and start off on a bad foot with them.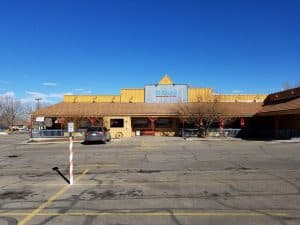 How was I able to buy and finance this property?
The agent who worked with me had both sides of the deal. I do not think that is the ideal way to handle a transaction, but as the buyer, that is the only way I was going to get this deal. My agent told me the price was $2,250,000 and the seller was firm. I decided to offer $2 million, and the seller countered with $2,100,000, which we accepted.
I have been talking with a number of lenders and possible partners while looking for a large building to buy. I did not put together a syndication to buy this like many apartment investors do. I had one partner, and we bought the property 50/50. We used a 25% down payment loan with a five-year ARM and 10-year balloon. I talked to a number of lenders, and we chose the one we did because they were super easy to work with. They were actually my partner's bank, and they had a great relationship. The rate was 4.6%, and that is fixed for 5 years. The 10-year balloon term means the bank can call the note due after ten years. The payments are just over $10,000 per month, and we had to each put about $280,000 into the deal for down payments, inspections, appraisal, and origination fee.
Everything is more expensive on a property like this. The appraisal was $4,000 and came in at $2.4 million, which was great! The inspection was over $3,000 and showed some deferred maintenance but nothing too serious. We were able to negotiate the origination fee down to half a percent, which ended up being $7,875. The insurance is $24,000 per year; the taxes are over $50,000 a year; and taking care of 68,000 square feet and 4 acres can be expensive; however, the tenants should pay all of that except for the spaces that are vacant.
To learn more about my rentals, how I buy them, how I finance them, how I manage them and much more, check out: Build a Rental Property Empire: the no-nonsense book on finding deals, financing the right way, and managing wisely. It is available as an audio book, paperback and eBook.
How can we add value to the property and increase cash flow?
I think I got a great deal on this property. There is a similar strip-mall type property three blocks away that just sold for over $5 million. That property had half the square footage of mine but leases that were closer to market value. That property sold at a 7% CAP rate and $145 per square foot. To figure the CAP rate, you divide the net income by the price of the property. On my property, the CAP rate is 9.5% if the net income is $200,000 per year and we bought it for $2.1 million. If we had bought the property at a 7% CAP rate, it would have been about $2.8 million. If we would have paid $145 per square foot, we would have paid almost $10 million for it! I think we got a good deal on the property, even with the current leases being low for the grocery store.
There is a nice thing about the lease rate being low for the grocery store, and that is they will want to stay. They have been in the building for over 30 years, and there is nowhere they could rent for as low as this. If they did happen to leave, we could rent the space for much more money, increasing the value of the property. The big question would be how much money would we have to spend and how much time would it take to rent out that space. If we rented out that space for $5 per square foot, which would be really low, we would almost double the income on the property and the value.
The other thing that adds value is all the leases have built in escalator clauses. The rent increases about 3% per year on every lease. We also can raise the CAM the tenants pay, as I mentioned before, to be more in line with the actual expenses. The more expenses the tenants pay, the more money we make. Right now, the property generates about $6,000 per month after we pay our mortgage and expenses (that is split between the partners). If you look at my cash-flow calculators and cash-on-cash calculator, we are making about a 12% cash-on-cash return on our money.
If you have seen my other rental properties, I prefer to make at least 15% cash-on-cash return, but this property has a lot of upside:
We could rent out the vacant units, which would add thousands of dollars per month to the income and reduce the expenses.
The annual rent escalators will add $7,200 per year in rent.
If we charge the tenants a more accurate CAM, we can add thousands of dollars in income.
The other thing to consider is the property has a loan with a 20-year amortization, where my other properties have 30-year amortizations. We are paying off the loan by over $4,000 per month in the first year, and that will increase over time. You depreciate commercial properties over 37 years, which means almost $50,000 per year will be deducted from the income on the property before we pay taxes.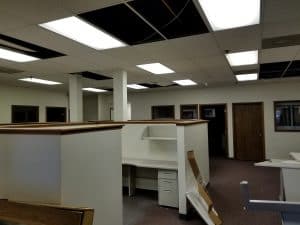 Conclusion
I could write about this property all day long, but I have to end it at some point. Overall, I love the property, and I already have a tenant for one of the vacant spaces. I will be moving into one of the spots and starting my own real estate brokerage this year. We have already increased our income! I think the property is worth close to $3 million as it is. It cash flows with a 20 year amortized loan; it will take very little management; and we can increase the returns. On top of all of that, I will save a ton of money by having my own real estate office. If I make any money on the brokerage, that is all a bonus! It will be really cool to see the rents come in along with the CAM to see how much money we are making now and how we can improve things. I will be sure to post updates on the property, and please feel free to ask any questions below.