Last Updated on September 20, 2023 by Mark Ferguson
A property manager's job is not incredibly difficult if they know what they are doing. They find good tenants, they get a lease signed, they collect rent, and they check on the properties once in a while. At least that is what a lot of landlords think when they consider using a property manager for their rentals. This perception will cause many people to manage the properties themselves instead of hiring a property manager. While property managers can cost some money, I feel they are well worth the cost.
A good property manager will find great tenants, make sure the lease is rock solid, make sure the tenants live up to their promises and take care of problems that come up. While many investors feel they can manage their properties, do they really have the time? When they get to a certain number of properties or units, is the time it takes to manage their properties taking away from other money-making activities or family time? I feel most investors will benefit greatly from hiring a property management company sooner rather than later.
The property management software I rely on: DoorLoop.
Should you self-manage?
Many investors want to manage rental properties themselves to save money. I managed my properties until I had seven and then I hired a property manager. I thought it would be easy to manage the properties and it made the properties look like they made much more money on paper when I was not paying someone else to manage them. In fact, I think many investors decide to manage their properties because they do not make that much money on paper, and by cutting management costs they feel better about their investment.
It is the same reason investors will make all the repairs in the rentals themselves and the same reason that house flippers will make all the repairs on a house flip: to turn a marginal deal into a slightly less marginal deal. A good rental property should make money whether you have a property manager or not. Sure, it will save you money by managing the properties yourself, but it will also cost you money if you do not know what you are doing or do not have the time.
Below is a video I did on hiring a property manager:
How can self-management cost you money?
When I had 7 rentals it was my wife who was doing much of the management and she was very clear that I could not buy more rentals unless I hired someone else to take care of them. I agreed with her on hiring a manager because I knew I was not doing an amazing job picking tenants, keeping track of properties, or making sure the tenants paid late fees. Although it seemed like it was easy to manage the properties, it took time and the more properties I bought the more time they took. The properties were also distracting me from activities that could be making me much more money.
I chose some tenants because I did not feel like finding more applicants. I did not charge late fees because I did not want to call or confront the tenants. I waited too long to start evictions because I had better things to do. I was a bad property manager and I knew it although I did not want to admit it. I was costing myself money by not hiring a property manager, and I was costing myself money because the property management took time away from other activities that could be making much more money.
Many of the horror stories you hear about rentals come from tenants who destroy houses because the landlords never checked on the tenants or the houses. If you don't have the time to manage your properties; hire a property manager. Hiring a property manager will save you money if you don't have the time to devote to your properties.
Multi-Family versus commercial versus single family management
When I had 7 rental properties they were all single-family rentals. Single-family rentals typically have tenants who stay longer, who take better care of properties and maintain properties better than multifamily tenants. Multifamily properties have more turnover, the landlord has more responsibilities, and the properties may require more maintenance. Commercial rentals often have tenants who are very easy to manage, but it can take a lot of time and money leasing the properties. I have owned every type of rental. I think that commercial properties are the easiest to manage, followed by single-family rentals, followed by multifamily rentals.
I have managed some of my commercial rentals myself, or at least my team has. Commercial rentals can be a breeze once they are rented. However, you still need to know what you are doing as the leases can be much more complicated!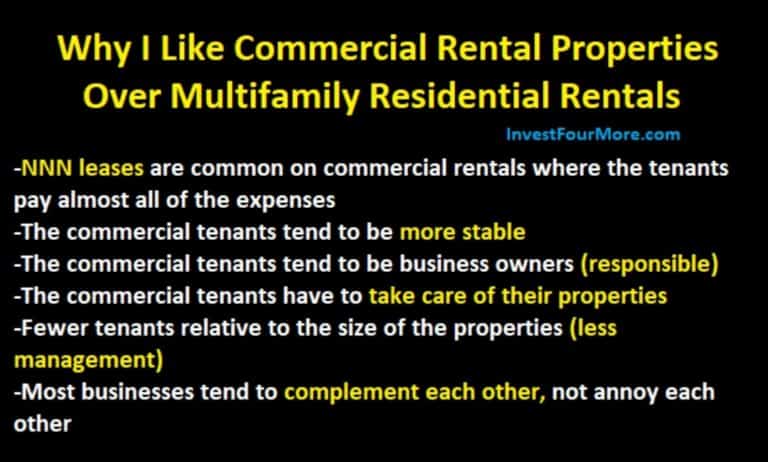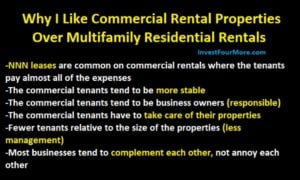 What is involved in managing rental properties?
There are many tasks associated with managing a rental property. However, most tasks come when first renting a property; once a home is rented there is much less work involved. Here is a break down of the basics of managing a rental property.
What to repair
You need to determine what to repair before a property is rented. I want to control what is repaired whether I manage a rental property or what a property manager does. A property manager may help you with repairs before you rent a property, but they also may only help with maintenance and repairs after a home is rented. Even before you buy a rental property you should have a good idea of what is going to be repaired and how much it is going to cost. Out of state, rental property owners may have to depend on someone else to manage the rental property repair process.
What will it rent for?
You need to determine what to rent a home for. I also like to have control of this whether I am managing a house or using a property manager. A property manager wants to get houses rented fast because they collect money based on the rent. They may not try to get top dollar, although some might. An agent on my team recently sold a home to an investor and that investor used a property manager. We had told the investor the home would rent for $1,500 before they bought it. The property manager they hired said they would rent it for $1,200! We urged the investor to rent it for more and they ended up asking for $1,600 a month. They rented it at $1,600 in two days and they were very happy they did not blindly take that property manager's advice.
How to rent a home
Renting or leasing a home is the hardest part of management; at least it should be. If you take time to screen tenants and pick the best tenants it will make you more money and save many future headaches. You have to have to advertise the property, show the home, check references, check credit, create a lease and collect money. Don't pick a tenant because they are the only ones that will pay what you are asking. Don't pick the first tenant that wants the house because you are tired of showing it. Pick the best tenant and don't convince yourself a tenant you have doubts about will work out so you can start collecting rent. Property managers should have strict guidelines for who they rent homes too.
Rent collection
When you rent a home you have to make sure your tenants pay on time and charge late fees if they don't. If you let late rent slide, the tenants will think it is okay and they will keep paying late. They will get later and later with rent if there aren't any consequences and may stop paying completely. You have to be strict no matter who is late and what their story is. If tenants get too far behind don't be afraid to start the eviction process. Starting the eviction process usually gets your tenant's attention and they start paying rent. A property manager will collect rent and should have no problem charging late fees.
Evictions
It is never fun to evict anyone and I try to avoid it because an eviction is just asking for your tenant to trash a house. I have yet to go through a full eviction, but I have had mutually agreed upon move outs. If I can have a tenant move out on good terms, they are more likely to take care of the home and possibly pay me what is owed. I would rather lose a tenant who is not paying rent and rent the home to a tenant that will pay me than a tenant who is constantly behind. A property manager will handle rent collections and evictions.
Property visits
Just because you have a tenant who always pays on time and never causes a problem does not mean they are taking care of your property. I always write in the lease that I have the right to inspect the property with proper notice.  I use this time to make sure the home is well maintained and I can change furnace filters, check smoke detectors and make sure no other repairs are needed. Some of the biggest problems come from landlords who rent a house and then never check it.
The same tenant is in the property for years and they absolutely destroy a house and the landlord never knows. It is possible to destroy a house quickly, but usually, the worst damage occurs over years of time. Some renters who always pay on time are doing so because they don't want the landlord to see the house. They may be trashing the property or doing something illegal like selling or making drugs. Property managers should check on your houses, but you never know if they are.
Maintenance
I have contractors repair all my properties before I rent them, but I still have maintenance issues. Things break when you own a rental and you have to repair them. I am not interested in being a slumlord who doesn't make repairs. I always plan for vacancies and I plan for maintenance when I figure my cash flow. That way when costs come up it does not hurt my bottom line, because I already calculated for them. If there are water issues, roof issues, electrical issues or any problem you fix it.
You want your house to be safe and well maintained. If you can't afford to maintain your rental property, you shouldn't have rentals. Problems will happen at all hours of the day and night, and if you are managing your rentals you will have to take those calls. A property manager will handle maintenance issues and you should check with the owner of the property on any non-emergency issues before work is done.
Taxes and bookkeeping
When you manage your own properties you have to keep track of expenses, rents, profit, loss etc. A good property manager will give you a year-end report that has all your tax information, profit, losses, and accounting information. I always send all my information to an accountant to make sure the expenses and taxes are calculated correctly. It is not easy to calculate taxes on rental properties because you can depreciate the structure which is an awesome tax advantage.
Are you ready for a property manager?
I covered a lot of things that a landlord must do when managing their rentals themselves. I did not cover everything! In some cities you must register your rentals, you also need to keep track of expenses and rent for tax purposes. It is a lot of work, but most self-managers do not do what they are supposed to and that is where they run into problems.
I also hear investors say they cannot hire a property manager because they will then just have to manage the manager. That is true if you hire the wrong manager and never check on your properties. It is a lot easier to check on your properties once in a while or look for a new property manager than it is to do all the work managing the properties. If you have decided it is time to get a property manager how do you find one?
How to find a great property manager
Investing in real estate is supposed to create a passive income, but if you are managing your rental properties yourself you are actively working on the investment. To create a truly passive income, you need to hire a great property manager who can take care of the renting, repairs, accounting and everything else that comes along with rental properties. I recently had my staff start a property management company to manage my properties, my parents have used a property manager on their rentals and my sister is a property manager. My sister actually provided some great information on how to find a property manager for this article.
Cost for property management
Typically a property management company charges between 8 and 12 percent of the gross rents received and some companies charge leasing fees on top of that. A typical leasing fee can run as much as one month's rent. If you are paying 10 percent of gross rents and one month rent for a leasing fee, that can eat into profits very quickly. I think most investors should be able to find a decent property management company that does not charge that leasing fee. You do not want to hire a property management company based on their cost, it is much more important to pay a little more if you know they will take care of your properties. You will also find that rates can vary greatly based on the area of the country you are in. Some areas may see even lower rates and some higher rates.
Identifying good property management companies
The first step in picking a property management company is finding potential property management companies. By performing a simple web search you should be able to find the largest property management companies, but there are many smaller management companies that may not show up in those searches. My old real estate office which has about 50 agents has three property managers and none of them advertise except for word of mouth. My suggestion is to always ask your contacts in the area who they know. If you know a Realtor, title company, investor or anyone else in the area, ask them who they recommend for a property manager.
Research
Property managers will promise great service, but how will you know until you actually hire them and see how they do? Here are some great ideas to help investors get an idea of how good a property manager is before you interview them.
Vacant properties
Check to see how many vacant properties a property management company has listed before you call them. They should have a website or directory that lists the properties they have for rent. When you call the property management company later on, ask them how many total units they manage. You can then calculate the vacancy rate for that particular company. Check the vacancy rates in your area and see how close the companies vacancy rates are to the regions vacancy rates. My sister says a few companies she knows of that have 10 to 20 percent vacancy rates in our area now and our regional vacancy rate is under 2 percent. Red flag!
Pretend to be a renter
Call the property management company as a potential renter on a house they have listed for rent. You will most likely reach someone's voicemail. See how long it takes them to call you back, how knowledgeable they are and how soon they could show the property. When asking questions about the home, ask simple questions that the manager should know. Ask how old the home is, how many square feet it has, how many parking spaces, what type of heating. This will give you a great idea of their knowledge and service level.
Check on current properties
Drive by properties a property management company has for rent and see how well they are maintained. As an investor, you will be depending on the property management company to maintain or make sure the tenants are maintaining the property. If there is a dead lawn in front of every house a particular management company manages, that is not a good sign.
Check reviews
Check the BBB, Yelp, and Facebook to see if a management company has had a lot of complaints filed against them. This suggestion can be deceiving because almost every company that does a lot of business is liable to make a couple of people mad. Some people just like to complain, no matter how fairly or unfairly they are treated.
The BBB gives companies that have complaints against them a chance to respond and give their side of the story. If a property management company cares, they should at least be responding to complaints to explain how they saw the situation. If you see a company with an abnormally large number of complaints against them from investors that may be a bad sign.
10 Questions to ask your property manager?
Eventually, you will need to interview property managers. There are many questions to ask the property manager and they will have their own sales pitch to give you as well. Here are some questions to ask a property manager once you have narrowed down a few good candidates:
How many properties/units do you manage?
What is your specialty? College rental, single family, multifamily, commercial?
How long have you been in business?
Ask if they are a member in good standing with the BBB. You should have already checked on this, but you can see how their answers compare with your research.
How many people work for you? This will give you an idea of how much they can handle based on how many units they manage.
Do they have a real estate license? Many states, including Colorado, require property managers to have a license.
How much do you charge and are there any extra fees for leasing?
Do you have any monetary agreements or affiliations with the contractors you use? Most states require property managers to disclose any kickbacks they receive from contractors. Many property managers use contractors as an extra source of income, either by marking up prices or having ownership.
Do you own rental properties yourself, what kind, how many do you own? If a property management company has 100 units they manage and they own 85 of them, whose properties do you think they are going to try to rent first?
What type of insurance do you carry? A property manager should have E and O insurance if licensed and general liability insurance at a minimum. The last thing you want is someone getting hurt at one of your properties and suing you because the property manager who screwed up has no insurance and no money.
Conclusion
If you own rentals it is easy to get sucked into managing them. I know some investors who had hundreds of rentals and love to manage them. However, that is rare and many investors quit the rental property business because they hated self-management. I think it is best to hire a property manager as soon as you can. Hopefully, these tips will help you find a property management company. Don't be surprised if many of the companies you call aren't taking new clients. It takes a lot of work to manage properties and many companies do not add new clients.