Last Updated on October 6, 2022 by Mark Ferguson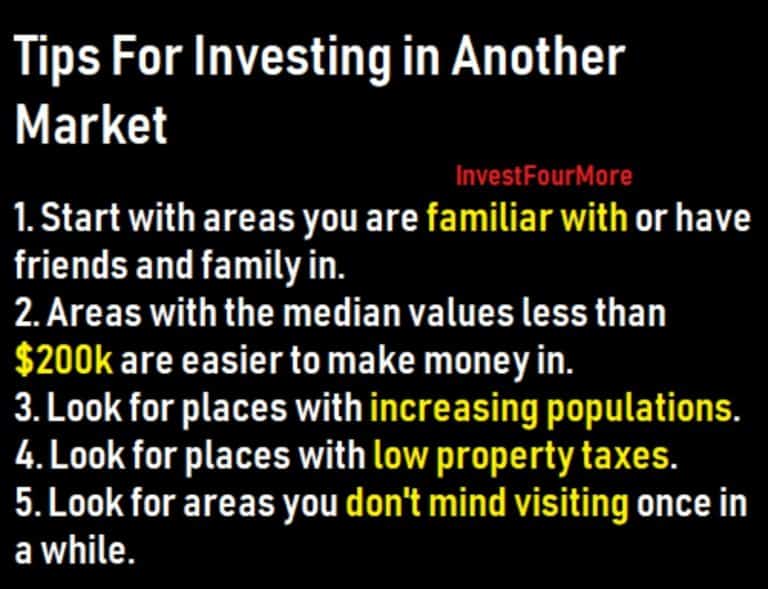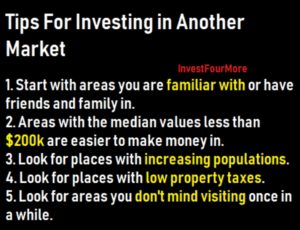 Rental properties can be a great investment but not every market works great for rentals. I bought my first rental properties in Colorado, but prices rose significantly and I no longer thought it made sense to buy residential single-family homes as rentals anymore. I decided to buy out of state and also looked at other asset classes besides single-family homes. Investing in long-distance rentals can be one way to find properties that cash flow and are less expensive, but it definitely takes more work than buying properties locally.
What is the easiest way to invest in long-distance rentals?
I was not being entirely honest when I said there is no easy way to invest in rental properties that are in a different market. There is something called a turnkey rental property. A turnkey rental property is already repaired, rented out, and managed by a property manager. Technically, turnkey rentals should be simple to buy and easy to manage. However, a lot of problems can come with turnkey rentals because you are depending on a turnkey provider to not rip you off. Unfortunately, in my many years of being a real estate investor, I have seen more people get into a bad deal from turnkey rentals than any other investment vehicle.
The problem with turnkey rentals is many of them are marketed without agents or lenders involved. Extremely cheap properties are also often offered because they have very high rent-to-value ratios. Here is why that can be an issue:
Properties that are less than $50,000 are very hard to finance. Banks do not like to lend on very cheap properties because they don't make much money on the loan but take on a lot of risks.
Turnkey providers often choose these types of properties for a reason: they do not have to worry about the hassles that come with getting a loan.
An appraisal is a detailed report on the condition and value of a property. Turnkey providers can get away with a lot more if there are no appraisals being completed. If the property is not being rehabbed as promised or is overpriced, the appraisal will often catch these problems.
Many turnkey providers will encourage the buyer not to complete an inspection to see the condition of the home. An agent will almost always encourage the buyer to complete an inspection, and a local agent will be able to look at the home in person as well.
Turnkey properties are often priced above market value. Otherwise, why would the turnkey provider go through the hassle of marketing to out-of-state investors, finding property managers, and finding tenants? If the properties were decent deals, they could sell them locally to investors or owner-occupant buyers, and they would not have to go through all the extra work to find out-of-state buyers.
Not all turnkey providers are bad or defrauding investors, but it is a situation where many problems can occur. Like when Morris Invest "referred" hundreds of people to turnkey properties and hundreds of properties were never rehabbed or rented.
If you want the easy way to invest in real estate, turnkey is the way to go, but not only are you playing with fire, but you also miss out on many advantages of rental properties.
The video below goes over what happened with Morris Invest:
Why you should buy rentals yourself
One of the most important factors when investing in real estate is buying properties below market value. If you can buy a home 20 percent below market value, you have built-in equity, and it is much easier to make money with the rental. When you buy rentals yourself, you can also pick a great agent to help you out, use a lender to take advantage of leverage which often increases your returns, and choose the property manager that you like the best.
There are many advantages to buying rental properties.
Cash flow: the right rental property should make money monthly after paying all expenses including the mortgage, property taxes, insurance, property management, and allowances for vacancies and maintenance.
Buy below market value: one of the biggest advantages of real estate is you can buy houses below market value. I can buy a house that is worth $200,000 for $150,000. It may need some work, but it is still possible to build equity without relying on appreciation.
Appreciation: over time, prices will increase. It is true that prices can go down or they may not increase 10 % every year, but when you use leverage, a small increase in value can mean big gains in your investment.
Leverage: real estate is one of the easiest assets to get a loan against. A loan can be riskier in some cases, but it can also greatly increase your returns. You can usually buy three properties for every property bought with cash. That means three times the appreciation, the tax advantages, and the cash flow is often higher with three leverage properties than one paid-off property.
Tax advantages: rental properties have some of the best tax advantages of any investment. You can depreciate the structure of the property, deduct almost all of the expenses, and often sell without paying taxes using 1031 exchanges.
If you are interested in finding agents who specialize in investment properties in areas with great rent-to-value ratios send me an email: [email protected] 
What is the first step to buying out of state?
If you buy a long-distance property that is not turn-key, you will have to do a lot more work. The trade-off with doing more work is you can also get a better deal. In order to buy long-distance properties, you will have to have a great team in place: property manager, realtor, and contractor. You may also have to spend time in the place where you want to invest to get an idea about the market and neighborhoods. It will take some time and money to get set up, but once you have a team in place that you trust, it should get much easier.
Location, location, location
Location, location, location! This is an old saying in real estate, but it is true. The most important part of investing in a long-distance property is picking a location. If I were to invest in a long-distance rental, I would try to invest in an area that I knew. Maybe I have family, and friends, or have vacationed in an area of the country. I think it would be difficult to invest in a completely unfamiliar place, but not impossible. There are many factors to consider when deciding on a location to buy a rental property:
Economy: we saw what happened in Detroit during the housing crisis: the housing market collapsed. I do not think it is wise to invest in an area where the economy is based on one industry. Detroit's economy was primarily based on the auto industry, and when that collapsed, so did Detroit. I like locations that have many different industries.
Rental rate to purchase price: the most important reason to invest long-distance is to make better returns on your investment. I would like to see the monthly rental rate hitting at least 1% of the purchase price( $1,000 rent on a $100,000 purchase price). I would prefer a better ratio, but this is highly dependent on the type of property, SFR or multifamily, and other expenses.
Local expenses: property taxes and property management fees will be a large part of your costs. It is important to research these before you invest in an area. My taxes in Colorado are extremely low, but other areas of the country can have taxes ten times higher. Some areas have special district taxes or HOAs that will kill your cash flow.
Rental demand: it doesn't do any good to invest in another location if you can't rent out your homes. Check the vacancy rates and historic appreciation in the area you are looking at. I don't depend on appreciation, but it is nice to have, and you don't want negative appreciation.
Population: Is the area gaining or losing people? I want to invest in an area that is gaining people because that means there will be demand for housing. If the area is losing population, you might run into a situation where it is almost impossible to rent out or sell certain properties.
The video below goes over how I analyze markets.
How to find a team for out-of-state investing
It will be virtually impossible to buy, repair, and manage homes from another state by yourself. It will save you money in the long run to use local professionals who know the market. You will need a great team to handle buying and renting out a long-distance property for you.
Real estate agents: a great real estate agent can help you find great deals and help you find the rest of your team. A key to getting great deals is being able to act quickly. If you ask me, you have to trust your real estate agent enough to make an offer for you sight unseen. An investor does not have time to fly out to see a good deal or plan a trip and hope that a good deal pops up while they are in town. I sometimes have to wait months to find a great deal, and if I waited three days or a week to make an offer, that deal would be gone.
Property managers: you have to have a property manager who will look out for your rental and rent it out for you. A bad property manager can cost thousands and thousands of dollars. A good property manager will make you thousands and thousands of dollars. A great Realtor should be able to help you find a good property manager as well.
Contractors: this is probably the trickiest part of building your team. Contractors can be great or horrible and change from great to horrible very quickly. We are constantly hiring new contractors. You have to be able to depend on your team to help you find a great contractor. Your Realtor and property manager should know local contractors they can refer you to. You should not have to pay in advance for work done and always keep in constant touch with your contractors. Always get a written bid from any contractor before they start any work.
Where should you buy rentals?
Turnkey providers
I have done a lot of research on turnkey rental property providers. I have seen where most of the turnkey companies are operating. The turnkey providers usually go where there is a lot of cash flow, but sometimes they also go where the numbers look great on paper but are not so great in reality. Where are the turnkey providers buying?
Memphis
Memphis appears to be the number one place for turnkeys with relatively low house prices and high rental rates. There are at least five turnkey companies investing in Memphis now.
Indianapolis
Indianapolis is another popular spot for turnkey providers. There are many turnkey companies investing in Indianapolis because of low prices compared to high rents. This is where Morris Invest caused so many problems with unfinished houses from 2015 to 2018.
Dallas/Houston
Texas is a popular spot for the turnkeys as well. Texas has one of the most stable economies in the country and affordable real estate. However, Texas has very high taxes in some locations which makes it hard to cash flow. Texas is also predicted to have one of the strongest economies moving forward.
Florida
The turnkeys are investing in Florida as well. South Florida, like the Miami area, has seen huge increases in property values, and the focus seems to have shifted to mid-Florida for cash-flowing rental properties. Florida still has many foreclosures and opportunities to buy below market value.
Kansas City/St Louis
The turnkeys are also focusing on Kansas City and St Louis, although these areas have seen appreciating prices as well.
Ohio
Ohio has many affordable housing markets; some are affordable because the economy is horrible, and others are affordable because there is nothing flashy to Ohio. I know a couple of turnkey companies that focus in Ohio and have great cash-flowing properties.
Milwaukee
Many investors have swarmed to Milwaukee due to its low prices and high rents. I know a couple of turn-key companies in Milwaukee, and many investors in the area are buying with great cash flow.
What cities are the hedge funds buying in?
A few years ago, hedge funds like Blackstone and Colony Capital started buying thousands of properties that they turned into rental properties. The most popular locations for the hedge funds were Southern California, Phoenix, Las Vegas, Atlanta, Southern Florida, and other large metro areas.
The hedge funds have toned down their investment in these areas greatly because of high appreciation. The rent-to-value ratios in these areas have decreased and caused hedge funds to look elsewhere. Many hedge funds have dialed down their buying significantly because of the issues involved in renting out and managing thousands of rental homes.
The hedge funds had the opposite idea of many of the turnkey companies. They did not want high cash flow properties—they wanted highly appreciating properties.
What areas of the country have the best economic outlook?
It is not only important to look at cash flow when deciding on an area to invest in, but also at the local economy. A lot of online publications will choose the best markets based on the jobs, home prices, the happiness of the residents, etc. These lists can tell what areas have a good real estate market to buy homes to live in, but they usually don't focus on if you can make money on rentals there.
Memphis
Memphis is predicted to have a 33% percent appreciation over the next five years. Memphis has a very stable economy with many large businesses headquartered in the area.  This may be why there are so many turnkey providers in Memphis.
Charlotte
Charlotte is expected to have 25% appreciation and an extremely strong local economy. Many economists said Charlotte has incredible growth potential with a new Boeing plant being built and has been off many investors' radars up to this point.
Houston/Dallas
Texas has a great economy anchored by the oil and gas industry. Exxon is building a 3 billion dollar facility in Houston with 25,000 new jobs expected. Houston and Dallas are other areas that keep getting mentioned as great opportunities for investors.
Colorado
Colorado has had one of the highest-appreciating markets in the country. However, that has also made it hard to cash flow on rentals with higher prices. Many cities in Colorado are listed as the best places to live in the country list.
There are many other great places to live in the US, but that does not mean they are great for rental properties.
What does this data say about where out-of-state investors should be investing?
The tricky part about choosing a location to invest in is nobody knows what will actually happen. Even the smartest economists and investors can't predict what will happen in specific locations. Having said that, economists, turnkey companies, and hedge funds spend a lot of money researching where to invest and what areas will provide the best returns. It may not be a bad thing to listen to the experts if you are trying to decide on a great place to invest. There are many other great places to invest besides what I listed here.
Here are some of my favorite spots if I were to invest in another market.
Florida
I really like parts of Florida that are still affordable and have great rental rates. The economy is strong, and people keep moving into the state.
Wisconsin
I know of some investors killing it in Wisconsin, and houses are very affordable in the area. The rent rates are fantastic, and there are a lot of deals.
Many other areas in the US
There are good rent-to-value ratios in many areas of the Midwest, the South, or even upstate New York. The trick is finding an area that you like and then seeing if the numbers work for you. I do not think there is one perfect place to invest.
Conclusion
Buying out-of-state properties is a challenge and risky. However, it is the only way some investors can find cash-flowing properties. I would always try to visit any area you are going to invest in, and if you have friends or family there, that would be a huge bonus. If you are interested in buying rentals out of your area and do not want to use a turnkey rental property company, I know a few real estate agents that work with investors in the areas I like across the country. [email protected]