Last Updated on February 17, 2022 by Mark Ferguson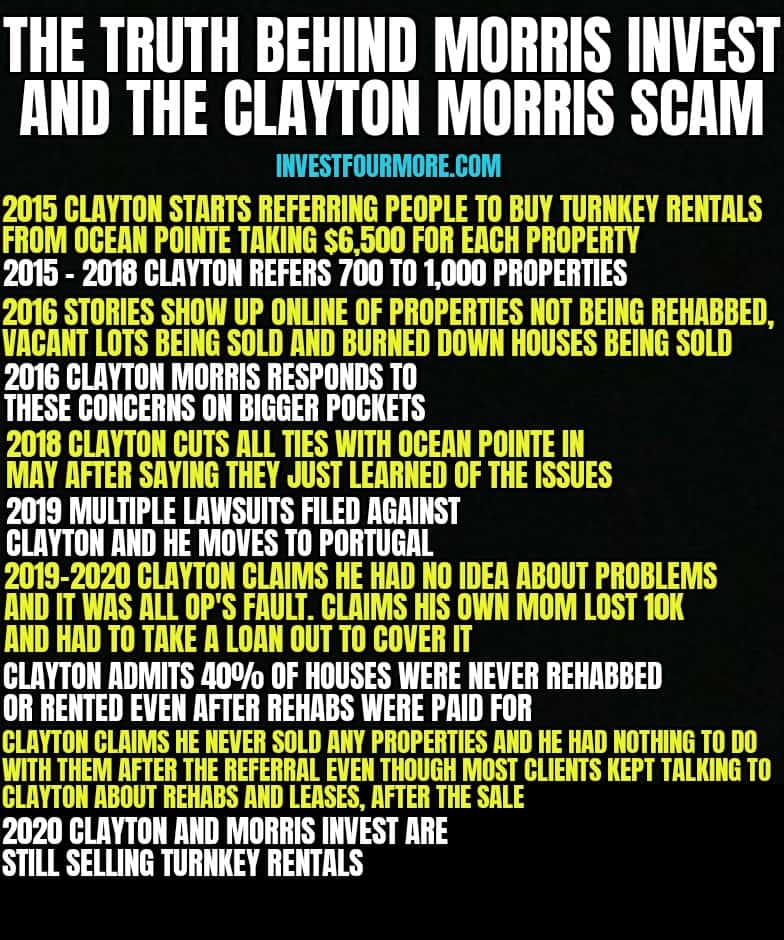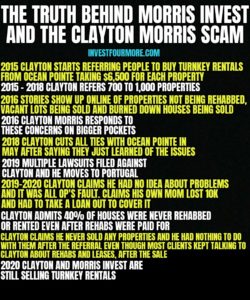 Clayton Morris is a real estate investor who used to be the host of "Fox and Friends" on Fox News. He took about $5,000,000 in referral fees for selling turnkey rental properties. He has also been accused of scamming hundreds of investors by selling properties that were not rehabbed or even built in some cases. He has made a name for himself on YouTube as a real estate educator, but he has also been in the news for his company Morris Invest, which has been accused of fraud and had multiple lawsuits filed against it. Most of the lawsuits and accusations come from turnkey rental properties which were allegedly sold by Morris Invest. A number of people have said that the properties were not as advertised, needed work, and were vacant, even though Morris Invest said they were rented. Some have gone further, saying they were outright lied to by Clayton Morris and Morris Invest.
I wrote this article and created a video about the Morris Invest Fraud Accusations because I have had some interaction with Clayton and feel I have a civic responsibility to give my opinion on this situation. Clayton was on my podcast a few years ago, and he has recently commented on my Instagram page about the allegations. I have also done a lot of research into the allegations since I had a lot of feedback from my listeners and audience after these interactions with Clayton. I will show these interactions and talk about why they convinced me that I would never, ever, buy from Morris Invest and I would never personally trust Clayton.
What are the Morris Invest fraud accusations?
Here is one excerpt from an article in the NY Times on March 25th, 2019:
"Nearly two dozen customers are now suing Mr. Morris and his company. They contend that the properties were in worse shape than advertised and that rehab work paid for upfront was done poorly or not at all. Vacant lots sold on the expectation of new homes being built are strewn with trash. One house gutted by fire was sold a few days later to an unwitting investor, according to a lawsuit."
There have been reports of as many as 300 investors losing money with Morris Invest. Clayton himself admitted in an interview that 40% of the people he referred bought properties that were never rehabbed. Since the number of people he has referred is somewhere between 700 and 1,000, that means that hundreds of investors bought properties, paid for the rehabs, and no work was done.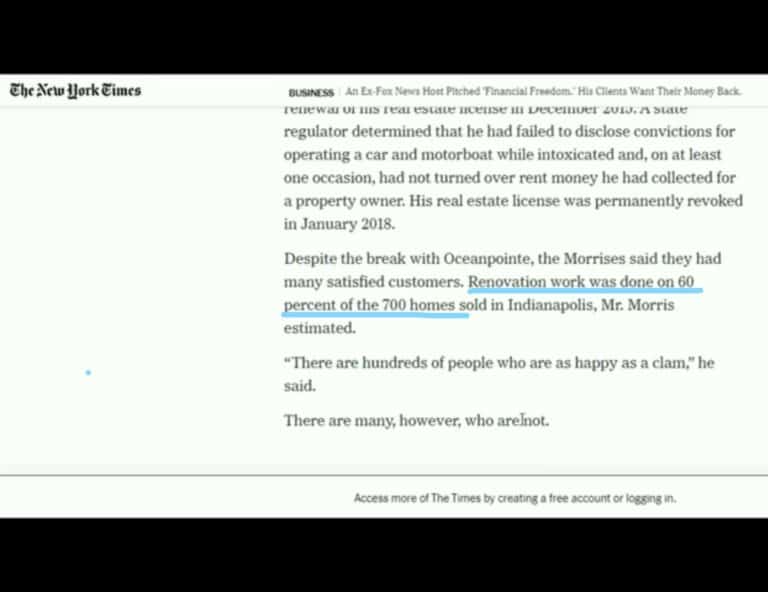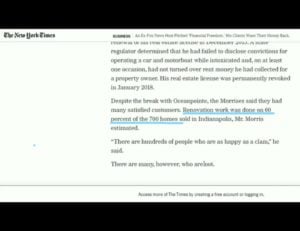 There are also a number of threads on Bigger Pockets that go over what happened to investors. Here is the basic premise for what people say happened:
People found Clayton Morris through his Youtube, podcast, or other social media.
Clayton sold them on buying a turnkey rental property that cost from $40,000 to $50,000 (sometimes higher for a duplex).
In some cases, the investor was to pay from $5,000 to $20,000 to have the property remodeled before it was marketed to be rented out.
The investor paid the price for the home and the remodel budget upfront.
Most investors claim the problems started with not receiving contracts, pictures of properties, rehab reports, etc.
The investor becomes more worried as the delays continue and communication is poor.
Then the property is suddenly repaired and ready to be rented out, and it's occupied very quickly.
The investor starts receiving checks for the rent.
The rent comes in for a few months, but then it stops.
After investors look into the deal more or have a 3rd party inspect the property, they find the house was never repaired, has been vacant for years, was never built, burned down, or has squatters living in it.
They contact Morris Invest and Clayton assures them everything is fine and he will fix it all.
Nothing happens and the investor realizes there are some big problems.
Many of these stories came out around 2016, and then the articles in the papers came out and lawsuits followed in 2019. Clayton denied he was a part of it and said it was all the property management company's fault (Ocean Pointe). Finally, Clayton moves to Portugal where they have very good laws for people who are seeking refuge from United States lawsuits.
The video below explains everything I found as well:
What are turnkey rental properties?
Many companies offer turnkey rentals for sale for real estate investors. Turnkey properties are usually houses that are rehabbed, rented out, and ready for someone to buy without much work. In theory, an investor can buy a turnkey property and start collecting rent immediately. Many investors who live in very expensive markets or do not have time to shop for investment properties themselves will consider turnkey properties.
I own a turnkey property in Cleveland that I bought from a different turnkey company. To be honest, that rental has been my least favorite rental of the 26 I have bought. It was the cheapest at only $45,000, but the rent and price have stayed the same or gone down the last 5 years, while my other rentals have seen incredible gains.
One downside to turnkey rentals is they are often sold at full market value, which eliminates one of the biggest advantages of real estate: being able to get a great deal. They are often bought by long-distance investors who never see the properties and cannot keep track of them. Turnkey rentals can be a decent investment, but they can also turn into a nightmare!
Clayton has pushed turnkey rentals as the easy way to invest in real estate without having to do any of the work.
What is Clayton's explanation for what happened?
I have talked to Clayton on Instagram and was not impressed with how he explains what happened. He says that he was scammed too…as well as his family. He said they trusted Bert Whalen, who was the owner of Ocean Pointe Property Management. Bert hid all of this from him, and he had no idea anything was wrong until either 2017 or 2018, depending on what day you talk to Clayton.
Clayton said that when he learned all of this was happening, he fired Ocean Pointe Property management and started his own property management company. He also says he contacted the authorities to alert them of the scam and did everything he could to get justice for the investors.
There are also a number of reviews on the BBB (F rating) on Morris Invest accusing the company of fraud. Clayton responds to those complaints on the BBB, and we can see how he responds:
"Morris Invest did not sell ** *********** this property. We were a referral agent on this property, per his closing documents. *********** ******** ********** sold this property and is responsible still for this rehab. He is not wrong in that he is owed work done. Morris Invest is working with the Attorney General and through other legal channels to compel *********** to do the work that ** *********** is in fact owed."
Here is another response on the BBB (note Morris Invest has an F rating with the BBB):
"While we sympathize with this position, Morris Invest had no ownership of the property that was purchased, nor did we have ownership in the entity that sold it. We had a referral agreement whereby *********** provide all referrals with rent ready homes and had no idea that they were doing anything but. We felt comfortable representing that arrangement. While this complainant may not have understood this, it was not something we tried to hide. Nevertheless, that does not change the fact that *********** did in fact sell him homes that were not rent-ready. Which is why we have reported this to the Attorney General and are asking for legal help to make these things right. We are spending hundreds of thousands of dollars in legal fees and man-hours to find solutions for this complainant and others despite the fact that we neither sold him the property nor ever had possession of his rehab funds. We had no part in any theft from this complainant and have dozens of purchases in the exact same position, unrehabbed and unbuilt. We are truly sorry if the complainant finds this hilarious. We hope he finds comfort in that humor and remain committed to finding solutions for us all."
You can see that Morris is taking the position that they had nothing to do with the sale, the rehab, or the management. Although the next complaint seems to contradict that, and Morris never responded to it.
"I signed a contract with Clayton Morris (Principal) of Morris Invest for a newly constructed 900 square foot 3 Bedroom, 2 Bath home on a small lot in the ********** **** ** ************* ******* on October 3, 2017. It is my contention that he is in Breach of Contract. He represented through his YouTube podcast, Morris Invest, that his team was building above mentioned designed homes in many locations in the Indianapolis area for $68,500 plus closing costs and that his team would deliver said home with a qualified two year lease with a well-screened tenant and that there would be a full two year warranty for any defect in the build if it should occur. Not only has the construction never started, but on the many, many occasions in which I inquired of any progress made, I was never communicated any updates and only after repeated inquiries with various members of "his Team" did I get any answers. They usually consisted of one excuse or another concerning the harsh Winter and that my construction would be moved to the top of the build list and once started, would only be a matter of 8 to 10 weeks from the ground up to completion. After many attempts to reach his office through various members of his "Team" which consist of at least three family members including his wife, I have been unsuccessful in reaching a resolution on the fact that the contract is in Breach. Mr Morris has finally informed me that he does not have the money that I wired as specifically directed by his representative. He has informed me that he was only the "sales representative" and received a commission on the sale. Even though the sales contract is with Clayton Morris alone, he has insisted that a company called Oceanpointe Investments, Ltd. actually sold me the house. That may or may not be the case. That will be up to the court to decide if it should be necessary to resolve this matter in that Venue. I am now out Over $75,000 (CASH), I have no house built nor even started. Is this FRAUD?"
Clayton also claims on his website that he walked the properties with contractors:
"Clayton and his staff worked with this company daily with phone calls, property updates, and weekly status meetings. He visited the company monthly to consult on any inefficiencies with investor communication and walk properties in progress. A former contractor later admitted that when Clayton came to town, he was told to put black-out shades on unfinished properties that Clayton may ask about. When Clayton went to the properties, he was told that a tenant had already been moved in so they could not enter. Thus the shades."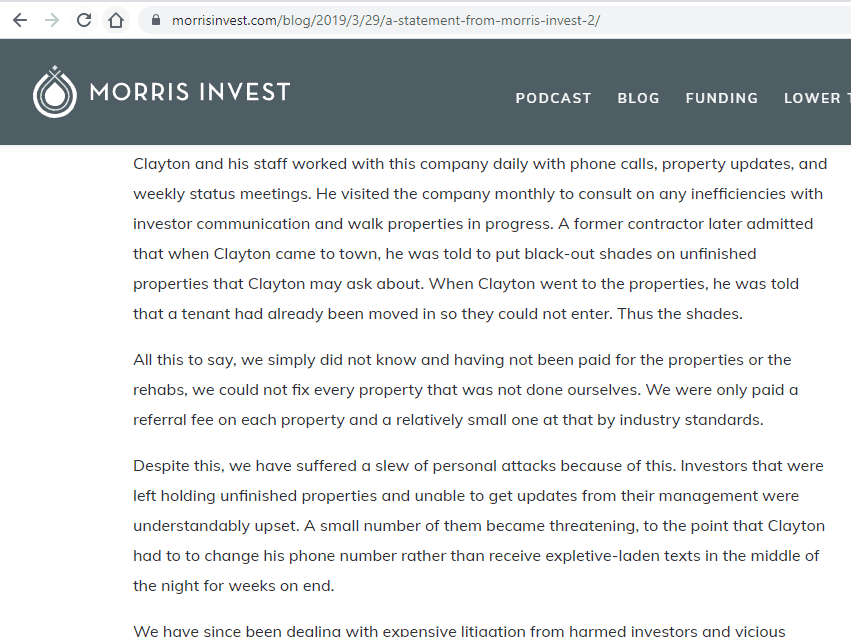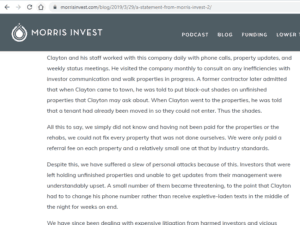 Should we believe that Clayton could have no idea that anything was wrong?
Samples of Morris Invest homes
Clayton, on his own website, said he had heard there were problems, and when he went to inspect homes, blackout shades were put up so he could not see the issues. Are we supposed to believe that when Clayton saw properties like this, he thought the tenants had already moved in and everything was fine because they had blackout shades up?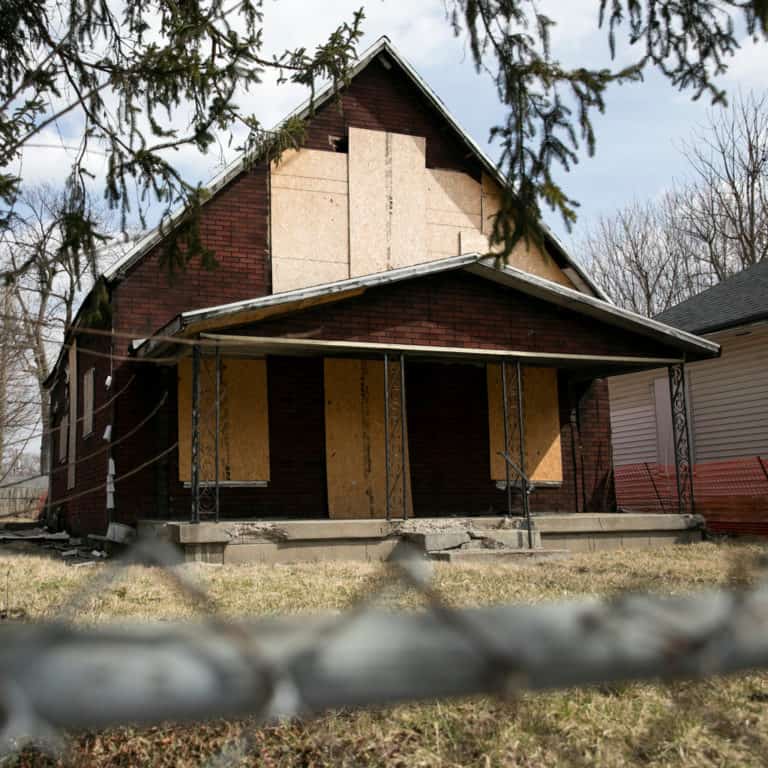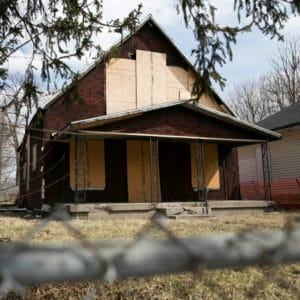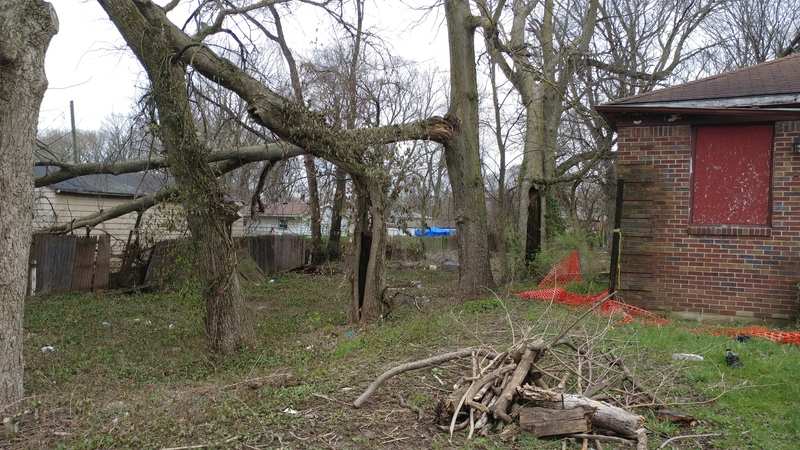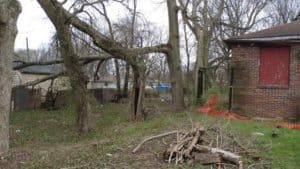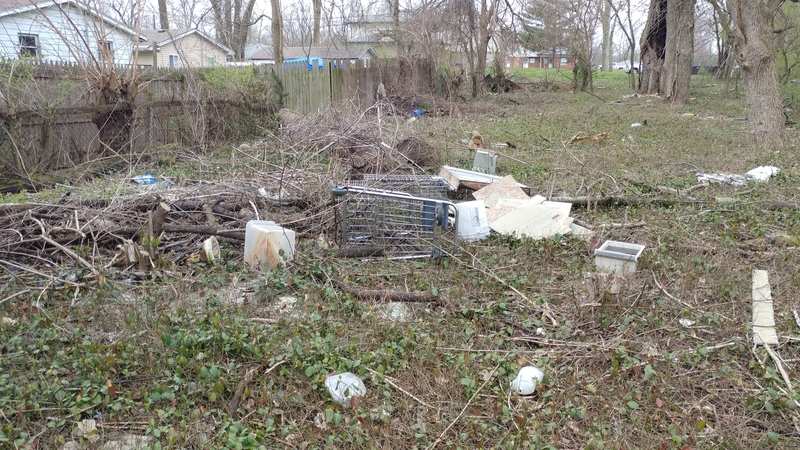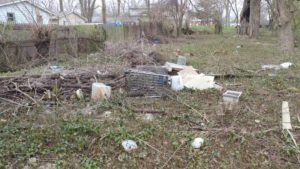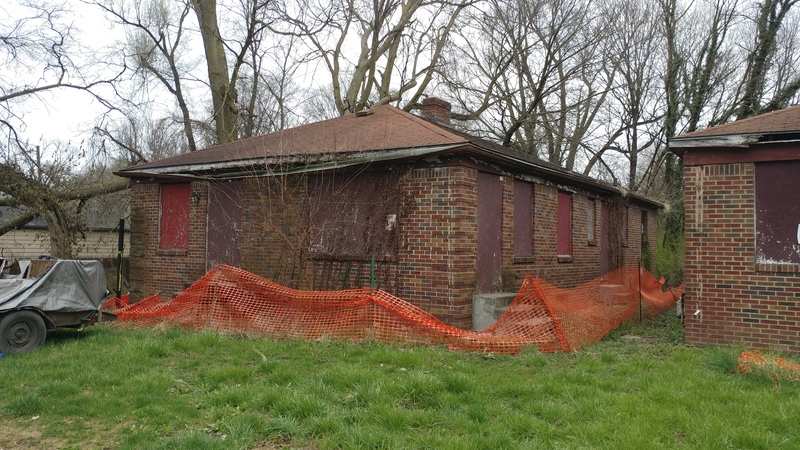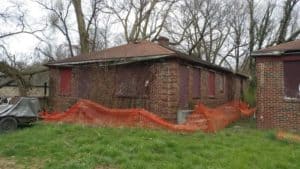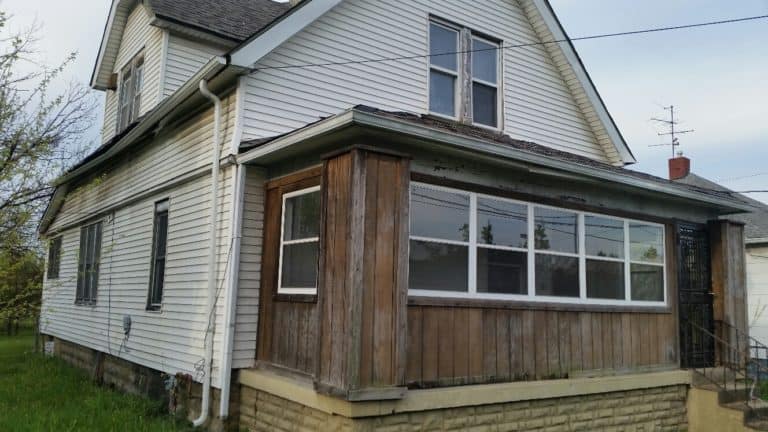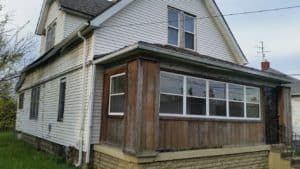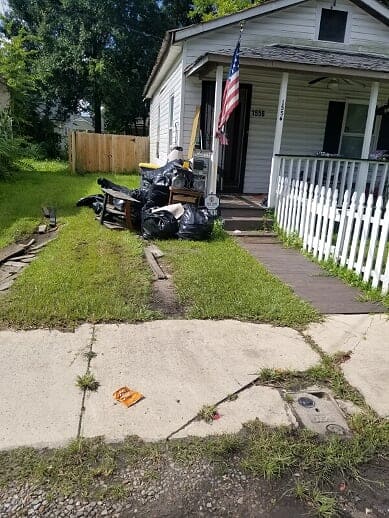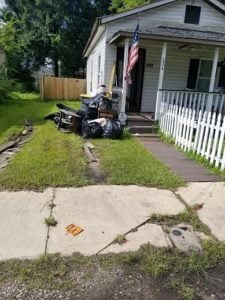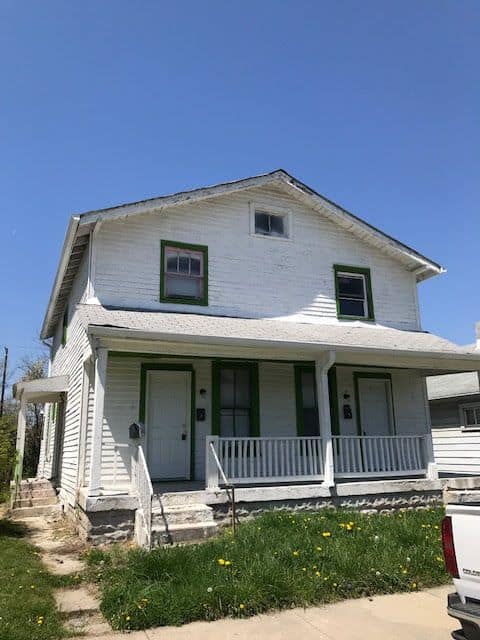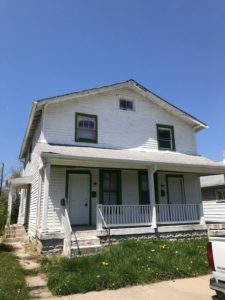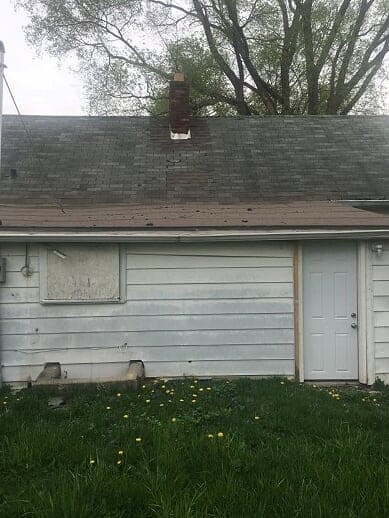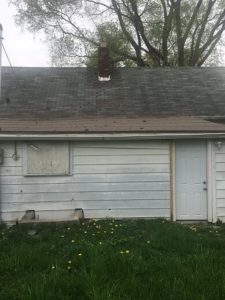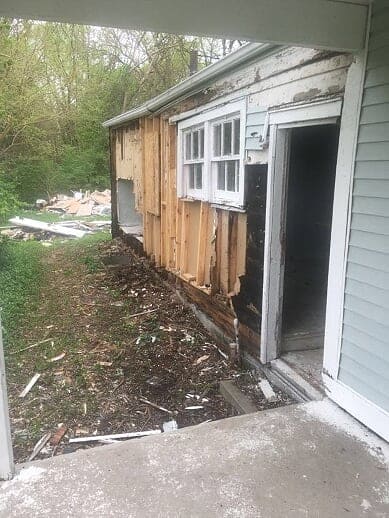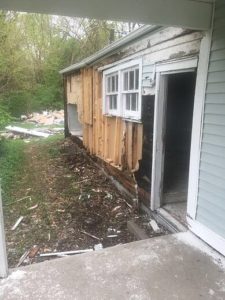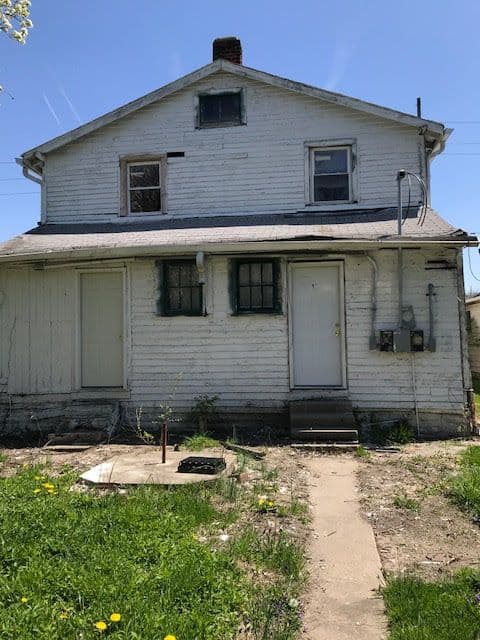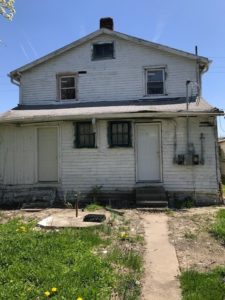 The pictures above are of homes that Morris Invest had told clients were already rehabbed and rented out. Notice that one of them is a vacant lot. Many investors hired other property mangers or locals to go take pictures of properties, and these are a few examples of what they found. It was not hard to see there was a problem.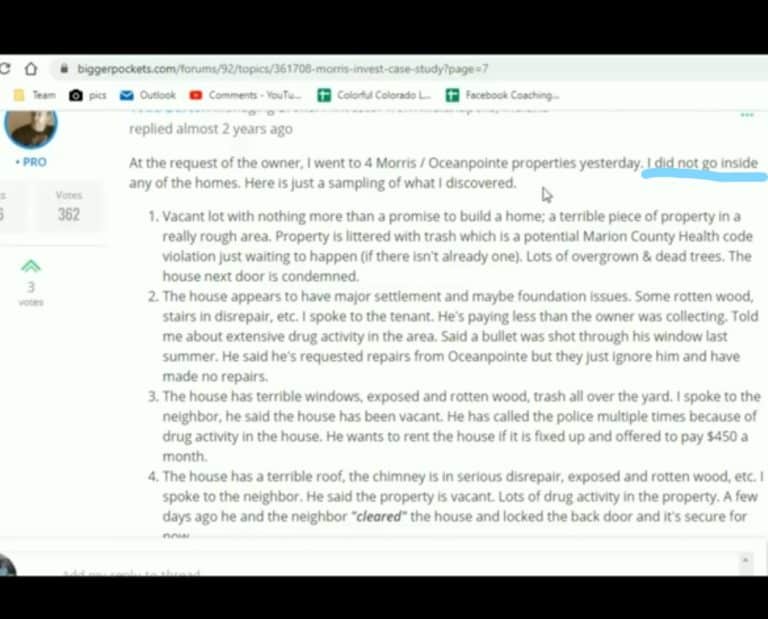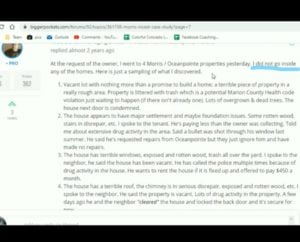 Why don't I buy Clayton's story?
Clayton can be very convincing when playing the victim. He has convinced other online and on-air personalities that he did nothing wrong. However, he would not answer some very easy questions I asked him, and there are a ton of holes in his story.
Clayton's main point is that Morris Invest never owner these properties or sold them, and therefore, they have no responsibility for when things went bad. Here is what we do know:
Morris invest received $6,500 referral fees on close to 1,000 properties, which is more than $5,000,000
Almost every investor reports the houses were marketed as Morris Invest properties
Almost every investor says Clayton Morris was in contact with them before, during and after the sale
Clayton claims he learned of the problems in later 2017 or 2018 depending on the story. Yet, he is found replying to a thread mentioning these problems in 2016 (he says he buys houses on the same street as his investors). He was podcast guest #151 on Bigger Pockets, but Bigger Pockets took that podcast down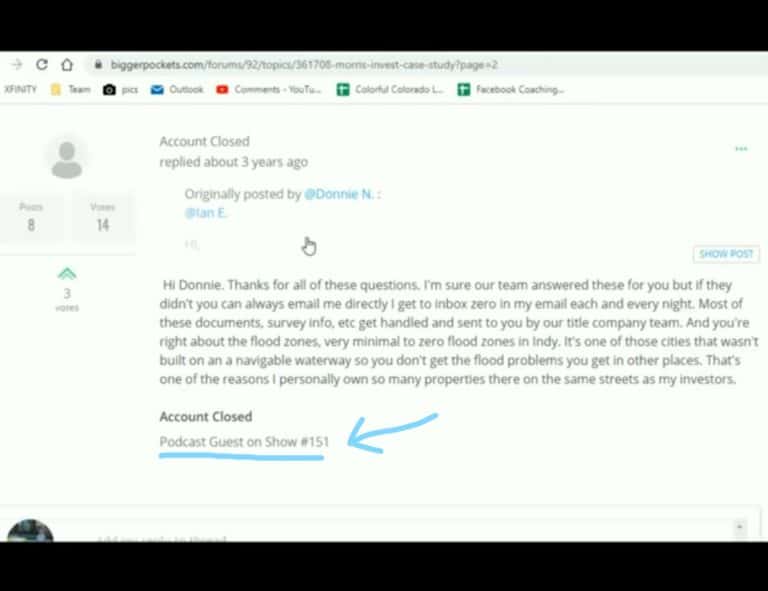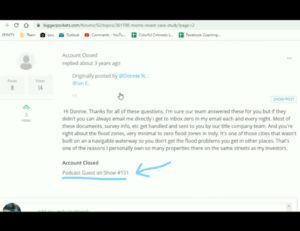 Clayton knew there were issues very early on and continued to refer people to this company for years
The main contact person for many investors was Nicole Meckley, who investors thought worked for Ocean Pointe
Nicole Meckley was sending pictures or rehabs, contracts, repair progress, leases, and more to investors after they bought properties
Nicole Meckley is Clayton Morris's sister and never worked for Ocean Pointe, only Morris Invest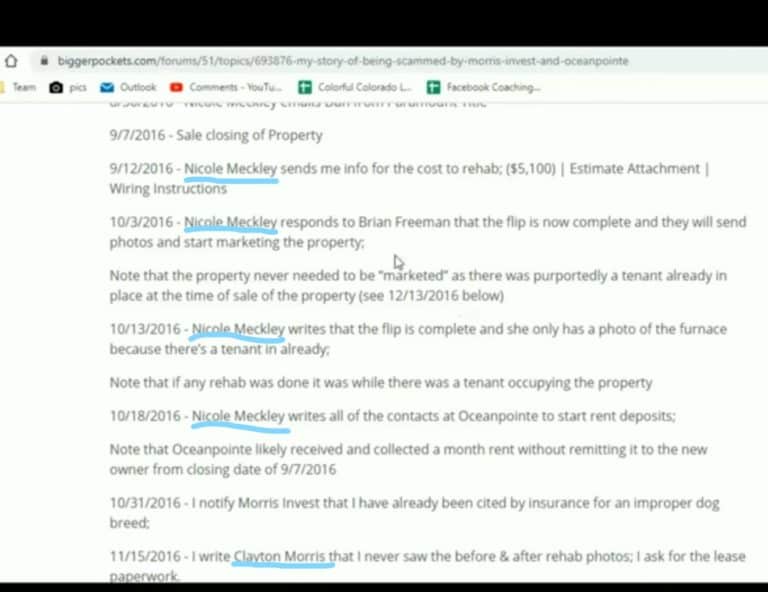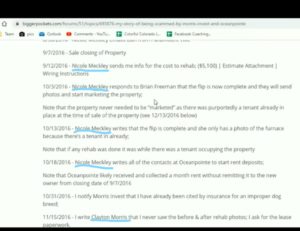 Clayton posts a message on his site saying they are still working with Ocean Pointe and everything should be fine on May 1st, 2018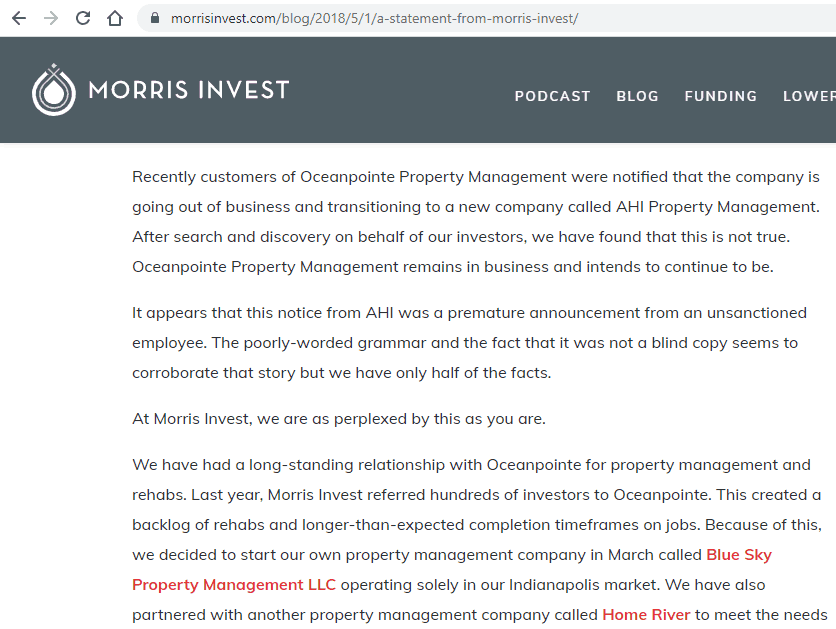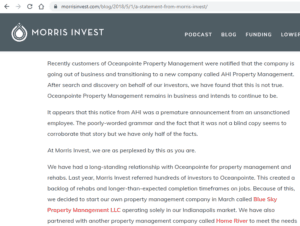 Clayton posts a message on his site that says they just learned of the issues with Ocean Pointe and will stop using them on May 8th, 2018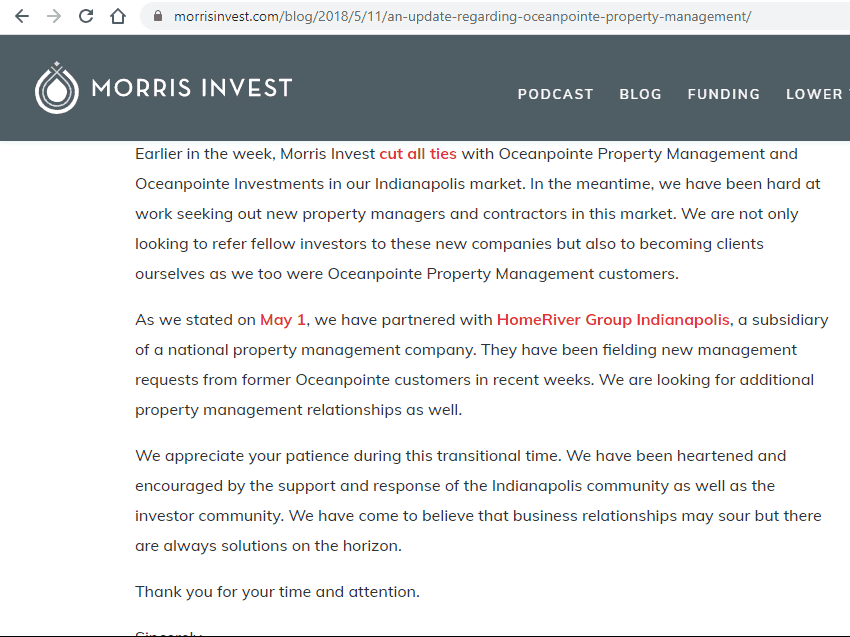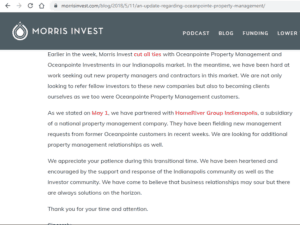 Clayton gets sued by many investors in 2019
Multiple articles published talking about Clayton Morris and the fraud he may have committed, including the New York Times
Clayton posts on his own site how he found out about the problems in 2017 (contradicting himself), turned in the company to the authorities, and his own family was taken advantage of, even his own mother who had to take a loan out to pay $10,000 in back taxes.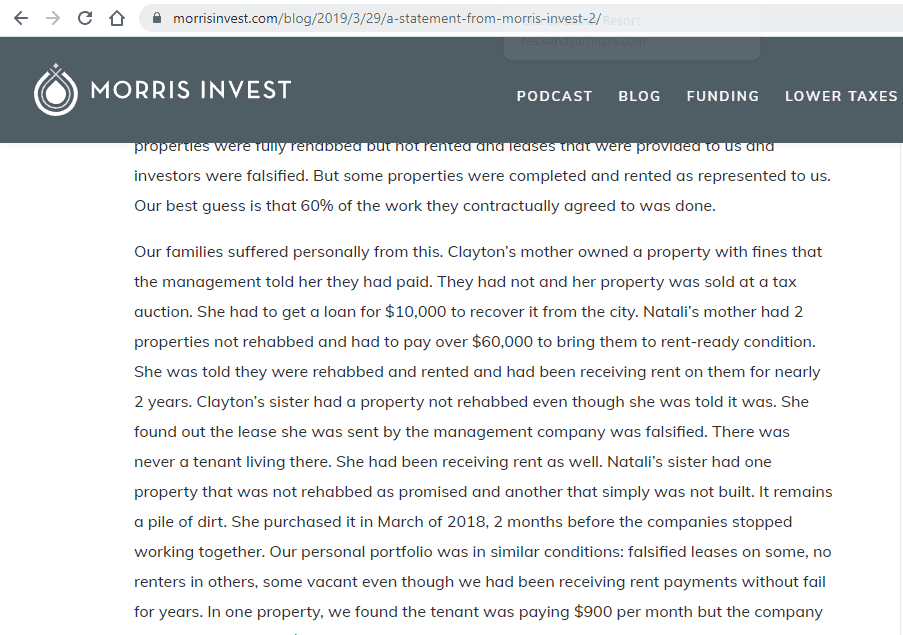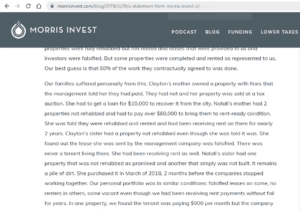 Clayton moves to Portugal
Clayton is still marketing properties as his properties, not as a referral partner
Clayton is still telling everyone who will listen that he knew nothing, was taken advantage of, and it was all Ocean Pointe's fault
The reason I do not buy Clayton's story is that he was commenting about, and in my opinion, well aware of the problems with the properties and lack of repairs in 2016, if not sooner. Yet, he continued to market these properties using the same companies until May of 2018. I have also seen Clayton say he learned of the problems in early 2017, in middle 2017, in late 2017, in early 2018, and in mid-2018. He has problems keeping his own story straight. And even with all of these options he gives us, I don't think any of them are right based on the information available online (including Claytons own site).
How much money did Clayton Morris really make?
The New York Times says that Clayton Morris was making $6,500 per property he referred to Ocean Pointe, and he referred from 700 to 1,000 properties. That is from $4.5 to $6.5 million dollars Clayton received for just referring people to these properties. I find it really interesting that with all the money he made referring properties, his own mother had to take out a loan to pay a $10,000 property tax bill from one of these properties that went wrong!
These are only the referral fees. These properties were bought much cheaper than they were sold, and rehab money was paid on top of that. Many of the properties in Indianapolis were bought for $10,000 to $20,000 and sold for $50,000 or more. On top of that, the rehab costs were added on, which could be $5,000 or $20,000.
We are looking at $30,000 to $40,000 in profit per property, which would mean $21,000,000 to $40,000,000 split between Ocean Pointe and Clayton Morris. Do you believe that Clayton Morris only received a referral fee? Maybe, but why did people who worked for him continue to communicate with investors and Clayton himself communicate with investors well after the sale of the properties if he was only getting a referral fee? Why did he refer to the investors as "his investors" on Bigger Pockets?
It is possible that Clayton and his company only made $4.5 million, or it is possible they made much, much more than that, all from hundreds of investors who lost tens of thousands each.
Is Clayton still selling turnkey properties?
Clayton made a lot of money from "referring" investors to turnkey rentals. However, he did not stop when all the complaints came about, the lawsuits popped up, or the negative press came about. In fact, he is pushing the envelope even farther!
He has recently commented that Morris Invest is bigger than ever, and they have sold more than 400 turnkey properties last year and hope to sell more than 500 this year. That is amazing, right? My question is: did they not learn from what happened before, I mean assuming they had no idea what was going on with the properties as they claim?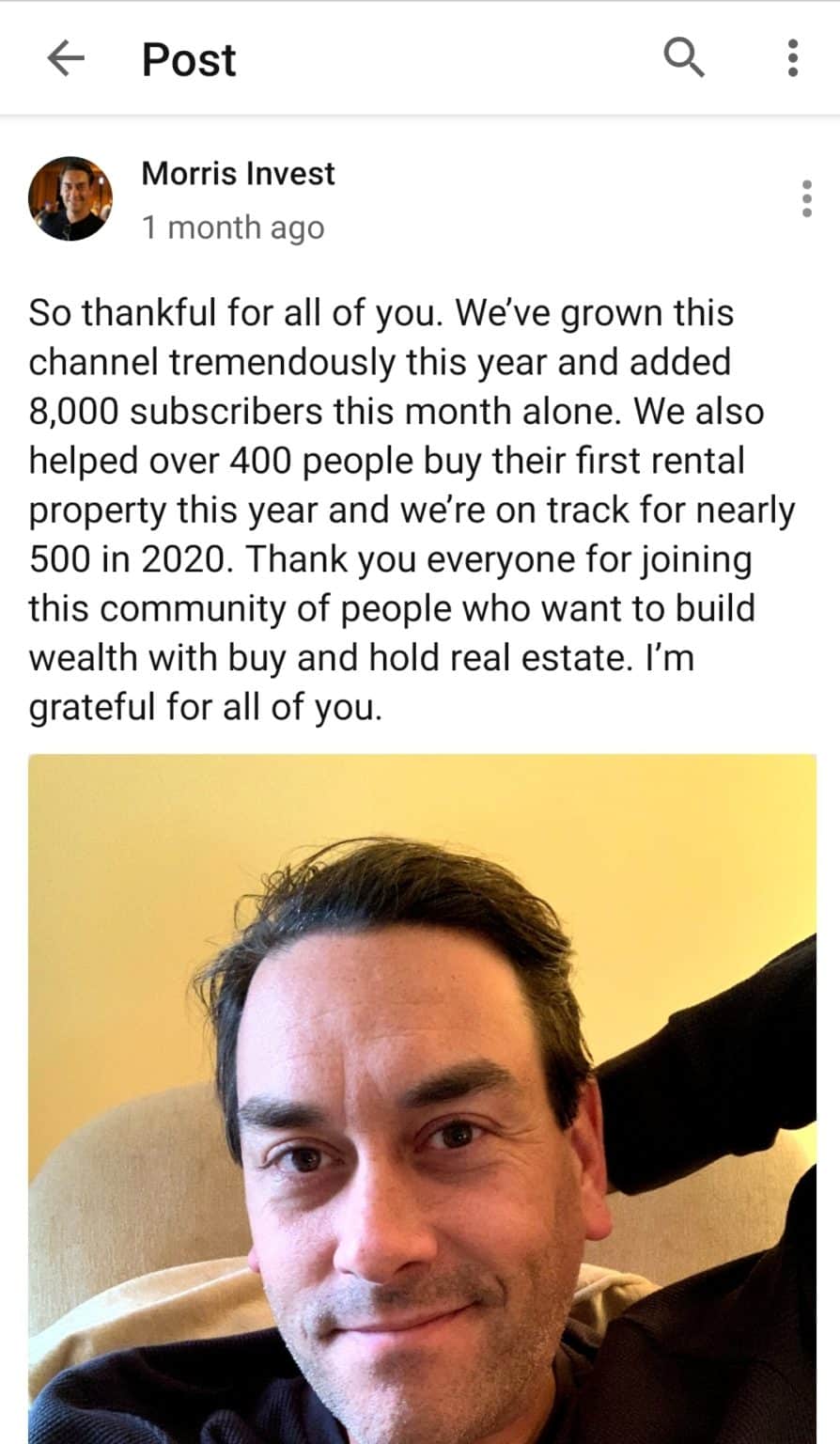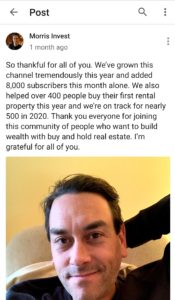 Even if Clayton is completely innocent, he had to see an issue with trying to buy, rehab, and rent out hundreds of properties a year. You need a tremendous amount of manpower to rehab 20 properties a year. I flip houses, and we have rehabbed more than 20 properties a year, which was really tough. We are talking about rehabbing 20 times that amount. You would need hundreds of contractors working non stop to get that done. You would need a massive property management company and a lot of tenants to fill all of those properties.
From what I can tell, he is not just buying houses that need work but building new houses as well in Texas.
Is he able to buy, rehab, build, and rent out hundreds of properties a year? Maybe, but given his track record, I would have my doubts. Not only that, but he is doing it while managing everything from abroad in Portugal?
He could not see major problems that were right in front of his face when he was living in the US.
Have I given Clayton a chance to tell his story?
After I released the video of Morris Invest, I was asked if I had given Clayton a chance to tell his story. The answer is yes. I have talked to Clayton Morris a few times. He was on my podcast at the beginning of 2018. He approached me to be on the show and gave me his background as a Fox News host and real estate investor. I thought he would be a good fit, and we talked about many things. Right after I aired the show, I was inundated with emails about how Clayton had ripped off people. I was getting emails from the people who had been ripped off, not just stories about what happened to others. I was given many links to Bigger Pockets forum posts, and after spending a few minutes researching the issue, I decided to take down the podcast.
Did Bigger Pockets also take down the Clayton Morris podcast?
Not only did I take down his podcast episode, but Bigger Pockets also took down the show he did with them. It is very rare for Bigger Pockets to take down any podcast, and that may be the only time they have done it. For them to take down his episode, they had to have solid proof as well that there was serious wrongdoing.
Instagram
I also talked to Clayton on Instagram in the last year. I saw all the new articles about him getting sued and moving to Portugal. Someone mentioned how great Clayton was on my Instagram page, and I cautioned them to be very careful because of all the lawsuits and fraud allegations. That person tagged Clayton, and he commented on my post numerous times. He was stating that it was not his fault, he was a victim, everyone was out to get him, and called me a few names along the way.
I was asking Clayton very specific questions about what happened, and he refused to answer them. He said he would private message me anything I wanted to know. So, I asked those questions in private messages as well, and he still refused to answer any questions. It was the same thing over and over again, "this is fake news, everyone is out to get me, I was a victim too, etc." However, he never once gave any proof or would answer simple questions on the dates for when this happened.
The questions I asked him over and over were:
When did you first start referring people to Ocean Pointe?
When did you know there were problems with Ocean Pointe?
When did you stop using Ocean Pointe?
Here is a small sample of what was said publically on Instagram:
He refused to answer these very simple questions over and over. I think we all know why he refused to answer them. The truth is he knew very early on there were problems since he publicly responded to them on a post on Bigger Pockets in 2016, yet he did not stop referring people to Ocean Pointe until the middle of 2018.
I also made a video about Morris Invest, and Clayton responded on one of his videos when people kept asking questions (note that Clayton deletes most bad comments left on his social media). You can see some of his replies, including calling me a "mentally disabled person," I asked for clarification, and he would not respond.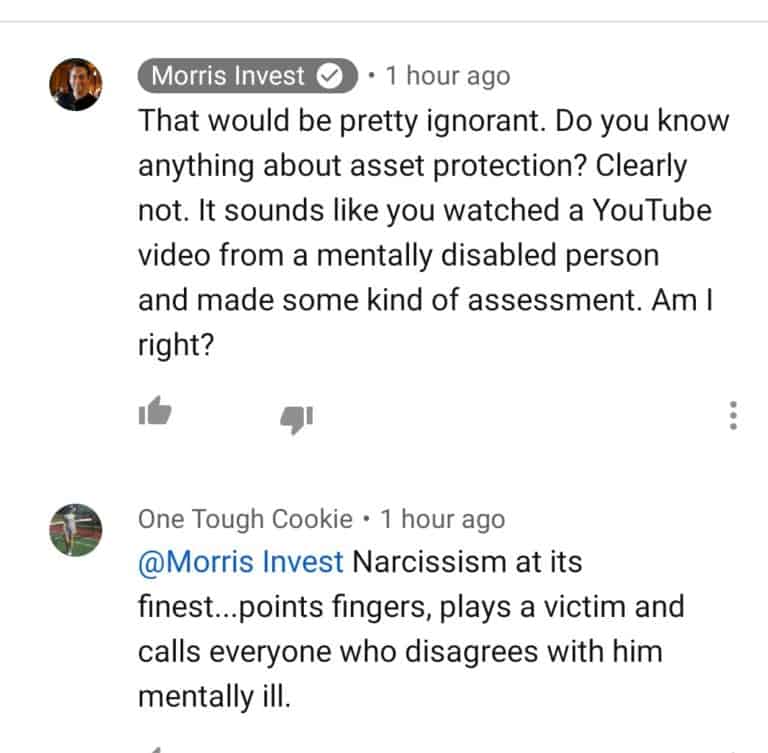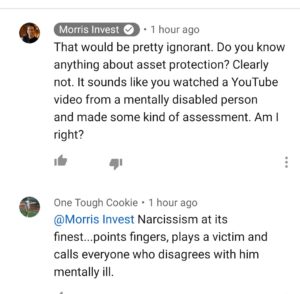 Below is a comment he left on my video accusing me of having a "learning disability,"


This comment is small, but you can click on it to enlarge it. I ask Clayton very nicely to answer some questions or to do an interview with, me and he never responded. In fact, I have always been polite and asked questions a few times, and he will not respond to me at all.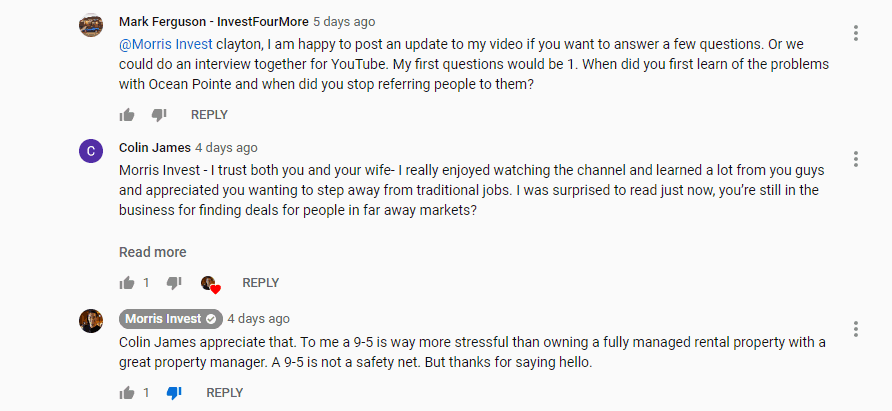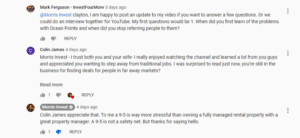 Yes, I have tried to let Clayton tell his side of the story, but he can't. He has posted so many different things and given us so many different timelines it is virtually impossible for him to answer questions or he will incriminate himself.
Should the victims have known better?
We have talked a lot about Clayton Morris in the article, but the article is not meant to bash him but to warn others. A lot of people lost a lot of money. If we are helping others, we should let people know to be careful with these types of investments. Yes, a lot of people lost a lot of money, but with some due diligence, many of these investors would have never invested with Clayton Morris.
Here are some things that could have been done to protect the investors:
When buying out of state properties that you cannot see, make sure to have a third party inspect them! A lot of turnkey companies will discourage you from inspecting properties because "they already did."
Always check online reviews for any company or investor you are going to work with. Don't rely on reviews from their site—check the BBB and third party sites.
Have a local real estate agent check out the property for you. You can even order a BPO (broker price opinion) from many local REO agents for less than $100. That BPO will give you an idea of what the property is really worth.
Make sure a title company or attorney handles the closing and they have good reviews as well.
Interview the property management company before you sign up to use them. If the turnkey company won't allow you to talk to the property management company, that is a bad sign.
Yes, the victims could have avoided this mess if they would have done their due diligence. However, that does not make fraud okay.
What if Clayton is telling the truth?
Finally, what if Clayton is telling the truth and all of this is just Ocean Pointe's fault? Even if Clayton had nothing to do with the fraud despite all the evidence, here is what happened:
He admits he was ripped off and his family was ripped for years before he noticed anything was wrong. He was not an out of state investor who never saw his properties. He was there looking at them with his own eyes. If he ignored those problems, he is the worst investor in the history of the world.
He was told he couldn't see properties because they were already rented out with black shades up. Would that not set warning signs off in his head that every property that was reported to him as having a problem had new tenants with the same shades up?
These properties looked like hell from the outside. Was he okay renting out properties that looked like this and referring other investors to buy properties that looked like this? It would appear that he no standards for what kind of rental properties he would own or refer out.
He was not just inspecting his own properties for "my investors" as he says. Wouldn't he dig a little deeper if hundreds of people were complaining and not just assume everything was okay?
If all of this happened and he had no idea anything was wrong, wouldn't he apologize at some point? He made millions of dollars while other investors lost millions of dollars, yet he is the victim and offers no remorse or takes any responsibility.
Not to mention he called me mentally disabled, which is just wrong on so many levels. Have some class.
If you believe Clayton and he knew nothing about all of this, would you still invest money with him given the track record? I know what my answer would be: keep me as far away as humanly possible. That was if he is telling the truth, but I think we can all see from the evidence the chances of that are pretty slim.
Conclusion
Clayton Morris still has a large following of people on Youtube and Instagram (although his Instagram followers have been decreasing). He still promotes buying out-of-state turnkey rental properties. He still lives in Portugal. He still claims innocence and shows no remorse. He has even started selling new financial advice coaching programs. I am not sure what will happen to Clayton and Morris Invest, but I hope he never gets the chance to rip someone off again. If this article helps just a few people avoid financial disaster, I will have done what I set out to do.