Last Updated on August 22, 2019 by Mark Ferguson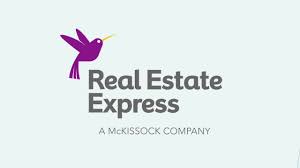 You can make a lot of money as a real estate agent but it takes some time to become on. You must take classes, pass a test, and hang your license with a broker. Having a real estate license can also help your real estate investing if you do a lot of deals. Real Estate Express is a real estate school that provides online classes in many states. Multiple agents in my office have taken online classes from Real Estate Express and have some great feedback on the program. I also took my real estate classes online back in 2001, but I did not use Real Estate Express. I used Vaned to get my license and that was so long ago, I barely remember anything about the classes except they were very boring!
There are many other online companies that offer real estate licenses. You will find that many of those companies have very bad reviews and people tend to have bad experiences with them. Why is that? Because taking a real estate class online is one of the most boring things you can ever do. It is hours and hours of staring at a computer screen trying to comprehend information that you will most likely never need after you pass the test.
Many people think the courses are bad because of the material, but that is what the companies have to teach. They don't decide what to teach, the real estate commissions for each state do that. You have your choice of taking classes online or in person in most states. I think you might learn more by taking classes in person, but the classes can be taken much faster online. 
Why should you take real estate classes online?
Potential agents need to ask themselves if an online environment is right for them when getting their real estate license. If you are an investor who only wants to use your license on your own deals, online is a great choice. If you want to make a career out of being a real estate agent, and you have a lot of free time, you may want to think about getting your license in an actual classroom. Being in a classroom is a better learning environment because you have an actual teacher, guest speakers, and can network with other people in the business. The downside is that it takes a lot of hours to get your license in a classroom. 
In Colorado, you need 168 hours of education before you can take the test to get your license. The amount of hours you need does not change whether you take the class online or in person, but some people can work faster online than others. You may be able to get through the material much faster online than you can in person. You are also able to work on the classes whenever you want when you take the online version. I have to take continuing education to keep my license every year. I prefer to take my classes online because I can get them done a little faster.  
Some people also learn better with different teaching techniques. Reading is a great way for some to learn, while others need an instructor. The online classes have videos and different types of teaching, but there is still a lot of reading. There is a lot of reading when you take in-person classes as well, but the instructor can help supplement that more than an online course. 
Is it hard to learn on a computer?
Before I get into the pros and cons of Real Estate Express, I want to talk about online classes in general. If you decide to take online classes, be prepared to be in front of a computer a lot! Most states have much fewer hours required than Colorado, but wherever you get your license it takes a lot of hours staring at a computer.
When you take classes online it can be very hard to motivate yourself and you have to set your own schedule. I know it was tough for me to go through the real estate material and I had been around real estate most of my life (my dad was an agent). The real estate classes are not meant to teach agents how to sell houses and make money, they are meant to teach you the laws and regulations. The laws and regulations are very important, but also very boring.
If you are taking real estate license classes to learn how to sell houses or how to invest in real estate, look somewhere else. You will need a supplemental training program to learn the ins and outs of investing or selling real estate.
I have seen a lot of complaints about Real Estate Express and most of those stem from the material. Real Estate Express does not choose the material they teach, the state licensing board does. It is important to remember the classes are meant to help you stay out of jail, not teach you how to sell houses. 
What are the real estate licensing requirements in all 50 states?
What real estate school did my agents choose?
When I got my license in 2001 there were very few choices for real estate schools. I choose Vaned.com because it was one of the few choices I had and somewhat affordable. It was a decent course and they are still around today. There are many more online schools now and prices have dropped as competition has increased.
The primary reason my agents choose Real Estate Express was they were the most affordable choice and they have a very high success rate for agents passing the test. My agents also had schedules or jobs that did not allow them to take their classes in a classroom environment. I think that most people find it is tough to take 168 hours of classes in a classroom when you have a job or a family. If you have to work around that schedule it can take forever to get through the classes. 
Reviews from my agents
From Justin:
"I earned my real estate license while at a full-time job, so knew I needed to do it online. I shopped all of the top options and did demos of each. The delivery was fairly similar across the board, so I chose Real Estate Express due to its better price point.
Doing hours and hours of online education is never easy, but I got through the material fairly quickly.
Out of everything, the biggest value was the test prep portion. Once your educational hours are complete, you still need to take state and national licensing exams at testing centers. Real Estate Express had modules specifically to prepare me for these. I really enjoyed these modules and most importantly…I passed the test on my first try. Many people I know had to take the exams 2 or 3 times before passing.
Based on all of this, I have recommended Real Estate Express to several people."
From David
"I was able to get through the material rapidly while working a full-time job. I needed the flexibility online courses offer. Real Estate Express was inexpensive and has all the features I wanted.
As I shopped options, I saw that Real Estate Express had chat and phone support for people to reach. The money-back guarantee was good to see too.
During exam prep, when I went through the test questions the system gave immediate feedback on the question. This is called a coaching module. It lets you know why you got a question right or wrong as you test, which has helped my learning tremendously."
From Michael
"I quit my job in order to get my real estate license as quickly as possible. After looking at various options, it seemed I could get through fastest by using an online option. Real Estate Express had what I needed and it was recommended to me by two people.
I did have some technical issues with my computer, so I had to use their support several times. They responded quickly and resolved my issues. It was good to have nice human support throughout the process.
I also had questions with the licensing process, which they helped me with as well."
Real Estate Express advantages
When I got my license many years ago, I did not pass the test on my first try. Most of this was my fault because I thought I knew everything about real estate and did not need to study very much. The real estate test is not easy to pass. I passed the next try after studying more and taking my time prepping for the test. I had to take the test again on very short notice a few years later to become a broker for my sister's company for a short period of time. I passed the test with three days of studying on my first try thanks to a test prep course. 
Test Preparation
One of the toughest parts of passing the real estate licensing tests is understanding the questions. The real estate licensing boards tend to use double and triple negatives to trip you up. The wording is very confusing and it is easy to fail even if you know the material well. I think the test prep is one of the most important features of any school because you need to get used to how the questions are asked on the test.
I have heard people complain about the poor wording of quizzes and questions in the real estate classes. It is true that they are worded poorly, but that is to prepare you for the state test. Here are some other advantages that I have seen from Real Estate Express:
Live support
I have heard from numerous people about the life support Real Estate Express offers and how helpful it can be. They are very quick to respond to questions online or on the phone.
A+ BBB rating
They have a great rating with the BBB and respond to any complaints with logic ad solutions.
Affordable
Real Estate Express is Cheaper than most other real estate schools. They are the largest online real estate school in the country and that allows them to be able to charge less than the other schools. Their low prices are also why they have become the largest real estate school in the country. 
Courses in most states
Real Estate Express offers courses in 27 states. They are continually adding more states as they are approved to offer courses for real estate licenses. Some states require in-person classes while others do not. 
Real Estate Express disadvantages
There are some cons to Real Estate Express, but they will come with almost any online school.
The online structure is boring
When you take classes online it is really boring going through the material and hard to motivate yourself.
Fewer networking opportunities
When you take classes in person you meet the instructor, other classmates, and guest speakers. You miss that with online classes.
Less support with online classes
Even though most schools offer some type of support, you don't have a live teacher you can ask questions to immediately.
No time table to complete the course
When you take classes in person you know exactly when the classes are and when they will be completed. When you take classes online it is all up to you to complete the work. There is no schedule and you must be self-motivated. 
Conclusion
If you are thinking of getting your license I recommend Real Estate Express if you go the online route. you can make a lot of money as a real estate agent, but remember the real estate classes will not teach you how to make money. The classes teach you the laws and regulations of being a real estate agent. If you want to learn to make money as an agent I would suggest choosing a broker who offers training and support for new agents.