Last Updated on March 29, 2023 by Mark Ferguson
Since I am an avid reader and reading has helped me become successful, I thought it was time to post some of my favorite real estate books. It is no secret that reading is one of the most important things you can do if you want to be successful. It focuses your mind, relaxes you, educates you, and can give you brilliant ideas. I have loved to read since I was a kid, but I have not always been a "reader." I have gone through stretches of reading books all the time and stretches of barely reading at all. I have read novels, self-help books, how-to books, and even written books!
Real estate has helped me become very successful, and I learned much of what I know about real estate from books. My father also taught me a lot as an agent, but I learned about rentals by reading. Through reading, I have learned how to be successful, how to be a happier person, and even world history. To learn you do not have to read boring books that read like textbooks. I have learned so much about life, history, business, and people from reading novels. This list contains novels, self-help books, educational books, and even funny books. I am sure I missed some great books, as I have not read everything, but these are my favorites, and if I haven't read it, I did not put it on the list.
My Favorite Real Estate Books
These are books that are mostly about investing in real estate. They teach you how to buy rentals, flip houses, or another strategy. Many of these books helped me get to a point where I own 20 rentals and flip 20 to 30 houses a year.
This book has been around awhile, but it is a classic. It contains so much great information on how to invest in real estate…mostly with rental properties. While the book is older, the fundamentals of buying great rentals do not change. New strategies pop up, but buying with cash flow, getting great deals, and managing the properties correctly are all covered along with much more information

I know that Bigger Pockets dominates the real estate book space right now, but I have only read one of their books besides the one I helped write (The Book on Negotiating Real Estate). J Scott wrote The Book on Negotiating Real Estate with me and his wife Carol. He also wrote The Book on Flipping Houses, which started everything with Bigger Pockets. It is a great book and teaches a lot about how to flip houses.

I bought this book because it was written by a billionaire who made his money in real estate: Jorge Perez. While the book does not line up exactly with my investing strategy, it is a great book with a blueprint that can be followed to make a lot of money in real estate. He details his strategies and how he became successful starting from zero.
You may notice that I include some books that you may have never heard of. I do not want this to be the same old boring list that everyone puts out. This book is about Jerry Wolman, who built a massive real estate business and even owned the Philadelphia Eagles at one time and was one of the founding owners of the Philadelphia Flyers. Jerry built his empire and then lost everything, including the sports franchises, mostly due to a project that was supposed to be the tallest building in the world in Chicago. This book told a real story about an amazing entrepreneur who made it big, lost it, but found happiness in the end.
My real estate investing books
This is the part of the article with shameless self promotion. I wrote this book a few years ago, and it has been one of the top selling real estate books since then. I have updated it multiple times to keep up with my own personal investing. The book is all about how to get started investing in rental properties with many personal insights on my investing style and how I find, buy, finance, and manage rentals. I also recently added a chapter on commercial real estate.
This is another shameless plug (don't worry, there are more) for my house flipping book. I started this blog to talk about rentals, but I flipped houses well before I ever bought a rental property. I figured there were enough people talking about flipping who needed one more! However, there was a lot of bad information out there. I have flipped more than 175 houses in my career, and this book goes over it all: how I find deals, how to find contractors, how to finance flips, what to repair, and much more. I have had 22 flips going at once in the last year.
This is a fiction book I wrote from scratch about a young adult buying his first house and finding his way in life. I meant it to be entertaining as well as educational and I think it is a great learning tool, especially for today's youth!
"his book is quite a bit different from Mark's other books… it's actually written more like a novel with a storyline that is packed with all kinds of valuable, real life information on real estate. What I liked about the book is that it challenged the idea that "your house is a liability, not an asset" that Rich Dad Poor Dad claims. Although Robert Kiyosaki's general idea makes a lot of sense (it takes money from your pocket each month, therefore it's a liability), there are so many other factors that Rich Dad Poor Dad never considers. My thing has always been… you have to pay to live somewhere each month anyway… why rent when you can make payments on a home that will likely increase in value over time?
Anyway… the story in this book reminded me of a similar journey that I went through as an aspiring real estate investor. I absolutely recommend this book to anyone who wants to get into real estate investing, ESPECIALLY people who is in their twenties and who are trying to figure out where to get started.
The book was easy to read and actually pretty entertaining as well. Definitely add this one to your list."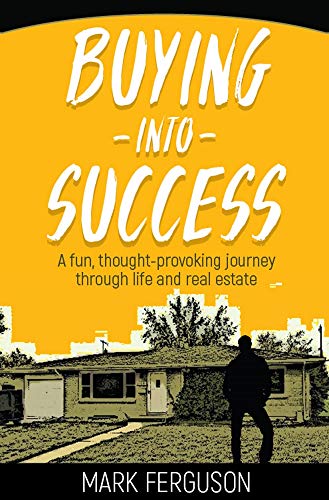 My favorite motivational books
I think we can all use a little motivation at times in our lives. Some of these books helped me tremendously in my life and helped me find success when I was not sure what success was.
This book was one of the first books that really got me thinking about success and my future. Many people call it a real estate book, but it does not offer many details on investing in real estate. I would call it a motivational. book, and if you want to learn about the ins and outs of real estate, check out something else. This book is a great read because it is a story and not just information.
When I started to get into motivation books and learning about money, this book kept coming up on my radar. When I read it, it was awesome. It was written almost 80 years ago, and it's all about creating wealth—not about starting a specific business1but creating wealth by creating the right thoughts in your mind. If you think the right way, the money will come. This is an awesome book that I highly recommend.
This book is written by MJ DeMarco, who retired at 33. He goes over how he built his businesses as well as how and why he retired so early. He is also a fan of cool cars, and at one time, had a Lamborghini Diablo like myself. I like this book because it is about building a lot of wealth very quickly and then taking the time to enjoy it.
This is a book by Steven Pressfield who wrote The Legend of Bagger Vance. I love this book! It is all about conquering the limitations we place on ourselves and breaking through resistance. This book is a must-have for anyone looking to accomplish more than a normal life.
This is a newer book, and the only reason I bought it was I was looking for books with orange covers to compare one of my new books to! It looked interesting, and it turned out to be a great read. The book is all about priorities, making sure you are caring and paying attention to things that matter in your life, and ignoring the things that do not matter.
This book was written by Jack Canfield, and I not only have read it multiple times, but I also took Jack Canfield coaching. The book is very helpful for anyone looking to up their success game. It gives specific instructions on how to be successful in work and in life. I highly recommend it.
This is a classic book now and gives some amazing advice from Tim Ferris, who wrote it. The book is all about setting up your business or work on autopilot so you can enjoy your life. Even if you work in the corporate world, Tim discusses how you can leverage other people to give yourself more time and be more successful.
This is another classic book by Michael Gerber for businesses. Anyone who is an entrepreneur should be reading this book. There are a ton of tips and tricks to become more successful and live a happy life at the same time.
This book by Brian Tracy is also a must read if you are looking to be more successful. The basic premise is to do the work that is most important first. Don't do the busy work that is not important and is just a time waster—do the hard important work, and it will be impossible to ignore the results.
Yes, this is my book as well. I am trying not to be too self-promotional by putting my books last on the lists! This book takes everything I have learned from all the books and coaching I have been a part of and puts it together regarding how it makes sense to me. I go over attitude, time management, work ethic, the right way to think, money, stress, happiness, and much more. There are ways we can think differently to make ourselves more successful.
Real estate agent books
I first became successful by learning how to be a great real estate agent. It was not easy and it took a lot of work, but being a successful agent was integral for me to achieve success. Here are some of the books that have helped me along the way.
This is another great book by Gary Keller. It goes over everything an agent needs to do to be successful. It is getting older, but many of the same techniques still hold true today. Whenever someone asks what the best real estate agent book is, this book is almost always mentioned.
This book is not nearly as well known. It was sent to me by The Calloways, who are agents in Arizona. I was in the same REO (foreclosure) organization as them, and they sent a copy of their book to everyone in that group. It is a fantastic book about how taking care of your clients means they will take care of you. I highly recommend it to anyone in sales.
This is another one of my books. I made the list, so I get to include as many of my books as I want! This is a book I made to help real estate agents focus on the tasks that will get them to get sales. Too many agents are distracted by shiny object syndrome and try to do 100 hundred things at once. There are a few core activities that will make real estate agents successful, and I go over them in this book.
Funny Books
I am a fan of stupid humor. Anchor Man is one of my favorite movies, and the book by Ron Burgundy is what makes this list.
Yes, this book is written by Ron Burgundy, the fictional character played by Will Ferril in Anchor Man. The book is written just like you would think Ron would write a book, with no plot, direction, or anything that would somewhat come close to a real novel. It is hilarious, and I highly recommend it if you have that type of humor.
Social media books
I had a book recommended to me many years ago that was awesome for social media marketing.
This book was written by Gary Vanderchuck, yes the same Gary V. who is a social media superstar. The book was written before he became quite so popular and is a great read. It gives you a blueprint on how to be successful posting to social media for your business.
History and novels
I love to read novels as well. If you are an entrepreneur, that does not mean you have to only read business books and motivational books. You can learn a lot from novels as well. There are so many great novels, but I will mention only a couple that really hit home for me.
This book is a masterpiece about building a church in the middle ages in England by Ken Follet. The really cool thing about this book is that it is fiction, but it has many historical facts in it as well. You get to follow fictional characters but also learn at the same time. It is the first in a trilogy of books taking place in the middle ages in Europe. They are all amazing.
This is another series of books by Follet. This is the first book that takes place in the 20th century. If you want to learn about WW1, WW2, the cold war, the US presidents and so much more, these books are amazing. They also are highly entertaining even if you do not care about those things. These books will teach more about history than any textbook.