Last Updated on October 22, 2021 by Mark Ferguson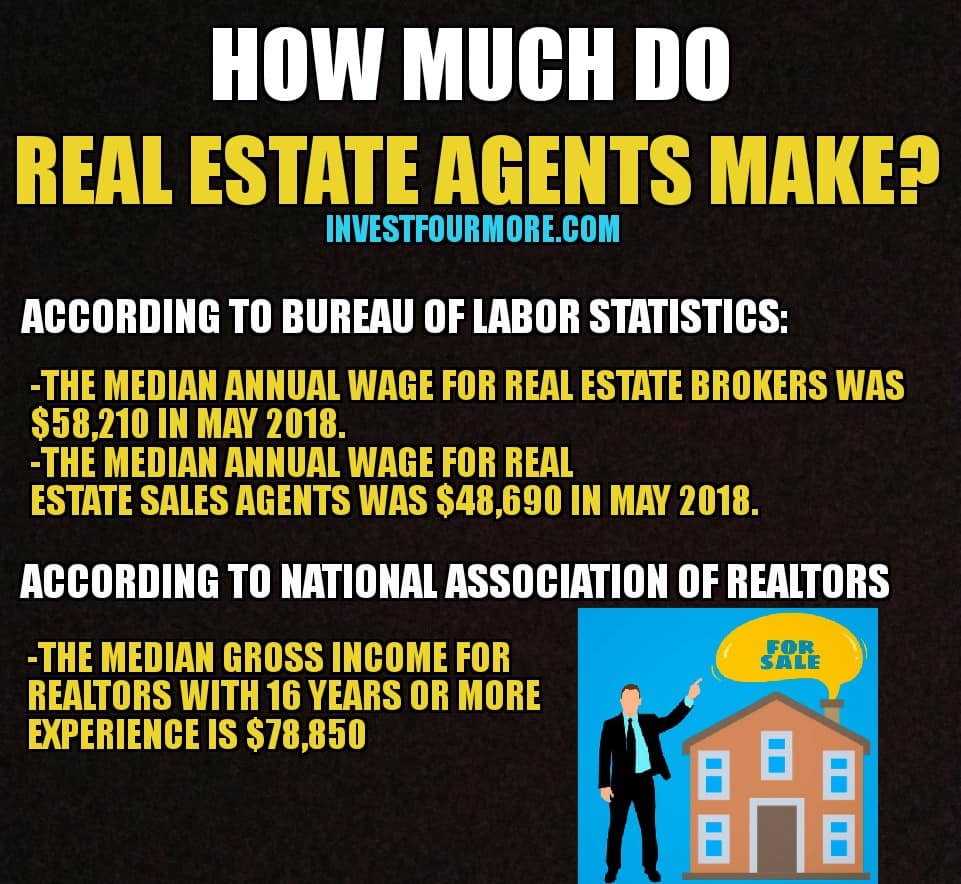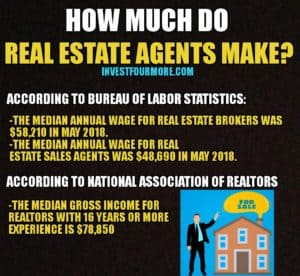 Real estate agents can make a lot of money! I have been a real estate agent and broker for more than 15 years and have done very well. However, most agents make similar wages to other industries. The median gross income for real estate agents is from $40,000 to $50,000 according to most sources. This number can be misleading though because many agents have to pay a commission split to their broker and many other expenses for insurance, MLS, and education that most employees do not pay. While most agents do not make a staggering amount of money, agents that work more hours or have been in the business routinely make more than $100,000 a year!
The median and average incomes could be much higher for real estate agents, but many agents only work part-time, many agents have no idea what they are doing, and many agents do not have the discipline to motivate themselves. I have been an agent and broker since 2002. I have seen many agents make well over $300,000 a year and many other agents struggle. I would not judge what you can make as an agent on the median salary because there are so many variables involved.
What is the median income for a Realtor?
The National Association of Realtors (NAR) usually has some great data for salaries but this is listed on their site now:
"The median gross income of REALTORS® was $43,330 in 2020,  a decrease from $49,700 in 2019."
I am not sure how much I trust their statistics! I found some other sources that seem to be much better!
From a Real Estate Express survey:
"In real estate, longer hours usually mean higher earnings. Agents putting in 40 to 50 hours a week can expect to make around $68,000, according to our survey. Agents who work between 51 to 59 hours a week can expect to earn around $85,000. It's important to note that these are only estimates and many factors can influence these numbers."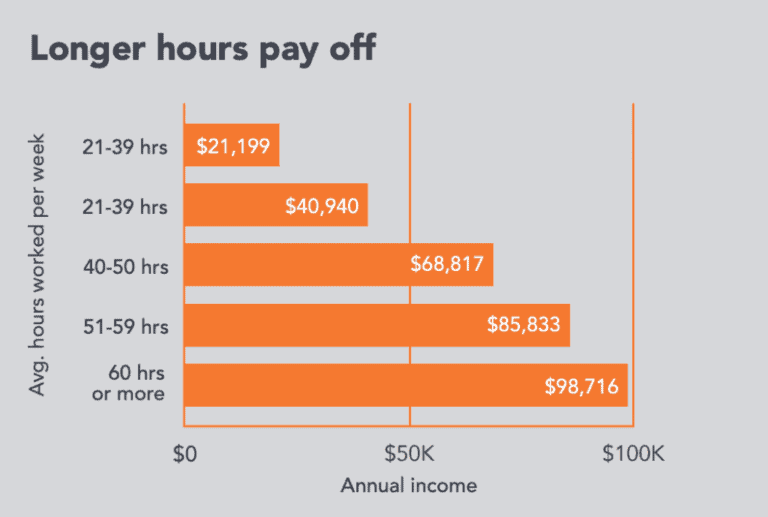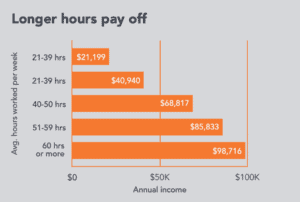 The longer you go in your career the more money you make as well! Agents in their first year were said to make around $20,000 a year while agents in the business more than 10 years tend to make more than $100,000 a year!
More than 21 percent of Realtors make over $100,000 a year, which shows Realtors can make a lot of money when they work full-time and have a plan. You need a plan, you need goals, and you need to be able to run your business in order to succeed in real estate. If you can become a successful agent the money and freedom cannot be beaten!
The video below also talks about how much money real estate agents make.
How do agents make money?
Real estate agents make a commission on each house they sell. Commissions are always negotiable, but HUD pays listing agents three percent and buyers agents up to three percent so I will use three percent as an example commission. Real estate agents usually represent one side of a transaction; the buyer or the seller. Each side of that transaction may make three percent, but again that is negotiable. On bank owner listings sometimes the listing agent gets a smaller percentage than the buyer's agent. Commissions could be four percent in some cases or one percent like with some REO auctions. If you sell a $100,000 house a three percent commission would equal $3,000 to one agent, but the agent does not always get to keep that entire commission. Most real estate agents only get paid when they sell a house unless, they are working on a team or a commercial real estate agent.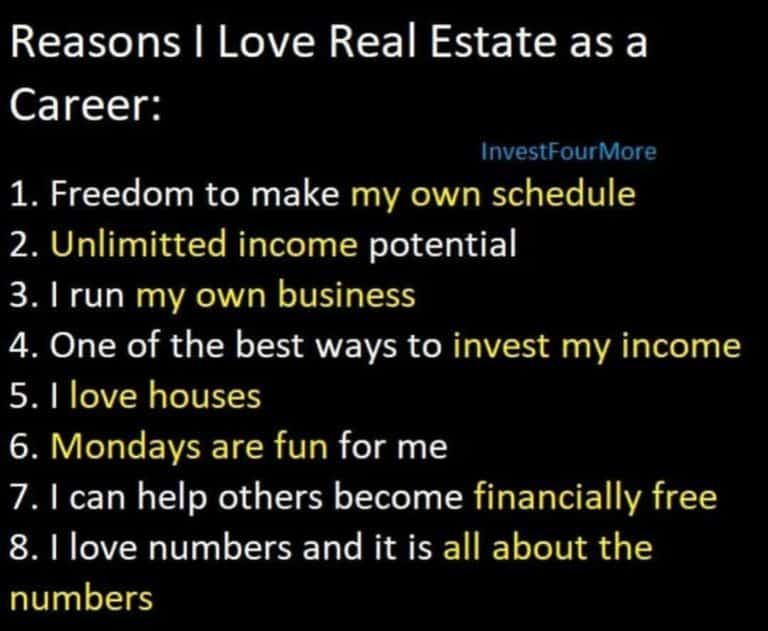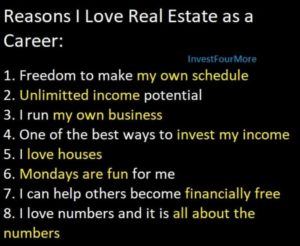 How much money do real estate agents make in their first year?
Do agents get to keep all of their commissions?
When you become a real estate agent you have to work under a broker at first. You don't have to work with that broker, but you have to hang your license with the broker. Different brokers provide different levels of support ranging from nothing to intense training programs and mentors. The more training, staff support, and office space you get, the smaller portion of the commission you get to keep. Commission splits can range from 50/50 to 100 percent with a small transaction fee paid to the broker. Remember, a lower commission split is not advantageous if you never sell any houses. I think new agents should go with a broker who offers the best training, not the highest split.
If you sell a house for $100,000, make a three percent commission, and have to give 40 percent to your broker, you will keep $1,800. You will have more costs we have to figure as well, but a $100,000 sale is also pretty low in many areas of the country.
What other costs are there?
Besides paying your broker a split of your commissions, other costs come with being a real estate agent. Many of these costs will vary greatly depending on your marketing and agreement with your broker. Some brokers will charge for an actual office on top of commission splits, you may have to pay for advertising, MLS dues, Realtor fees, and there are other less direct costs. Most people will drive much more as an agent and you better make sure you have a reliable car. You don't have to have a fancy car to be an agent, but it must be presentable! Here is a look at what the costs may be for a brand new agent. I don't think you have to spend a ton on advertising to make good money either.
Direct costs:
MLS dues: $500 a year
Realtor and board dues: $300 a year
O and E insurance: $300
Business cards, name tags, etc; $500 a year
Advertising $1,000 to $50,000 a year
For sale signs, marketing materials: $200 to $5,000 a year
Total: $2,800 to $50,000 plus
There is a wide range of costs because you can spend as much as you want on advertising. I think there are plenty of ways to advertise for free or very minimal costs as a real estate agent. Some of these costs your broker may cover and some may not be covered. There will be indirect costs as well depending on what you need. Do you have to buy a new car, a new computer, a new phone, new clothes or a new desk? These costs can be pretty minimal or add up very quickly if you go crazy with spending.
What is the difference between a real estate agent and a Realtor?
A real estate agent has gone through the licensing process in the state they are selling real estate. Real estate agents also must have their license hung with a real estate broker or be brokers themselves. A Realtor must do everything a real estate agent must do and belong to the National Association of Realtors (NAR). NAR requires members to abide by a code of ethics and belong to a local board of Realtors. The income level for Realtors and real estate agents is different because more Realtors work full-time and take their job more seriously. That does not mean every Realtor is better than every real estate agent, but the averages do show that Realtors make more money.
How can you become an agent?
Becoming a real estate agent is not an extremely difficult thing to do. In most states, you must take pre-licensing education, pass a test, and then work under a broker for a certain amount of time. Working under a broker does not mean you do everything they say or that you are their assistant. It simply means that you hang your license in the broker's office and they oversee your activities to make sure you do not do anything illegal. I highly recommend Real Estate Express to get your license. Real Estate Express offers classes in most states and has some of the lowest prices for real estate classes. Two of the agents on my team took online classes through Real Estate Express and easily passed the exam.
Do agents make a good living?
This is a tough question to answer because everyone is different, and live in a different area. It is safe to say that most of the money made by real estate agents are made by the top 10 percent in the industry. I have made over $300,000 a year from just real estate agent activities multiple years and there are many agents who make more than me. I live in a town of 100,000 people and there are at least 10 agents making that much money or more in my town alone. The average for agents may not be very high, but the ceiling is unlimited. If you are a go-getter you can make a lot of money, have your own schedule, and build a business with real estate. I do not sell houses anymore as I concentrate on running my brokerage, investing, and this blog. I have agents in my office that sell for me and I get a cut of their commissions.
If you work part-time and have no work ethic you won't make much money. If you work full-time, plan your business, listen to those who know what they are doing you can make over $100,000 in a year or two.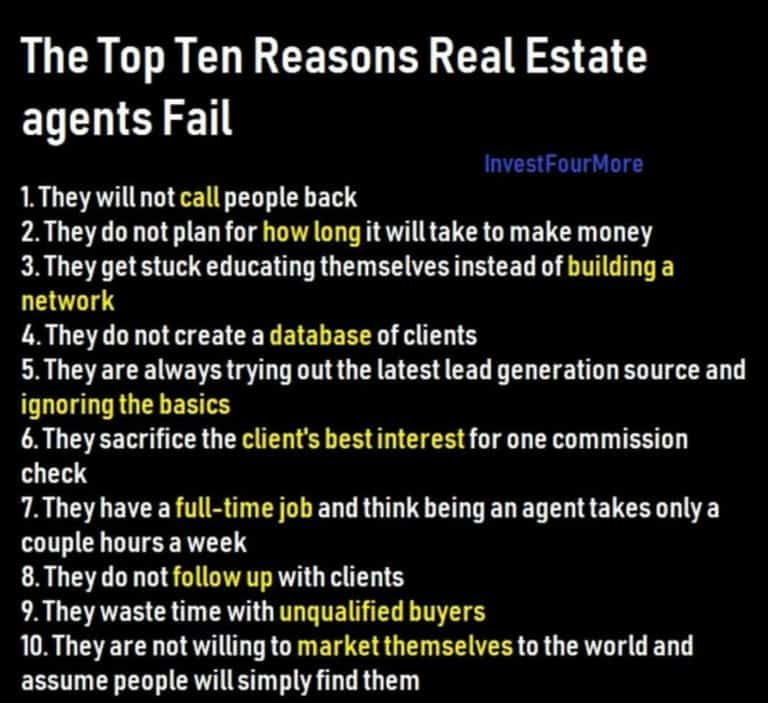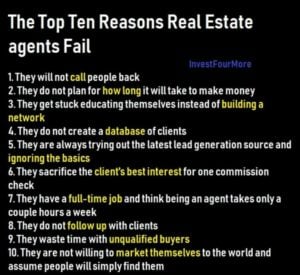 Is it hard to sell houses?
Selling real estate is not rocket science; the more contacts you have, the more houses you will sell. The secret is building up a client base that will continue to buy houses from you and refer people to you. Eighty-four percent of home buyers and sellers said they would recommend and use their real estate agent again. That means once you get a client and do a decent job for them, they will continue to use you and tell their friends about you.
The trick is finding those people who will use you as a real estate agent. In your first year, it is especially difficult, because no one knows you are an agent yet. You have to tell everyone that you are an agent, or better yet that you are becoming an agent. If you tell everyone you know that you are becoming an agent, you can build your client base before you become an agent.
Choosing the right broker is also very important for new agents. Many agents choose a broker with the best commission split, instead of the broker who offers the best training. I like to tell new agents that making 100 percent of nothing, is still nothing. Most agents who try to learn everything on their own do not do well. It is vitally important that new agents choose the broker with the best training and not the best commission split.
Another option for new agents is to join a team. I have run a team for many years, and we offer amazing training for our new agents. We can also offer them leads and other advantages for joining our team. If you are a new agent and looking to start quickly, a team may be the right starting point.
What are the different ways agents make money?
Buyer's agent
A buyer's agent sells houses to buyers and earns a commission on each house they sell. There is no set or typical commission, but I will use a three percent commission as an example. The buyer's agent may not get to keep all of their commission because in most cases, they must pay a split to their broker. We will assume the split is 70 percent to the agent and 30 percent to the broker. I think if an agent works hard and full-time, they can easily sell 20 houses per year. In my market, the average selling price is $175,000, allowing a real estate agent to earn over $70,000 ($175,000 x 20 houses x .03 commission x .7 split to the broker = $73,500). The real estate agent will have expenses to pay such as an office bill, MLS fees, insurance, and other miscellaneous items. Those fees vary depending on the real estate agent's agreement with their broker, but the total expenses should be under $5,000 a year depending on the office set up.
If you sell more than 20 houses (which is very possible), you can increase your yearly income significantly. The more houses you sell the smaller broker split you will usually have to pay as well. Even if you sell less than 20 houses per year, you still can make a decent living as a real estate agent, especially if your market has higher prices. A buyer's agent may also sell listings for sellers whom they are helping to buy a home. A buyer's agent is not limited to only selling homes to buyers.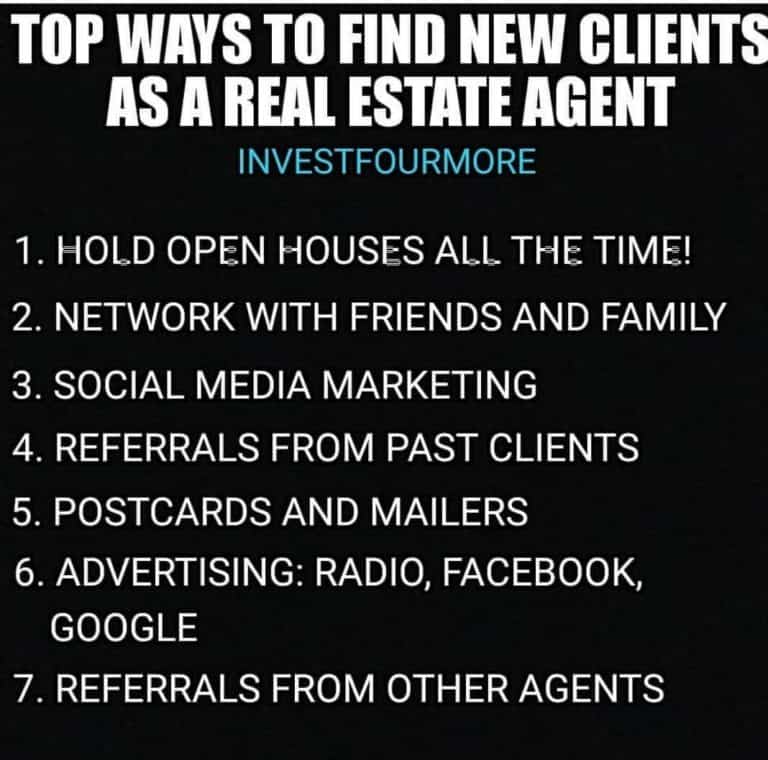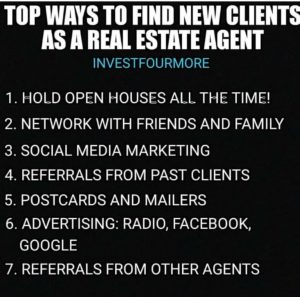 Listing agent
A seller's agent or as they are typically called, a listing agent, has a completely different role in the sales process. A listing agent will make about the same commission, but they go about it in a completely different way. I will not go into details for the income that you can make because you can use the same math I used for the buyer's agent. The biggest difference is that a seller's agent can typically sell more houses than a buyer's agent can because it takes less time to list a house than it does to show homes to buyers. A listing agent can also sell houses to buyers and may double end many deals, representing the buyer and seller in a transaction. If buyers are not already using a buyer's agent, they may use the listing agent who has the house listed to buy the house. Listing many houses also brings in buyer leads, which I will discuss more when I talk about teams.
REO agent
This is my specialty. You can make great money as an REO agent, but it is not easy. If you are an established REO agent, you can sell many houses a year. I have sold over 400 REO listings in the last three years. Commissions vary with REO listings. I receive three percent on some properties and as low as one percent on other listings. My average commission is about 2.5 percent on each REO that I sell. The REOs that I sell typically sell for less than the average sales price in an area. If I assume the average price is $120,000, multiply that by 100 houses, times 2.5 percent commissions, and assume a 90 percent commission split, that equals $270,000.
The expenses are much higher for the REO agent than they are for a typical listing agent. To be successful in REO you have to belong to REO organizations, register with REO companies, carry more insurance, and pay expenses for the banks on REO properties. Many times you will have to eat some expenses and pay fees to pay the bank's bills for them (not logical, but that is the deal). An REO agent also must attend conferences to meet clients and gain business. I attend at least two conferences a year. I would assume the expenses to be at least $20,000 or more a year for most successful REO agents.
If you sell 100 houses per year, it will be almost impossible to handle everything yourself. Most likely, you will need at least one full-time assistant who will cost about $30,000 a year. After expenses and staff, an REO agent selling 100 homes a year may profit $220,000 a year just on the REO listings. The great thing about listing many properties is that those listings bring in buyer leads. A good REO agent will be able to sell as many houses to buyers as they do listings. Having that many listings is also a great opportunity to start a team and let other agents sell properties for you without doing any work.
Teams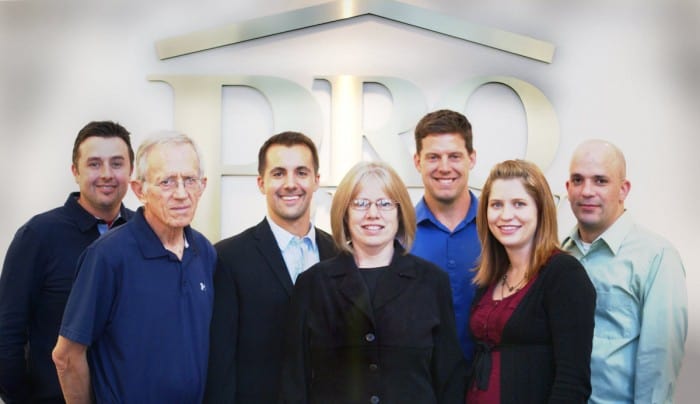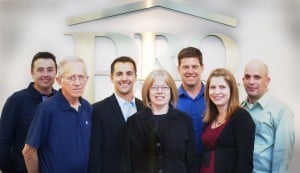 When you start selling homes and getting busy, it is time to start building a team. I do not think it is ever too soon to hire people if you want to be successful. The more people you hire the more money you can make while doing less work. It is a beautiful thing!
I have eight people on my team, including five licensed real estate agents. They do not all sell many homes, but I get a percentage of each house they sell. I give incentives for them to be on my team by giving them leads, paying some of their expenses, and providing staff to help them with paperwork.
I have my team set up so that the agents under me can sell houses easily, which allows me to receive a check for doing very little to no work. If you have many listings, it is much easier to start a team because you get many buyer leads with listings.
If I have three agents on my team that are actively selling houses, I can make great money from them. A typical setup would be agents get a 70 percent commission split of their own clients and 50 percent of the leads I give them. If they are all able to sell 25 houses a year, which may be very possible with many buyer leads coming in from 100 listings, here is how much they would bring in:
Average house price $175,000
Average commission 3 percent
My cut from our broker is actually 100 percent, but I will use 90 percent because that is more common
75 houses sold; 50 percent my leads and 50 percent their own clients
For my leads, the math (using simple round numbers) breaks down to
$175,000 average sale x 37.5 (half of 75 houses sold) x 3 percent commission x 90 percent split with broker x 50 percent split with me =$88,600.
For their own leads, the math is
$175,000 x 37.5 x 3 percent x 90 percent x 30 percent =$53,150
I will have expenses that may add up to $15,000 a year for these agents, but I just made over $140,000 gross profits and over $120,000 net profit. The agents working for me each made about $65,000 a year and they had to pay very little of their own expenses. It works out great for everyone as I make money for doing very little work, the agents get leads, and their expenses are paid.
Being an agent and investor
I buy long-term rentals and fix and flips. I usually save a lot of money on commissions for each deal I do. I have 20 long-term rental properties and 10 to 20 fix and flips at various stages of repair at any one time. I talk much more about my real estate investing in my Complete Guide to Long-term Investing here. For each flip I buy through the MLS, I save a commission when I buy the home and when I sell it. This can equal $5,000 to $15,000 I save on every deal! I also save a commission on each rental property I buy, which decreases my investment and increases my returns. I estimate that being an agent saved me at least $300,000 in 2018 on my investment properties alone.
I am also able to get better deals on the investment properties that I buy because I know my market extremely well. I am also able to act extremely quickly when a good deal comes along, more quickly than investors who do not have a license can. I am also able to pay more for a property than an investor without their license can because I am saving my commission. The $300,000 I saved on commissions does not include the profit I made on deals that I would not have gotten if I were not an agent.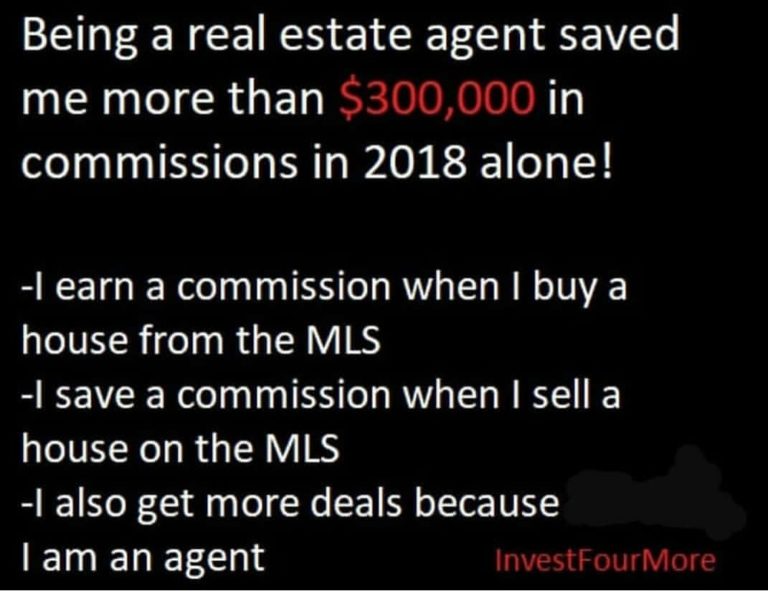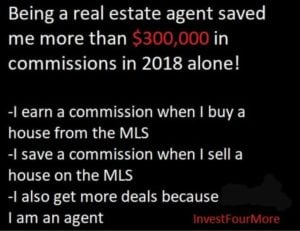 Can agents make money without selling houses?
There are many other ways to make money as a Realtor.
Broker Price Opinions
BPOs are reports done to figure the value of real estate. My staff does about 1,000 BPOs per year and we are paid an average of $50 per BPO, $50,000 a year. I hire someone to take pictures and my staff does the reports so I make about $20,000 a year without doing any of the work. You can make much more if you take the pictures and do the reports yourself.
Property management
can also bring in good money if you have enough volume. A typical property management fee is 10 percent of the gross rents and leasing fees. One hundred homes rented at $1,000 a month would bring in $10,000 a month, but you may need staff to handle that many rentals. If you add one month's rent leasing fee to that each time you rent out a home, the figure can increase significantly. Property managers may also use their own maintenance people and make a profit on each repair done, but you must disclose this to the client.
How long does it take to make money as an agent?
Now that you know how much money a real estate agent can make, how long does it take? The truth is it is very hard to make money as a real estate agent right away. Being a real estate agent is like running a business. It takes time and a lot of effort to build up a business. In the beginning, you have to work hard and get out of your comfort zone. Once you build up the business and get clients, the business will come to you and you will not have to put as much effort into the business. I have seen agents make over $100,000 in their second year. It is not easy, but it is possible. It took me six years before I was making $100,000 a year because at the beginning of my career I did not plan or build my business, as I should have.
Conclusion
If you want to become a real estate agent, do not pay attention to the average or median income statistics you see. I have money coming in from my team, REO listings, BPOs, my rental properties, fix and flips, and the few buyers and sellers I work with personally. It takes time to get to where I am but with hard work and planning it can be done.
I go over everything it takes to become a real estate agent in my book How to Make it Big as a Real Estate Agent. How to get leads, how to find a broker, how much money you can make, how to make money, how to manage your time, and how to avoid the struggles many agents have. It is available on Amazon as a paperback or Kindle, and it is also on audible as an audiobook!