Last Updated on February 17, 2022 by Mark Ferguson
I love real estate, and becoming a real estate agent was one of the best decisions I ever made. However, when you become a real estate agent, you give up a steady paycheck, and it takes a while to start making money. Unless you can start out as an assistant making an hourly wage, you are going to have to save before becoming a real estate agent. It could be a month, three months, or six months before you sell a house and earn a commission check. It is very important that new agents plan for the time they will not be making money, or it can make it very tough to succeed in this business.
How much money can agents make?
It is risky becoming a real estate agent because you do not have a steady income in most situations, and it can take months before you make a sale. It can also take years before you become an established agent earning a steady income. Many people ask themselves why anyone would want to become a real estate agent under these circumstances.
The biggest reason people want to become real estate agents is that they can make a lot of money. In this article, I talk about exactly how much money you can make as a real estate agent. The average income for a full-time real estate agent is $54,000, but many agents make much more. You also are able to run your own business, create your own schedule, and invest in real estate more easily as an agent.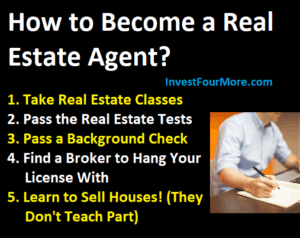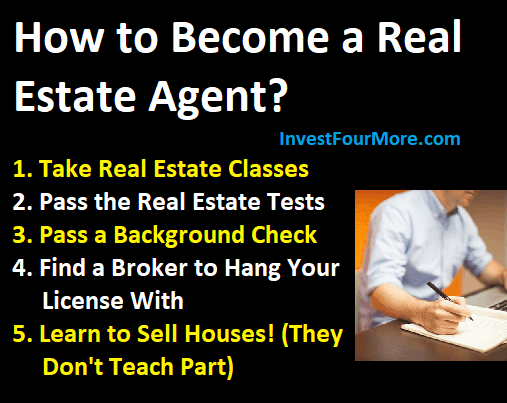 Why does it take so long to make money?
One reason it takes so long to make money as a real estate agent is that it takes a long time to close (sell) a house. Once a house goes under contract, it usually takes 30 to 40 days for that house to sell. If real estate agents are able to get a deal right after they get their license, they will not be paid until the house closes at least a month later.
It can also take a real estate agent months or longer to get their license. I talk about how hard it is for an agent to get their license here. If potential agents quit their jobs before they get their licenses, there will be a couple of months without any money while they are getting their license.
It takes time to build up business and activity as a real estate agent. When starting out, an agent's circle of influence is the best opportunity to make sales. Friends and family are the easiest targets to make sales, but they may not be in the market to buy or sell right away. Finding buyers or sellers can take months for a new agent, and then you have to wait for properties to close.
If you are interested in taking online classes to get your license, I recommend Real Estate Express.
How long does it take to start making consistent money?
The key to being a successful real estate agent is getting leads. The more leads you get, the more people become your clients, and the more sales you will have. I have seen new agents go into real estate with everything they have. Those agents have closed one or two deals a month in their second or third month in the business. After six months, they really start to take off and have consistent sales and income every month.
I have seen other agents get stuck educating themselves and preparing to be an agent for months without going after business. It takes them a year or longer to start making consistent money, and some give up before they make it. It is hard to say it will take three months or six months before a new agent will make enough money to support themselves because everyone is different. I would plan on it taking at least six months.
Remember, there is no better way to learn the business than to start working with clients right away. The more people you talk to about being a real estate agent, the better chance you have of making sales.
How much money will you need to be a successful real estate agent?
Not only do you have to worry about working for months as a real estate agent before you start making money, but you also have to spend money to make money as an agent. What an agent has to pay for will depend on the agreement the agent has with their broker. Some brokers will help an agent with costs like MLS dues, board dues, and advertising. Other brokers will not pay for anything, but they offer a larger commission split to the agent.
A real estate agent will most likely have to pay for E and O insurance, MLS fees, advertising, marketing materials, business cards, mailings, office fees, and the cost of getting a license. This assumes that an agent has the basic materials needed such as a smartphone, laptop, desk, chairs, and other basic supplies most agents need.
For more information on how to become a great real estate agent, check out my book, How to Make it Big as a Real Estate Agent, available on Amazon as an eBook, audiobook, or paperback.
Here are the bare minimum costs an agent will have when starting out in the business 
Obtain license             $1,000
Initial marketing           $500
Insurance                         $200
MLS and board dues    $200
Total: $1,900
Here are the minimum monthly costs an agent will have
Marketing                      $250
Insurance                        $40
MLS and board dues    $50
Office fees                      $200
Total: $540
These are the minimum costs needed to get started, and these costs vary from state to state and market to market. I would always check the costs before you make the decision to become an agent. Talk to other agents and brokers in your market to see what their costs are. Some other costs to consider are that you will be driving much more and you will have higher fuel costs. You may have to take clients out to lunch or dinner. You may have to buy for sale signs or name riders.
How much money do you need to save before becoming a real estate agent?
I would calculate all your costs based on a realistic plan of becoming an agent. That plan should include when you will start making money and how much money you will spend on marketing and expenses. If you want a basic idea of how much you should save, I would save six months of living expenses plus $700 per month for expenses once you become an agent. That does not include the initial start-up costs of becoming a real estate agent such as getting your license. The cost of being a real estate agent is why many people start as part-time agents, but I explain here why it is very hard to make it as a part-time real estate agent.