Last Updated on February 17, 2022 by Mark Ferguson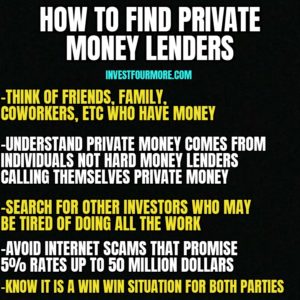 I have completed a lot of house flips and bought many rental properties. Over the years, I have used a lot of private money for real estate investments. Some of the people who work with me are amazed at how much money people are willing to lend me! I was able to attract private-money lenders by being trustworthy, being transparent, and putting myself out in the public eye. I don't have a fancy presentation or a secret list of lenders. I am myself and honest about everything I do. It is not easy to attract private money, especially when just starting out, but it can be a game changer if you are a real estate investor.
What is private money?
The first thing I want to talk about is what private money is. There is a lot of confusion about hard money and private money. The biggest problem is that hard-money lenders started calling themselves private-money lenders in order to get more business.
A hard-money lender is a company that lends money to real estate investors. They usually lend from 8 to 15%, and the terms are less than one year. The loans are meant for house flipping but can be used for rental properties that are refinanced quickly as well. Hard-money lenders usually require an appraisal, have loan fees, underwriting, and a loan approval process. Hard-money loans can be a pain. They have a lot of fees, and the lenders can change their minds at any time with no real repercussions.
Private money comes from a person who lends money to another person. When I borrow private money, it is not from a company that specializes in lending money—it is from someone I know. I have at least 6 people I borrow money from. Some are friends, some are family, some are investors I know, and some are strangers who found me online. Private-money lenders often have no fees, require no underwriting, and most likely do not need an appraisal or valuation.
When I get a private-money loan, I send a text or an email to my lender and ask them if they want to do this loan. With some of the lenders, I give the address and a few basic numbers like the purchase price, the repairs needed, and the ARV (after repaired value). With other lenders, I say, "Hey, you want to do a loan?"
I love private money because it is so easy to use and I know there will not be any issues once my lender says I can do the loan. I have had many problems with many different hard-money lenders.
Do not confuse hard money with private money!
Avoid private-money scams!
You may want to get into the heart of how to find private-money lenders, but first a word of warning: do not fall for private-money scams! I personally can't believe people fall for them, but it happens all the time.
How does the scam work?
Someone posts something on social media about having private-money loans from $50,000 to $5,000,000 at a 5% interest rate and no points, no credit needed, and no income verification. It sounds too good to be true, right? Well, that is because it is too good to be true!
The scammer will charge a small fee to get the application process started, and once they have that, you will never hear from them again. Private-money lenders are not looking to loan their money at rock bottom rates to strangers they find online. Don't fall for it!
How did I find my private lenders?
When I was flipping houses in the beginning, I did not use private money. I worked with my father, and almost all the money we used was from the bank. This was also before the housing crash when it was much easier to get money from banks for flipping houses. We had a large credit line that we could use for whatever property we wanted.
After the housing crash happened, those lines of credit dried up, and we had to find new financing. We found banks who would lend to us, but we had to put 25% down and finance all of the repairs. We could handle that because we had been in the business for a long time and had a lot of working capital.
Over time, I took over the business and was flipping houses on my own. I was still using bank money, but a couple of people approached me about lending me private money. One was an investor who used to be one of our main competitors in the house flipping business. He had stopped flipping houses but was interested in lending me money when I flipped houses.
I was not sure what to make of the offer since the interest rate he wanted was much higher than the bank's interest rate. He was also offering to finance 100% of the purchase price. That was intriguing to me because it meant I could flip many more houses. I wouldn't have to come up with nearly as much cash for each deal. I did one deal with him and then another, and then he became my main source of financing.
I have also borrowed money from family members who saw what I was doing and knew that I could give them decent returns that were safer than other high-risk investments.
Another investor saw my YouTube videos and my blog and wanted to become an investor! I am at a point now where there is no way I can use all the money I have available to me. At the same time, the lenders are not dependent on me to make them money, so there is no pressure to use the private money all the time.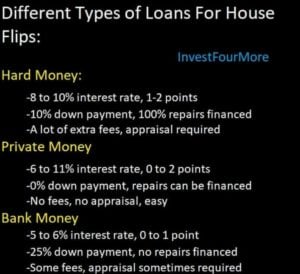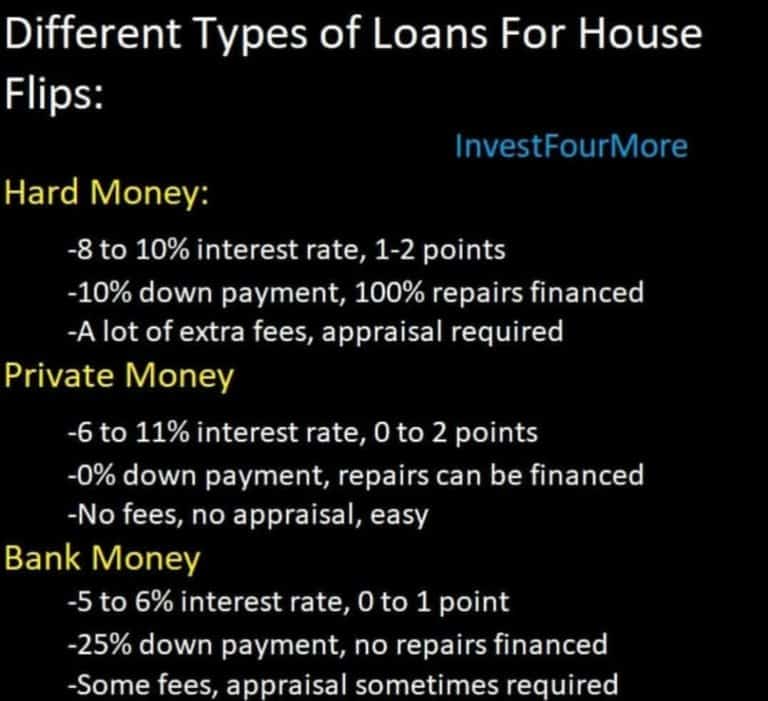 How are my private-money deals set up?
I very rarely partner with anyone. I almost always set up my loans as a pure interest rate deal. The private-money lender gives me money, and I pay them interest and points. Points are like an origination fee and are based on a percentage of the loan. If I pay 2 points on a $100k loan, I pay $2,000. My lenders charge from 1 to 2 points on the loans. Hard-money lenders charge from 1 to 5 points on loans.
Some investors will share the equity with the lenders, or as I like to call it partners if it is an equity share. They will do all the work, find the deal, and sell the property, while the lender will put up all of the money. Often, the two partners will split the profit 50/50. I hate giving up equity, and I also hate paying people based on the profit I make. There can be a lot of doubt and suspicion about the actual profits, the actual costs, and how the money is being handled on those deals. When I borrow money based on the interest rate, there is no confusion, and it gives me a sense of urgency to get things done so it doesn't cost me as much money!
When I borrow money for a house flip, I will create a Deed of Trust and a Note for the lender. I sign both documents that describe the interest rate, payments, late fees, etc. and record the Deed of Trust and return the note to the lender. If I can't repay the loan for any reason, the lenders have the property as collateral. It is not an easy process, but they could foreclose on the property and take the house back if they wanted to after I stop making payments or violate any of the terms of the loan.
I also have some deals set up with family where I borrow money all year round, not on a per-deal basis. These loans also have Deeds of Trusts on rental properties I own. The lender has collateral and a way to get their money back if things go south. Their investment is secured by a real asset.
Why do my lenders trust me?
One thing that surprises many people that work with me (I have no idea why) is how many people want to lend me money! The other day, I mentioned on Instagram that I was starting an opportunity fund. I was starting this fund with my own money, and I was not looking for any investor money. I had multiple people ask how they could invest in my fund. I had no idea who these people were!
I have people ask to invest with me all the time, and the reason is they trust me. Why do they trust me? I think it is because I am very open about what I do, I show the numbers on my deals, I show videos of my properties, and they can verify everything I say. I have also done well for myself and have a few nice cars like my Lamborghini.
Over the years, I have created a blog (what you are reading now), a YouTube channel, an Instagram page, a Facebook page, etc. I have not been afraid to talk about what I do and share what I do. This transparency has been a huge reason why people trust me and want to invest with me.
Not only do I talk about my successes, but I talk about my failures as well. I do not make money on every single deal I do. I think being honest and admitting my mistakes also plays a big part in why people trust me. I think it also helps that I have a credit score over 800, and I have never missed a payment in my life.
How can you find private money for real estate investments?
I have talked about how I was able to find private money, but that might not relate well to people who are just starting out or do not have a public presence. How can the average real estate investor find those private lenders?
The first thing I tell everyone is you cannot be afraid to ask! Many people say they are afraid to ask their family for one because they do not want to lose it. Does that mean it is okay to lose a stranger's money? Do you intend to lose this money? If you are not confident in your investing and 100% sure you will be able to pay back the money you are borrowing, you may not be ready to borrow it. Sure things happen, but if you are looking to borrow private money simply because you are not prepared enough to get bank money, you may need to do more prep work.
Your family is the first place to state, and it should be mutually beneficial. You are providing them with a superior return, and you are making money using their money in the real estate business. You should not be begging for a favor but providing them with an opportunity.
You can do the same thing with friends, co-workers, or any other contact you have. Remember, that it is an opportunity for them to make a high return with an asset-backed investment.
If you know no one with money, which is very rare (most people know people with money, they are just afraid to ask them), you can start searching for people with money.
Look up public records to see who is buying houses without loans. Those are investors with cash, and they may want to lend money as well as invest.
Immerse yourself in the real estate world and find the investors who have money but don't have the desire to hustle as hard anymore.
Put yourself out in the public eye. Write a blog, post on social media, start a YouTube channel. No one will find you if you don't make it easy for them!
Attend real estate investor clubs. These clubs often have a lot of newbies, but there can be some experiences investors there as well.
Conclusion
Private money can be a wonderful tool to help your real estate investing business. However, you must be prepared and know what you are doing if you think private investors will give you money. You have to show how their investment is safe, and you must show that you are trustworthy. If you try to BS people into giving you money, it will be a long and hard battle that will not end well.