Last Updated on February 18, 2022 by Mark Ferguson
I am an investor in Greeley Colorado who buys from 20 to 30 properties a year (commercial and residential). I have been buying and selling properties for almost 20 years and know the area and market very well. I am also a real estate broker and agent who owns Blue Steel Real Estate, but I focus more on investing than listing houses for sellers or helping buyers find homes. If you are looking to sell your house fast for cash I can help you figure out what the best option is for you. We often give people values for selling houses to us directly with no commissions or closing costs as well as values if they were to use an agent and sell on the multiple listing service (MLS).
What area in Colorado do we cover?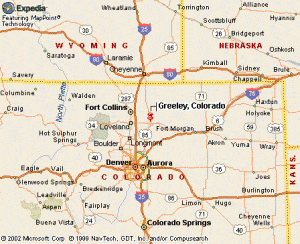 I work ad live in Greeley Colorado, which is located about 50 miles north of Denver. The city is about 15 miles from the base of the Rocky Mountains and within 30 miles of Fort Collins (165,000 pop.), Loveland (76,000 pop.), and Longmont (95,000 pop.). Greeley has about 100,000 people and is connected to Evans Colorado, which adds another 20,000 people.
We buy houses within about a 30-mile radius of Greeley which includes the following towns:
Greeley
Evans
Garden City
Lasalle
Platteville
Gilcrest
Fort Lupton
Firestone
Frederick
Dacono
Longmont
Erie
Mead
Berthoud
Loveland
Campion
Fort Collins
Wellington
Laporte
Severance
Windsor
Johnstown
Milliken
Eaton
Ault
Pierce
Nunn
Kersey
Briggsdale
How long does it take to sell a house?
I flip houses and when I am flipping a house I want to sell it fast, but I also want to maximize my investment. Owner-occupied buyers who will be getting a loan are the buyers who will pay the most money for a house. I make sure my houses are in great shape and will qualify for a loan so I get the most money I can. When you want to get the highest price for a house, you will have to deal with picky buyers, appraisals, inspections, loans, and the deal possibly falling apart. It can also take a while to sell your house on the MLS. When a buyer gets a loan it will take them from 30 to 45 days to close on a property after they put a contract on the property.
Not only does it take over a month for a buyer to close on their loan, but it takes time to find a buyer. In my experience, I will get an offer on one of my houses about three weeks after I list it if I priced it right. If I priced the home too high and I do not get an offer in one month, I will lower the price. This time frame is for houses in my market in Colorado, which is a very hot market. It can take much longer to find a buyer in slower markets. The total process to sell a home for the most money takes at least two months if everything goes perfect and sometimes much longer.
If you want to sell your house fast, cash buyers like myself can purchase a home in as little as 7 days without an inspection, appraisal, showings, or any other inconveniences that will slow down a sale.
Who is looking to sell your house fast for cash?
As a real estate investor, I run into people who are looking to sell houses quickly all the time. For them, getting top dollar is not the most important factor. To many of us that seems crazy to sacrifice money for a couple of months' time, but other people have more pressing priorities than money. Below I will explain a few people who need to sell houses right away and want to sacrifice money for time.
Homeowners: I have bought many houses from owner-occupants who needed to sell quickly. Most of these homes were for sale on the MLS and were priced very well. In some cases, the homeowners had not maintained the house well or bought the house in poor condition and never fixed it up. These houses could not qualify for a conventional loan, which made an investor the perfect candidate to buy the house. People want to sell houses quickly for many reasons; job transfer, health, starting a business, funding a business or just need money.  In some cases, people don't want to put their home on the MLS, because they don't want people to see the condition of their home. An investor is the perfect person to buy houses quickly.
Investors: Investors also need to sell houses quickly at times. Some investors have rental properties but have moved away from that property. They are tired of renting the home from a long-distance or paying a property manager, who doesn't do a good job. Those out-of-state rental properties are more of a headache than an investment. The investor gets tired of losing money on the property each month and they just want to sell quickly. If a home is rented to long-term tenants it makes it more difficult to sell as well. Owner-occupant buyers want to buy homes they can move into right away, not a home they have to wait for the tenants to move out of. Most owner-occupants won't be able to get a loan on a house with a current lease in place either. The investor who owns a home that is rented will have to sell to another investor. I have also bought properties that another investor bought to flip. The investor ran out of money or got in over their heads and they just want to get out.
Inherited properties: I have also bought houses that were estate sales. In those cases, the houses were not maintained or updated for many years. The heirs did not want to fix up the home or they just wanted their money as fast as possible. Many of the heirs did not want others to see the condition of the home and preferred to sell it off-market.
Banks and institutions: Some banks and large institutions will sell large pools of properties off-market to other large investors. Most of these pools are worth hundreds of millions of dollars and are not advertised as for sale. The buyers are large hedge funds or asset management companies. The advantage of selling large pools is that many homes are sold at one time, without the hassle of selling each property.
How much of a discount will an investor want?
When an investor buys a house quickly with cash, they are not going to pay retail value. That investor either wants to flip the house or hold it as a rental. If they wanted to pay retail value they would buy the house from the MLS where they can get an inspection and a loan.
Every investor has different criteria for what they will pay, but I want to buy houses at least 20 percent below the current market value. If I am flipping a house I may have to buy it even cheaper (30 percent below market value), because of all the costs associated with flipping. That 20 or 30 percent is not a discount off the repaired value of the home, but its value in its current condition. However, when buying homes off-market, the seller usually does not have to pay a commission to a real estate company, closing costs, and it saves them time, which might save them money over listing in the MLS.
How are properties bought "off-market" by investors?
Investors find motivated sellers by using direct marketing, which involves letters, bandit signs, websites, or billboards. If you see signs that say "we buy houses, any condition, we pay cash" that is an investor looking to buy homes cheap or a wholesaler looking to buy homes cheap. There are other ways to find investors as well:
Look for bandit signs on the sides of roads or at intersections that say we buy houses.
Search the internet for cash buyers in your area.
Look up real estate investor clubs in your area.
Look on Craigslist or Facebook for we buy houses advertisements.
Ask your friends or family if they know any real estate investors.
You can also email me and I may know someone as I have a huge network across the country. [email protected] 
How do you know you are selling your house to a real investor?
The easiest way to find an investor is to find the bandit signs, billboards, or advertisements on Craigslist that say we buy houses for cash. The tricky part is many of those signs and advertisements are from brand new wholesalers or investors who might not have any idea what they are doing.
A wholesaler is someone who gets a deal under contract and then sells that deal to another investor. There are many good wholesalers and many bad wholesalers. Many deals fall apart because the wholesaler cannot find a buyer for a home they have under contract. Try to ask any investor you find if they are wholesaling the property, if they are, ask them how many deals they have done. It is usually best to work with investors like me who buy flips or rentals directly, but wholesalers can be a great resource as well if they are experienced.
If you are a seller looking to get rid of your home quickly for cash, send me an email. [email protected]. The price may or may not make sense but I can give you an idea of how much we will pay and that price is solid since we don't have inspection contingencies with 90% of our offers.
Conclusion
Selling a home off-market is not the way to get the highest selling price for your home, but it is a way to sell your home quickly for cash. There are some shady investors out there who try to steal homes from off-market sellers, but for the most part, an investor has to buy homes very cheap for it to be worthwhile for them. There are a lot of risks that come with real estate investing. I buy off-market homes in the Northern Colorado area and I am also a real estate agent. I have to disclose that I am an agent and that I may be buying a home below market value when I buy an off-market property. If the sellers and buyers both understand the pros and cons of off-market transactions it can be mutually beneficial.