Last Updated on February 24, 2022 by Mark Ferguson
As an investor, I have bought a few houses that were located on busy streets. I have bought houses that backed up to a busy street and houses that fronted a busy street. Often, houses on busy streets are much cheaper than similar houses on quiet streets. There is a reason those houses are cheaper: fewer people want to live in them. As a real estate investor, buying houses on busy streets can be tempting because they are cheap; however, they can be much harder to sell than other houses. In this article I will go over a couple of properties I have bought on busy streets and how it affected their value and made it harder to sell them.
Which houses did I buy, and why did I buy them?
I actually grew up in a house that backed up to a busy street. I lived in the house from fifth grade until I graduated from high School and moved out. I did not mind living in that house since we had a large privacy fence, and you could not even see the street. I did, unfortunately, lose a kitten who became a victim of that street. My parents bought that house as a foreclosure and got a great deal on it. When they sold that house, the street affected the value some, but mostly likely by less than 5%.
As a fix-and-flipper, I have bought a few houses on busy streets myself. One house I bought this year backed to a busy street like the one I grew up in, and the other fronted a busy street. I have also, as an agent, listed many houses that were on busy streets. I bought both of the houses I discuss in this this year.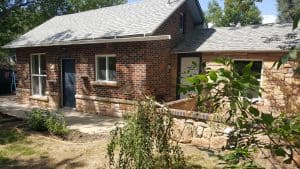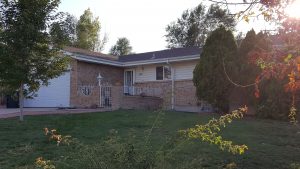 How much does a house backing to a busy street hurt its value?
The house above and on the right backs to a busy street. I bought this house with my direct marketing campaign, and it needed very little work. I listed the house for $277,900, which was what it should sell for based on the comparable properties that have recently sold. I am in Colorado, and we have a crazy real estate market right now. Most houses that are priced well are going under contract within a couple of days of being listed. I did not get any offers on this house the first two weeks it was listed. In our market, after two weeks, you wonder what is wrong with the house! We did get the house under contract, but it took 17 days, and we had to accept an offer contingent on the buyers selling their house.
I think the busy street affected the value of this house by about 5%, and it definitely took longer to sell the house than it normally would. If we were in a market that had more houses for sale, the value could have been affected even more. You can see a video of the house below.
How much does a busy street affect the value of a house?
The other house I bought was directly on a busy street. The driveway was only accessible from that street. It's a one-way street with three lanes, and it's very noisy. I bought this house from a wholesaler, and thought I got a great deal. We listed the house for $289,900 based on what other houses on busy streets were selling for. If you are trying to value a house on a busy street you, must use comparable sales on other busy streets to get an idea of what it is worth. The house has been for sale for 53 days, which is an eternity in this market, and it still is not under contract. We have lowered the price twice and still have no offers. We have had many showings, but almost every real estate agent says the busy street is why their clients did not like it.
If this house were on a quiet street, it would be worth over $300,000. However, because of the street, it is worth at least 20% less than similar houses on quiet streets. Being directly on the street affects value much more than backing to a busy street.
Is buying houses on busy streets smart?
If you are thinking about buying a house on a busy street, you need to consider many things:
How busy and noisy is the street?
Does the house back to the street or front the street?
Is it possible the street could be expanded by the city, cutting into your land and making the situation worse?
Are there similar houses for sale or that have sold on busy streets that can give you a good idea of value?
If the house backs to a busy street, it may still be worth buying for the right price. If the house is directly on a busy street, it may be really tough to sell unless it has potential commercial uses. The house I own on a busy street has the potential to be used for commercial purposes but still is not selling. Very few people want to live on a busy street because of the noise, the danger, and the poor resale values. I think you have to get a smoking deal to buy a house directly on a busy street. I will still make money on the house I bought…but much less than I was counting on.