Last week, I bought my third rental property of the year and my 19th rental overall. I have sold a couple of my rentals and do not currently own 19, but I have bought 19 houses that were or will be rentals for at least a couple of years. I have 20 flips going at the moment as well, three of which are rented out, but I am not counting those as rentals since I plan to sell them within one year of buying them. I found this rental through a contractor who saw the property on Facebook Marketplace. The list price was $79,900, but I paid much more than that because I think the seller had grossly underpriced the property. I plan to fix it up a little and rent it out. Keep reading to see all the numbers, what I think it will rent for, a video, and pictures.
Why do I continue to buy commercial rentals instead of residential rentals?
This is the third rental property I have bought this year after not buying any last year. The reason I stopped buying residential rentals is the purchase price became too expensive compared to the rent I receive. I put most of my money into flipping instead of rentals. I wish I could buy more rentals, and I have worked really hard to figure out how to continue buying them. I have looked at buying out of state with a turn-key company and at commercial properties in my area.
Commercial real estate is completely different from residential, but you can make a lot of money with commercial rentals. Commercial can be much more complicated when it comes to the leases, values, rents, and tenants. I have been looking for value-add opportunities that allow me to buy a cheap property, fix it up a little bit, and rent it out, resulting in a cash-flowing asset that is worth much more than what I bought it for. I wrote articles on the other two properties I bought this year as well.
How far off am I on my plan to purchase 100 rental properties?
Back in 2013, I wrote a very detailed plan for how I would buy 100 rental properties by 2023. In that plan, I went through how many houses I would buy every year and how I would buy them. We cannot predict the future, and I am way off on my plan, but that does not mean reaching my goals is impossible. I thought I would have 47 properties by now! That was a pretty aggressive goal, but I like aggressive goals because they make you work harder.
Technically, I only own 16 rental properties right now. I sold three rentals (that I did not care for) in the last two years. One was a college rental, which is not my niche. Another property was in a small town and ended up getting bed bugs. Another rental had a horrible floor plan that made it tough to rent out. It may seem like I have not made much progress on my plan to buy multiple rentals, but I have been expanding my businesses. Besides buying rentals, I have:
Grown my real estate team.
Gone from flipping 8 houses per year to close to 30.
Published 6 paperback books that produce passive income on their own.
Real estate is a constantly changing business. A few years ago, I was selling 200 REO properties per year (REOs are foreclosures from banks). In the last year, I think I have sold one REO property! It is not that I stopped getting listings from banks; it's that there are no foreclosures in my area right now. 50 properties used to go to the foreclosure auction every week in my county, and now there are three or four at the most. Some weeks, no properties come up in the foreclosure sale, and those that are going are getting bought by investors. I have had to adapt a lot in my market because of the price increases and the lack of REO inventory.
With my plan to buy 100 rental properties, my ultimate goal was to produce passive income. Even though I have not bought many rentals in the last two years, I have created passive income. My books generate income of about $10,000 per month, which is similar to the income 20 rental properties would generate except I did not have to spend any money on down payments. Books income isn't the same as rental income because books lack the tax advantages, equity, and other advantages rentals offer, but being able to help people and build passive income at the same time has been very cool. You can see all my books below:
I have also increased the income I make from my blog, and my real estate team still sells a lot of houses, except now they are selling them instead of me. I may not be buying as many rentals as I would like, but I have been flipping a ton and building passive income in other ways.
Fix and flip property scoreboard.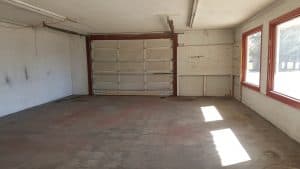 What are the details on rental property number 19?
I am finally getting to what this article is all about: my new rental. It is a commercial property over a .25 acre lot, with a 1,600-square-foot building. The property has been used as a livestock feed store, a tarp store, and long ago as a gas station. You can see a video of the property below (complete with a panhandler).

I mentioned the seller of this property was asking $79,900 on Facebook. After my contractor let me know about the property, I called the seller, and he said 10 people wanted to see it in the next two days! I set up an appointment as soon as I could, and I met the seller at the property. I tried to get as much information from him as I could, and this is what he told me:
He was selling the property to the highest bidder
He would let everyone see it and not make a decision for at least two days
He was not going to tell the other bidders what the high bids were
I made an offer that was over asking price, and the seller called me the next day. He said he already had seven offers and would make a decision that night. He told me to text him my highest offer. I talked over the property with my team and figured it was worth at least $120,000 if not quite a bit more when rented out. The property did not need much work, and as you know, I have had a hard time finding good rentals. I decided to go way over asking price because it would still be a good deal for me. I raised my offer to $101,250 and ended up getting the property. I figured it was worth at least $100,000 to me, and if someone else thought the same thing, I would go a bit over to make sure I got it.
How to deal with a multiple offer situation.
I think the property will rent out for $1,200 to $1,500 after a few minor cosmetic repairs. I am not an expert in commercial rentals, so hopefully I do not prove myself wrong! Considering I sold one of my rentals for $210,000 earlier this year (that one was only 1,200 square feet), it seems like a great deal.
How much money can you make with rentals properties?
I used my local portfolio lender to finance this property, but they did not give me as good of a deal as they have on my residential properties. With this property, I ended up getting a 15-year fixed loan at 5.8% interest. On my residential rentals, I am able to get 30-year ARM loans at a much lower rate. Financing commercial rentals is more difficult, and the property taxes are higher as well. When I get this property rented out, I can give a proper break down of the cash flow and expenses.
My podcast on commercial rentals.
Conclusion
I have bought three commercial rental properties this year but have yet to lease out any of them. I am using the first property to store materials for my flips (and a couple cars), and we are currently working on the second property. I think the big unknown for me and commercial real estate is how hard will it be to lease out the properties. I am also looking at some much bigger projects that are much more exciting than these $100,000 properties. Stay tuned to see if any of those deals end up working out.
I have created a new page just for my rental properties. You can find it here or under the resources menu at the top of the blog.