Today, after close to 2 years since the last one, I bought another rental property! This property is nothing like my other rentals and may not count as a rental to many of you, but it does to me. The property is a small commercial shop that I can use for storing building supplies and other miscellaneous items I am using for my flipping business. Even though I am not renting out the property, I can have my company pay me rent for using the property. I am also looking at buying some much larger commercial properties. If I buy another property, I would most likely rent this property out to someone else. I also sold two of my rental properties last year, but since I numbered my rentals 1 through 16, I thought I would call this property number 17, even though I do not own 17 rentals.
How did I find this property and what did I pay for it?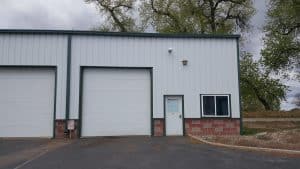 I have been looking to buy commercial property for quite some time. The problem is there are very few commercial properties available with shop and storage space. I ran out of space in my garage for my cars and have no room for building supplies. Since we flip anywhere from 10 to 20 houses at one time, we often buy materials in bulk from Home Depot
to get a better deal. When we buy in bulk, we need somewhere to put everything! I have two large storage units where we store most of our supplies in, but those are mostly full…and expensive.
I have been looking at very large commercial properties, but a friend of mine asked me to help him sell this smaller unit. I told him I might be interested in buying it, and we worked out a deal where he did not have to pay any real estate commissions. As a result, I got a good price. The unit is close to 1,000 square feet, with heat, electric, water, and a small bathroom. There is an HOA that maintains the exterior of the property and pays for water and trash. I bought the property for $72,500, which I think is a decent deal. It is tough to value a property like this because there are literally no similar properties for sale in the entire town.
Commercial versus residential real estate.
What will this property rent for, and will it make a good rental?
The property was rented out for $650 per month before I bought it. I think it may have been slightly under rented, and it would rent for $700 to $800 a month if I were to try to rent it now. The nice thing about commercial properties is that I do not have the expenses I would have on a residential unit, and there is very little maintenance. If I were to rent a house, I would need to make sure it was in good shape with nice paint, carpet, bathrooms, and kitchens. When you are renting commercial shop space, you need to make sure the place is secure and clean. The HOA maintains the exterior so I do not have to worry about maintaining yards, paint, the parking lot, or the roof. If the tenant stops paying rent, I can lock them out and take their stuff. I do not have to go through an eviction like I would with a residential rental.
One of the downsides to commercial properties is the loans are different from residential. While I can get a 30-year loan from my portfolio lender on my residential properties, I could only get a 15-year loan on this property. My payment will be much higher than on my other properties, but it was tough to find a lender who would do a commercial loan for such a small amount. My payment is about $395 a month without taxes and insurance. Insurance was tougher to get on this property as well because I am only insuring the inside of the property, and most insurance companies did not want anything to do with it. My insurance is about $1,000 a year, but I am insuring some of the items I am storing in the unit. My taxes are $990 per year. If I were to rent out this unit, I could get the tenant to pay the taxes and the insurance depending on the type of lease.
Here is what the cash flow looks like: