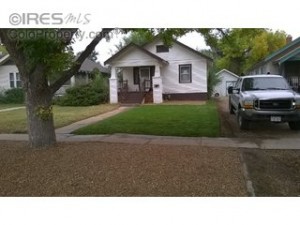 Last week I was able to get rental property number 12 under contract after not buying a rental property since July of 2014. This week I was able to get another rental property under contract! Rental property number 13 is a little different from most of my rental properties, since it is a two unit property and was built in 1920. Last week I described why I am changing my rental property buying criteria, because it has been so hard to buy any properties. Even though this new rental property will be older and is a two unit property, I think it will be a great rental property for many years to come.
What are the details on rental property number 13?
I have not bought this property yet, so I will not disclose the price or specific detail until I have purchased the home. The home was listed for $115,000 a few months ago and went under contract almost immediately. At the time I was not too interested in the home, because it did not meet my strict rental property buying criteria. The home was built in 1920, which is older than all of my rental properties and it is close to the college and could be used for a college rental. I tend to shy away from college rentals due to the increased wear and tear that college students sometimes put a house through. In my market college rentals are usually priced at a premium as are most income properties. There are a lot of investors in Colorado and the going cap rates seem to be around five percent.
This property was priced very well considering it is rented for $1,300 a month and has potential to be rented for even more. The property is an up/down duplex with one unit on the main floor and another unit in the basement. The upstairs unit has two bedrooms and one bath and the basement is one bedroom and one bath, but the basement could easily have two bedrooms. I think the rent could be $1,400 or $1,500 total if the basement unit was converted to a two bedroom. The home may need some maintenance in the future including a new roof and the basement apartment could use some paint and sprucing up.
A couple of weeks ago I saw the home came back on the market. I went to see the home since I had not seen a deal this good in months and made an offer that same day. They received multiple offers on the home and I raised my initial offer, removed my inspection contingency and waited. I heard in a few days they accepted another offer. I was a little bummed, but that same week I got rental property number 12 under contract, which cheered me up. Early this week the listing agent emailed me and said the accepted contract had never sent in their earnest money and backed out. I sent in another offer slightly higher than the offer I made during highest and best and I got it!
It will be nice buying a rental that does not need any immediate work and is already rented. I can collect rent checks as soon as I purchase the home! I will post more details about the property when it closes.
Here is a great article on why you should buy rentals when you are in college.
Progress on refinancing rental properties
I want to buy 7 rental properties in 2015 and to do that I will have to either make more money or find some more money for down payments and repairs. I plan to do both and the first part of the plan is to refinance a couple of properties. Rental property number 4 and rental property number 7 have increased in value significantly over the last two years. Both properties have loans below $90,000 and the houses are worth close to $200,000.
I plan to refinance both of those properties and take cash out, which will raise my payments. However, I will still be cash flowing on the properties and the rentals properties I can buy with that cash will more than make up for the increased payments. Borrowing money at less than 4.5 percent and using that money to make at least 15 percent with rentals is the plan. I will only be able to refinance at 75 percent loan to value so I will not be taking on huge risk with this move either.
Here is a great article on how a cash out refinance works.
InvestFourMore news and updates
The InvestFourMore forum is doing awesome! There is a lot of activity in the forums and some great conversations taking place. Don't forget we have a contest for the next week or so for the best contributors to the forum. Prizes include a $100 gift card to Amazon, a copy of the Complete Blueprint and free copies of my books! Please stop by the forum and introduce yourself or tell us what you need help with.
In the online real estate world podcast seem to be more and more popular. Just in case I did not have enough going on, I am thinking of starting a podcast. This would not be a show that interviews the top real estate investors like most of the other podcasts, but a show that interviews new or small investors. Learning how they got started, what they need to get started and seeing what can be done to help them be more successful. If you would be interested in a podcast like this, please let me know in the forum!
Today (February 5th) is also my birthday and I am now 36 (you can say happy birthday in the forum). I feel a little old hitting the latter side of 30, but I can't change my age, no matter how positive I am. For my birthday I am flying to Seattle for one day to visit Cats Exotics where I bought my Lamborghini. They have a Lamborghini Countach as well as a number of other cars I would love to see. I am not buying the Countach, but they are going to let me sit in it to see if I fit and more importantly drive it!
Conclusion
This has been a great start to the year with more rental properties coming on board, flips being sold, new agents being added to our team and the blog is doing great. I have also had more REO listings the start of the year than I have seen in months. I would like to thank everyone who reads, comments, and ultimately encourages me to keep writing. I hope the year keeps going strong and the progress continues!
Here is my goal article for 2015, so far I am right on track.

---
Rental Property Number 13 has been Purchased
I bought rental property number 12 last Tuesday after going six months with no rental property purchases. I did not waste any time and bought rental number 13 the next day. Rental property number 13 is a little different from most of my rentals; I have had to expand my criteria to find properties. Rental property number 13 is a multifamily property and a little older than most of my properties.
Here is a great article on why I prefer single-family properties.
The details on rental number 13
Rental property 13 was built in 1927 and could be a college rental. I bought the property for $120,000 and the seller paid $2,000 of my closing costs. The property has two bedrooms and one bath on the main floor and has a one-bedroom, one-bath basement apartment. The property has two units, but looks like a single family home. It was originally built as a single family home. The zoning allows for multifamily and both units are rented separately.
This is the first rental property I have bought that was rented when I bought it! The main floor unit is rented for $850 a month and the basement unit is rented for $450 a month. The main floor tenants' lease is up in April, but they want to renew and the basement lease goes until October.
The home needs some repairs and may need a roof in the next few years, but I do not have to spend any money on repairs right now.
Why did I buy a two-unit college rental property?
I have written a number of articles about why I do not buy multifamily properties or college rentals. So why did I buy a two-unit college rental property? It has been very hard finding any good rental properties lately, because prices continue to rise and there is very little inventory in our area. I would love to keep buying rental properties like rental property number seven. I bought it for $113,000, spent $8,000 on repairs, and rented it for $1,400 a month. Those deals do not exist anymore and I have no choice but to expand my criteria if I want to keep buying rentals.
Even though this property is two units, it is more like a single-family home than a multifamily property. The tenants in the main floor are not college students and are on a long-term lease. In this market, the home could be rented to college students or non-college students. I will most likely receive more rent from college students, but they may also cause more damage and have more turnover than a family would.
One of the main reasons I do not buy multifamily properties is the returns are not that great in my area. The cap rates are extremely low on most properties and I make more money on single-family rentals (even with rising prices). This property was extremely inexpensive for needing no immediate work and being rented for $1,300 a month. As you will soon see, I was very lucky to buy it.
How did I buy rental property 13?
Rental property 13 was listed on the MLS for $115,000 on December 17, 2014. At the time, I saw the listing, but I did not look at it, because I was still set on newer single-family homes. The property went under contract in 10 days, but the contract fell apart in mid-January. I saw the home pop up in MLS and decided to look at it right away, because I was not finding any properties that were close to this good of a deal or would be as good of a rental (except for rental property 12).
I took one of the new agents on our team to see the house and show him how I judge an investment property. We went through the house in about 15 minutes and I had my assistant write up a full price offer right away. I got my offer into the agent and she said they had a ton of interest and they would be reviewing offers in a couple of days.
I raised my offer to $117,500, with no inspection and seller paying $2,000 in closing costs. I was notified that my offer was not accepted! I was disappointed, but I had number 12 under contract, so at least I had one new rental property coming soon. Then a few days later, the listing agent called me and said the contract they accepted fell through again! I raised my offer to $120,000 with no inspection and I got it that time.
Here is a great article on how to win multiple offer situations.
What is the cash flow and cash on cash returns for number 13?
If I plug the numbers into my cash flow calculator, I get $341 a month in cash flow with property management and 20 percent allocated for maintenance. I am using a very high number for maintenance, because I know the property will need some work down the road. My monthly payment will be around $530 (with taxes and insurance) on a five-year ARM with my portfolio lender. I put 20% down and my loan is $96,000.
My cash on cash return will be 16 percent based on no repairs and receiving no commission as a real estate agent. However, I am an agent and I got back over $3,000 in commission, which raised my return to 19 percent. The best part is I can increase my returns with this property.
How can I increase the cash flow on this rental property?
I am happy with the returns this property is providing, even though it is not as high as some of my other rental properties. However, I would rather be making 19 percent on my money than have it sit in my accounts making nothing. I can do a lot to increase the cash flow from rental property number 13.
The basement apartment currently has one bedroom, but it could easily be two bedrooms. It is also in need of some paint and other minor maintenance that would make it look much better. If I make it a two-bedroom when the current tenant moves out I could raise the rent to $550 or maybe even $600 a month. If I could rent the basement for $600 a month, it would increase my cash on cash to 28 percent!
What is the value of rental property 13?
I may have expanded my criteria on rental properties by buying a two unit house and a college rental, but I did not buy a house at full market value. There were multiple offers that indicate a lot of interest in the property. My first offer over asking price with no inspection clause was not accepted, which also indicates there were other buyers wiling to pay more than list price. After reviewing the comps in the area I think it is worth at least $140,000 if not $145,000 based on the current rents and condition.
Here is a great article on how to buy real estate below market value.
Conclusion
It feels great buying two more rental properties after going so long without buying any. It is funny how what we focus on usually is where we excel. Last year I concentrated on flipping and had ten flips going at one time for most of the year. This year I am concentrating on rentals and have bought two, but I am down to four flips. I hope to find a happy medium where I am holding five to seven flips at a time and buying as many rentals as I can.