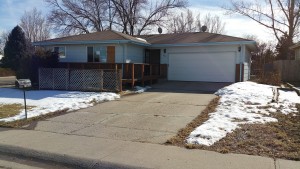 This week I was able to get rental property number 12 under contract! I purchased rental property number 11 over six months ago, which is way too long for me to reach my goal of 100 properties. I was hoping to buy six rental properties in 2014 and I only bought three. There are a number of reasons why I fell short of my goal including market changes, fix and flips and running my team. I hope to buy seven rentals in 2015 and I have a number of new techniques I am going to implement to reach that goal.
The details on rental property number 12
Rental property number 12 was a MLS property and REO. We have had a huge decrease in REO listings in our area, but there are still a few coming up for sale. This home is located only a few blocks from where I bought my first house that I lived in for seven years. I ended up selling that house seven years after I bought it for a loss, because I bought at market value and our market decreased. The rental property is a 4 bedroom, 2 bath house with a 2 car attached garage. The home will need a fair amount of work including paint, carpet, windows, doors, appliances and a few closets put in.
I figure it will rent for $1,400 a month after it is repaired and I will require $10,000 to $15,000 of repairs. I am buying it around $130,000, which is higher than I usually buy houses that need this much work. The problem is there have been almost nothing for sale in the last six months similar in price and condition to my previous rental property purchases. One reason I am okay paying more is this house is worth at least $180,000 after it is repaired. I could flip it, but I really want to add some more rental properties, because of the passive income they create.
Here is a great article on whether it is better to flip or rent a house.
Future rental property plans
I have been busy so far in 2014 in regards to rental properties. I made an offer on another rental property last week that I was beat out on in a highest and best situation. I made another offer on a potential rental property yesterday that I am waiting to hear back on (low offer on a new listing so I am not getting my hopes up). I have decided I need to start looking at buying more expensive houses if I want to reach my goals.
When I buy more expensive houses I still want to buy below market value and I still want them to have great cash flow. However it will be very tough to reach 20 percent cash on cash returns with higher priced homes since more cash is needed to buy each property. On rental property 12 I only come up with a 15 percent cash on cash return, but I am gaining $30,000 in equity or more. I think earning 15 percent cash on cash is better than sitting on the sidelines and waiting for deals that may not come. The offer I made this week that I am waiting to hear back on, was actually on a more expensive house, but it needed much less work and will rent for more.
That 15 percent is also at the top end of what I would get if I were to buy a turn-key rental property.
How will I get more cash to buy rental properties by flipping less?
One reason I have not bought more rental properties is I have been short on cash. For most of 2014 I had ten fix and flips in my inventory. I was really focusing on flipping and it showed in my business. Flipping can provide great income, but it can also take a lot of cash. I use some private money and a line of credit to help with the flipping expenses, but it still takes a lot of cash to flip that many houses. I sold one flip yesterday and another one is selling this week bringing me down to 6 flips. I have another flip I am buying next month and one more selling next month.
I think having five to seven flips at once time is the sweet spot for me. Anymore than that and it takes too long to get contractors to repair them and ties up too much cash. I also may look for more private money so that I can flip and buy rentals.
How will I buy more rentals by refinancing properties?
I refinanced two properties a couple of years ago, but since then I have relied on income from my real estate team and flipping to buy more rentals. I am considering refinancing a couple rentals and using that cash to buy new properties. Thanks to the crazy appreciation we have seen in my area and buying houses below market value, I have close to $100,000 of equity in some of my properties.
I can refinance at 75 percent of the loan to value ratio with my portfolio lender, which means I could take out $50,000 or more from each property. I would decrease my cash flow on the properties I refinance, since my payment would increase around $300 a month. Thanks to rent increases my cash flow has increased to over $600 a month on the rentals I am considering a refinance on. I spent about $30,000 on these houses to buy and repair them, which means I would make $20,000 off the property and still making money every month on the cash flow. I could use the refinance money to buy more properties which would increase my returns even more.
Here is an article on how a cash out refinance works.
Conclusion
I will write another article when I buy rental property 12 with the numbers and I will post another video when the house is repaired. With less flipping and more refinancing I hope to have many more articles in 2015 about new rental property purchases and get closer to my goal to buy 100 rental properties!

---
Rental Property Number 12 Has Been Purchased
Rental property number 12 has been purchased! It had been more than six months since I bought a rental property and it feels great having bought another. With rising prices and low inventory, it has become much harder to buy properties in our market. I almost bought a turnkey rental property in another state because there have been so few deals. However, I am buying number 13 today and I have plans in the works to buy number 14 soon as well.
How I bought rental property number 12
Rental property number 12 was another MLS deal. The home was an REO and was listed on HUBZU. The property had been listed for $168,000 in October 2014. That price was extremely high considering the condition of the home and the work it needed. In November 2014, the price was reduced to $158,000 and the property went under contract a short time later. It fell out of contract, went under contract again, and then fell out once more. The price was reduced to $148,000 in January 2015 and then again to $138,000 at the end of January.
At $138,000, I became very interested because there are so few homes for sale in my area in that price range. Most homes in this price range need a lot of work, are much smaller, do not have a garage, and would not make great rentals for me. HUBZU properties have to be bid for online. I began bidding at the starting price, which was about $100,000. HUBZU does not accept low bids in most cases, but they start their bids low to get more action. HUBZU also has a buyer's premium of 5 percent on their auctions, which is added to your bid. I decided I would go as high as $135,000 and was surprised when I ended up being the high bidder at $127,000. I had to add 5 percent ($6,350) plus a $299 fee for a total price of $133,649, but I was still happy. Here is a great article on how to buy real estate below market value.
What type of house is rental property number 12?
Rental property number 12 is a ranch home with a two car attached garage and finished basement. The home has been converted to a handicap accessible home, so it needs quite a bit of work. The doors and hallways are very wide and the bathroom has been enlarged and has a huge shower. I think I want to convert it back to how it was originally because it will appeal to a much broader market. I may do some checking to see if there is a market for handicap accessible rentals, before I make any big changes.
The home will also need paint, a few windows replaced, doors, a couple of closets put in, appliances, and a bunch of minor repairs. I am guessing it will take from $10,000 to $15,000 to get it ready to rent depending on how far I go with the remodel. It is currently a three-bedroom home, but I should easily be able to make it a four-bedroom. Below is a video of the home as it is now.
Here is a great article on how much it costs to repair a house.
How much cash will I have into rental property number 12 and for how much will it rent?
I was in for a big surprise when I started the loan process on this home. It turns out my portfolio lender could not finance the buyer's premium or the $299 technology fee the seller charges. The seller classifies them as extra fees and not part of the purchase price, so I had to base my loan on the $127,000 bid price. I put 20 percent down when I finance my houses and that means my loan would be $101,600, instead of about $107,000.
With my lender, I do not need an appraisal if my loan is $100,000 or less so, I decided to make my loan an even $100,000 to avoid the $400+ appraisal fee. My cash on cash returns are going to be less on this property, because of the additional money I have to spend on it.
Purchase price $133,649
Closing costs     $2,500
Loan                   $100,000
Total cash invested $36,149
With HUBZU auction properties, I cannot ask the seller to pay any of my closing costs, so I have to pay the entire amount. Because I am a real estate agent, I was able to earn back a commission, which saved me $3,810 (based on $127,000). The total cash out-of-pocket for buying the property was about $32,000. I have to add the repairs to that number, which puts me at about $45,000 or more in cash invested into this property! That is about $10,000 more than I usually spend on my rental properties. The property should rent for $1,400 after repairs.
How much will my cash flow and cash on cash returns be?
My payment on the house will be about $550 a month including taxes and insurance. When I plug the numbers into my cash flow calculator, I come up with $528 a month. I made some changes recently to my cash flow calculator. I lowered the default maintenance percentages and vacancy percentages based on my historic returns. I had been assuming 10 percent of the monthly rents for vacancies and at least 15 percent for maintenance. After looking back at my numbers, my costs have been much less than that. I lowered the default numbers to 5 percent for vacancies and I lowered the maintenance as well, which varies based on the age and condition of a home.
I also started figuring for property management fees on my rentals because I am paying a member of my team 8 percent a month to manage my properties for me instead of including it as part of their base pay. When I plug those numbers into my cash on cash calculator, I only get a 14 percent return! That is lower than my other rental properties, but I am still happy with this purchase.
This house will be worth at last $185,000 repaired. I will be gaining $30,000 in equity, which is not included in the cash on cash returns.
Fourteen percent is still a good return and that does not include equity pay down, tax advantages, or possible appreciation.
I am refinancing two other rentals in the next week, which will each give me over $50,000 in cash. I could also refinance this property in a year to take cash out and lower my initial investment.
For more information on how I finance my rentals, check out my book, How to Finance Multiple Rental Properties, which is available on Amazon or as a PDF in the InvestFourMore store for $6.99. If you happened to get the book during our last free promotion, please remember to leave a review on Amazon!
Future rental property plans
I am closing on rental property number 13 today! I will have a detailed write-up on it later this week. It is a little different from most of my rentals, since it is a two-unit property. It has been tough to find properties and I have had to expand my criteria a little bit this year to keep my goal to purchase 100 properties in reach! I am also going to buy a turnkey rental property.
I had talked about whether I should buy one in this article here, but then I found rentals 12 and 13, I put that plan on the back burner. When I wrote an article last week about self-directed IRAs, I realized I could invest my IRA into a turnkey! I cannot touch that IRA for over 20 years and it would be a lot more fun to invest it in a turnkey than to invest it in stocks. I could also go through the process to see what it is like buying an out-of-state property. Here is a great article with more information on turnkey rental properties.
Conclusion
I am very excited with the start of 2015! I am still flipping houses, but I have toned down that side of the business tremendously to focus on rentals. I have five flips now, instead of ten I had at the end of 2015. I will keep on the lookout for more rental properties and I hope to buy at least a few more this year. I also recently did a podcast with a great wholesaler, Mark Skowron, which you can check out here.
I am in the process of creating the InvestFourMore podcast, which should be a lot of fun with a lot of great information. Do not forget to check out the InvestFourMore forum, it is doing great and there is a ton of awesome posts on there. If you want to talk to me personally, that is the best way to do it.