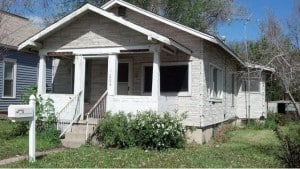 I bought two more fix and flips this weeks, which means I have 19 active flips. The flips are in various stages or repairs, waiting to be repaired, or listed and ready to sell. I have made a lot of progress with my flipping business and 19 is the most I have ever had at once. Earlier this year I got up to 17 briefly before I sold me high-end flip. At this same time last year I had 12 flips at one time and thought that was a crazy amount to handle. There are many reasons I have been able to work on so many properties at once including multiple financing sources, a great team, multiple ways to find properties, and systems to manage everything. One of my coaching students suggested I keep a running tab of all my flips on the blog. I created a fix and flip property scoreboard that lists all the flips I am working on with numbers, videos, and more.
How can you see all my flips with the numbers and profit potential?
I created a page just for my flips here: https://investfourmore.com/flips/. You can see what properties I have, what I paid for them, what the repairs should be, What the estimated carrying costs are, and when I hope to have the property done. Along with all of this I include before videos on the properties and after videos for the properties that are finished. You can also find this page on my menu under resources. I will try to do more case studies on my flips as well, which I will also link to on this page.
To celebrate the new page for a limited time you can get 25 percent off my fix and flipping coaching program with coupon code flip25. You can see the details here.
How am I financing so many flips?
It is not easy to pay for 19 flips at once. I certainly do not have the cash to buy the flips, pay for repairs, and pay for carrying costs. I use a mix of:
Hard money (financed my first deal with hard money this week)
My own cash
When I use bank financing I must put at least 20 percent down and pay for all the carrying and repair costs. When I use private money I can usually finance the full purchase amount, but I pay a much higher interest rate and still have to pay for the repairs and carrying costs. With hard money I was able to finance most of the purchase price, and the repairs, but I have to pay higher interest and more fees. I decide what financing to use based on how much the properties costs, and how many repairs are needed. It is not uncommon for me to have over $100,000 tied up in a flip when I use bank financing. I am constantly trying to improve my financing so that I can pay lower interest and have less cash into a deal. The less cash I have into one flip, the more flips I can do.
How am I finding so many fix and flip deals?
In the past I bought almost all of my flips from the foreclosure sale. The sale became too competitive so I started buying most of my properties from the MLS. The MLS has been tough to buy from lately, but I have met some great wholesalers in the area who I have bought most of my properties from this year. I have to constantly look for new and better ways to get deals, because other investors are adapting and changing as well. I am working on improving my direct marketing now so that I am not depending on a wholesaler to keep feeding me deals.
I have bought 6 out of my last 7 properties from wholesalers. I love having a wholesaler send me deals, but if they stop sending me deals I want to have many other ways to find flips. With direct marketing I will be sending letters or postcards to motivated sellers who do not have their house listed with an agent.
How to find a great real estate agent.
How do I manage all of these flips and contractors?
I made huge progress in the management of my flips in 2016. I hired a project manager in 2015 who did not work out well, but I did not give up on the idea. In 2016 I had Nikki who was already on my team take over project management. She has done an awesome job finding contractors, managing expenses, ordering supplies, and making my life easier. We have 6 different contractors working on our flips right now, and have used at least 5 others in the last year. I also have a full-time handyman and use as many subs as I can. We have a Home Depot
Managed Pro account, which gives us huge discounts on materials. So far this year, we are spending over $1,000 a day at Home Depot
!
We have also started to use online software to manage complete tasks on each property so we are not forgetting things.
How to find an awesome contractor.
What are my biggest challenges?
Even though my systems have improved, I still have problems. Success would not be nearly as fun if it were easy! With all our contractors we still take way too long to fix up houses. It seems like every contractor quotes us 4 to 6 weeks to finish a job, and it takes them 12 weeks or longer. We have had appraisals come in low the last two weeks that may cost me over $25,000. I also tend to take on big projects that I do not have the resources to complete. Luckily I buy properties cheap enough that I can sometimes sell them for a profit without doing any work to them.
My goal is to complete 30 flips in 2017 and I have only sold 2 so far! However, I have 6 under contract to sell and another five that the repairs should be finished on in the next month. I think I can hit my goal if we keep improving our systems and processes. I also want to hire more full-time employees to work on my flips and eventually work towards having my own crews.
If you want to keep track of everything I am doing on the flips, make sure you stop by my flipping page often!