A couple of weeks ago, I purchased rental property number 18. Most of my rental properties have been single-family residences, but housing prices in Colorado have increased incredibly over the last few years. I bought my last residential rental property in September of 2015, but I did buy a commercial shop earlier this year. Rental property 18 is a 7,500-square-foot, 2-unit commercial building that I purchased for $292,000. The property is vacant and was priced much lower than similarly sized commercial properties in the area. I was not looking for a property like this when I got it under contract, but I noticed a big price drop on the MLS, which is how I found it. Keep reading to learn why I bought this property, what my plans are, and to view pictures and a video.
Why have I started buying commercial properties?
I have been looking for commercial rental properties for at least the last year. I wanted to buy a large warehouse type building that I could split into smaller units and rent out. I also may eventually start my own real estate brokerage and move my office into a building I buy. Earlier this year, I had a 250,000-square-foot building under contract, but two months ago, the deal fell apart for a number of reasons. I will post a full video and article on that property soon.
I bought a small commercial shop earlier this year to use as storage for building supplies for my flipping business. I also needed the space for a couple of cars since I ran out of garage space at home. I bought that shop as a business expense, not to make money on rent, but it would be a great rental if I did rent it out. I generally switched from residential to commercial properties because there was more cash flow available in commercial properties in my area. There is also room to add value with commercial properties when you find badly managed or vacant properties. Most investors want to buy commercial properties that are rented with long-term leases in place. Vacant commercial properties are often sold at a big discount.
I have not been looking at commercial properties with ten-year leases in place that are selling at a premium. I have been looking at commercial properties that need work or are vacant. The 250,000-square-foot property I had under contract had been vacant for 16 years and needed millions of dollars in repairs. Rental property 18 is completely vacant and needs work as well. If the property was fully rented out and repaired, it would be worth $500,000 or more. I can also rent out the property for at least $3,000 per month with minimal repairs, and with more improvements, I could rent it out for much more.
Commercial versus residential investments.
What are the details on commercial rental property number 18?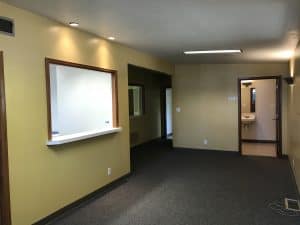 This property was listed for $428,000 over a year ago. The price was dropped to $379,900 a few months later, and it went under contract twice at that price. The price was lowered to $325,000 on 7/30/2017, and that is when I saw the huge price drop in the MLS. I looked at the property and offered $292,000, which the seller accepted. The property has almost 7,500 square feet, but half of that is in the unfinished basement. The basement is set up to have another unit finished with windows and a separate entrance. The other part of the basement was used for storage and could be used for storage now or for a fourth unit if enough work is put into it. You can see a video of the property below:
The property was built in 1965 and is mostly brick. It is located in the town of Eaton, Colorado, which has about 5,000 people and is 10 miles from Greeley, where I work and live. The property was used by a dentist and doctor most recently but has been vacant for a few years. The seller thought the property would be worth more vacant because of its unique zoning. The property was built by a doctor who wanted to live in the basement and operate his business upstairs. He was able to get mixed-use zoning approved, which means the building can be used for residential or commercial purposes. The listing agent told me both of the buyers who had the property under contract before I bought it wanted to convert it to residential units. While the property is surrounded by residential houses on two sides, there is an A&W fast food restaurant and car repair shop on the other sides. The property is very close to a busy four-lane highway and has always been used for commercial businesses.
You can find the details on all my rentals here: My resources page.
What are my plans for rental property number 18?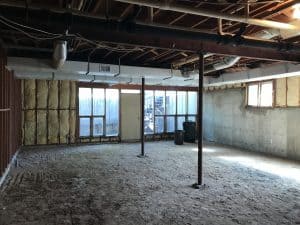 While you could convert this property to residential apartments, I feel the best use for it is commercial. It is very close to the highway and already set up for commercial use. Converting it to apartments would take hundreds of thousands of dollars, but getting it up and running as a commercial rental will take much less. While I like to take on big projects with my flips, the simplest projects usually work out the best.
I plan to fix up the front unit that can be seen in the video and see how easily I can rent it out. I will then decide what to do with the back unit and the basement. If I get really lucky, one company may want to rent the entire building, or I may end up renting the front unit to one user, the back to another, and finishing part of the basement for another commercial unit.
I bought the property using private money and putting 10% down. My plans are to get the property rented out and stabilized then replace the private loan with a bank loan in one year. The property will need some heating work, paint, and flooring to start out with. I hope $40,000 will cover the initial repairs.
How to find a commercial portfolio lender.
What are my future plans for rental properties?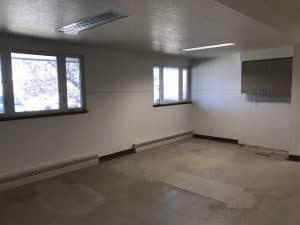 I have bought two rental properties in 2017 after buying zero in 2016. I even sold a couple of rentals in 2016 that were my least-desirable houses. I have been flipping a lot of houses since I could not find rentals to buy, but I still have a plan to purchase 100 rental properties. I have 19 flips at the moment and hope to flip 30 houses this year. I am going to buy more rentals this year and next year. I have two more commercial properties under contract to buy, although I have been trying to buy one of them for 6 months. One of the properties has federal tax liens that the seller is trying to figure out, and I am not sure of it will actually close. I think I will keep looking at commercial properties, and I still want to buy residential rentals in another market.
How much money can you make with rental properties?
Conclusion
I was hesitant to buy this property because it is much larger than any other rental I have ever purchased. I have never bought a commercial property like this before, and honestly, I have a lot to learn about leasing it out. While buying a property like this is a little scary, I am excited to get out of my comfort zone and try something new. I think it will be a good investment once it is rented out and refinanced. The big question is how long will that take. The other two commercial properties I have under contract are much cheaper and smaller. I will be sure to post progress on this video on my YouTube Page, and on this blog.
The main floor of this property is now leased for $4,500 a month gross for three years. I used this site to create the lease. Below is the progress video showing some of the work we have done.