On Monday the 18th we finally closed on rental property number 8! I was planning to close on it a couple of weeks ago, but we had some issues with the title company and seller. This was a REO property that had been on the market for a little while, and was one of the cheaper homes for sale in the area. It does need some work, but I still think it should work out well as a rental property. Please check out my complete guide to investing in long-term rentals to get more information on my rental strategy.
Also for more information on how to buy the best rentals which will make the most money, check out my book: Build a Rental Property Empire: The no-nonsense book on finding deals, financing the right way, and managing wisely. The book is 374 pages long, comes in paperback or as an eBook and is an Amazon best seller.
The deal on rental property number 8
The home was first listed for $111,900 and received no offers for the first 40 days or so. The seller lowered the price to $101,900, and it sat on the market for a little while longer with no offers. I had seen this home before the price change and was not too excited about it. It needed work and was in an area that I don't have any other rentals in. However, finding any home under $100,000 in the entire area is very hard to do right now. Most homes that are under $100,000 are 100 years old and need a ton of work. I decided to make a low ball of offer of $80,000, since the home had been on the market for 90 days. The seller was Fannie Mae on this property and I waited a few days for a response. They came back and said they had multiple offers and wanted my highest and best. I still did not want to pay full price so I raised my offer to $94,000 with seller paying $2,000 in closing costs. They did not accept my offer, but did counter me at full price with no closing costs. This is not surprising with Fannie Mae as they almost always make their first counter at full price. I countered them back at $97,500 with $2,000 in closing costs and they accepted my offer!
We needed two closings to get this one done
I had the closing set for the beginning of November, and we even had a closing date scheduled. A couple of days before closing, the title company called and said they didn't have seller approval yet because there is a title issue they need to fix. That was on a Thursday and closing was scheduled for the following Monday. We did an amend/extend to move closing out two weeks.
On the Monday we were supposed to close, the title company called me and says we have your lenders wire and we are ready to close. I was a bit surprised since no one had told us anything about the title issue being taken care of. We scrambled to get everything together and scheduled closing at 1 pm that day in a town about 30 miles from me. My lender could not go, so I signed docs with them before I left town and brought everything to the title company. The first thing the title company tells me once I get there is the seller has not approved the closing yet! I could not believe they just said that, but they allowed me to close in escrow (I signed docs, but closing won't be official). I signed docs, gave them my money and was off.
At 4 pm that day, the title company called and said we made a mistake, we can't close in escrow and the seller still has not approved the docs. They had to rescind the closing, send the wire back to my lender, and give me back my money. I was a little upset about wasting my day attempting to get this done so quickly. The title company claimed we were pushing to close, and it wasn't their fault we were in such a hurry! But it was the title company who surprised us all with the news we were going to close so soon! Then they said it was my lender who pushed to close and not their fault. My lender was just as surprised as I was that we were closing that day, and in no way asked to close that soon. The title company had requested the wire from them, and they assumed everything was good to go.
It also turns out the listing agent had no idea we were closing that early either. In fact they were waiting for a gas line to be tested for the inspection still! It would have been nice if they had told me this, but I was happy to get the gas line tested for free. We waited for the gas line test and then ended up closing two weeks later.
Should you always get an inspection?
The detail on rental property number 8
The house was built in 1974, has 3 beds, 1 bath upstairs and 1 bed and 1 bath in the basement. The home has a one car attached garage and is right next to a school. The house needs some work including paint, carpet, windows, roof and some drywall repairs. I also want to move some things around in the basement to add a fifth bedroom. I am hoping I can keep repair costs under $15,000, but we will see. There is still a huge shortage of rentals in our area due to the recent floods and increased population. I hope to rent it for $1,200 to $1,300 once it is repaired. I think the house is easily worth over $150,000 once it is a five bedroom in good condition.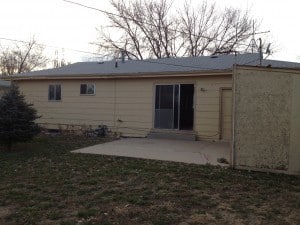 The Loan on rental number 8
I was able to do a 20 percent down ARM with my portfolio lender on this property. My loan amount is $78,000 and my payment is just over $500 which includes taxes and insurance. My interest rate is 4.8275 percent and has increased over my other rentals for a few reasons. The first reason is rates have gone up this year and that has raised rates for my portfolio lender as well. This is also my tenth mortgage if you count my other rentals, personal residence and a house I bought with my parents 10 years ago. With my portfolio lender they charge .5 percent higher interest rate when you have ten mortgages.
Before and after videos
Conclusion
I will try to get a video of the home soon and post that on the blog. I will keep everyone updated on the progress of Rental Property number 8 on the forum and Facebook.