I have been a real estate investor and real estate agent for over 15 years. I have flipped over 130 properties and bought 17 rental properties. I never buy a house unless it is an awesome deal and well below market value. Over that time I have evolved and changed the way I buy houses because the market and competition is constantly changing. I used to buy almost everything from the foreclosure auctions because there were only a few other investors buying at those sales. I had to change things up as competition and prices increased. I started buying almost every property from the MLS since being an agent gave me a huge advantage. I still buy many properties from the MLS today, but I also buy houses from wholesalers, auctions, word of mouth, Zillow, and my own marketing campaigns. I have 17 flips going at the moment as well as two new rentals properties under contract to buy. I am also in Colorado, which is one of the hottest markets in the United States. There is a ton of competition here from other investors, but there will always be ways to find deals. This summer, I started a direct mail campaign that has gotten me three deals in a couple of months. Although direct mail can be very expensive, it can get you deals that will more than make up for the cost. In this article I will discuss some things that I am doing with my direct mail campaign, why direct mail works, how to beat the competition, and how much it costs. I will also include some videos and numbers on flips I have bought with my direct marketing campaign.
How does a direct mail campaign work?
There are house sellers who are willing to sell their properties but don't have them listed for sale. There are a number of reasons why people do not put their homes up for sale:
They do not like real estate agents
They are embarrassed to show their house
They have tenants who they do not want to bother
They just want to get rid of the property
They do not want to make any repairs or clean the property up
They don't have the time to list the house for sale
Direct mail can reach people who want to sell their house but do not have it for sale. The idea is to send the homeowner postcards or letters  which offer to buy the house. The tricky part of direct mail campaigns is finding the right people to send mail to, getting them to look at the mail, and sending a message that they will respond to. It is very easy to spend thousands of dollars on mailings without seeing any results. I have tried many different types of direct mailings with varying amounts of success.
How to buy real estate below market value.
How have I bought my current flips and rentals?
I have 17 flips going at the moment and five houses under contract to buy in the next 30 days. Here is the breakdown of how I have found the properties:
10 properties were found using the MLS. I am a real estate agent, which is a huge advantage when finding properties from the MLS. I here people say you cannot get deals from the MLS all the time, but I am in a super hot market and get many deals from the MLS. We have the lowest inventory we have ever had and almost zero foreclosures, but there are still deals.
5 properties were found through wholesalers. I recently started buying properties from wholesalers, and it has been a great additional source for my inventory. Wholesalers find great deals on properties and sell them to other investors to flip or hold as rentals.
3 were found from my direct marketing campaign. I was able to get three houses from direct marketing that I started a few months ago. I was hoping to get at least one deal from my mailings, but was ecstatic to get three. I have been talking with other sellers who may eventually sell to me as well.
2 properties were from networking. I have bought a couple of other properties from networking or referrals. One was from an agent on my team who had a seller that did not want to list on the MLS. Another seller was referred to me from a person who I bought a wholesale deal from.
1 was from the public trustee auction. I very rarely buy from the public trustee, but I have gotten a few deals in the last three years. I happened to get this one because the sale was on July 5th, and most investors did not show up to the auction.
1 was from a FSBO. I just got a property under contract that was listed as a for sale by owner. The sellers did not want to use an agent but were motivated to sell. I was able to negotiate a great price.
I get deals from many sources. I also have a goal to flip 30 houses in 2017, which means I need to buy a lot of properties! I have been getting good deals from the MLS, but they usually need a lot of work. I have also been seeing less deals on the MLS as inventory continues to decrease. I have also been buying a lot of houses from wholesalers, but I have been buying much fewer lately than I did the end of last year. The wholesalers I work with are finding more buyers, which means prices are increasing. With both of these deal sources, I am depending on the market to supply me with properties. With direct marketing, I can go out and get my own deals.
Fix and flip property scoreboard.
Why did I start a direct marketing campaign?
While I was finding deals, I was starting to find less deals from the MLS and wholesalers. This is a constantly changing business, and you have to be able to adapt and change with it. The more deal sources I have, the more stable my business will be. I used to do direct marketing a few years ago with the "3rd notice" postcard that many people are probably familiar with. It basically tells the seller I have been trying to call them for months with no success. It states this is the 3rd and final postcard I will send about buying their property, yada, yada yada. I sent that letter to absentee owners with equity and to inherited property owners. I was able to get a few deals from the postcard, but I also received a lot of angry phone calls. The postcard was not very honest and was really meant to trick people into calling. I did not feel right about sending it and stopped that campaign even though it had some success.
Over the years, I sent out some other letters and postcards that were not very successful at all. The trick with marketing is finding what works and gets people to call. It is usually very exaggerated and may cross the line as far as the truth goes. When I promote my blog, I always try to be as honest as possible, even though I may not attract as many people as other sites that promise the world. I am okay with that since I sleep very well at night and make plenty of money doing other things. Earlier this spring, everything changed with my direct marketing when I was approached by an investor who wanted to partner with me in promoting his system.
I partner with some people who promote products on my blog, but I always use the product myself to make sure it is legit and useful. When this investor asked me to promote his direct marketing program I told him we could if I used it first and it worked. I was expecting the same program with the exaggerated postcards, but it was very different:
He used envelopes that he custom printed to grab the attention of people for a higher open rate
He used custom printed notes
He did not make any crazy proclamations about 3rd notices or calling people 80 times
The note was honest and simple
He had bought over 40 properties in less than 6 months with his marketing
He was able to create the lists for me saving time and money (he gets a bulk discount on lists)
He has a company that will answer calls for me, which saves a ton of hassle and time
What I realized when I saw his marketing was that it was different from anything I had seen or received myself. I could feel good about this marketing! The only thing I had to worry about was if it actually worked. Below is a picture of all the direct mailing pieces I have received lately (including the dreaded 3rd notice).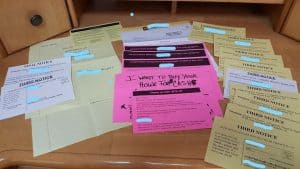 How to invest in long distance turn-key properties. 
What results did I see from my direct marketing campaign?
Direct marketing is expensive. I will not sugar coat it. It can cost over $1 per piece of mail once you figure the printing costs, the list costs, the postage, and the labor. In order to find motivated sellers from mailings, you need to send out a lot of mail. You cannot expect to send 100 pieces of mail and get a deal. It usually takes thousands of mailings a month to get consistent deals. My market has a lot of competition, but my marketing would be different from anything else out there. If you are making $30,000 or more on your flips like I am, the cost is well worth it.
I started out with a list of 4,000 people to send mailers to. The investor I was working with printed out the envelopes and notes and mailed them to me in boxes. He used the phone number for his call service on the notes, and we dropped a couple of the boxes off at the post office every week. A Google document was created that showed exactly who called in, what what was discussed, and if any appointments were set. The people who answer the phone try to figure out what the seller wants for the property, their motivation, and any other information they can get. The calls started coming in a few days after our first mailing. Here is what happened:
 We had a number of calls from people who were somewhat interested but not very motivated. Many people wanted close to retail value without paying any real estate commission.
I personally called back every person who called in to get practice talking to sellers because it had been a while since my last direct mail attempts.
There were a couple people who wanted off the list or were annoyed we sent them the letter, but there were far fewer angry calls with this marketing.
In total we had over 40 calls from people interested in selling their house.
I bought two houses from the first mailing, and have another under contract to buy.
Not only will I have bought three houses from the first campaign, but I could have done much better. Finding my groove and the best way to talk to people took me a while. I do not try to convince people their house is worth less than it is or try to steal their house—I am honest and provide reasons why selling to me may be better than listing it:
There are no real estate commissions
I will pay closing costs
There will be no repairs or clean up needed
I can buy a property with the tenants in place
There will be no showings
I can close in a couple of weeks or sometimes sooner
There were deals that I could have made had I been better on the phone, but you have to learn somehow. I also had one seller agree verbally to an offer who will not call me back. I had another deal where we were $5,000 apart on purchase price for a $279,000 house and we could not make a deal. There are other sellers who I am talking with who still may sell to me from this one mailing.
How to determine market value on a property.
What houses did I buy from direct marketing and why are they better than my MLS deals?
The wholesalers I use to buy houses from use direct mailing to get their deals as well. I can see after I buy the house how much money those wholesalers are making. Wholesalers have made $30,000 on some deals! If I can cut out the wholesaler middle man, I can get houses for much less money. I can also pay the seller more money and still make a decent profit, which is better for all parties. The other advantage with buying direct marketing houses is they have been in much better condition than my other properties. Many times I am getting deals from the MLS because I buy houses that are in really bad shape. Both of my direct marketing purchases and the one I have under contract were in relatively great shape. You can see the videos below:
I bought one house for $120,000 that needs $15,000 in work and will be worth at least $180,000.
I bought the other for $210,000 that needs $5,000 in work and will be worth $280,000 or more.
I will have selling costs and carrying costs, so my profit will be about $30,000 and $45,000 on the two deals. When I buy houses that need less work, it makes my life much better. I don't have contractors tied up as long, my carrying costs are lower, and I can turn my money faster. Houses that need less work make me a lot more money.
The cool thing about this marketing is we used the same old absentee list that everyone else is using, but there are many more lists we can expand into that could see even better results.
Can I share the marketing materials and messages I am using?
There is always a catch right? In the case of this article, I cannot share exactly what I am doing with my direct mail. The custom envelopes and notes are proprietary information that the investor I work with created. He does create materials for other investors, but he limits it to one investor per market so that people are not competing against each other with the same message (like the 3rd notice postcard I get from 5 different people). For now, he is only taking on a few people at a time because he literally prints this stuff himself on his own machines. If you are interested in using him to do direct marketing for you, email me at [email protected] and I can put you in touch with him.