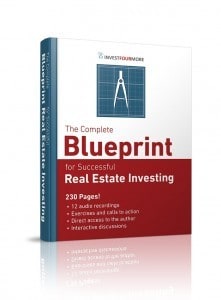 Last month I mentioned there are many new features coming to the Complete Blueprint for Successful Real Estate Investing program.  I am going to add video modules for each section and a live conference call.  I have about half of the videos done and about half left to complete.  I am going to start the conference call this month and anyone who has purchased the complete blueprint will be able to call in, ask questions and talk live with me.
Details on the real estate investing conference call
The conference call will be held on the first and third Monday of every month at 4:00 PM mountain time.  I have a lot going on with my flips, rentals, and real estate business so the call may have to be rescheduled on occasion.  I am going to record all the conference calls and make them available to listen to at any time for those that have purchased the complete blueprint.  The conference call will be in the following format.
15 to 30 minute presentation from me on a real estate investing topic; buying properties, financing properties, cash flow, etc.
30 to 45 minutes to answer questions on my presentation or specific questions from listeners.  Questions can be asked on the call or sent in to me before hand.
People will call into a 1-800 number so you have no long distance charges.
The call will be recorded and an archive set up on InvestFourMore that only complete blueprint customers can access.
Complete blueprint customers will have access to the calls for at least one year.
Topics can be on investing in rental properties or fix and flipping.
What if you want to be on the call but don't want to buy the Blueprint?
For now you have to buy the blueprint to be on the call.  There are over 150,000 views on the blog every month and a conference call with thousands of people on it, would not work out very well.  I mentioned last month that I would be raising the price on the Blueprint once I had revamped it with the extra features.  I am not going to raise the price yet, so you can still buy it now before the price goes up and get in on the conference calls.  When the videos are completed and other changes made the price will be increasing.
I am thinking about offering another option for those that only want on the conference call. That option would be a monthly charge to gain access of the call and the archived calls.  If I get enough people who are interested in just the conference call I will think about adding that as an option.  Send me an email or respond to this post if you are interested in just the conference call.  mark at investfourmore.com.
What is included in the Complete Blueprint?
Here are the basics that are in the complete blueprint and now the price s $249.
230 page PDF:  The heart of the blueprint is a 230 page PDF that includes over 60 chapters and 10 sections on the most important factors of investing.  This PDF is put together in order for what you need to know first to last.  This PDF is written much like my blog; to the point.  There is not a bunch of fluff or add-ins to increase the length.
Calls to action that give you specific tasks to start investing now:  Not only does the PDF include a lot of great information, each section comes with a "call-to-action" that gives you the exact steps needed to investing in real estate.  Even if you don't think you'll be ready to invest for five years, there are things you can do now to get involved in the game.  The calls-to-action help you discover your own investing strategy, learn your market, build a plan and execute that plan. Most importantly, these calls-to-action get you applying what you learn as you learn. So this is not a passive product!
Audio training:  Besides the 230 page PDF and the call-to-actions, each section comes with audio messages from me outlining the content and helping detail the calls-to-action.  The audio reinforces the key points to each section, reinforces the call to actions and gives extra insights into my strategies and investing.
Calculators: With the PDF, call to actions and audio, I also include information on exactly how to use the cash flow and cash on cash calculators that we just introduced on InvestFourMore.  I give instructions on how to use these tools to develop and enhance your investing.
Personal Coaching: Along with the PDF, call to actions, audio, and calculators, I include personal coaching with this blueprint. The coaching comes in the form of a custom-made forum just for customers who purchase the blueprint or direct email to me.  I will help with deal analysis, finding a team, finding properties and much more.  I also urge everyone to send the results of their call to actions to me personally to see how you are progressing and what can be improved.
Here is a link to the full description of the complete blueprint.