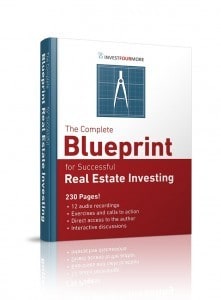 I have worked very hard to create the Complete Blueprint to Successful Real Estate Investing over the last year.  I love seeing success stories from people who have bought houses thanks to help from the blueprint.  I love hearing people run scenarios by me on certain investments and helping them get the best deal they can through the coaching program that comes with the Blueprint.  I am also always looking for feedback and ways I can improve the product, and I have some great new features I will be adding.
 What people have said who purchased the Blueprint
I have had a lot of happy customers and someone emailed me yesterday with this comment:
PS – I bought and am rehabbing my first property from auction using a lot of the info from your blueprint! THANK YOU! I'm deciding whether to add a third bedroom and second bath, and then whether to hold or sell the property. I'd make very good $ selling… but this house is in a hot neighborhood, and will hold long-term value very strong. 
-Tommy
Another user recently emailed me with:
The blueprint has already paid for itself by page 30 and I really appreciate your help!
-Devon
It is so fun and rewarding to see people having success buying houses thanks to a program I created.  To think a year and a half ago I never even fathomed creating a blog and the only writing I did was in BPOs for banks!
What changes are coming to the Blueprint?
Right now the blueprint consists of a 230 page PDF, audio that discusses the key points of each the chapter in the PDF, call to actions that tell you exactly how to get started investing and personal coaching from me.
The personal coaching consists of email responses from myself within 24 hours (although I usually respond in about 10 minutes).  I am going to start having monthly or bi-weekly coaching calls/webinars as well!  These calls will be about an hour long and will consist of me talking about specific investing subjects and then answering questions.  The calls will be recorded and available to all those who purchase the blueprint for at least one year.
The best part about these changes is if you already own the blueprint or buy it now, you will have access to these calls.  The price will be going up after I add the coaching conference calls and some other features.  The blueprint is on sale for $249 now, which is $150 off of the $399 retail price (price subject to change at any time).
More features being added to to the complete blueprint
I am also going to record videos for each of my chapters in the blueprint.  Each video will go over the information in the blueprint and give those of us who prefer video a different perspective.  I personally like to read instead of watch videos, but I know many others love videos more than reading.
You will also be able to listen to these videos in your car or when you have time if you don't want to read the blueprint.  I am guilty myself of picking an audio book over a real book because I drive so much!
What will the new price be on the complete blueprint and when will it be changing?
I don't know what I will be raising the price to on the new blueprint, but it will have many more features and have much more value than the current version.  It will also take much more of my time conducting the coaching calls.  But if you buy now, you can get all these features at the current price.  Here is a link to the full description of the complete blueprint.  I hope to have all these changes implemented by October.
A new product from InvestFourMore
I have created the Blueprint to teach how to invest in real estate, the Reo Starter Kit for real estate agents looking to list REOS and my books which cover a variety of subjects.  I will also be adding a product for real estate agents looking to improve their overall business.  This product will be geared towards new agents looking to be successful from the beginning, but will have great information for existing and established agents as well.  I have a real estate team of ten and we sell over 200 houses a year plus they help manage my ten fix and flips and my 11 rentals.  Being a successful real estate agent is not rocket science, but you need to have structure and a detailed plan to be successful.  This product will show you how to be successful from the beginning.
I do not have a name for the product and I do not know when the product will be ready, but it will include at least the following:
Guide to get kick started selling houses
My real estate agent book; how to make it big in real estate
Some form of personal coaching
Access to my team training materials and videos (we meet at least every two weeks, usually every week and I have a specific training each meeting)
Audio and video training
I will update the site and Facebook with information on the new product and the improvements to the complete blueprint.
Conclusion
Be sure to pick up my Complete Blueprint now if you are interested in buying it before the price goes up.  I think these coaching calls/webinars are going to be a fantastic resource and a great way for us to all interact together to learn.  Buy Now: The Complete Blueprint for Successful Real Estate Investing