I have purchased over 140 flips and 20 rental properties in my real estate career. In the last year, I have bought close to 30 flips and 2 more rentals. I get a good deal on every single property I buy. In fact, I get a great deal. In order to flip houses, I stick pretty close to the 70% Rule, which states that you must buy a house for 70% of the after-repaired value, minus the repairs. If a house was worth $200,000 after I spend $20,000 to fix it up, that means I can only pay $120,000 for it to make it a good flip. Those types of deals are not available all the time, and they are not easy to find. They are out there if you know where and how to look for them. Not only have I been getting a lot of deals, but I am also getting them in Colorado, which is one of the hottest markets in the United States. I get deals from the MLS, wholesalers, auctions, direct marketing, Facebook, networking, FSBOs, and other sources. Many people will tell you that getting good deals in today's market is impossible, but that is not true. They just don't know how to get them.
How have I bought my last 20 houses?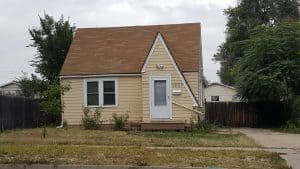 Over the last 15 years, I have adapted and changed how I find deals. When I worked with my father, I used to buy almost everything from the Public Trustee foreclosure sale. We then started to look on the MLS when investors at the foreclosure auctions pushed prices too high. I took over and expanded the business into looking everywhere for deals. The MLS was not providing enough leads, so I found wholesalers in my area who had great deals. The wholesalers were taking huge profits, so I started my own direct-marketing campaign, which got me three deals on my first mailing. I have bought a house from the Facebook marketplace, from Zillow, from a friend of someone else I bought a house from, and from other agents…all within the last year. You can see all my active flips (19 right now) and all the flips I have sold this year on this page:
Fix and Flip Property Scoreboard.
People tell me how lucky I am to get good deals from the MLS in my area because where they live, finding a deal is impossible. In my town of 100,000 people, we have had less than 100 houses for sale for most of this year. That is an incredibly low number, and it makes it very tough to get deals on the MLS, but I still get them. There will always be deals out there if you know how to find them. That is why I created an online course that is all about finding deals. It goes over everything I do as well as what others who I have learned from have done to find deals in any market.
What are some ways to find deals on investment properties?
I mentioned I buy properties from the MLS, wholesalers, direct marketing as well as from for sale by owners.
MLS: I am an agent which gives me a huge advantage. However, you do not have to be an agent to get great deals. The keys to getting the deals are acting fast, making your offers very attractive to the seller, watching for aged listings, and knowing how to negotiate.
Wholesalers: Most wholesalers will never do a deal. You have to be persistent in looking for good wholesalers. You need to find the wholesalers who are spending money on marketing. Contact them, and get on their buyer's list.
Direct Marketing: Some of my best deals have been from mailers I sent out to motivated sellers. These properties are not listed for sale you do not have as much competition. My best deal I bought last year was purchased for $120,000, needed $20,000 in repairs, had $15,000 in other costs, and sold for $210,000.
What is included in my finding deals course?
In the course, there are 8 modules and over 2 hours of video from me on how to find deals. Besides the videos, I also offer many additional resources and a checklist to make sure you are doing everything you should be! I go over many topics, including:
Hud homes.
REOs.
Short sales.
Estate sales.
Direct marketing.
Driving for dollars.
Standard MLS deals.
How to negotiate.
Auctions.
FSBO (for sale by owner).
Much more.
I have learned many tricks over the years on how to spot a deal. I have also learned how to get my low offers accepted as well as when to make a low offer and when not to. I have learned to motivate others to find me deals so I am not doing all the work. All this resulted in me buying houses from all kinds of sources all the time. You can find the program at the link below:
How to Find a Deal. I am offering a coupon code for 50% off: Deal50. However, this code could expire at any time.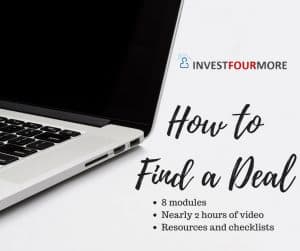 [button-red url="https://shop.investfourmore.com/product/how-to-find-a-deal/" target="_self" position="center"]How to Find a Deal[/button-red]
(and don't forget coupon code Deal50 for 50% off)
How can this program help you succeed as a real estate investor?
I have developed a lot of programs over the years to help as many people as I could. I have always kept them affordable because I despise the sales techniques and lack of coaching that many high-dollar real estate programs use. Finding a deal is only one part of real estate investing. First, you need to know what you want to do with the deal! I have a program to help with that as well as a program for flipping and one for rentals. Send me an email if you are interested in other programs, and if you decide to go with the program that includes personal coaching from me, all these other programs are included as well. [email protected]